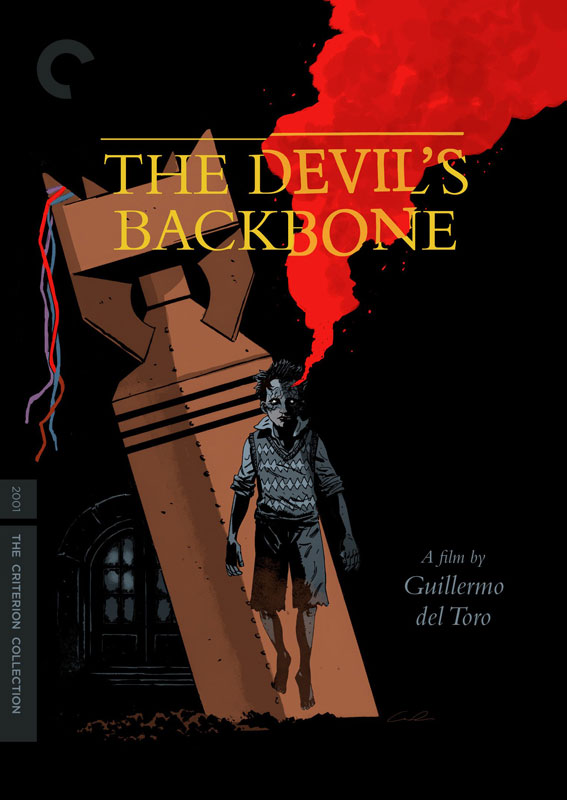 One of the most personal films by Guillermo del Toro, The Devil's Backbone is also among his most frightening and emotionally layered. Set during the final week of the Spanish Civil War, it tells the tale of a twelve-year-old boy who, after his freedom-fighting father is killed, is sent to a haunted rural orphanage full of terrible secrets. Del Toro expertly combines gothic ghost story, murder mystery, and historical melodrama in a stylish mélange that, like his later Pan's Labyrinth, reminds us the scariest monsters are often the human ones.
It is 1939, the end of three years of bloody civil war in Spain, and General Franco's right-wing Nationalists are poised to defeat the left-wing Republican forces. A ten-year-old boy named Carlos, the son of a fallen Republican war hero, is left by his tutor in an orphanage in the middle of nowhere. The orphanage is run by a curt but considerate headmistress named Carmen and a kindly Professor Casares, both of whom are sympathetic to the doomed Republican cause. Despite their concern for him, and his gradual triumph over the usual schoolhouse bully, Carlos never feels completely comfortable in his new environment. First of all, there was that initial encounter with the orphanage's nasty caretaker, Jacinto, who reacts even more violently when anyone is caught looking around a particular storage room the one with the deep well. Second, and more inexplicable, is the presence of a ghost, one of the former occupants of the orphanage named Santi. Not long after Carlos' arrival, Santi latches onto Carlos, badgering him incessantly at night and gloomily intoning, "Many of you will die." As if that wasn't enough to keep the orphanage's occupants in an unrelenting state of terror, there's the un-exploded bomb that dominates the orphanage's courtyard, still ticking away; With the orphanage left defenseless by its isolation, and the swift progression of Franco's troops, the ghost's prediction seems depressingly accurate. Nevertheless, with every step of the plot, it becomes apparent that the ghost's predictions as to who (or what) will die, the real source of danger and even the definition of death itself may be more ambiguous than first thought.
This is the third video release of this film and the first time in high-definition and it's well worth the wait. The interesting thing about the film is I find it to be both part of his horror trilogy (Cronos, Mimic) yet it is very much a companion film to Pan's Labyrinth that would come five years later. While on the surface it's a classic ghost story but the roots of the film go a lot deeper than an average horror film. The one thing that Del Toro, Antonio Trashorras and David Munoz  brings to the story is heart. They have crafted a beautiful, scary, intense story that would never work as well as it does without the characters in the film that you so deeply care about. While a great story is one very important part you need to have actors that can bring the words to life. Del Toro's story is told from a young boy Carlos point of view played masterfully by Fernando Tielve who at such a young age is able to convey such great emotions that it's hard to believe it's his first starring role in a feature film. Del Toro wisely surrounds Tielve with very strong adult actors such as Federico Luppi as Dr. Casares (who also was the star of Cronos from Del Toro), Marisa Paredes as Carmen, Eduardo Noriega as the villain Jacinto and Irene Visedo as Conchita. Beautifully photographed by Director of Photography Guillermo Navarro and stunning art direction by Cesar Macarron that bring Del Toro's vision of the film to life. Every aspect of the film is just so perfect that you really forget that you are watching as spanish language film. One other note is the make up and visual effects. They are so subtle most of the time that you rarely notice them and that's the point. You should be enveloped by the film and never be taken out of it with visual effects.
Criterions new 2K transfer scanned from the original camera negative and was supervised by both Del Toro and Navarro is just stunning. The transfer captures every subtle detail that is in the film it's almost as if you are seeing the film for the first time. As usual Criterion has no noticeable video processing issues and has digitally cleaned up the master of dirt, scratches. splices, etc with no side effects. The picture is razor-sharp but still retains the film aspect of the original source such as the black levels are spot on and there is still subtle film grain that still makes it feel like film. The 5.1 Spanish language DTS Master Audio track was mastered for the original 35mm 6 channel magnetic track and captures every fine detail in the audio and really makes Javier Navarrete music score really stand out. Dialogue sounds very natural and the overall sound mix is never over blown or harsh but does have rich bass when it's present. It's a very atmospheric audio track and there are very clever uses of the surround track that really envelopes you.
The disc is filled with extras that will satisfy and enlighten you about the making of the film.
First there is a commentary for the film that was recored for the 2004 remastered DVD.
There is and introduction by Del Toro (:48) recorded in 2010 (I'm guessing that any material that was recorded in 2010 was done at the same time as Criterion was doing Cronos. This would match the time frame of that disc) that talks about the film being a companion piece to Pan's Labyrinth.
Del Toro's Thumbnails. This feature is a picture in picture that runs during the feature film. It's Del Toro's rough original storyboards that match what is going on in the film.
Summoning Spirits (13:47) HD: In this 2013 interview with Del Toro talks about the aesthetics and philosophies that are brought to life in the film and how it is one of his most beautiful and haunting achievements. How the film is very gothic in nature. He also talks about how difficult it was to get the ghost of Santi just right.
¿Que Es Un Fantama? (What is a ghost?) (27:18) SD: From the 2004 DVD release has interviews with the cast and crew in Spanish with English subtitles about the making of the film.
Spanish Gothic (17:54) HD (2010) Del Toro talks about how the this film is so much closer to Pan's Labyrinth. When he originally wrote the screenplay and how the original story was supposed to be and how he had to rewrite the script with the changes.
Director's Notebook (9:05) HD (2010) This is an interactive gallery that Del Toro say's "These sheets of paper contain thoughts, musing's and ideas that gestated and evolved to become The Devil's Backbone. It's my hope that their presence here will peel back layers of the film and add to the narrative upon multiple viewings, dive in and enjoy." This includes clickable parts (Carmen's Key) of the notebook that talks about specific parts that relate to the notebook.
Designing The Devil's Backbone (11:57) HD (2013) Del Toro explains how the film is 1/2 screenplay and 1/2 audio/visual and how important every aspect of the designs are to the film.
Deleted Scenes (3:36) SD (2004) There are four deleted scenes (Carlos and the Principal/Encounter in the Plaza/Carmen and Conchita? "I'm Coming with You") that also have commentary by Del Toro.
Sketch, Storybord, Screen (12:02) SD (2004) Compares thumbnail, storyboards and the scene from the film at the same time.
A War of Values (14:07) HD (2013) Interviews Spanish Civil War scholar Sebastian Faber author of Exile and Cultural Hegemony talks about how the film filters the backdrop of the Spanish Civil War through gothic and fantasy in a deeper and universal way.
Theatrical Trailer: This is the original Sony Pictures Classics US theatrical release trailer.
So is this film worth your time and money. It is very highly recommended. With a top-notch transfer, new supplementary material and all of the original DVD material also included makes this Blu-Ray a must have for any collection. It's one of the few movies that you will want to watch again because every time you watch it you discover things that you had not noticed before. If you have never seen this film you need to go out and get this as soon as possible. This is a disc that is worth every penny.
Where to buy Barns & Noble, Amazon, Best Buy, and Criterion