Were back with some more photos from last weeks geekpalooza that is San Diego Comic Con. My fellow geek and friend Glenn (you can find him over here on twitter) helped me get some more photos of the chaos that cripple the city of San Diego for a week every July. So here we go with another photo parade. Above is probably one of the most oxymoron signs I have ever seen. They were all over the walls and we were guessing that if you were in a squatting position you were safe from the Fire Marshal's wrath.
OK so first off it's always a crap shoot as to which Warner Bros bag you are going to get each year. There is always one special one that you would just die to get. And this year for me was the Batman 1966 TV show bag. Thankfully the volunteer that was at the professional registration was super nice and had the Batman bag that all three of us was able to get this year. As you can see I'm super stoked about getting it.
So Mattel was showing off some of their upcoming uber collectables (i.e. super cool and very expensive) replica film and television prop replicas. And of course the Batman 1966 utility belt and batarang did not have a price. I'm guessing I will selling lots of blood to pay for those bad boys.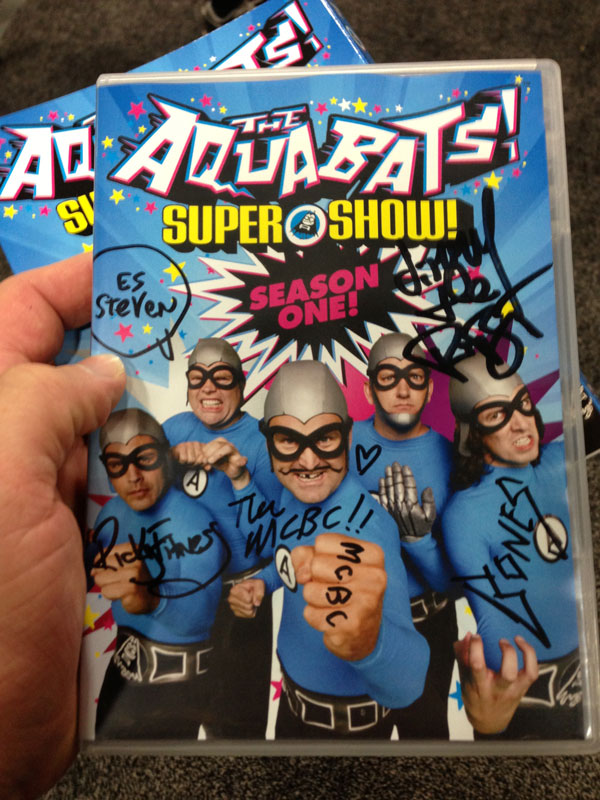 So in the previous SDCC picture post I had pictures of the AquaBats! signing at the Shout Factory booth. And here is what happen after the boys got ahold of it.
While this maybe sadly the last season for Futurama the fine folks at Toynami apparently didn't get the memo about it. They are going to be new Futurama toys for years to come. I was told that they are going produce toys for years to come. The Gender Bender set was a SDCC exclusive this year.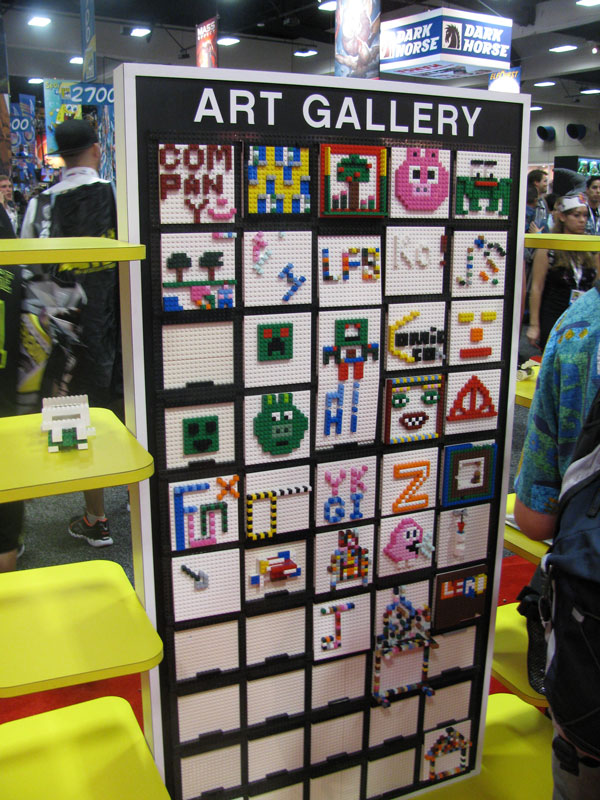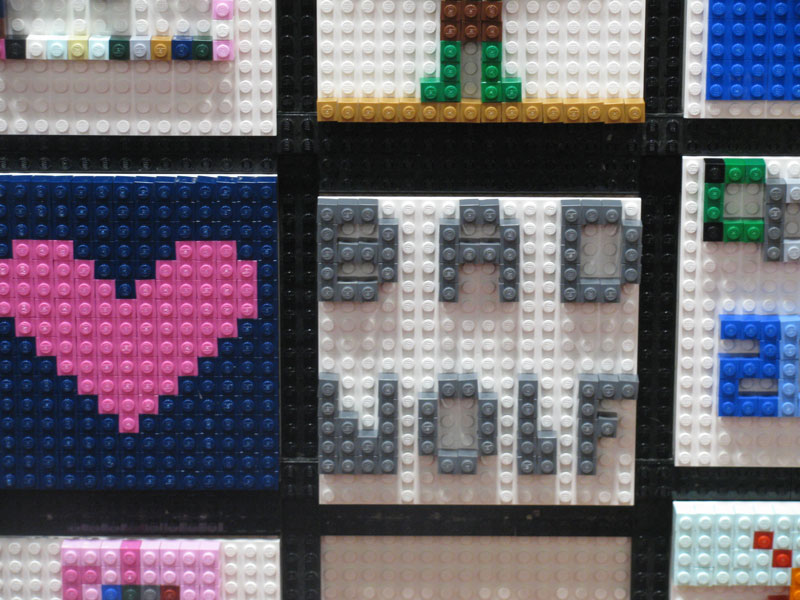 While everyone was killing each other for the exclusive LEGO figures that they were giving away the more fun aspect of LEGO was around their booth. You were able to create little squares of art that were continuously being remade. Kudos to the person who made Louise from Bob's Burgers that was one of my favorites.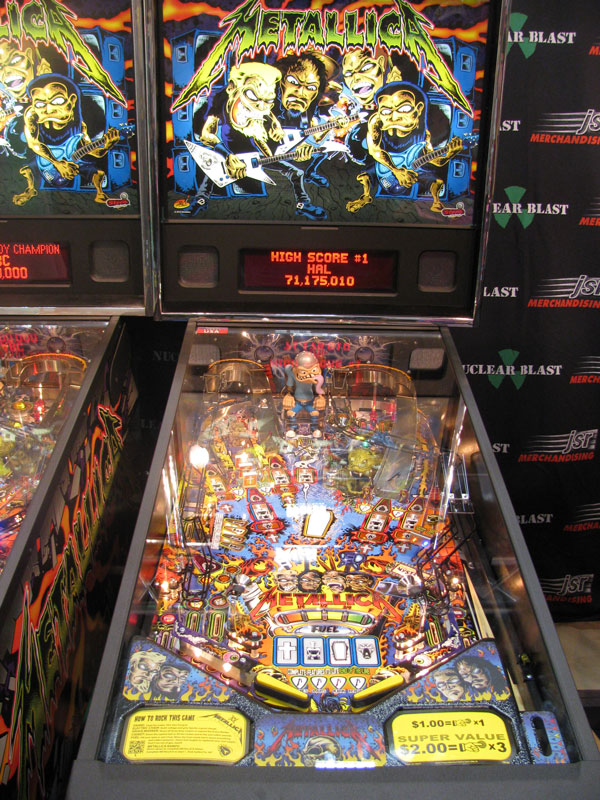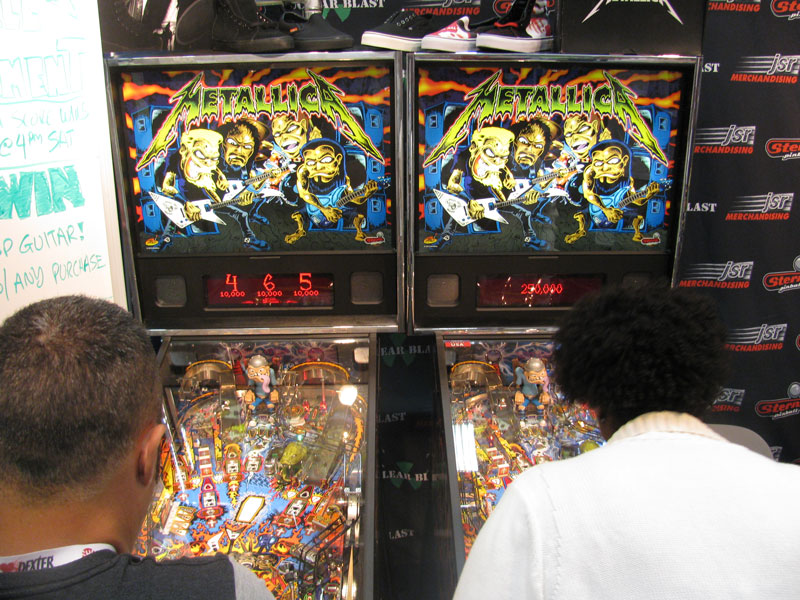 One surprise at a booth was the new Stern Pinball Metallica machines that had just came out. Surprisingly a pretty decent machine considering that most of the pinballs that Stern makes are pretty weak compared to the older classic machine from yesteryears.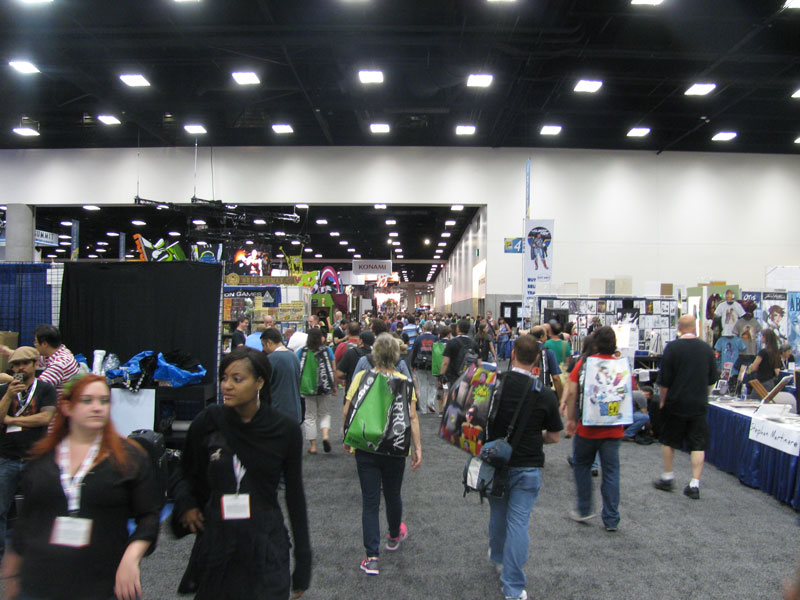 A rare calm area on the exhibiters floor.
A giant iPad for drawing. I'm guessing that it's not too portable.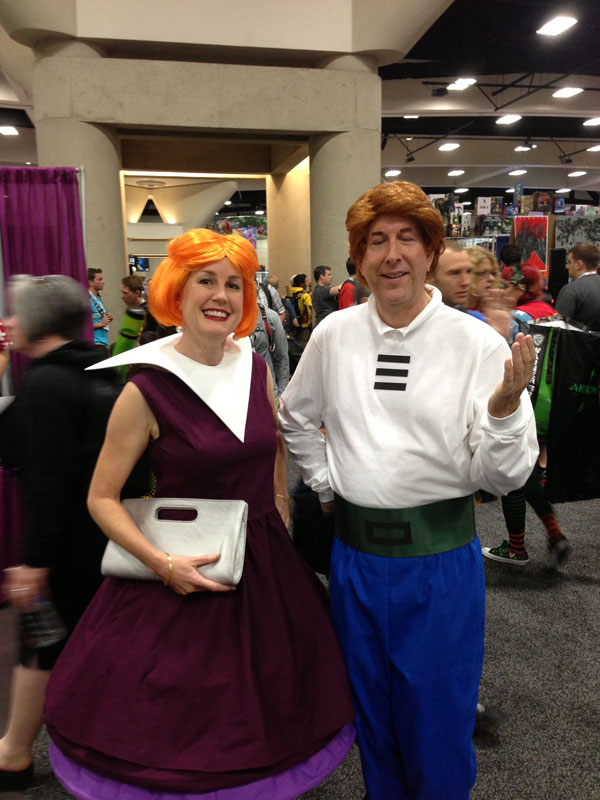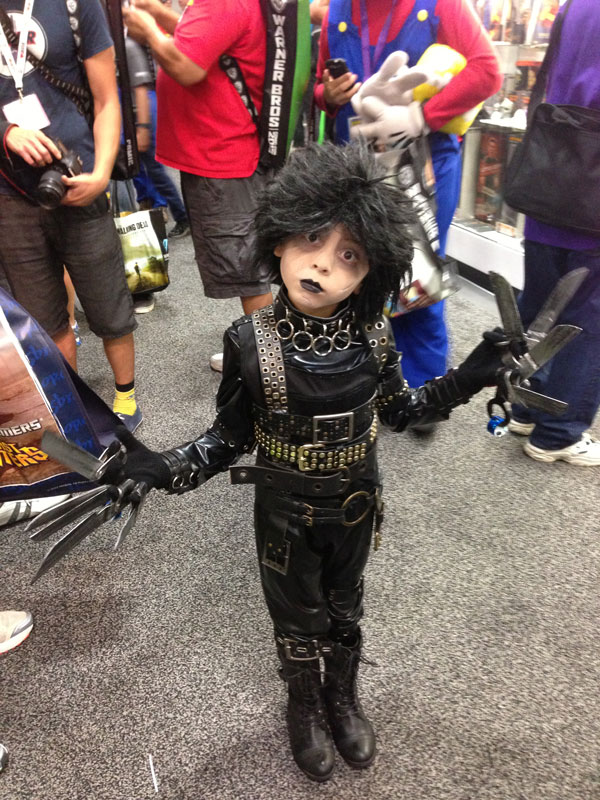 I really have a love/hate relationship with cosplay. While I appreciate the time and effort that people put into their outfits. SDCC is far too crowded to have people standing in the middle of the way and having their pictures taken. So most of the time I end up not taking many pictures of them. While I only have a few I am always on the lookout for the super amazing and gee I wish I had thought of that as a costume. For my money the little kid as Edward Scissorhands not only was a great costume the kid had the look down in spades.
While SDCC celebrates the arts some of the local businesses try to get in on the action. Sadly this local mexican restaurant either had no money to hire an artist that understands anatomy or was only willing to pay in food instead of money. I'm guessing the Avengers would not be thrilled about this. Which brings me back to 2006 where this happened: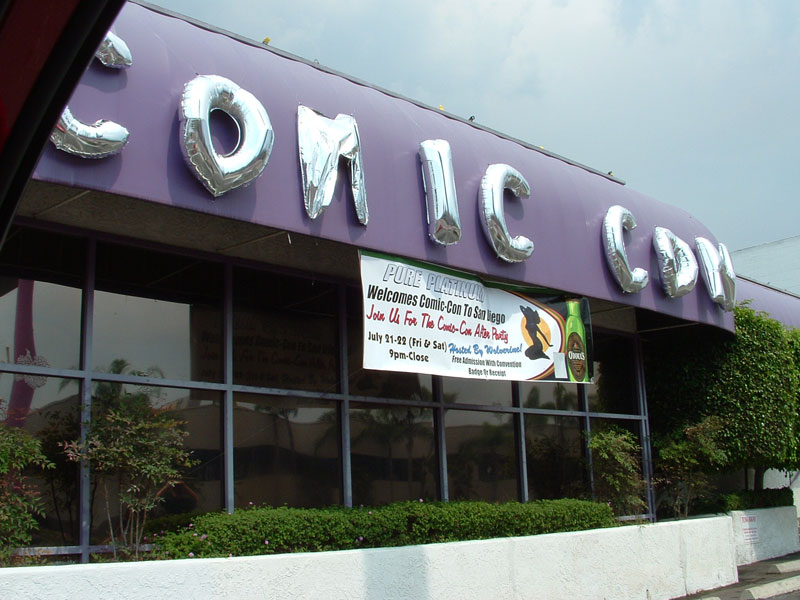 There was (now closed) a strip club on Pacific HWY that had this hanging up outside and if you notice on the lower right hand side there is duct tape covering what once was the official SDCC logo that I am guessing they were none too pleased about and called someone about that. But I still wonder who Wolverine chose as the winner.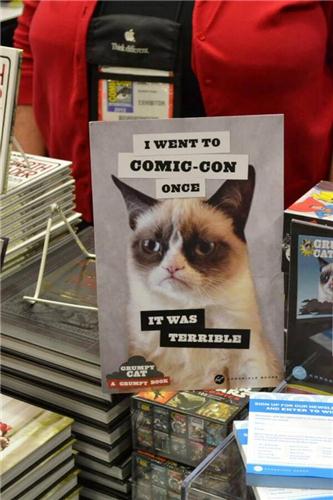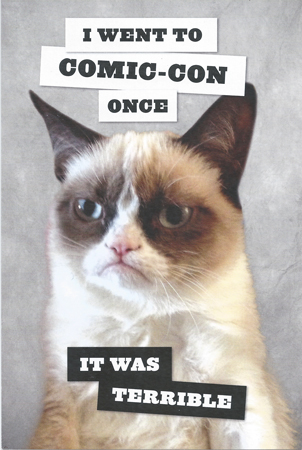 When you have a new book to promote and you are unable to attend in person you send postcards instead. Americas favorite meme cat Grumpy Cat was not at the show but the publisher of her new books wasn't going to stop them.
I remember the days when almost all of the action took place inside the convention center. Well the fall out from the con has spilled over to almost the whole downtown area and especially the Gas Lamp District right next door and beyond.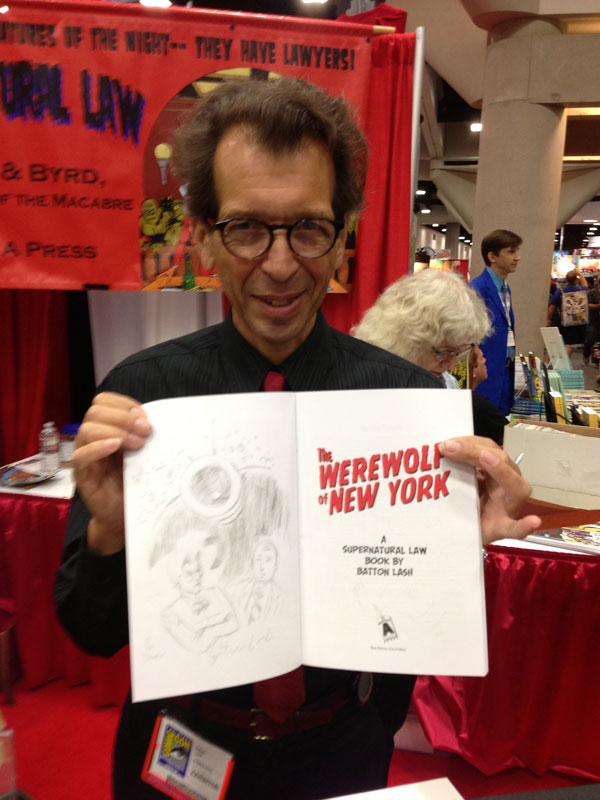 Yes there are still plenty of comics at SDCC but sadly I ended up talking to many creators but didn't take hardly any pictures. Well I at least got my friends Neil Segura and Ray Mendivil of Forever Freshman fame and the always super nice and generous Batton Lash who was fresh off the new Wolff & Byrd Kickstarter book that I picked up at the con and he did this awesome Robot Monster sketch (with bubbles of course). Go check out there sites and buy books form them. It's good stuff.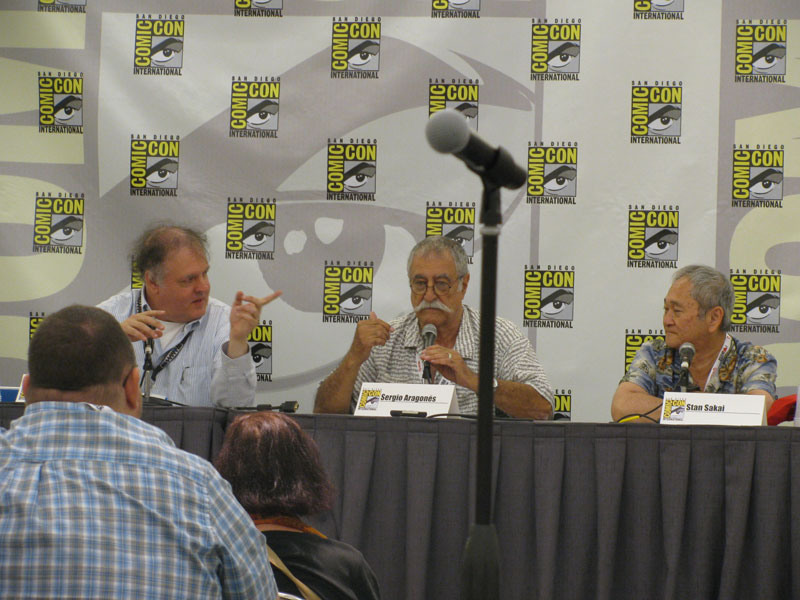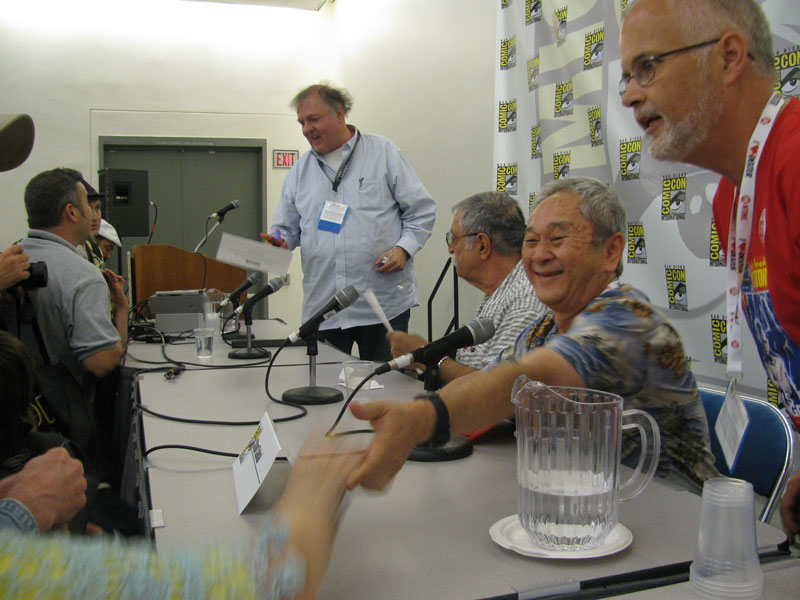 Here are some picture of the alway great panel the Mark and Sergio Show and guest Stan Sakai. This is the first show that Sergio Aragones has been to after his recent hip replacement surgery. He was in very good spirits and glad to be back to drawing. It's the thing that he loves to do.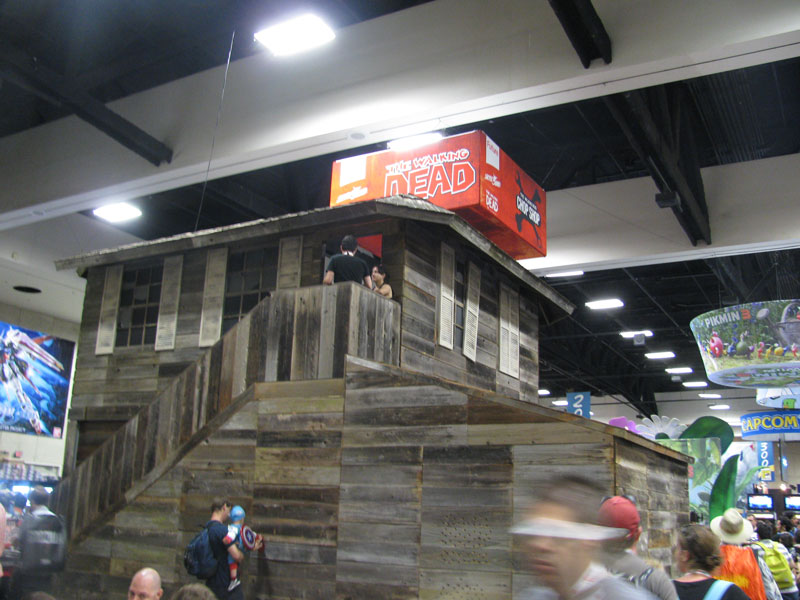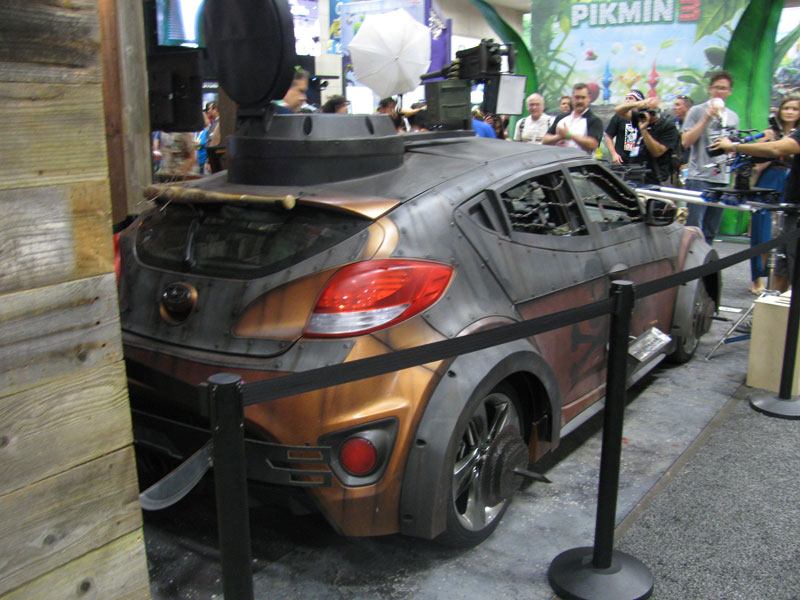 And talk about exploding. The Waking Dead that was just a little comic burst onto the exhibit floor just three years ago and it just keeps getting bigger every year. This year they brought an anti zombie car. I'm trying to figure what they are going to bring next year.
And of course FOX had the poster tubes again this year and chaos ensued every time they released them.
And the alway fun Mythbusters panel with Wil Wheaton moderating this year.
We found this little gem at one of the booths. For those of you that are not old enough to know what this is, it's the flying sub from the television show Voyage to the Bottom of the Sea. It was super cool to see that one still existed.
And finally at the end of the show on Sunday they quickly herded everyone out of the exhibit floor and the sidewalk in front of the convention center could not handle so many people at one time. So for about 10 minutes we stood in the same place while security was yelling at us to get out. So finally at some point either the police outside or the crowd just went for it and they started to walk in the driveway where the buses drive and finally people could get away from the crush of people. I think the convention need to really rethink crowd control because it seems to get worse every year. I understand growing pains but it seems like it's spiraled out of control.