Last Friday at the American Cinematheque Aero Theater was the second of a four-day retrospective of director Walter Hill and it was a double feature that included my favorite of his films Streets of Fire. The screening started off with his biggest earlier hit The Warriors and between the two features. there was a Q&A moderated by Jim Hemphill. It was a packed house and it was great to see the two films on the big screen again with a crowd that loved and appreciated them both. While lots of people loving The Warriors, it was amazing to find that the vast majority of people where there to see Streets of Fire. I noticed during the end credits that there were a lot of audience members that were clapping for people who worked on the film and that usually means that people who worked on the film were in attendance. Considering this was a rare screening of the cult classic I'm not surprised with the majority of the film shot on the Universal lot back in 1983.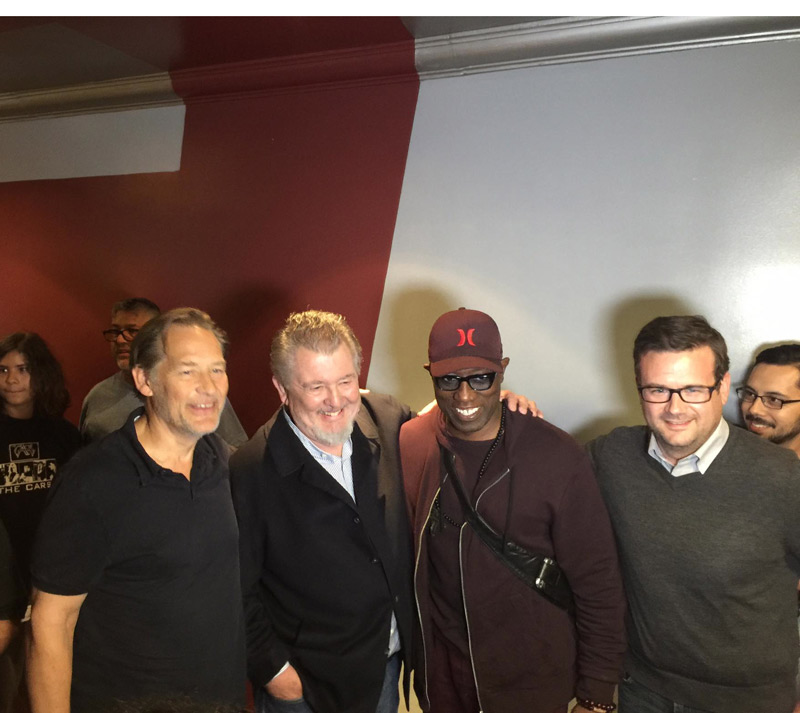 Left to right James Remar, Walter Hill, Wesley Snipes, and Jim Hemphill
Also in attendance at the screening was James Remar who played Ajax in The Warriors and Wesley Snipes who starred in Hill's 2002 feature Undisputed. But for me to relive seeing my childhood favorite film Streets of Fire again on the big screen made for a special night. Three of my co-workers went to the screening and had never see the film before and afterwards they commented on how much they loved the film and was surprised that they had never seen it. I have own every home video version of the film released in the U.S. but thankfully Shout Factory with years of pestering from me and hundreds of others has finally scheduled a Blu-Ray release of this cult classic in a restored version with a whole second disc of extras. You can pre-order the Blu-Ray HERE that will be released on May 16th 2017.
So for those who could not attend the screen, I have thankfully recorded the interview with Hill and Hemphill at the screening. Hope you enjoy it and I want to thank both Walter Hill and the American Cinematheque for hosting an amazing night of two of Hill's finest films and letting me finally meet him and thank him for making Streets of Fire.
Enjoy!