Photo Renard Garr
If you grew up in Los Angeles in the late 1970's to 1980's and were a movie fan I almost guarantee that you went to Hollywood Book and Poster at least once in your life and if you were like me made many special trips to the store when it was on Las Palmas Ave. Eric Caidin owner of the store passed away in Palms Springs on Monday doing what he loved best going to the movies at the Arthur Lyons Film Noir Festival over the weekend. He apparently died from cardiac arrest after being rushed to the hospital.
Here was Eric's biography over at IMDB:
Eric Caidin was a noted and much beloved member of the film fan community in Hollywood, California. In 1977 Eric opened the terrific memorabilia store the Hollywood Book and Poster Company, which sold everything from film stills and posters to books and magazines to DVDs and t-shirts. The Hollywood Book and Poster Company was named the best movie poster store by "The Los Angeles New Times" in 2001. Caidin presented the monthly Grindhouse Film Festival at the New Beverly Cinema along with fellow exploitation feature enthusiast Brian Quinn. He appeared in small roles in the movies "Hellroller," "Prison Ship," "Cannibal Hookers," and "The Aftermath." Caidin appeared as himself in the documentaries "Texas Frightmare Weekend 2006," "Confessions of Lemora," and "Flying Saucers Over Hollywood: The 'Plan 9' Companion." Moreover, Eric was featured along with Johnny Legend on the fun, lively, and informative Something Weird DVD commentaries for the documentaries "Mondo Mod," "Mondo Freudo," "Mondo Bizzaro," and "The Hippie Revolt." Caidin often attended various wrestling events and could be frequently seen at film conventions held all over the United States. Eric died from Cardiac arrest on May 18, 2015 shortly after attending a film noir festival that was held in Palm Springs, California.
I never personally knew Eric beyond shopping at the store and running into him at conventions but I do remember him being a really nice guy that not only knew tons of movie stories but was also a huge music fan. Back in the day before the internet Hollywood Book and Poster was THE place to not only buy the latest memorabilia, it was also the place to go to find out nearly anything. He was the Google of Hollywood knowledge.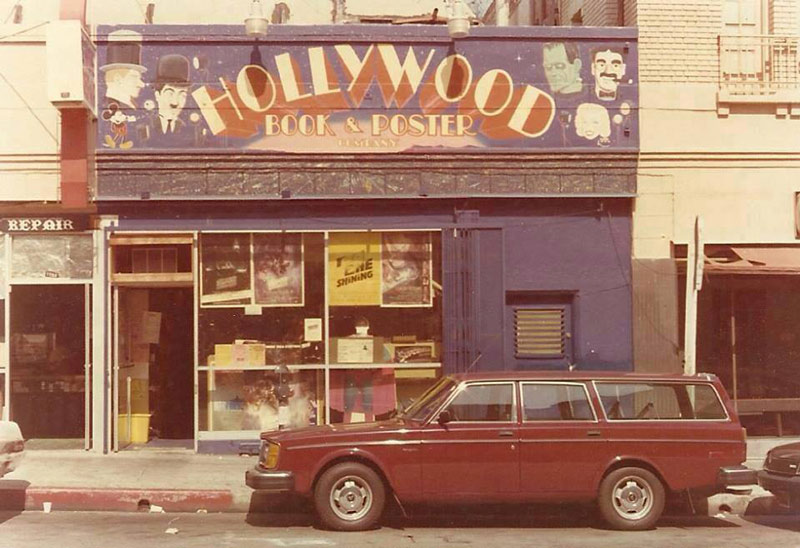 Photo Ariel Shudson
I remember going to the store on Las Palmas back in the late 1980's and marveling at both new and classic posters, lobby cards and other memorabilia in the store. I could rarely afford the posters that I wanted but would always hit up the sale attic upstairs and see if I could find something. Two of my favorite things that I bought there were Back to the Future concept artwork that were black and white card stock mockups of ideas for the poster. Below are the color versions from the Drew Struzan collection.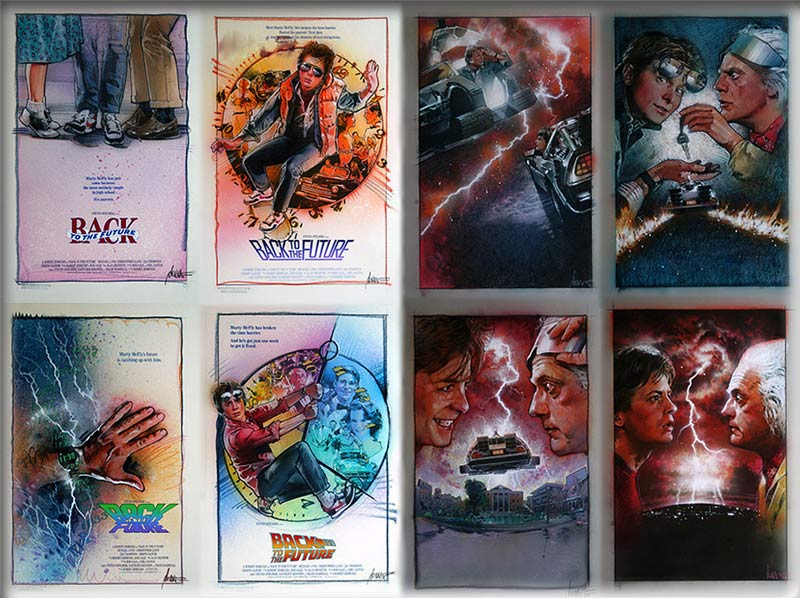 The other was the different individual color posters for Streets of Fire.
I would also buy 35mm trailers that I was always fascinated with even though I knew that I could never play them on a projector. I just liked having them. The great thing about going into the store was that you could spend hours just digging through stuff and looking at the amazing history of Hollywood through the great artwork and publicity material that was there. More recently I would alway see Eric at the LA Science Fiction and Comic Book Convention at the Shrine Auditorium when they had them and he would always bring tons of stuff that would barely fit on the table but he would pack it to the brim and was always fun to look through. Eric was always pleasant and would always be up for a good conversation.
Photo Jessie Lilley
There were lots of friends of Eric that have share their love and stories on Facebook about Eric and you really see the impact that he and his store had on the film and fan community. There is a great tribute from Ariel Schudson will give you a wonderful glimpse of Eric as a friend to so many.
Charles de Lauzirika had a great memories on his Facebook page and here is one of his stories that probably mirrors a lot of our meetings with Eric.
Although I had been to HB&P many times by then, my first real memory of Eric was when I made the long journey to the store (circa 1982) in anticipation of them possibly having the "Revenge of the Jedi" teaser poster before it even hit theater lobbies. I got there about 30 minutes before they opened and sure enough, Drew Struzan's glorious "Revenge" poster hung in the window. As soon as John opened the store, I walked straight up to the counter and asked for three of them with the allowance money I had saved up. I think those "Revenge" posters were like $25 each then, before the title change to "Return" jacked that price through the roof. I just barely had enough money to purchase them, not even sure if I had enough for the bus ride home. As John went to the cash register to ring the posters up, Eric just blurted out to him in his uniquely awkward, semi-deranged way, "Regular customer, regular customer! No tax, no tax!" thus saving me a few bucks. That was just one of many odd Caidin-isms that my friends and I would often repeat over the years
One of his close friends Paul M. Sammon told this story about him.
Did a Return of The Living Dead promo show here back in 1985 with Dan O'Bannon, Linnea Quiqley, and Bill Stout. The place was packed. I remember Eric wanting three items I had from that show: the ROTLD one-sheet, a MORE BRAINS! button, and a vinyl LP of the soundtrack. After the show we played The Cramps track from that score so many times we almost wore the needle out. Many other memories coming back today…
Ric Kilroy posted this;
Eric let me shoot a scene for a short film in his Las Palmas location (before HB&P moved to Hollywood Blvd.) He was a great guy and a true film maker's fan. So sorry to hear this.
There are many other stories about Eric but the one thing that they all have in common is that while on the surface he may have just been a movie memorabilia store owner, he was a lot more than that to the customers and friends. Eric loved to share his passion of film with everyone and the impact that he had with the people who knew him from Hollywood Book and Poster and film festivals can be summed up in the touching tribute from the New Beverly Cinema Theater.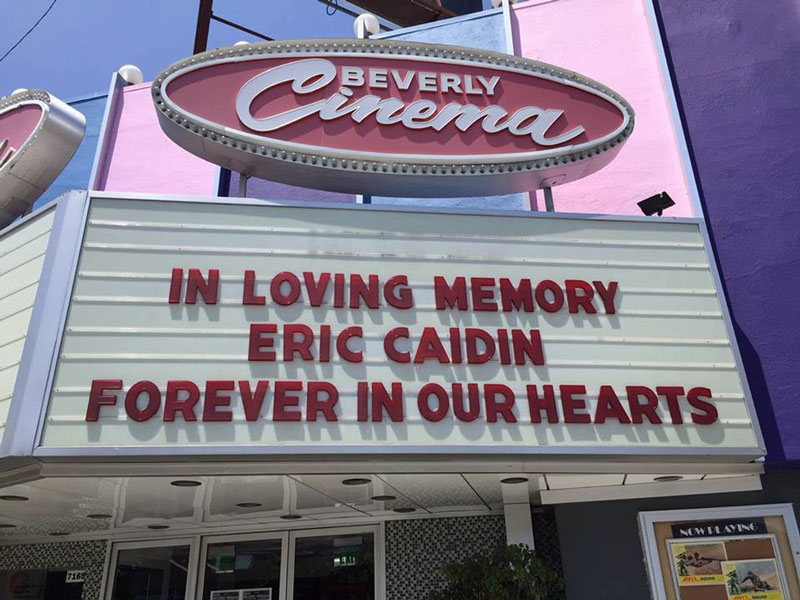 Photo New Beverly Cinema
R.I.P Eric and may you now be with the stars you loved so much.