vi·sion·ary adjective \ˈvi-zhə-ˌner-ē\
: having or showing clear ideas about what should happen or be done in the future
: having or showing a powerful imagination
: of or relating to something that is seen or imagined in a dream or vision (sense 3)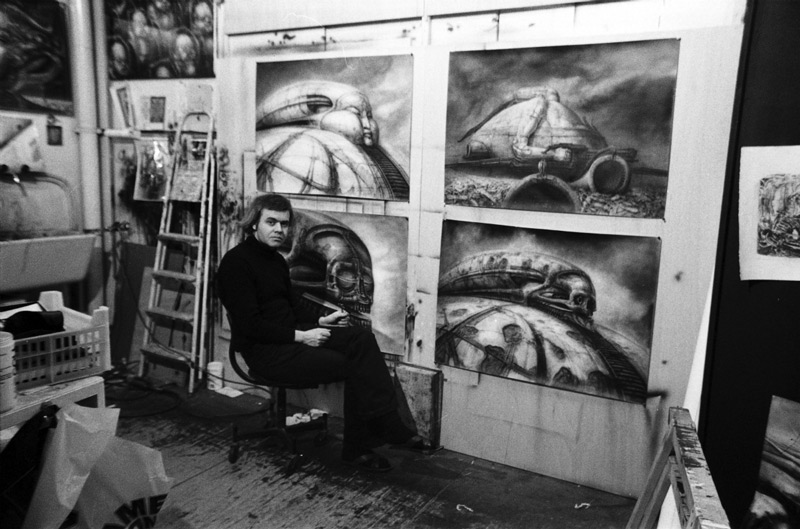 That is the definition from Merriam-Webster Dictionary and I think that it perfectly describes artist H.R. Giger. In a way he almost redefined what the meaning of a visionary is. Giger's impact on science fiction film, art and design that even though he only officially worked on a handful of films the impact will be felt for years to come. His personal biography is online but I will cover some of his film and other works. I want to first tell you how most of the world first discovered his work and influence on all of our nightmares. My introduction to his work was when I was 14 years old when Ridley Scott's Alien but saw the film on HBO about a year later. I was at a friend's house and a bunch of neighborhood kids were in the basement watching this movie and to say that we were freaked out was an understatement. Lets just say that none of us slept very well that evening for sure. Years later I watched the film and was able to really appreciate every aspect of the film including the stunning designs by H.R. Giger  (and I must mention Moebius amazing designs for the space suits). It was Giger that was able to capture what a nightmare looked like in real life and it's still one of the most frightening creatures ever created and no one has come close to it. Ridley Scott commented about the passing of Giger and I think that it says a lot about the impact that he had on the film and the man,
"I am very saddened to hear of Giger's passing. I think back on how committed and passionate he was, and then consequently, all the security we built up around his 'lock up' studios at Shepperton. I was the only one allowed the honor of going in, and I absolutely enjoyed every hour I spent with him there. He was a real artist and great eccentric, a true original, but above all, he was a really nice man. He will be missed."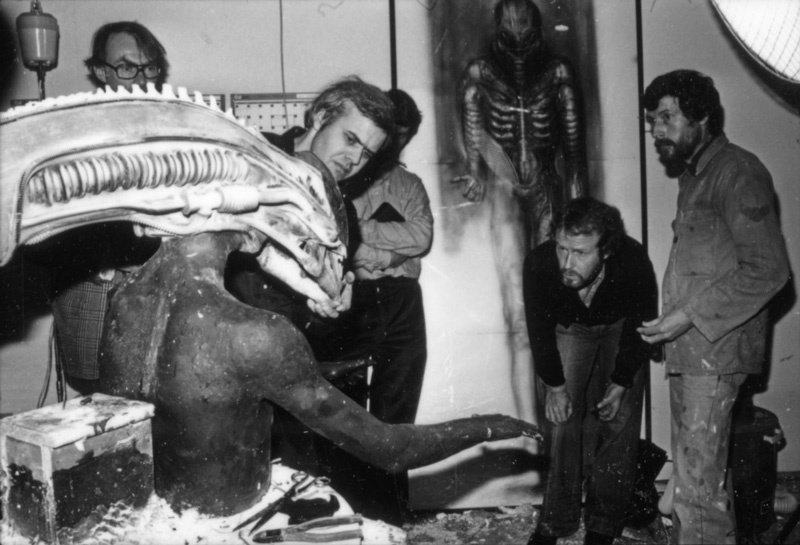 You can truly see the passion of his work on in Alien on the screen. Sadly with the subsequent Alien franchise films Giger only was contacted by David Fincher about doing designs but things didn't work out behind the scenes and none of his designs were eventually used on the film. He did work on some other films officially like Poltergeist II, Species and Tokyo: The Last Megalopolis. Ridley Scott brought Giger back and used some of his original design elements in Promethous. The film that he did some amazing designs for but new got off the ground was Alejandro Jodorowsky's Dune. He worked on the film years before Alien and you can see from the artwork why Scott chose to have him work on the designs for Alien. While he was first and foremost a painter and sculpture it was his film work that he is most identified with for a lot of people.
There were many notable rip off of his artwork. One of the most obvious ones are The Supreme Leader in Disneyland's Captain EO film played by Anjelica Huston. Bally made a pinball machine called Space Invaders that clearly ripped off Giger's Alien design too closely because 20th Century Fox sued Bally and won a lawsuit against them.
He also worked on many album covers but probably the two most famous ones were Debbie Harry 1981 Koo Koo album and Emerson Lake & Palmer 1973 album Brain Salad Surgery.
One of the most impressive legacies that Giger has left the world is the H.R. Giger Museum that opened in 1998 when Giger acquired the Château St. Germain in Gruyères, Switzerland, and it now houses the H. R. Giger Museum, a permanent repository of his work.The artist lived and worked in Zürich with his wife, Carmen Maria Scheifele Giger, who is the Director of the H.R. Giger Museum. The other interesting official Giger inspired locations are two bars with the first, the H.R. Giger Bar in Chur, Switzerland, which opened in 1992, and the second is The Museum HR Giger Bar, located in Château St. Germain, Gruyères, Switzerland, which opened on April 12, 2003.
I have the fortune to know Charles de Lauzirka who had met H.R. Giger when he was on the set of Promethous while working on the amazing documentary for the Blu-Ray Special Edition. Charles is like most of us who loves film and he brings that love of film to make some of the best special edition documentaries and supplemental material on the biggest films. Some of his other great work can be seen on the special editions Blu-Ray & DVD of Blade Runner, Legend, Twin Peaks and The Amazing Spider-Man. He has done  all of the special editions for Ridley Scott that gives him complete access to Scott's productions that is unprecedented for most special editions. Saying that Charles is an Alien fan is an understatement he was the producer of the Alien Quadrilogy DVD for Fox and the expanded version Blu-Ray.
Today Charles wrote of his experience of meeting Giger on the set of Promethous and he has graciously allowed me to reprint his story along with photos that he took on the day of the visit. I think that he really speaks about what Giger meant to all of us.
It was with much sadness that on Monday afternoon I learned from Stewart Jamieson that H.R. Giger had passed away.
Despite being a longtime fan of his work, I only met the man once. On February 16, 2011, Giger and his lovely wife Carmen came to the Stanley Kubrick Building on the Pinewood Studios lot outside of London to meet with Ridley Scott and the PROMETHEUS team to go over the various creature and environment designs under development. For hours, I followed Ridley and Giger around with my camera as they discussed the film, doing the best I could to keep my geek enthusiasm in check. As the film's behind-the-scenes documentary producer, I was there to perform a job, after all. And yet I couldn't help but imagine what my 11 year-old self, who had his mind so thoroughly blown by seeing ALIEN opening night at the UA Egyptian Theatre in 1979, would think about being in the immediate presence of these two great masters, finally reunited more than three decades after they unleashed one of the greatest science fiction films ever made onto the big screen.
Following the conference room meeting,we all adjourned to Ridley's office where I planned to continue shooting Giger's visit. Giger then asked me about myself and my job as Ridley's documentarian. He smiled as I explained my odd backstory to him. With a twinkle in his eye, he said in his halting English, "I have a gift for you." Giger reached into his bag and gave me a copy of his "H.R. Giger Revealed" DVD, which I naturally asked him to sign. It was truly a special day for me and one I'm pleased I was able to document for posterity.
My impression of Giger is that in person, he was the exact opposite of his art, which remains beautiful in its own haunting way. Violent, sexual, gothic, demonic, seductive…a surrealist landscape of nightmares from the deepest, darkest corners of the human imagination. And yet, on a personal level, I found the man himself to be very kind and gentle. I once even heard Ridley refer to him a "sweetheart." Based on the all-too-brief time I spent with Giger, I would very much echo that sentiment.
My sincerest condolences to Carmen Maria Scheifele Giger, Leslie Barany and all of Mr. Giger's family, friends and associates. He was one-of-a-kind original in every sense of the term and his otherworldly visions will be never be equaled or forgotten.
Charles de Lauzirika
Los Angeles
For those of us who only knew H.R. Giger from his work I am moved by Charles story because it from a level of a fan and for him to describe the person behind the legend. Below are photos from the day that Giger visited the set.
Below is some of H.R. Giger's artwork and sculptures that words can not describe the beauty of his work.
The Mural that inspired the work in Promethous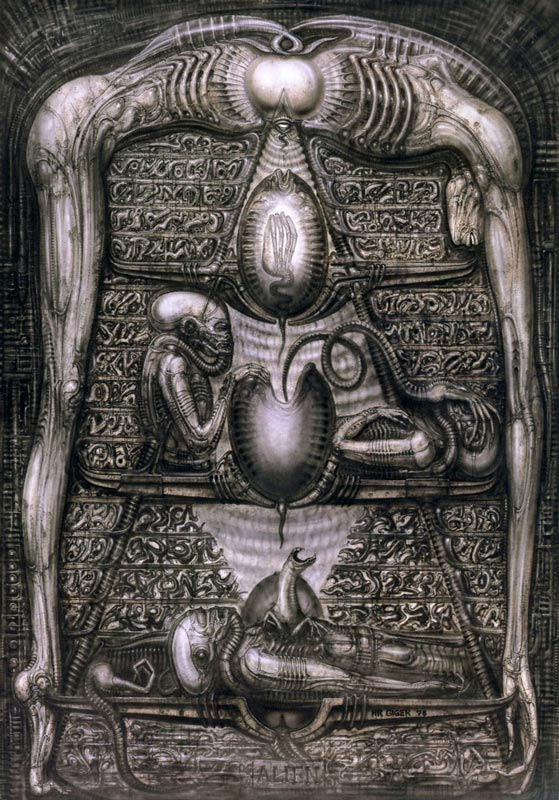 Giger's unused Batmobile design for Batman Forever
Giger's stunning designs for Poltergeist II
Giger behind the scenes art and photos from Alien
Giger's Necronomicon IV artwork that inspired the creature from Alien.
Concept artwork for MGM's Species
Some of the design artwork from the aborted Jodorowsky's Dune
The Goho Doji design from Tokyo: The Last Megalopolis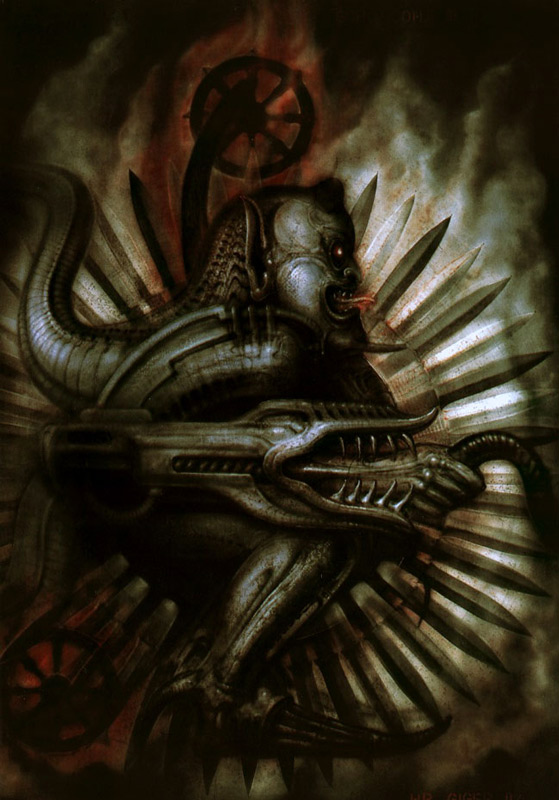 Debbie Harry on the infamous Giger chair.
Emerson Lake & Palmer with Giger showing the album cover design to them.
Pictures from the Giger Museum and Bar in Switzerland.
The play field artwork from Bally's Space Invaders
Giger's only artwork used for a movie poster. Sadly the poster is the best thing about the movie.