Tonight at the Wilshire Ebell Theater L.A. was treated to the cast of the funnest comedy on television right now Bob's Burger Live. The best way to describe it was a longer version of their panel from San Diego Comic Con. The event was to start at 7:30 but was told by the theater that it was actually 8:00. They were very unclear as to what line you supposed to be standing in if you had tickets or stand by or pick up. Once we got in there was a table with t-shirts with each of the family members. They are really great shirts but too bad they didn't bring nearly enough and ran out of large and x-large in a very short time. One would think that if you have a sold out venue that seats over a 1000 people you would have brought more than 100-200 of each shirt total. It was not well thought out considering you had a sold out show and so little merchandise for the show available. Sadly I was unable to get a Tina or a Bob shirt but did get the other three family members. So the show starts and H. Jon Benjamin and Eugene Mirman come out and introduce the show.
The show started with each of the five actors
H Jon Benjamin (Bob)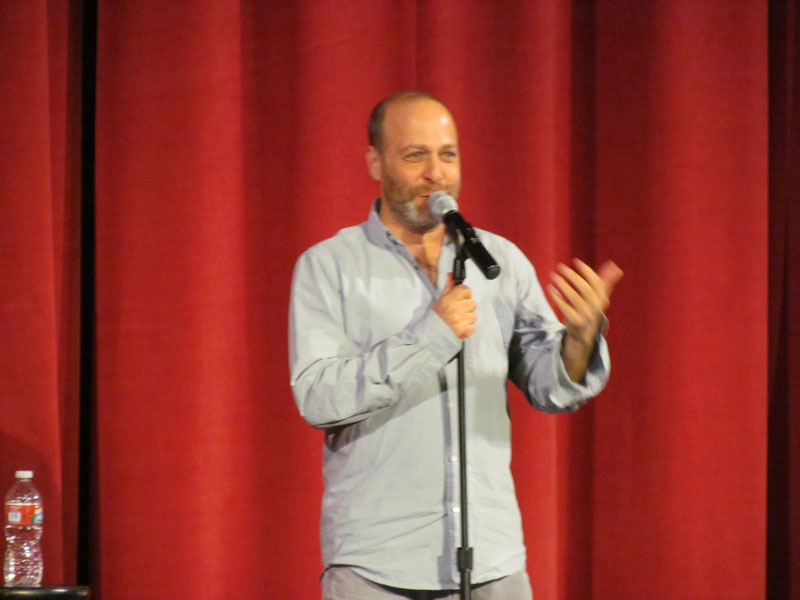 Dan Mintz (Tina)
Eugene Mirman (Gene)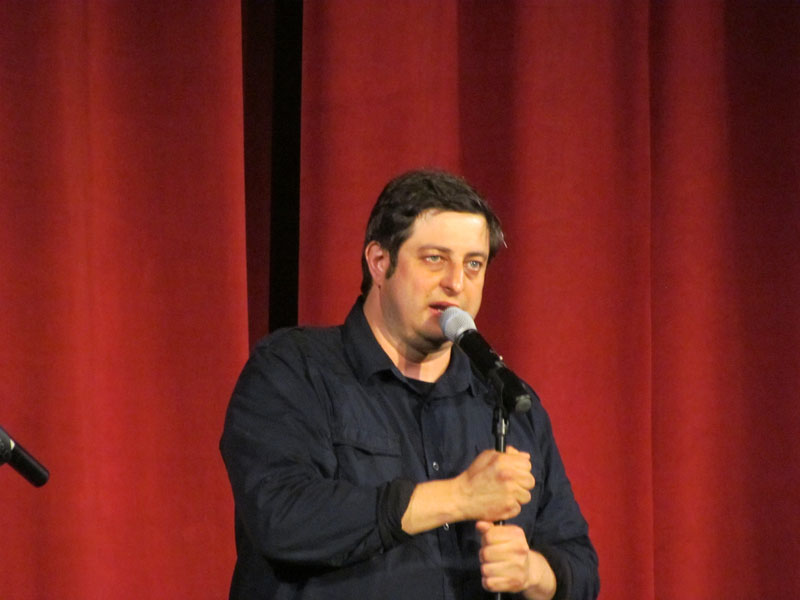 John Roberts (Linda)
and Kristen Schaal (Louise)
doing an 8 to 10 minute standup routine that was flat out hilarious. Then we were treated to an animatic of season 4 Christmas episode that really showed how good the writing and cast are before the animation is completed. After that the main cast was joined by show creator Loren Bouchard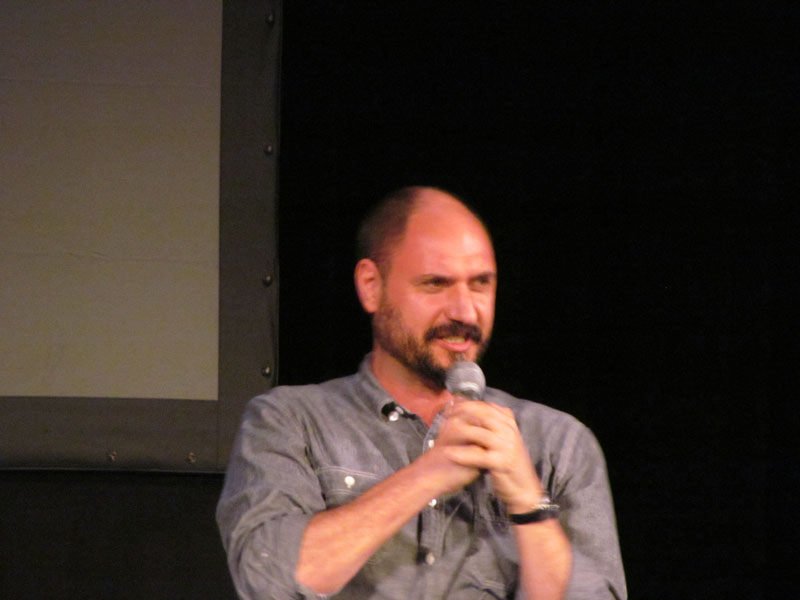 and Larry Murphy (Teddy) and special guest Megan Mullally (Linda's sister Gayle)
to read the first two acts of the Thanksgiving episode. If you ever have a chance to go to an animated show script reading it is really an amazing experience. They are rare but they are often done at San Diego Comic Con and the Family Guy cast has done some shows on the road.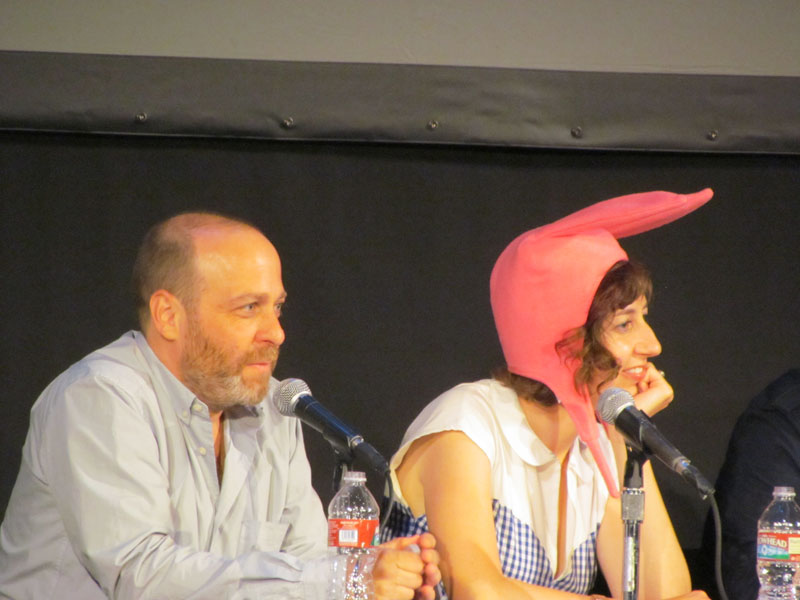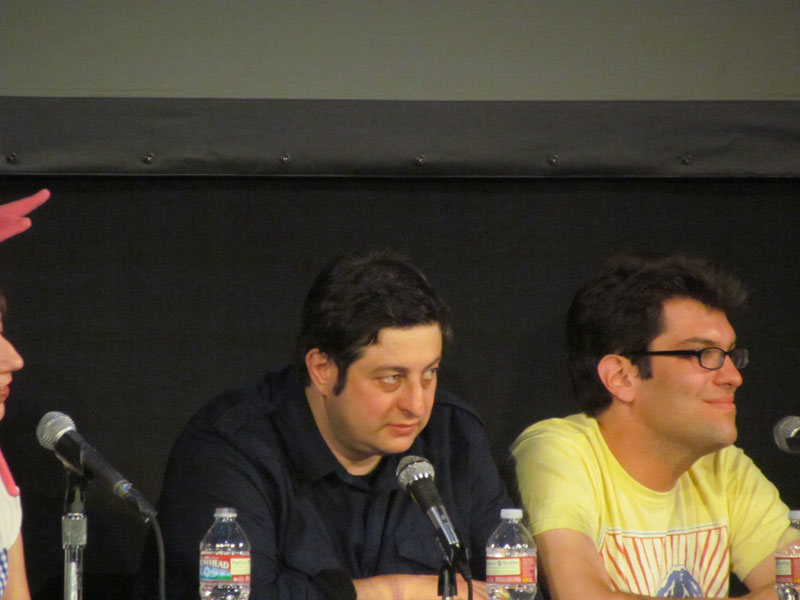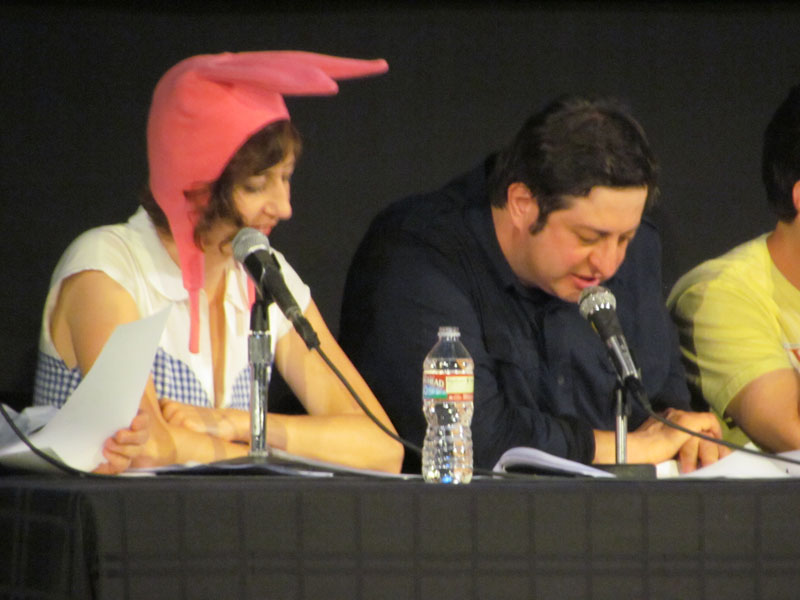 They were filming the show so maybe if we are lucky they will have it available for everyone to see and hopefully be able to purchase. The night ended with a Q&A with some good questions but no real secrets for the fourth season were revealed. Overall a good value (except for the OUTRAGEOUS Ticketmaster add-on charges) the venue was OK for an older location. Parking was not too bad but getting there early helped. It was a rare chance to get to see this wonderful cast live at one time. Hopefully they will release it on DVD or download.