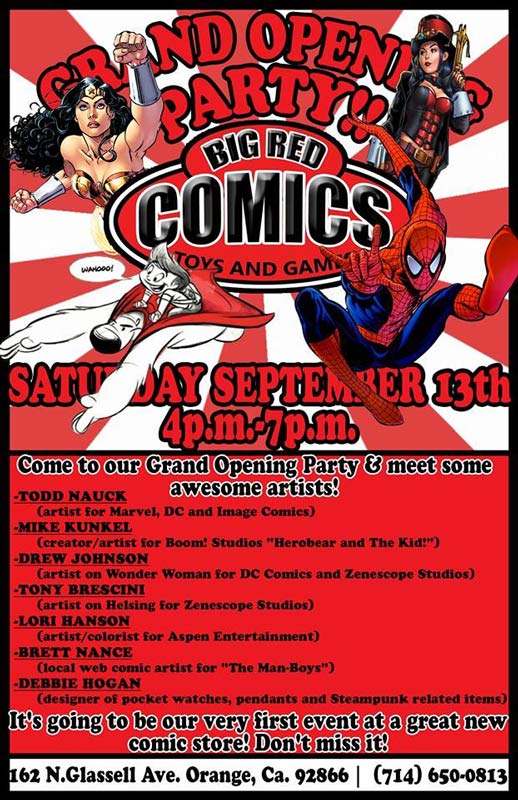 Last weekend there was a new comic book store that opened in downtown Orange California. Big Red Comics who has a store in the Buena Park Mall has added a second location in the old town district of Orange. The reason that I went was that John Berry who was the manager at the local shop that I had went to is now the manager at this new Big Red Comics location. They had some great artists that dropped by and they pulled in quite a crowd. The new location is not a huge location but it does make for a nice intimate comic shop. The Orange area has lacked a comic store for a number of years and the old town area of Orange is a great location for a comic book store. If you are down in the area you should drop by and say hello to John.
1
The lovely Debbie Hogan was selling her famous pocket watches and jewelry at the store. You can visit her Facebook page HERE to find out what shows she is doing.
The always awesome Brett "The Man Without Fear" Nance was on hand to do sketches.
Lori Hanson had her fine art on display and was doing commission work at the store. Check out her Facebook page HERE
Tony Brescini who is doing Helsing for Zenescope. You can check out his website HERE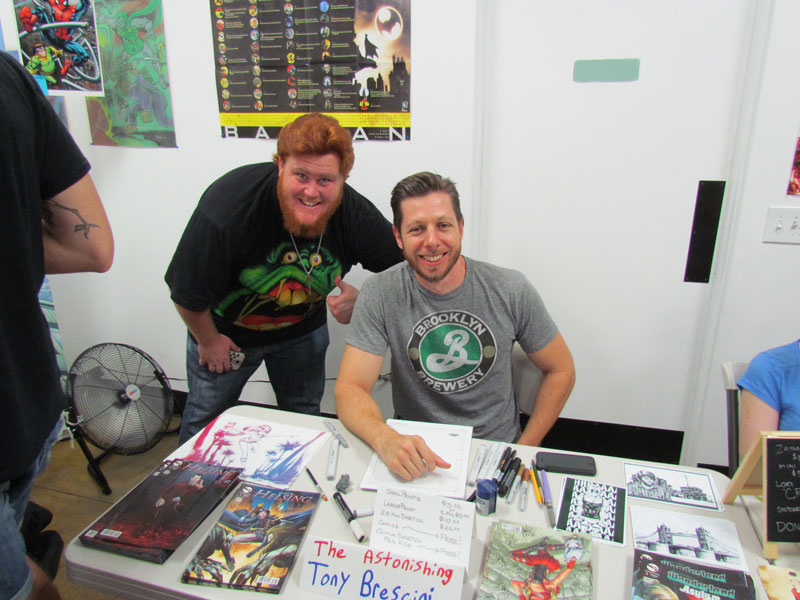 Mike Vasquez does some of the best parody covers around and is a super nice guy too. Head over to his website HERE
Todd Nauck is one of the nicest people you will ever meet next to his awesome wife Dawn. He is currently drawing the Nightcrawler book over at Marvel and does some of the best sketches that you can get. He will draw practically anything. Head over to his website HERE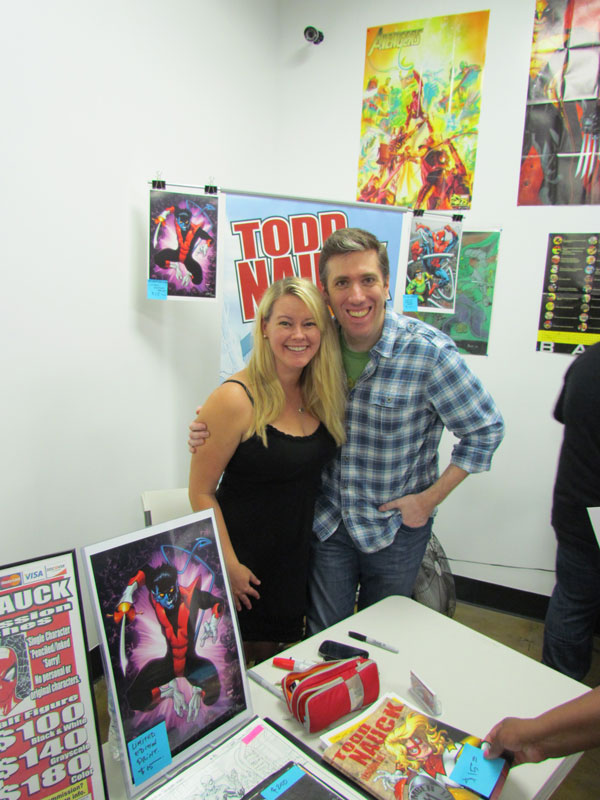 Mike Kunkle the creator of the beloved comic Herobear and the Kid had his new Herobear series on hand and he brought along stuffed Herobear's that you could adopt and have your own adventures. Check out his website HERE
Here are some general picture of the store. My good friends Atomic Steve and Sonny work at the store and can probably answer any comic related question that you can throw at them.
While the store is still finding its way now, but it's a nice location. They are still stocking things up in the store so it will still take a few weeks to find it identity but the store is clean and well-lit. While I only briefly met the owner Big Red himself he does love comics and is trying to develop the store. While the store is not huge it does have the right area and with John as the manager it could turn into a really good comic store that is really needed in the Orange County area. If he is able to do all of the crazy things his imagination can dream up for the store then it will turn out very well.
Once John gets things going this could be the most happening store in Orange County.