Another week and another set of reviews. There were a lot of new #1 books this week and it made up for last weeks weaker selections.
George Perez's Sirens #1
Boom! Comics Writer and Artist George Perez, Colorist Leonardo Paciarotti, Letterer Ed Dukeshire
It's been quite a while when Perez has done both full artwork and writing and so there was a lot riding on this book. The plot synopsis from Boom is, As an intergalactic force enslaves planets across the galaxy, the legendary team known only as the Sirens must reunite to save the galaxy—but is that even possible when the Sirens themselves don't even remember who they are? And the rest of the universe only remembers them as…villains? A six-issue miniseries featuring your new favorite comic book team, written and drawn by the master himself, George Pérez (Wonder Woman, JLA Vs. Avengers) begins his greatest story yet. Be forewarned that this is a really dense read. Perez loves mythology and there is a ton of exposition and set up in this first issue. The story is interesting but after reading the issue I felt is was more like an appetizer for what is to come. While there is a ton of set up the flow of the story was interesting. There is a lot of bouncing around to the different Sirens in various time periods keeps the story moving briskly. Perez's artwork is as sharp as it's ever been. The only thing that I noticed is that his lines are a little thicker than in the older days but that's about all. The thing that has not changed is the amount of detail that he put into the artwork that really shows what a master artist that he is. Make sure that you take your time reading this book because there is a lot of time jumping involved in this first issue and it can be a little confusing if you are not paying attention.
Is this book worth your time and money? While the first issue is good it might leave some a little unsatisfied because the first issue is a set up story, but what a set up it is. It's really obvious that this is a story that will read better as a whole than as a monthly book. While that is not to say that reading in monthly is going to be bad, it's just going leave you with wanting more. Perez has really pulled out all the stops for this creator owned title and it's really nice to see him doing what he does best, an epic mythology story. RECOMMENDED!
Oddly Normal #1
Image Comics Writer and Artist Otis Frampton.
This was a really pleasant surprise this week. The plot from Image is, Meet Oddly Normal, a ten-year-old girl with pointed ears and green hair–a half-witch who will be the first to tell you that having a mother from a magical land called Fignation and a father from Earth doesn't make it easy to make friends at school! On her tenth birthday, she blows out her cake's candles and makes a disastrous wish. Now, Oddly must travel to Fignation to uncover the mystery of her parents' disappearance. I was really impressed with this book. It's a great all ages book and starring a female character that is far to often missing in all ages fantasy stories. The other thing that Frampton did so well with the story is how he connects with the readers with Normal so well. There is a part of all of us that has gone through the same thing when we were kids. We all felt like outcast in one way or another. He does a great job of setting the world and the feel of the series in this first issue. Frampton does a wonderful job of bringing Normal's world to visual life too.  He does a fantastic job of infusing subtle detail into the characters expressions that really conveys the emotions that the story is trying to deliver. His color work on the book is very nice also.
Is this book worth your time and money? I was really taken by this book. It's an all ages comic that is not written for kids because we know how that usually turns out. Frampton has crafted a very magical but heartfelt book that hits every tone perfectly. He has crafted a truly great story that I for one can not wait to see where it takes me. HIGHEST RECOMMENDATION!
Criminal Macabre: The Third Child #1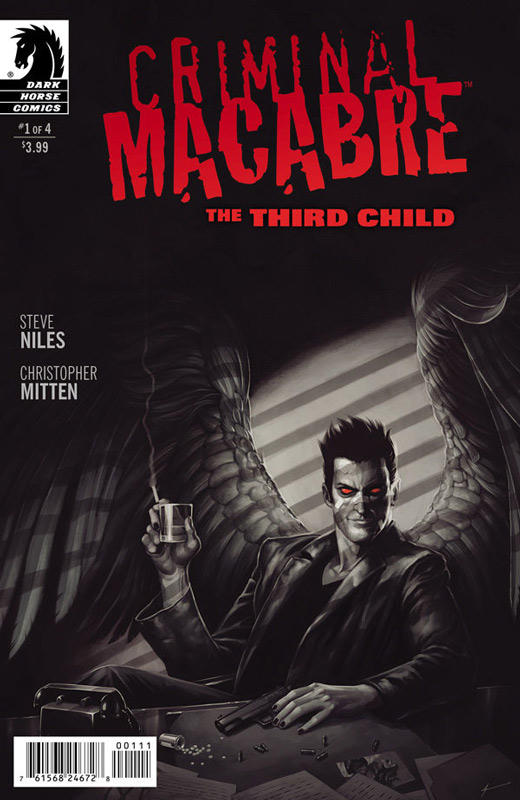 Dark Horse Comics Writer Steve Niles, Artist Christopher Mitten, Colorist Michelle Madsen, Letterer Nate Piekos
This new mini series continues the story of Cal McDonald from creator Steve Niles. The lot form Dark Horse is, Cal's changed . . . and maybe not for the better. Locked away and drowning himself with booze and aspirin, Cal feels the evil consuming him. Will he be able to withstand its pull or will he become the monster war's greatest weapon of destruction? I have been a fan of Niles for a long time and this is perhaps my favorite character that he has ever written. This new story arc mini series gets off to a little slower start than some of the previous story lines. While the story is not bad by any means it seems as a more transition issue for the story. The thing that I did like is that if you have never read Criminal Macabre before there is enough infomation in the front cover to get you up to speed. I did like the story but I didn't fall in love with is like I have with other stories in the Cal McDonald series. It really felt like the continuation of the last story and I think that when you read the series as a whole it works a lot better. The problem is that they come out irregularly so it's a little hard to remember what happened in previous series. I do think that when the story is read as a whole it will work a lot better than individual issues. Mitten's art gives the story a really nice vibe and mood that the story needs. The only thing that was disappointing in the art was the real lack of backgrounds in most of the pages. It really left a lot of things really sparse looking a lot of the time. I will give Madsen's color work really brought the art alive and help visually with the lack of backgrounds.
Is this book worth your time and money? While I liked the story I just didn't fall in love with it compared to the other Macabre series. It's a good story that I think will work overall but the first issue is a little rocky. The art loses points for the lack of backgrounds that sometimes really give the book a flat look that is really saved by Madsen's color work. Overall it was a decent read and hope that it works out with the other three issues.
Sensation Comics Featuring Wonder Woman #2
DC Comics Writers Ivan Cohen/Jason Bischoff, Artists Marcus To/David Williams, Colorists Andrew Dalhouse/Wendy Broome, , Letterers Deron Bennett/SaidaTemofonte
DC new done in one book featuring Wonder Woman got off to a great start with the first issue. So how does the second issue stack up? The plot from DC is, Diana Prince's heroics continue! Wonder Woman faces her greatest peril as the Gods' gifts are withdrawn one by one. And since their first gift was life, how far will her unraveling go? Then, learn how Diana earned the twin bracelets that protect her from the bullets of Man's World! The first story "Taketh Away" is a decent story of what if the gods took Diana's powers away if she public forsakes them. While it was a decent read it didn't leave a huge impression. The story by Cohen has a nice hook at the end to who is behind the loss of Wonder Woman's powers but ultimately the story lands in familiar territory and doesn't rise above. To does a nice job on the art and helps move the story along visually well. The real gem of this issue is the second story "Brace Yourself" that tells the story of how Diana got her bracelets. Bischoff's script is really pace well and sharp and snappy too. It does a wonderful job of balancing the fun and the serious parts of the story. Williams art also captures the fun nature of the story and really bring the story alive with the art.
Is this book worth your time and money? This issue is a mixed bag. While the first story is OK, it's the second story that really make this issue worth reading. This can be the case with multiple stories in one book. Each issue is going to be both hit and miss. This issue I would still say is worth buying overall with the second story being the real winner here.
Jim Henson's The Storyteller: Witches
Archaia Writer and Artist S.M. Vidaurri
Archaia has been doing a really great job of bringing the world of Jim Henson back to life in comic form for a while now. The plot from Archaia is, S.M. Vidaurri, writer and watercolor illustrator of the award-winning graphic novel IRON: OR, THE WAR AFTER, unfolds the stunning tale of "The Magic Swan Goose & The Lord of the Forest." When her brother is kidnapped by a witch, a young princess must venture into the mysterious forest beyond the castle. There, the Lord of the Forest, an armor clad spirit who watches over the wilderness, comes to her aid, but the princess must rely on her wits to discover who she can trust before her family is cursed forever. Each issue will contain a single story and the first issue gets off to a really good start. First and foremost this issue is a storybook not a standard comic book, so that might turn off some readers but for me it's really exciting to see this type if book. As with most fairy tales the story is pretty straight forward but what really make this story work is the lush artwork that Vidaurri weaves into the story. There are times where you have to turn the book to different angles to read the story and that was quite fun. While the story doesn't take long to read it really does stick with you as a good fairy tale should. I also liked the fact that each issue will be a stand alone done by a different creator.
Is this book worth your time and money? If you are a fan of fairy tale stories and are looking for something different then you have found a real gem here. Vidaurri tells a great story and the art is just beautiful that just make this a really special and unique book. Hopefully the other issue will be as good as this first issue. RECOMMENDED! 
The Multiversity: Society of Super-Heroes Conquerors from the Counter-World! #1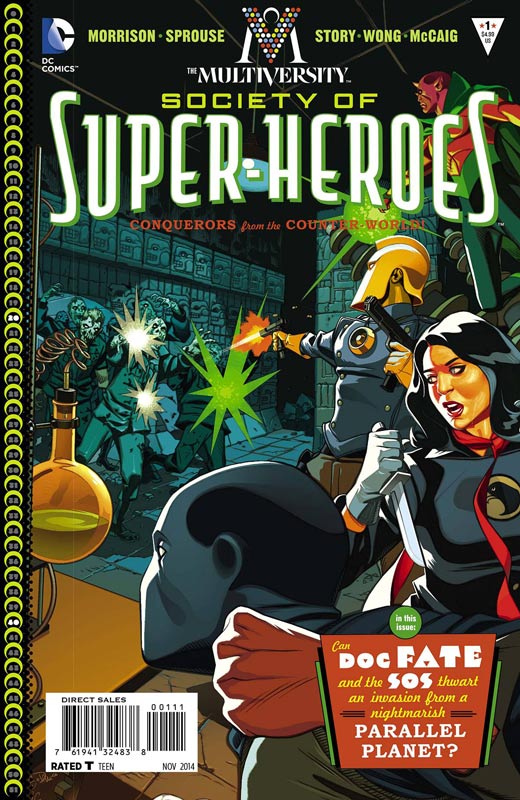 DC Comics Writer Grant Morrison, Penciller Chris Sprouse, Inkers Karl Story and Walden Wong, Colorist Dave McCaig, Letterer Carlos M. Mangual
The second part of Morrison's Multiversity Universe continues this month. The plot from DC is, Who is the demon-like Green Lantern protecting Earth-20? What secret does Doc Fate hold that could save the world? Who are the hand-to-hand and air-to-air combat queens known as the Blackhawks? And what happens when these heroes come face to face with their diabolical Earth-40 counterparts – led by Vandal Savage – for an epic war between parallel worlds? I love where Morrison gets to play with the DC Universe and do what ever the hell he wants to do with it. It's his take on the DC Universe that we all know and he gives new takes on familiar characters and spins them in a whole new direction. This issue is his take on the Justice Society of America and adds a nice dash of pulp comics to flavor the story. I am really loving what he is doing with these books. Each issue stands alone but is creating an epic overall story that will flow throughout the stories. Using Vandal Savage was a perfect choice as a villain because he didn't have to change him very much for the story and wrapping the story in a WWII type setting is just plain icing on the cake of the story. Sprouse, Story and Wong do a wonderful job on the art and really bring this universe to life. They give the story that great 1940's ish feel and the art has really great layouts and nice backgrounds. Instead of focusing on an individual charter like he did in his Seven Soldiers story, these are more about individual worlds and the heroes that inhabit them.
Is this book worth your time and money? If you are an old school DC fan these books are a gift from the comic gods. First Morrison shows how "event" stories should be done, quality first and foremost. So far he is two for two in this story and honestly this is the best book being published at DC. This series has been a long time coming and so far it has been well worth the wait. The thing that I am really loving about the story that he is setting up is how fragile the fabric of time is to the universes. Morrison and Sprouse have done one really important thing with this book, give the reader something fun for a change. That is what I am really loving about these books so far is that they are really fun to read and show that an "event" book can on very rare occasions be worth reading. HIGHEST RECOMMENDATION!