It's quite a large week for new comic book reviews so to get through as many as possible they might be a little briefer than usual, so on with them we go.
The Infinity Entity #1
Marvel Comics Writer Jim Starlin, Penciler Alan Davis, Inker Mark Farmer, Colorist Jordan Boyd, Letterer Joe Sabino
When you let Starlin loose in the cosmic universe of characters you know that your always in for a fun and epic story and The Infinity Entity gets off to a good start. As with most of Starlin's stories the first issues are always a little out there because of the way that he sets up his stories. He is bringing back Adam Warlock to the current Marvel Universe and plays with the timeline to have him encounter the original Avengers and then the Guardians of the Galaxies. Starlin keeps both Adam and the readers a bit in the dark in this first issue but that is not a bad thing because he is building up the story and not revealing all of his cards in this first issue. While it's not a roller coaster ride he does a good job of building the mystery to unfold very nicely. Getting Davis and Farmer on the artwork is a real dream come true. I have said before that I buy any book that they do and in this case Starlin uses their talent perfectly to give the book a great scope and yet capture the intimate emotions in the story. Having they draw the original Avengers team was not only breathtaking but extremely fun. They never fail to deliver anything less than spectacular and this book is no exception. Is this book worth your time and money? IF you're a fan of Starlin or Davis then this is no brainer but for an average reader this is a rare opportunity to see two master story tellers at work delivering a solid start to an epic cosmic story that you rarely see today. It not only is fun but sets up the mini series very nicely. RECOMMENDED!
The Baker Street Peculiars #1
kaboom! Studios Writer Roger Langridge, Artist Andy Hirsch, Colorist Fred Stresing
I am a big fan of writers Langridge's work so I was excited to see what this new book was going to be and after a little hesitation in the first half of the issue, I was totally sold by the end of it. Langridge has a way of jumping right into a story and some times your caught a little off guard with it. The issue starts off right into a story that has already started and while I was enjoying it, I felt a little lost but after finishing the issue I understood why he set things up that way. The one thing that he always brings to his books is a great deal of charm and this book is not only filled with that but a good heaping of mystery. The best way to describe this book is the Goonies meets Sherlock Holmes. Hirsch's artwork is a real treat here. It's a great mix of cartoony and old school EC style art that is very pleasing and fits the story incredibly well. It really gives the book a lovely visual charm that really helps the reader on the first half of the book. Stresing's color work is quite nice and adds a lot to the tone of the story. Is this book worth your time and money? Even with the slow start to the book I rather enjoyed it and works on both a younger and older readers level. Langridge does a nice job on setting up the next issue and now that the bump in the road with the first issue is over I feel more excited and looking forward to the next issue. As long as you know the first issue gets better in the second half then this is a very good all ages comic.
The Haunted Mansion #1
Marvel Comics Writer Joshua Williamson, Artist Jose Coelho, Colorist Jean-Francois Beaulieu, Letterer Joe Caramagna
The newest Disney Kingdom comic based on attractions from the Disney park is the beloved Haunted Mansion. Writer Williamson obviously based the Mansion on the original one at Disneyland with the layout of it. The story gets off to a decent start with an interesting back story with both the mansion and Danny but where the story kind of fails is when it gets into the mansion. Once Danny gets inside Williamson script seems to just go through the motions as if you were on the ride itself and instead of expanding the concept it feel very by the numbers for most of the issue. The one saving grace is Coelho's artwork that gives the book a nice style and feel. The only complaint is that there are a number of times where the backgrounds are on the sparse or non-existent side that I found distracting. Is this book worth your time and money? While not terrible, the book felt very by the numbers sort of affair. Williamson just didn't really expand on the story once it got going and didn't really build the issue up to a huge need to read the next issue. Coelho's art with a few exceptions did make the read a bit more pleasant but he could only do so much with a unfulfilled story. SKIP IT!
Dark & Bloody #2
Vertigo Comics Writer Shawn Aldridge, Artist Scott Godlewski, Colorist Patricia Mulvihill, Letterer Clem Robins
I was impressed by the first issue of this mini series and the second issue does a nice job of continuing to build on the mystery. Aldridge story is a slow burn and while some readers might not be a fan of this technique a good horror story can really benefit from it. He kept the nice pace from the first issue and we start to see a glimpse of what is going on. While were not sure of who is behind it, one thing is for sure that Iris's past has to do with the present mystery in the town. The one thing that Aldridge nails is the mood and tone of the book. He doesn't waste subtle details and elements that will become important down the road in the story. Godlewski's art may not be flashy it really fits the story very well. He wisely under plays a lot of things that most artist would over do that could sabotage the story. He really visually keeps things focused and helps the reader flow along with the story. Is this book worth your time and money? While I understand the frustration of a slow burn story like this, I really enjoy the mood that it brings. Aldridge and Godlewski are crafting a nice little horror book that emphasizes tone and mood over in your face over the top horror that is far too common. I'm hoping that the next issue starts to pull the elements that have been laid down in these first two issues and start to unravel the mystery. So far it's a good ride.
Kennel Block Blues #2
Boom! Studios Writer Ryan Ferrier, Artist Daniel Bayliss, Colorist Adam Metcalfe, Letterer Colin Bell
I was blown away by the first issue of this book and while the second issue may not have that same effect it's a solid follow-up to it. Ferrier script keeps the story simple with an Escape from Alcatraz type story that while on the surface is pretty straight forward and simple there are a lot of subtle deeper running emotions and story that add very nicely to the overall story arc. Sure the story is not as flashy as the first issue but I liked the fact that there was a deeper emotional core with this issues story that gave some nice character development to the series. Once again the book really leaps to life with Bayliss's artwork with his ease of going back and forth with reality and fantasy that blends the story so effortlessly and makes it such an enjoyable read. He really captures the emotions of the story and adds so many nice little touches that very few artist take the time or effort to put into the artwork. I must really point out Metcalfe's color work that beautifully enhances Bayliss's art and gives the book a bold and moody look that really complements the art. Is this book wroth your time and money? While some maybe disappointed with this second issue, I liked the direction that Ferrier took the story to. It was a bold choice after the first issue but it really developed the characters and he also laid some nice groundwork for the overall story. Add in Bayliss's beautiful artwork and this book is still a must read! RECOMMENDED!
The Vision #5
Marvel Comics Writer Tom King, Artist Gabriel Hernandez Walta, Colorist Jordie Bellaire, Letterer Clayton Cowles
The Vision has been one of the biggest surprises of the Marvel re-launch train wreck and this issue might be one of the best so far. King's script is very subtle and subversive and he really juggles a lot of emotions in the story. This is one of those stories that while your reading, it appears that not a lot is happening but then you realize that so much happened that you have to go back a re-read it to catch all of the small subtle elements that you missed the first time through and makes it work even that much better. Walta continues to do the less is sometimes more with his artwork. He continues to impress with the level of detail that the artwork delivers each issue. He has to draw characters that on the surface have no visual emotions but he infuses emotions into them with tone and feel that you would only see in a much more seasoned artist that is beyond impressive. Is this book worth your time and money? While we know that King is leaving the book with issue twelve, I would rather have twelve issues of top-notch story and art that is truly worth reading than a series that wears out its welcome. HIGHLY RECOMMENDED!
The Legend of Wonder Woman #3
DC Comics Writer and Penciler Renae De Liz, Inker, Colorist and Letterer Ray Dillon
I find it ironic that it takes a fairly unknown team to do the best Wonder Woman comic currently and the "more seasoned" team on the regular monthly book is one of the worst ones ever. De Liz continues to infuse the origin story of Wonder Woman with such a fresh and simple approach that is not only fresh but very original take on the Amazon Princess. She wisely doesn't over think or be flashy with the story or artwork, she just keeps it on a smartly thought out path that so few have figured out over the years. Even though I know Wonder Woman's origin, reading this new interpretation is new and exciting and feel as if I am reading for the first time. One thing that is impressive is how well that De Liz and Dillon compliment each others talents. While the scripts are spot on Dillon completes her pencils and adds wonderful color work that adds such great tone to the book. Really great stuff here. Is this book worth your time and money? Each issue of this book just keeps getting better and deeper with the mythology and has me guessing just where will it go next? Who knew that just telling a good story with solid artwork was the combination to a good Wonder Woman book. VERY RECOMMENDED!
Mockingbird #1
Marvel Comics Writer Chelsea Cain, Artist Kate Niemczyk, Colorist Rachelle Rosenberg, Letterer Joe Caramagna
At the end of the first issue, Cain writes that none of the book made sense and she is right but while the book is strange it certainly has an undeniable charm that wins you over in the end. Even with the oddball elements in the script, Cain wisely give the readers a solid grounded character in Barbra Morse to navigate the story that then allows her to throw the wildest things into the book. Everyone can relate about visiting a doctor's office and while there is much more going on in the S.H.I.E.L.D. Medical Clinic the basic insanity of the office is pitch perfect. What is so well done is the balance of the story in the first issue. I went into this book with no knowledge of Mockingbird and at the end of the issue had me wanting more and excited to read the next issue. I was very impressed with Niemczyk's artwork on the book gave it a perfect balance of normalcy and action that flowed very well throughout the issue. There is a lot of subtle elements in the script that relies on the artist to make clear and not only does she do that exceptionally well but with such an ease that its hard to believe that this is some of her first work in comics. This is a really great looking book. Is this book worth your time and money? I was quite impressed with this book and while it was strange and not entirely sure what I read, it did what it needed to do to get the series off to the start it needed. Cain and Niemczyk compliment each other so well that is what really makes this book work. RECOMMENDED!
Batman/Teenage Mutant Ninja Turtles #4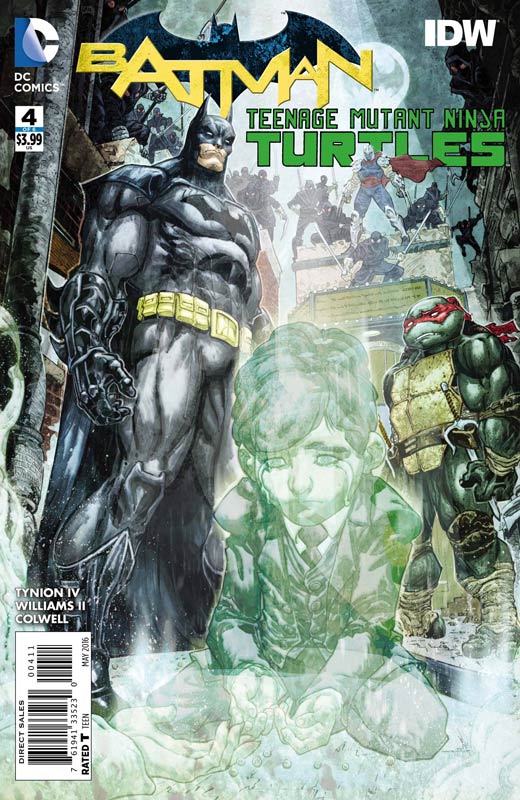 DC Comics/IDW Writer James Tynion IV, Artist Freddie Williams III, Colorist Jereny Colwell, LEtter Tom Napolitano
This book really hits a nice stride with this issue. I have to give Tynion that what might have seemed to be dragging out the story really nails it with this issue with both the tone and bringing Casey Jones into the story. The best part is the story of Raphael and Batman plot that has a great emotional hook and give the issue a nice punch to keep things going. Tynion is doing a wonderful job of blending the two universes together and this issue is the best so far. Williams continues to bring his A game to this book and really pulls out all of the stops with this issue. He nails the emotional core and tone of the story with a great touch that makes the story work so well. Is this book worth your time and money? This book continues to impress for a rare crossover book that is worth reading. Both the story and the art are top-notch here and is moving along nicely. Well worth picking up.
Snow Blind #4
Boom! Studios Writer Ollie Masters, Artist Tyler Jenkins, Letterer Colin Bell
The finale to a very surprising story that I have to applaud Masters for creating such a great take on this mystery story that has an ending that satisfies in a way that you're not quite expecting. While the ending is by no means shocking, it just feels right for the tone that Masters established from the outset. The key to the story working so well is that secrets will always find a way of bubbling up to the surface and they always have consequences. Jenkins gave this story such a wonderful feel and look with his artwork and this issue was his strongest yet. There is a lot of subtle emotions that hit all of the right beats for the story and the reader. Is this book worth your time and money? If you missed this book in the single issues I recommend that you pick up the trade of this wonderful story when it comes out. Masters and Jenkins took what is on the surface a tried and true crime mystery story and gave it some nice twists and turns that made for a very enjoyable read. RECOMMENDED!