A busy week for new comics but very little from the Marvel and DC but lots of independent companies had some good releases this week.
4 Kids Walk Into A Bank #1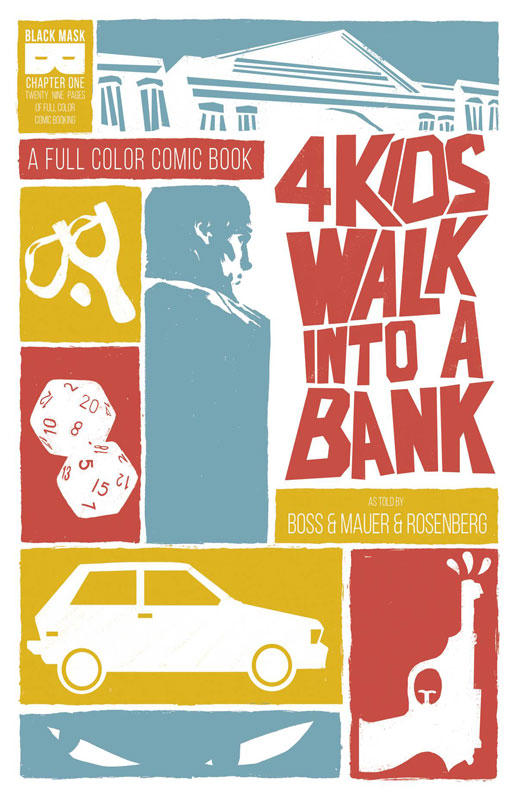 Black Mask Studios Writer Matthew Rosenberg, Artist Tyler Boss, Letterer Thomas Mauer
Black Mask is the new kid on the block and has put out some interesting titles but 4 Kids Walk Into A Bank could be the big breakout hit for them. Rarely does a comic really stick with you but this book really did and does all of the right things a first issue should do. Rosenberg not only sets up the story arc but does a fantastic job of introducing each of the main characters that has a very natural feel and never drags the story down. The one thing that really impressed me while I was reading it was that it had such a wonderful pacing to the story that made it such a wonderful reading experience that your rarely get in comics today. While the introductions are great he leaves a lot of mystery to the story to unfold that really kept me on the edge of my seat and the last panel was a real mind blower. The other thing that was a nice surprise in the script was the humor that gave the book a very nice charming aspect to it and really helped it from being too dark. Boss's art is a real winner here and pull the story together very nicely. His layouts for the book are really top-notch here and I loved that he was willing to go for it with the art and not be confined to panels per page. His art has a simple yet very detailed style that makes you take your time reading the story and admiring his work. Is this book worth your time and money? Every once in a while a book comes along and really knocks your socks off and this is one of those books. It's the perfect blend of story and art that not only entertains but challenges the reader on many levels. It's both familiar and relatable in the characters that gives it a warmth that you don't see very often in this type of story. Rosenberg and Boss have delivered a solid first issue that will bring you back for more. HIGHEST RECOMMENDATION!
Micronauts #1
IDW Writer Cullen Bunn, Breakdowns David Baldeon, Finishes Max Dunbar, Jack Lawrence, and David Baldeon, Colorist David Gracia Cruz, Joana Lafuente, Thomas Deer, and John-Paul Bove, Letterer Tom B. Long
I'm dating myself for not only knowing the original Marvel series from 1976 by Bill Mantlo and Michael Golden that brought the toys that were so awesome to life in the comics. While there have been a few revivals of the comic over the years it now lands at IDW to try to get the franchise back on track. I have to give Bunn credit for getting the new series off to a decent start with a story that builds a lot of mystery to the Micronauts universe. He uses a tried and true plot for the set up and while it's a bit on the standard side, it works well to get the book off the ground. The key is going to be going forward with the story. The one thing that bothered me was the lack of the original Micronauts in the first issue. For readers not familiar with the toys or the original comic might be underwhelmed with the story. I have read worse and I have read better but Bunn need to really bring it with the second issues that will hopefully give a clearer picture of where the book is going to go. The artwork is both good and not so good. The biggest problem is that there are five artist and four colorist for 24 pages of story and that makes for a very inconsistent visual presentation. Overall the art is pleasant but there are parts that seem really rushed and too sparse. Is this book worth your time and money? I liked the first issue but didn't totally love it either. There are two big sticking points to the book. First the art is too inconsistent and it's hard to believe that it took nine people to do the art and color on the book that was going to make it look uneven at best. The other problem is that were starting to see a trend of book with a $4.99 price tag and while I love the nostalgia of the book it was marginally worth the cover price. For a lot of readers it's not going to be worth it. It's one thing to have a sure-fire hit at that price but a comic based on a toy/comic that is 40 years old is a tough pill to swallow for most readers. While it's not a bad book but is a little shaky out of the gate. I will give the second issue a try though.
Aliens Defiance #1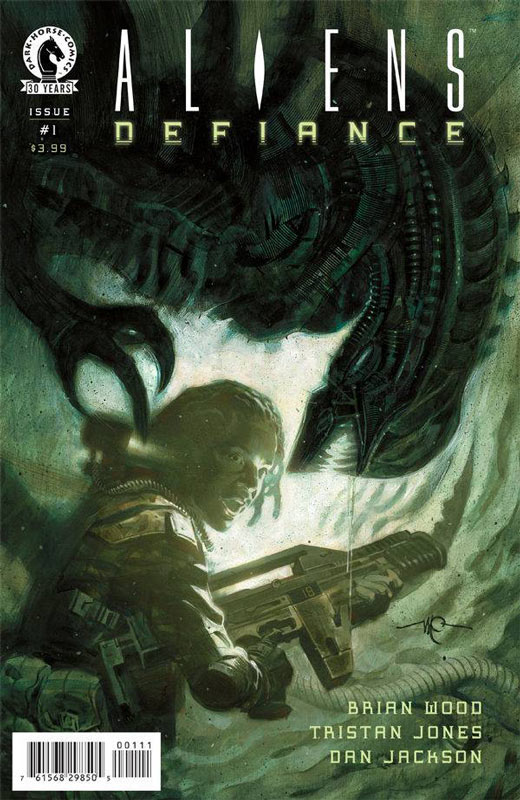 Dark Horse Comics Writer Brian Wood, Artist Tristan Jones, Colorist Dan Jackson, Letterer Nate Piekos
It's hard to try to tell a new Aliens story with so many films and even more comics that it's hard to tell the difference after a while. I have to give props to Wood for at lest trying to come up with something different and while it does come off as sort of greatest hits package there are some nice little story nuggets that give the book a slightly new freshness while reading it. He does some nice groundwork for the story that leads into the next issue. At this point trying to come up with any interesting Aliens story is going to be a tough nut to crack. Wood does his best to give the tired and true story a fresh coat of paint and I though that he did a pretty good job at it. It kept my interest and set up so threads that are interesting enough to come back for the next issue. Jones's artwork does rescue the book and gives is a very nice visual punch that the book needed. He really nails the moody atmosphere that the book needs to move the script along. He does a great job on the character emotions in the story and gives the book the soul that is really needed. Is this book worth your time and money? While the book might not be the most original story it does try to add some new elements that does make it rise above the last few Aliens stories that have come along. The big plus of the book is Jones's artwork that does make the book worth checking out. Wood's sets up some interesting ideas that I am interested in reading the next issue so I found it to be an enjoyable read in the end and worth picking up.
X-Men: Worst X-Man Ever #3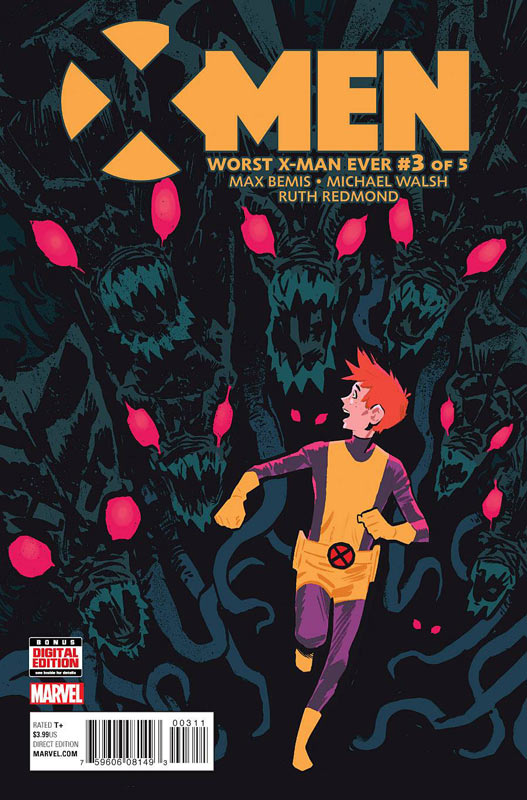 Marvel Comics Writer Max Bemis, Artist Michael Walsh, Colorist Ruth Redmond, Letterer Clayton Cowles,
This book continues to be one of the best X-Men stories that I have read in quite a while because Bemis is really having a lot of fun with the X-Men universe and not being afraid to make fun of itself. While a lot of regular Marvel readers who rarely ever enjoy poking fun at superheroes will no like the book, I find it to be a great tongue in cheek look at a group of marginal mutants who barely have powers. This issue he creates the most powerful mutant ever who wants to be on Bailey's team. So yes he pull out the lamest joke of the most powerful and the most useless mutants being a team. This is a strong story and at the right point of the arc and was very enjoyable. What Bemis has done is create note only a great dramedy but a story that has a lot of heart to it. Walsh's artwork is one of the big keys to the book working so well. His character expression are truly priceless and he really nails Wolverine this issue. While this maybe a humor book Walsh really blew me away with the action scenes in this issue and really shows off his talent of being able to go in and out between drama/comedy/action so effortlessly. Is this book worth your time and money? This book just seems to get better each issue and while some would write it off as a silly comedy book, there is a lot of depth to the book that has become a very pleasant surprise and treat. Bemis and Walsh are really firing on all cylinders with this book and it's really getting better each issue. VERY RECOMMENDED!
Strange Fruit #3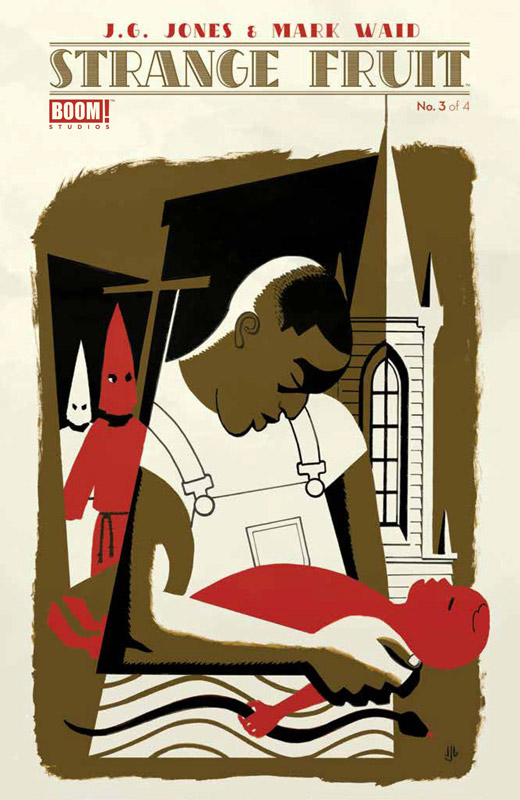 Boom! Studios Writers J.G. Jones & Mark Waid, Artist J.G. Jones, Letterer Deron Bennett
While this story is a very bitter pill to swallow at times because of the tone and impact of the history period that the story takes place in, I'm still impressed with the ideas in the book and applaud Jones for doing the book. While some might argue that comics should be entertainment, I strongly disagree. Comics can be what every subject they want to be and while Jones & Waid are telling a story that is about a difficult period in American history he taps into a superhero mythology to give the story a more palatable coat to wrap it in. I am very impressed with the way that Jones and Waid capture the tone and feel of the period in both the obvious and subtle story elements. The one thing that will work better is reading the whole story in one sitting. Beyond that the book is slow coming out it's a story that will work better as a whole and not a monthly one. This is also a slow burn story that can be challenging to a lot of regular comic readers but serves this story very well. Of course the biggest win for the book is Jones's lush artwork that alone makes this a must buy book. The amount of detail that he infuses the artwork with is truly stunning and gives the book a great emotional impact. Is this book worth your time and money? While the subject matter that the book takes place in is a tough haul at times to digest, it's never the less a period in history that we must never forget. Jones and Waid has captured the period and have crafted a tale that is a comic that actually makes you think while your reading it and that is an amazing feat. Still worth picking up.
3 Devils #2
IDW Writer and Artist & Letterer Bo Hampton, Colorist Jeremy Mohler
Reading this book is a little like the Engine that Could. While on the surface it's not flashy and full of action but what I like about the book is the dramatic tone and the two outcasts have come together to fight a common foe. This is book like Strange Fruit that deals with elements of history that are a bit uncomfortable to read at times but Hampton's story is a bit more subdued than Strange Fruit. He actually uses those elements to progress the story in a very intriguing way that makes is work very well. This is one of those stories that is a nice slow burn that is paced so well. While I will admit there are a lot of reused story tropes, Hampton give them some fresh spin here. The thing that is working so well is that he has created interesting characters and given them some great background stories that is making the story work so well. I also like that he is mixing different genres together that you normally don't see this way in a comic often. His artwork has a great old school feel that is one of the main reasons that I am enjoying the book. He makes a lot of great tone choices in his art style and really conveys the emotions in the characters that gives the book a nice emotional core that really delivers the story elements quite well. Is this book worth your time and money? This is one of those books that really takes me back to the rise of the independent comics that came out of the 1980's and while I may be nostalgic for it in that respect, I do think that it works because Hampton keeps the book simple and to the point. There is nothing wasted here and in this case the simpler the better. Not everyone's cup of tea but I am enjoying the story that he is telling.