It seems appropriate to review two lost Jack Kirby projects that DC Comics has reprinted this week to celebrate Kirby's 96th birthday this week.
In the late 1960's Jack Kirby was getting fed up with the problems he was having with Stan Lee and Marvel at the time and left to go to DC. This was huge at the time. Kirby was given a new position at DC Comics of editor/writer/artist and two of the first projects that he worked on was Spirit World and In The Days of the Mob. Kirby wanted to experiment with new formats and proposed the projects as magazines that would allow new types of artwork and more edgier stories. Originally he wanted to do them in color and have other writers and artist do stories for it. DC was nervous about the cost so they scaled back the projects to be in black and white and have Kirby do both the stories and the art. They even created a new "publisher" Hampshire Distribution because they had no faith in the books and didn't want to have them associated with DC Comics. So when they did finally come out in 1971 the distribution was spotty at best and in some cases never left the local distributors because they didn't know what to do with them. Both books has material finished for a second issue and neither one was published. Some of the stories from Spirit World showed up in Weird Mystery Tales and Dark Mansion but stories for In The Days of the Mob where only two of them saw the light of day in obscure fanzines. So for years these books were lost to the ages. Fortunately someone over at DC Comics decided to not only put them both out but to restore the second issues that never got printed in hardcover no less. These rare gems of pivotal Kirby career can finally be seen they way that they were originally intended. Now on to the reviews.
Spirit World Hardcover (DC Comics)
Spirit World reprints both the published first issue than contains five Kirby stories and art a three page text story by Steve Sherman and Mark Evanier and a one page Weird Humor by Sergio Aragones. Kirby really experimented with different art techniques that used photographs and did a blue wash to give the black and white art some color. The cover was redrawn by Neal Adams from Kirby's original design. There are four stories that were to make up the second issue that are presented in black and white.
The stories consist of mix of horror and supernatural themes such as premonitions in "The President Must Die". Ghost stories in "House of Horror!". Reincarnation themes in "The Lorca File" and one of the more ironic stories "Nostradamus" that has amazing predictions like Paris being destroyed in 1983 (I guess that didn't happen). "Horoscope Phenomenon or Witch Queen of the Ancient Sumeria?", "Toxl, The World Killer", "The Burners" and "The Psychic-Bloodhounds" fill out the second issue stories.
While the book may not have been what Kirby had hoped it would be it still very impressive stuff. While the art in the first issue is a little underwhelmed by Vince Colletta's inks it's still really top-notch Kirby in his prime. The second issue stories were inked by Mike Royer but sadly the blue wash was never done for these stories. While they are not super edgy stories they are very creepy and moody. One of my favorite ones is "House of Horror' I really loved his take on the typical ghost visuals. Overall it a really impressive book. Kirby use of mixed media for the artwork is stunning. He combined photo's in some of his Fourth World books but the results are really striking in this book. It's definitely a different side of Kirby that you usually don't see often.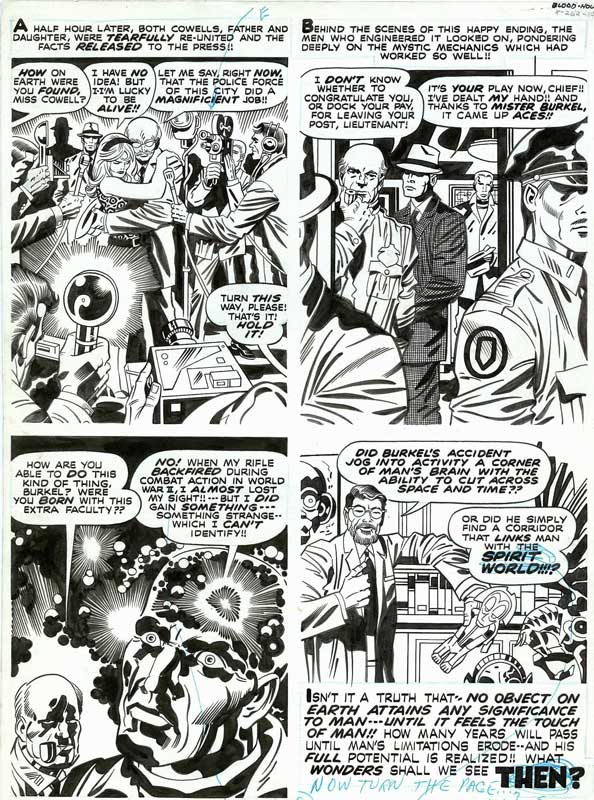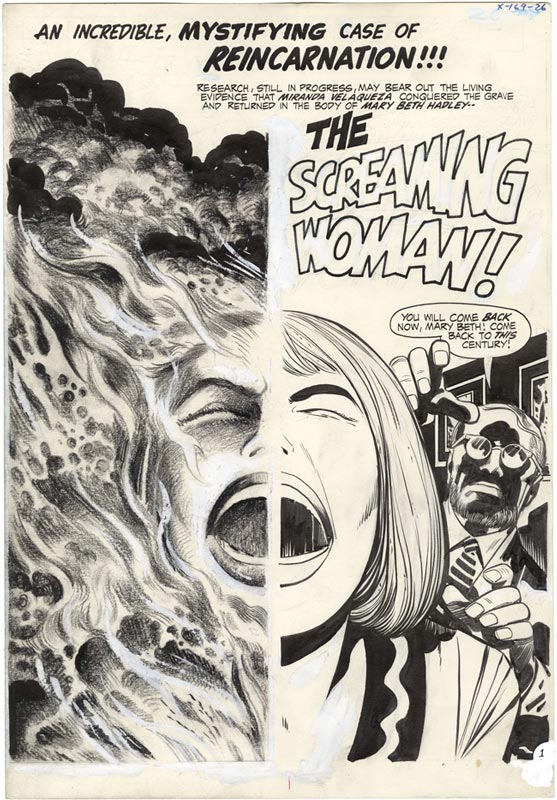 While DC may have interfered with what Kirby had originally intended it's still a very great idea. The restoration of the second issue is a real treat. You can even tell that Kirby was planning another story because at the end of last story notes to turn to page 14. The other thing that Kirby incorporated was having a host (a la The Twilight Zone) Doctor E. Leopold that was similar to Cain and Able from House of Mystery. If you are a Kirby fan (and who isn't) this is a must buy to add to your collection and while the cover price is $39.99 it's a steal considering how much it would cost just to buy the back issue of the first issue and with this collection you get the lost second issue. Highly Recommended!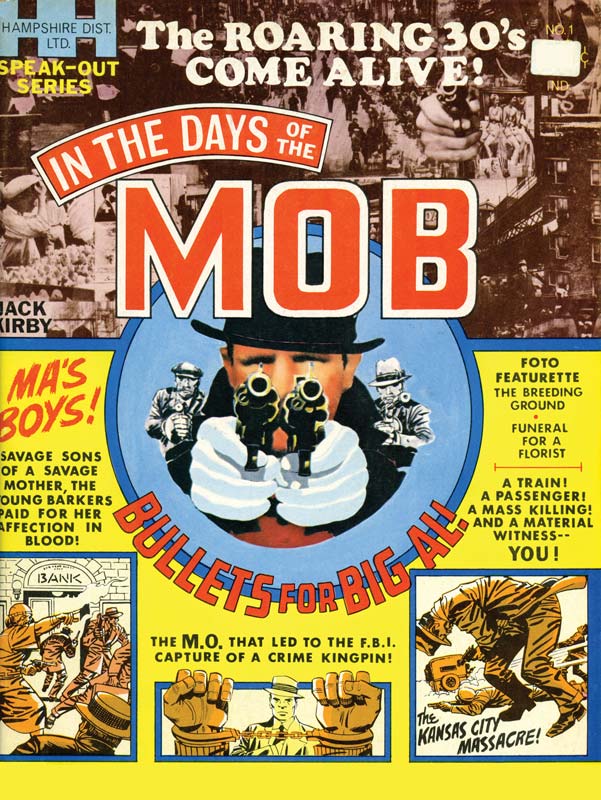 In The Days Of The Mob
Kirby grew up on Manhattan's Lower East Side in the 1920's and 30's where he gained firsthand knowledge of gangsters and gun molls and it very much influenced his work on the other experimental magazine In The Day's of the Mob. The first issue has the similar layout as Spirit World with four stories written and drawn by Kirby,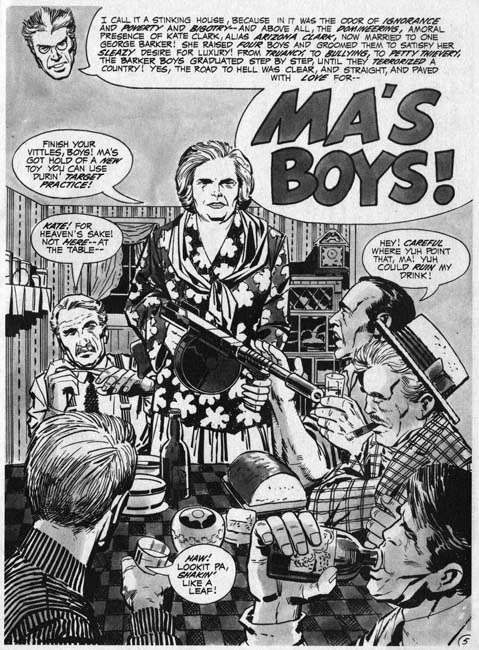 "Ma's Boys", "Bullets For Big Al", "Kansas City Massacre", and Method of Operation". There is a featurette "The Breeding Ground and an article by Mark Evanier & Steve Sherman "Funeral For A Florist" and a two pages of cartoon by Sergio Aragones. The first issue stories were done in brown wash color over the black and white artwork and on these stories Vince Colletta's inks do add to the feel of the period that Kirby was trying to recreate. The second issue contains "Murder Inc.!", "The Ride!", "Ladies of the Gang", "A Room For Kid Twist!", and "Modern Technology and the "Get-Away Car!" and these were inked by Mike Royer The "Get-Away Car!" is like an ad for the Wacky Races cars animated show but designed by Kirby. My favorite story is "The Ride" form the second issue that is down right chilling.
The art is straight forward Kirby line art that is different from the mixed media art in Spirit World. The one thing that I found very fascinating  was the dialog in the stories are very different from other stories that he wrote during this period. The dialog is much more believable and less awkward than some his work on the fourth world titles. His art fits the period style the stories are set in and I have to admit that Colletta's sketchy inks work really well on these stories. While Royer is a fine inker he tends to not embellish the art like Colletta did. They both are great none the less.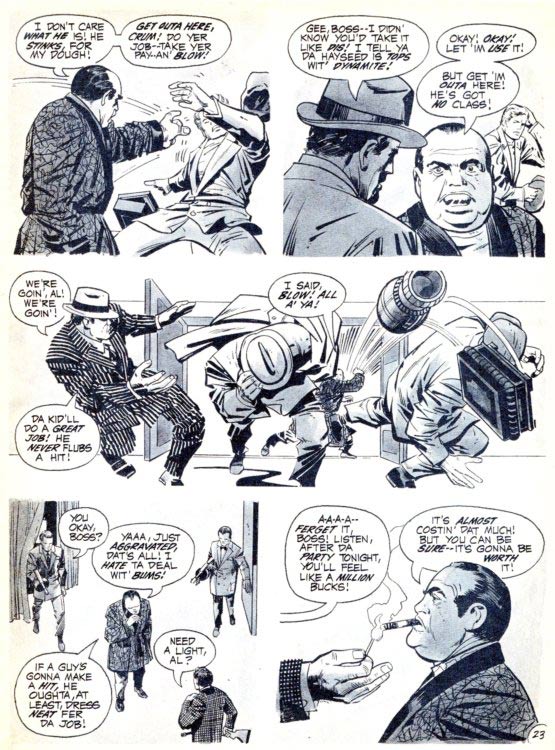 Apparently restoring the second issue of this magazine was much harder than Spirit World. Some of the artwork was lost to the ages and apparently had to use smudgy photocopies that were scanned and corrected for this edition. I'm hard pressed to tell which pages those are. DC really need to be commended for bringing both of these books to the public. In The Days Of The Mob is stories that Kirby had obviously had floating around for a long time and they are simply fantastic. There are so few "crime" comics done and to combine that with the talent of Kirby really leaves you breathless. I can not recommend this book enough.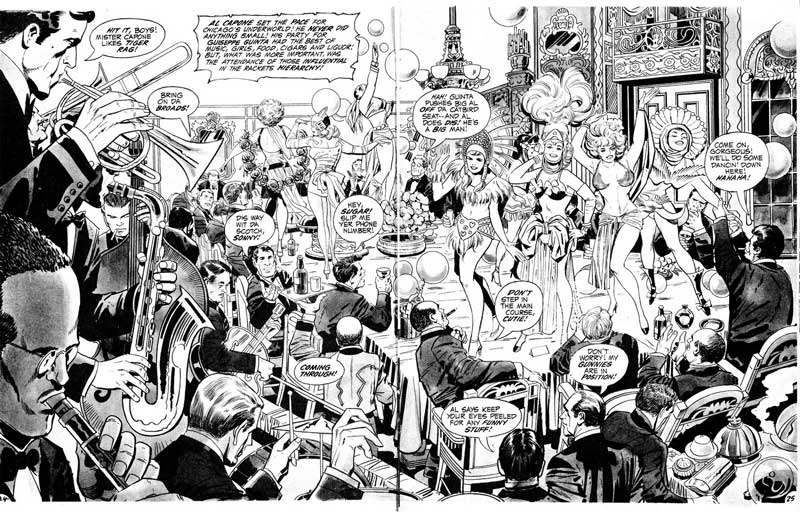 So if your a Jack Kirby fan or want to see a different side of Kirby's work then go out and pick up these two fine collections up. My suggestion is go to Cheap Graphic Novels where they have both Spirit World  and In The Days of the Mob  for 45% off list price everyday. I shop there for all of my trades and hardcover books. They have better prices than Amazon and there packing and shipping are top notch. Let them know that Pop Culture Maven sent you there!