It was quite the week for comic books. There were a lot of new #1 issues this week so I am going to concentrate on them for this round but I snuck in a returning champion. So lets get started.
Disney Kingdoms: Seekers of the Weird #1
Marvel Comics Writer Brandon Seifert, Penciler Karl Moline, Inker Rick Magyar, Colorist Jean-Francois Beaulieu, Lettering Joe Caramagne
This is the first book of the Disney Kingdoms imprint that takes ideas from Disney Imagineers and put them into comic form. The plot synopsis from Marvel Comics is, AN ALL-NEW ADVENTURE INSPIRED BY DISNEY'S LEGENDARY BUT NEVER BUILT MUSEUM OF THE WEIRD! When their parents are kidnapped, teens Maxwell and Melody are thrust into a thrilling race through the world's most strange and dangerous museum as they unite with their mysterious and swashbuckling uncle to save their family and the world from an evil secret society! Envisioned by famous Walt Disney Imagineer Rolly Crump for Walt Disney in 1965, the Museum of the Weird's innovative designs were left on Crump's drawing board…until now! Brought to you by writer Brandon Seifert (Witch Doctor), artist Karl Moline (AVENGERS ARENA) and Shuster Award-winning cover artist Mike Del Mundo! The first issue does suffer a bit of the set up blues where the bulk of the issue is setting up the series. While most first issues do this, a much better book would hid this problem so you don't notice it. Seekers of the Weird doesn't quite do that. While the story is not bad you really never quite get too involved in the story or the characters. It suffers from an all too familiar formula and doesn't really bring much new to the idea. If you took the Disney name off the book you would not feel any different about it. Seifert hit all the appropriate beats but never quite draws you into the story. Moline and Magyar art is nice but pretty standard fare and seems like standard licensed type artwork.
Is the book worth your time and money? It's pretty iffy on this one. I think the big problem with the book is that I never felt any part of the story was Disney at all. And one would think that would be the point of the book. You have read this story a million times and it brings nothing new to the table. I will probably read the second issue but I'm not going to get my hopes up on this one. Not bad but not good either just plan average. If you are on a tight budget for comics I would pass on this one.
Li'l Battlestar Galactica One Shot
Dynamite Comics Writer and Art by Art Baltazar, Writer Franco
This month Dynamite is taking five of their licensed comics and turning them into an all ages event and each book has a different creative team. The plot synopsis from Dynamite is, AW YEAH BATTLESTAR GALACTICA! The search for Earth continues in this awesome epic event of tiny proportions! Who are these Cylons? Are they friends or foes? Does complaining to daddy Adama help or make things worse? Fear not, Apollo and Starbuck are here to save the day! Find out the answers to questions you've always wanted answered: How old do you have to be to ride a colonial viper? Is there a height requirement? And what does Baltar have to say in all of this? And where do Baby Cylons come from? Come join the new and smaller adventures aboard the Battlestar Galactica. And if that isn't enough, each Li'l book comes with a two-page activity sheet! The team of Baltazar and Franco from Tiny Titans fame bring a cute little story with the original series characters. The story is pretty basic with the Cylons trying to take over the Galactica. While these books are not going to change the world or cure cancer they are very cute and fun. Baltzar and Franco are perfect for this book and are very obvious fans of the original television series. That really comes across in the book. They are obviously having a good time with the book and so will you. Sometimes that's a really nice change of pace to sit down and read. The other great thing is that you can share it with your kids and maybe they will enjoy the original television series.
Is this book worth your time and money? While it's a little pricey at $3.99 if you are a fan of the original Battlestar Galactica you are going to fall in love with this really cute book. Just sit back and enjoy the ride on this one.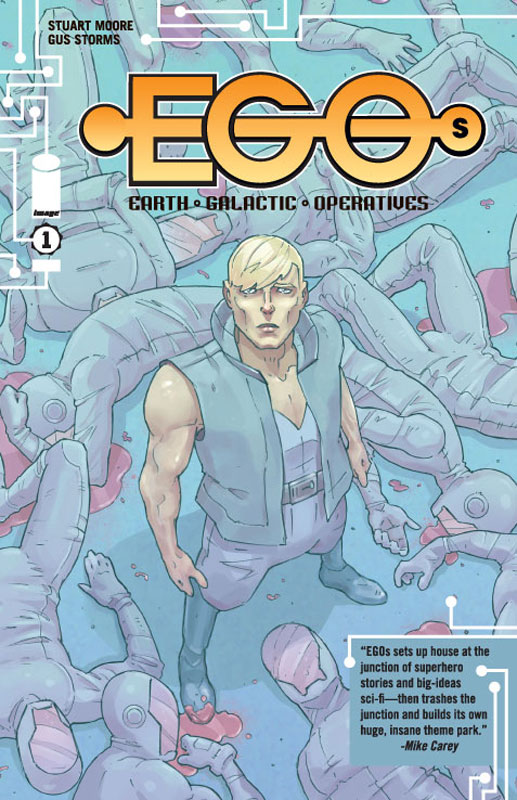 EGOs #1
Image Comics Writer Stuart Moore, Artist & Colorist Gus Storms, Lettering Rob Steen
Stuart Moore is one of those writers that has done a lot of comics over the years but while he is good there has not been that one story that you really can remember. Well I guess he was saving it for EGOs. The plot synopsis from Image is, A twisted far-future epic! An aging hero risks everything to rebuild his former team – but to do so, he must cross a line with his wife that can't be uncrossed. Reading the first issue at first seems like a pretty standard origin story setting up a new superhero group. The thing that really impressed me with Moore's story is when he reveals the bigger picture it doesn't seem like "oh my god" type of moment. While you are not expecting them, they never feel super forced to make you feel that way. It's a really solid set up to the series. Storms art sometimes can be a little stiff but it really fits the story quite nicely. It may seem a simple style but it has really nice detail to it. It's very French art influenced and I really can't wait to see him grow as an artist on the book. He really captures both the big picture and the subtle facial expressions. It's definitely more science fiction than superhero story. This book is one to watch this year and I am really looking forward to see where Moore and Storms take this very great ride of a book.
Is this book worth your time and money. Very much so. The first issue gets off to a nice start and lays the foundation for a really interesting story. Both solid story and art that brings back a really good science fiction story in comics. Recommended.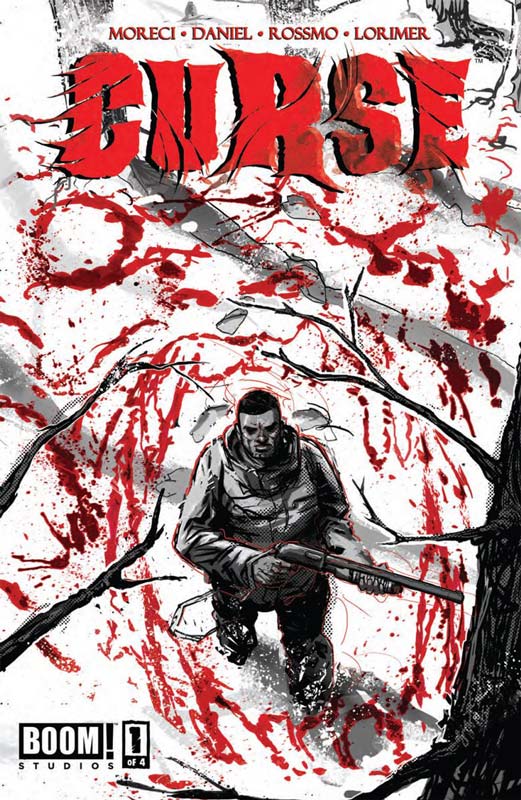 Curse #1
Boom! Studios Written by Michael Moreci & Tim Daniel, Art by Riley Rossmo & Colin Lorimer, Lettering Jim Campbell
I am really happy that Boom! is trying to add more non licensed books and more creator owned titles out. The plot synopsis from Boom! is, Laney Griffin is a man who will do anything to save his son from leukemia, but the cost of treatment has broken him financially. When he pursues an elusive murderer in the wilderness of his small, rural community, in the hopes of securing a substantial bounty, Laney is confronted with something he never could have expected: a werewolf. The captive lycan, in human form, turns Laney's life upside-down, forcing him to confront his haunted past and race against the clock—because the wolf will return, and Laney's son's condition continues to worsen. CURSE is a story of a family's survival at all costs. While the story is far from original it did do a few things right. Starting the story off with the ending and working its way back was a nice touch. Moreci and Daniel did a nice job of introducing the cast and with the set up to the story. The ultimate question is where are you going with this because after the first issue I wasn't super invested in the idea. It just seems a too familiar to me story wise. I will say the art is really nice, and the limited use of color was really quite brilliant. So many artists forget that you can use limited color and black and white at the same time to get a really great effect.
Is this book worth your time and money? I liked the first issue but I just didn't love it. The story is really going to have to come together in the next issue or it's just not going to cut it because it's only a four issue series and they only have three issues left so you do the math. I will give it marks for the nice artwork though. This one another iffy book this week.
Night of the Living Deadpool #1
Marvel Comics Writer Cullen Bunn, Artist Ramon Rosanas, Lettering Joe Sabino
I will be honest I have never been that big of a Deadpool fan other than the David Lapham and Kyle Baker MAX books a few years ago. For the most part all of the Deadpool books have been mediocre cash grabs. So is this any better or different? The plot from Marvel is, Deadpool awakes from a food coma to find…THE ZOMBIE APOCALYPSE HAS OCCURRED! Can the Merc with the Mouth avoid becoming the Merc in their Mouths? Writer of the DEADPOOL KILLOGY Cullen Bunn brings us to one of Deadpool's darkest tales ever…and not just because it's in black & white (and red)! Bunn's story while it's OK really brings nothing new to an all too familiar genre. While he throws the whole kitchen sink with the jokes most of them don't really stick. After reading it I just felt Meh. There is absolutely nothing new brought to the story and is beyond predictable. It's every end of the world zombie apocalypse and Bunn just inserted Deadpool and stale jokes into it. The only bright spot to the book is Rosanas art. Doing the post apocalypse art in black and white with only Deadpool and the flashbacks in color is visually quite nice. The art is the best thing about the book.
Is this book worth your time and money? If you are a Deadpool zombie you are going to buy this no matter what I say about it. For the rest of you save your money. Trust me you have read this story and while the art is really nice, in the end it's just not worth the $3.99 that you could be spending on better comics.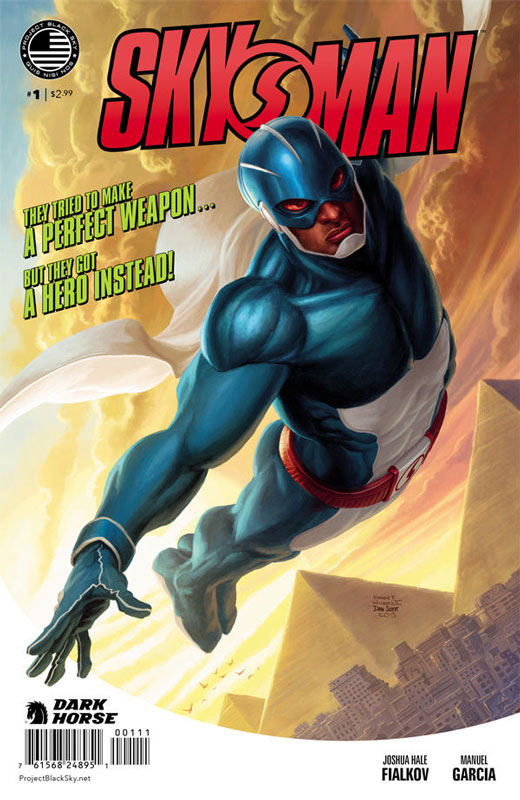 Skyman #1
Dark Horse Comics Writer Joshua Hale Fialkov, Pencils by Manuel Garcia, Inks by Bit, Colorist Marta Martinez, Lettering Nate Piekos
Dark Horse Comics is trying again to bring superhero books back to its stable after it tanked back in the early 1990's. This is the first of the new superhero books that I have picked up because I am a fan of Fialkov and of his great I Vampire reboot for the New 52 over at DC. The plot from Dark Horse is, After an embarrassing defeat at the hands of Captain Midnight, a drunken Skyman accidentally kills an innocent man! Needing a new face for their initiative ASAP, the Skyman Program turns to US Air Force Sgt. Eric Reid: a wounded veteran on the ropes, looking for a new lease on life. I was a little disappointed with the first issue mostly because it was just an average superhero story. It's not bad just not anything to get excited about. Fialkov has written a lot better but I will give him that if it was a lesser writer this book could be a lot worse. I hope that the next issue brings some life to the story. Garcia and Bit's art tells the story adequately. Nice layouts but could work on the backgrounds a little better in some of the panels. I will say that Martinez's colors are really nice and add a great deal to the art. While I applaud Dark Horse for trying superheroes again they really need to step up their game and bring something new and different to the table. The talent is there on this book, but it just needs to be more inspired to be better than average.
Is this book worth your time and money? It's off to a very shaky start. The problem with superhero books is that you really need to get off to a good start in the first issue because there are so many of them being published that if you don't capture people in the first issue most don't stick around for more. I will give it a few more issues but the second issue will have to be a lot stronger than this was. Sadly another iffy book.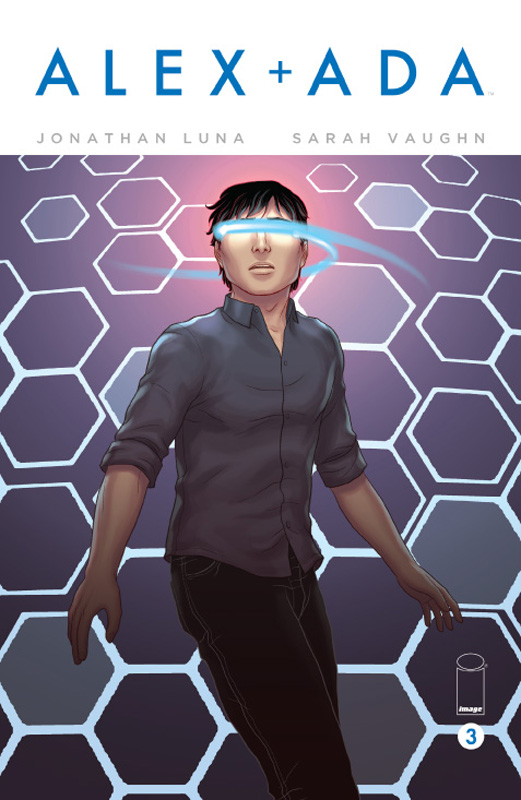 Alex + Ada #3
Image Comics Story and Art by Jonathan Luna, Story and Script by Sarah Vaughn
And now our returning champ is back for round three and can it keep the quality that the first two issues had? The plot synopsis from Image is, Ada is an amazing piece of technology, but Alex realizes she's missing something. He goes in search of it and finds out he's not the only one unhappy with the way things are. My favorite new book from 2013 is now the must read book of 2014. This book just keeps getting better every issue. The first five pages where Alex's friends find out about Ada is truly priceless. Luna and Vaughn story has so much depth and wonderful characterization that the flow of it is just stunning. I just find the book to be so realistic with all of the characters emotions and actions that other books could only wish they could be this good. Luna's art is again just so perfect for the tone of the story. The emotions that he captures in the art with the characters is truly effortless. Now this is how you do a book. Great story, great art, and characters that you really care about along with freshness. For me this book is just perfect.
So is this book worth your time and money? If you are not buying this book you are simply missing one of the best comics being published. It just doesn't get better than this folks. This book is filled with so much emotion that at the end of every issue I hate that I have to wait a whole month for the next issue. Highly Recommended!!!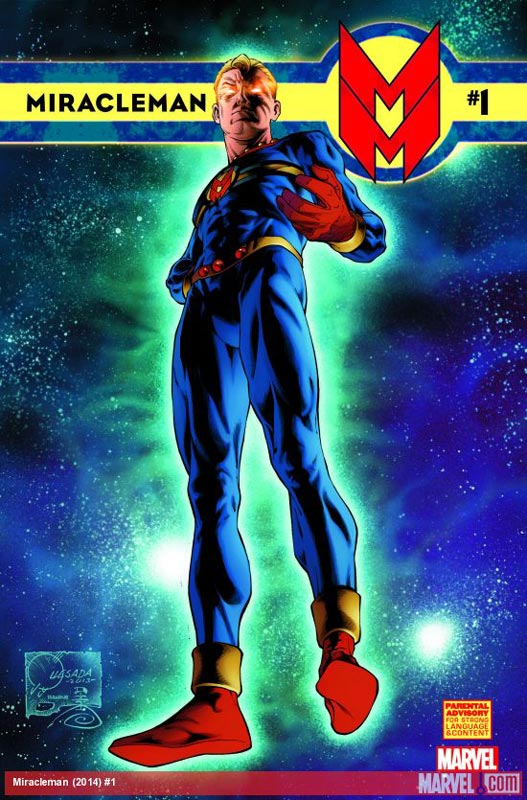 Miracleman #1
Marvel Comics Writer Alan Moore, Artist Gary Leach, Colorist Steve Oliff, Lettering Chris Eliopoulos (1956 Prologue Plot by Mick Anglo and Art by Don Lawrence)
I don't care what it says in the front of the book Miracleman was written by Alan Moore not this The Original Writer crap because Moore and his whole Howard Hughes thing he has got going on now and doesn't want his name on the book. A little history to the book that has become a mythical tale now. Marvelman was created by Mick Anglo in 1954 as a replacement for the Fawcett reprints of Captain Marvel (Shazam). In 1982 the British black and white magazine debut with a re-imagining of Marvelman that was never finished because Warrior magazine folded. In 1985 Eclipse Comics reprinted in color the previously published by Warrior in the first six issues and changed the name to Miracleman because they was afraid that Marvel Comics might sue them over the title. Moore wrote new stories for Eclipse from issues #7 to #16. Then Neil Gaiman took over the book with issue #17 and was in the middle of the story with issue #24 when Eclipse Comics went out of business. After years of legal battles over who owned the rights Marvel Comics secured the rights and are now reprinting the original run of the 24 issues published by Eclipse Comics and then Neil Gaiman will finish his story that he started over 20 years ago.
This now brings us to the first reprint issue from Marvel Comics. The plot synopsis from Marvel is, KIMOTA! With one magic word, a long-forgotten legend lives again! • Freelance reporter Michael Moran always knew he was meant for something more — now, a strange series of events leads him to reclaim his destiny! • Relive the ground-breaking eighties adventures that captured lightning in a bottle — or experience them for the first time — in these digitally restored, fully re-lettered editions! • Issue 1 includes material originally presented in WARRIOR #1 and MIRACLEMAN #1, plus the MARVELMAN PRIMER. So how does it stand up over 30 year after it was firs written? Quite well actually. The first issue is an origin story to set up the Moore version of the character.  So the meat of the story really starts in the next issue this issue does give the same excitement that I had over 30 years ago when I first read it. Trust me this issue is just the set up and the story that Moore tells is a whopper of a tail. Leach's art is as fresh as it was back then. His attention to detail is just amazing. The new coloring by Oliff is really great. The original Warrior stories were not in color and the Eclipse color back then had a limited color palette at the time. Oliff is one of the best colorist in the business and his work on this is very natural and never overpowers the art or feels out-of-place. The only gripe that I have with the book is that Marvel is flat-out gouging with the price on the book. While the page count is high it's filled with a lot of original Marvelman reprints and behind the scenes stuff. At $5.99 they know the demand for this book is high and they know they will get it.
Is this book worth your time and money? While the page count is high the $5.99 is a bit ridiculous if you are buying the book for the Moore/Leach material. They are for sure going to collect it in a hardcover so for some people might want to wait for that option. The individual issues are for those of us who can't wait that long. Either way this is a truly must read book that is still as good today as it was over 30 years ago. Recommended!