Each week I try to catch up with reviews in the hopes that I could maybe get some recent comics from the past few week but there are just so many new books hitting the racks that keeps that from happening. I can always hope that I will catch up some day but until then here are this weeks new books.
Super Secret Crisis War! #1
IDW Writer Louise Simonson, Artist Derek Charm, Letterer Tom B. Long
IDW is having a giant get together for the Cartoon Network characters in this big crossover event. The plot from IDW is, The devious demon Aku has called together a League of Extraordinary Villains—composed of malevolent miscreants from different cartoon universes. When their evil robots show up in the world's of The Powerpuff Girls, Ben 10, Samurai Jack, Dexter's Laboratory and (even) Ed, Edd and Eddy, it's up to all these fearless heroes to band together and put an end to the League's nefarious plot of interdimensional conquest! Books like this are really hard to review the first issue because the entire issue is exposition for the set up for the mini series. Writer Simonson has done her homework in keeping the various characters true to their animated series roots. They all feel right as you are reading the story but you are left a bit unsatisfied because of story introducing all of the characters into the story that will be covering the next six issue. I'm not knocking Simonson's writing because she is such a good writer that she keep the story flowing well. Charm does an amazing job of making sure that all of the individual characters look exactly like the animated show that they are based on. He keeps the story flowing considering the amount of plot and dialog that is going on in this first issue.
Is this book worth your time and money? I don't want you to think that the first issue is bad or disappointing. Simonson has to introduce 13 characters and has to keep in mind that some readers might not be familiar with all of the shows. In a lesser writers hands this book would have been a disaster. Simonson has a thankless task of "herding cats" in this first issue. The key to the series is going to be the second issue. Now that the set up is out-of-the-way hopefully she can start to get to the meat of the story. Charm's art really pulls the story together with his wonderful art. If you are a fan of these Cartoon Network shows then you should give the book a try. Just remember that it's just the first part of a bigger story.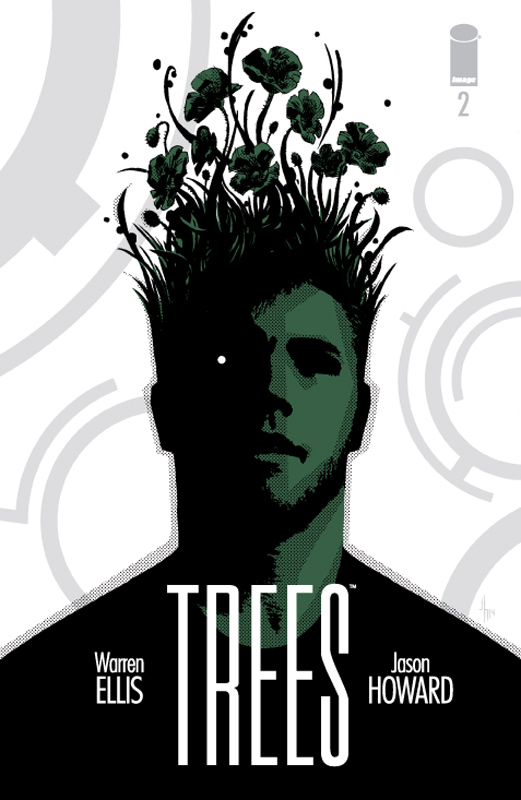 Trees #2
Image Comics Writer Warren Ellis, Artist Jason Howard, Letterer Fonografiks
I really enjoyed the first issue of this book but the story gets a bit rocky in this second issue. The plot from Image is, An Arctic research station. An Italian coastal town with an occult legacy. A new city in China. The future is being written in these places, in the shadow of a strange alien invasion that has become a historical mystery. Ellis first issue was full of setup and intrigue as to what the Trees are doing and how people are reacting to the situation. The second issue is very confusing and all over the place. The story really lacks focus and he introduces too many characters and stories that you have no idea what is going on and that is where this issue really falls apart. Howard's art is the only bright spot when reading the book. He is a really good artist and he tries really hard to help the reader visually with the story but there is only so much he can do to a point.
Is this book worth your time and money? After reading this issue Ellis has one more issue to pull this book back on track. It's hard to believe that the story could fall off the rails so quickly. Having a mystery is one thing but flat out confusing the reader is just poor writing. While I still like the concept of the book this second issue was a huge letdown. I would say avoid this series unless Ellis gets it back on track with the next issue.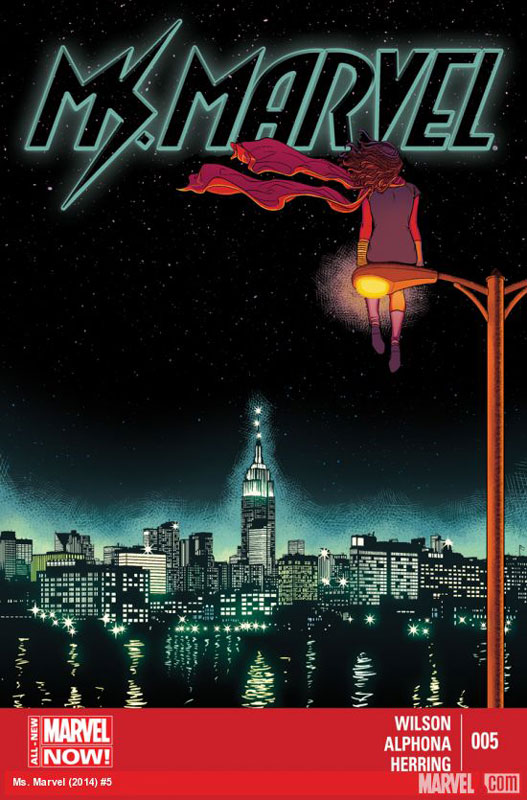 Ms. Marvel #5
Marvel Comics Writer G. Willow Wilson, Artist Adrian Alphona, Colorist Ian Herring, Letterer Joe Caramagna
We are now at part four of the first story arc and the book continues to impress. The plot from Marvel is, How does a young girl from Jersey City become the next biggest super hero? Kamala has no idea either. But she's comin' for you, New York. Wilson is continuing her great developing of Kamala's struggle with becoming a superhero and a teenager at the same time. After her first failed attempt to rescue Vick she convinces Bruno to help her control her  powers and help her create her costume. Wilson continues to develop Kamala and the cast into very relatable characters that really puts you in the story. She continues to roll out the story at a very satisfying pace that is allowing the book to grow into itself. It's very rare in todays superhero comics that a writer lets a story breath and not feel they must have a giant battle every issue to keep your attention. Alphona continues to bring Wilson's wonderful script to life with his stunning artwork. He continues to play with the look of the book and has a nice exaggerated reality to it. But he is also very careful to not have the art become a visual mess either.
Is this book worth your time and money? This book continues to be a must read book every month and this issue is no different. The story is really opening up in this issue with the subplots laid in the previous issues coming to the surface. This is one of the few books that gets everything right and stays on course. The thing that I really love is it has heart to the book and that is a rare thing indeed. HIGHLY RECOMMENDED!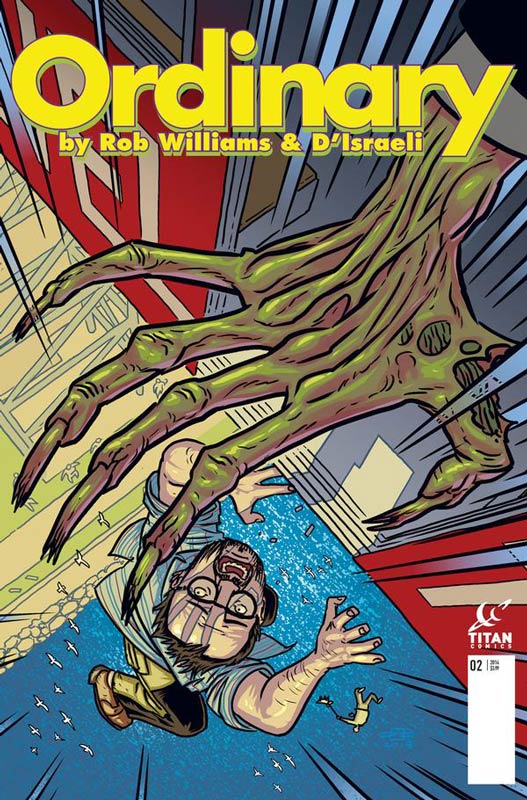 Ordinary #2
Titan Comics Writer Rob Williams, Artist D'Israeli
The first issue of Ordinary was a very pleasant surprise so I always get a little nervous for the second issue to see if it was a fluke. The plot from Titan is, This morning, divorced plumber Michael Fisher woke up in his crummy one-bedroom apartment in Queens, New York, to find the world had gone crazy. Everybody on planet Earth gained superpowers… apart from him. Now all he wants to do is make it into Manhattan to make sure his estranged son, Josh, is okay. But with giants, zombies and cabbies made of living galaxies thronging the streets, does the most ordinary man alive have a hope in hell? Meanwhile, America's leaders try to make sense of the world-changing plague, and what it means for the future of the planet. Now that every country is a superpower, Michael may be the most important man on the planet! I thought the first issue was wild but this second issue take the insanity and cranks it up even further. Williams not only keeps book on the rails but really builds on the story in this issue. He is wisely making sure that the reader relates to Michael during all of the chaos. Williams also ramped up the comedy in the book because lets face it what is going on is pretty hilarious when you really think about it. I like that Williams has taken a pretty standard superhero situation and done the exact opposite of what usually happens. Most stories have one person dealing with their new-found powers. In this case he has everyone have powers and the main character trying to navigate around that with no powers. It really is pretty ingenious. There are very few artist that could bring this book to life-like D'Israeli does. He flawlessly goes between Michael quest to find his son to a full on musical number and zombies and makes it all work perfectly. I must point out his use of color on the story that really makes the art pop when needed but knows when to keep it in check.
Is this book worth your time and money? This is a really fun book that had me truly laughing out loud at times. For a book that is not strictly a humor book that is impressive. Williams and D'Israeli have crafted a really strange book that is very easy to fall in love with. The book has a real fresh feeling to it and there are so many twist and turns that so far is a hell of a ride. I for one can not wait to see where this book ends up. VERY RECOMMENDED!
Superman #32
DC Comics Writer Geoff Johns, Penciller John Romita Jr., Inker Klaus Janson, Colorist Laura Martin, Letterer Sal Cipriano
I must start this review off by saying that I am not the biggest fan of John Romita Jr. artwork. For me it tends to feel rush and unfinished most of the time. The plot from DC is, "THE MAN OF TOMORROW" chapter 1! A NEW ERA for SUPERMAN begins as Geoff Johns takes the reigns – and he's joined by the legendary super-talent of John Romita, Jr. in his first-ever work for DC Comics as they introduce Ulysses, the Man of Tomorrow, into the Man of Steel's life. This strange visitor shares many of Kal-El's experiences, including having been rocketed from a world with no future. Prepare yourself for a run full of new heroes, new villains and new mysteries! Plus, Perry White offers Clark a chance to return to The Daily Planet! Johns story is a basic set up to the story arc that will unfold and does a decent job of making it interesting. It's a bit of re-introduction to the current Superman and gets new readers up to speed. He basically tells the story of the origin of Superman but changing the idea to a new character Ulysses. It's ultimately hard to judge the story on just this issue but, it does get off to a good start. The next few issues are going to make or break the story. I just hope that Johns will do something different from he usually does that can be pretty standard fare with his writing. Getting to the art I will say that getting Klaus Janson to ink Romita Jr.'s artwork is a blessing for this book. He definitely needs a strong inker to clean up his work and Janson does it in spades. The overall art is some of Romita Jr.'s better efforts and does a nice job of laying the story out. He does a nice job with both the dialog and action scenes and Janson keeps it from getting too sketchy. The color work by Martin is very nice and give the book a very nice look.
Is this book worth your time and money? Overall the book has potential. I doubt that it's destined for greatness but might be a fun read. For a New 52 title that is better than most of the books at this point. The story does feel like Superman and thankfully is not dark and depressing. The key is going to be the story and can Johns deliver a better than average superhero book. I will really give Romita Jr. and Janson for delivering nice art for the book. The book is very much worth the price of admission and I hope that it continues to be worth buying.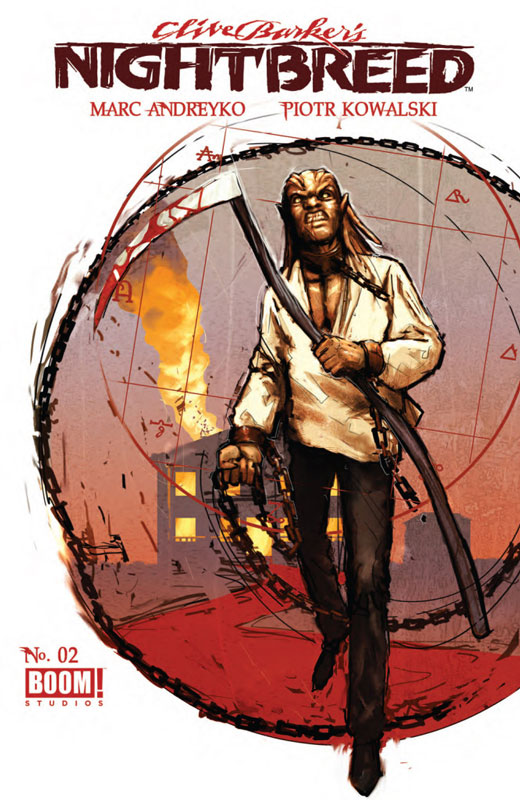 Clive Barker's Nightbreed #2
Boom! Studios Story Clive Barker, Writer Marc Andreyko, Artist Piotr Kowalski, Colorist Juan Manuel Tumburus, Letterer Ed Dukeshire
I am a big fan of the film Nightbreed and the first issue of the new comic got off to a solid start. The plot from Boom! is, The Nightbreed have always been with us. As Peloquin makes meat of slave owners, he will soon discover his true hatred for naturals. The only ones to trust are those made of the night. In another time, a world away, Shuna Sassi only knows a life of fear. With the death of an important senator, she is cast out from the world of prostitution and forced into the sewers. The voice of the man she has killed haunts her very soul, but will it tempt her to finally give herself the ultimate end? Andreyko writing captures the essence of what made the movie great in the first place. He makes sure that the "monsters" are the likable characters and far too often the humans are in fact the monsters. I enjoy getting to know the back story of how the individual characters came to Midian and learn why they were driven there. Now that Andreyko has brought back Booth to the story I am curious where he is going to take it and where does this book and the film fit into the continuity of the story. I can't wait to see more characters from the film to be in the story. There are so many characters that were in the movie but because of time constraints they were not prominent. WIth the comic they have an unlimited canvas to work with. Kowalski does a nice job of capturing the look of the characters from the film but still keeping the overall art in his own style. He does a very nice job on the backgrounds which is one of my pet peeves when one person does the artwork. He really captures the emotions of the story very well and brings the story to life nicely.
Is this book worth your time and money? The second issue continues to lay the foundation for the cast to come together in Midian. Once Barker and Andreyko bring the cast together I am excited to see where they are going to take the story. It will be interesting to see them play with time periods because the first two stories take place in the past. The story and art continue to impress me and hope that now Boone is introduces the first story arc will start rolling along. The only gripe I have with the book is that I'm a bit afraid that new readers will be a bit lost. Andreyko does a good job of trying to bring new readers to the fold and I really hope that they do because the stories can really be limitless with the Nightbreed mythology.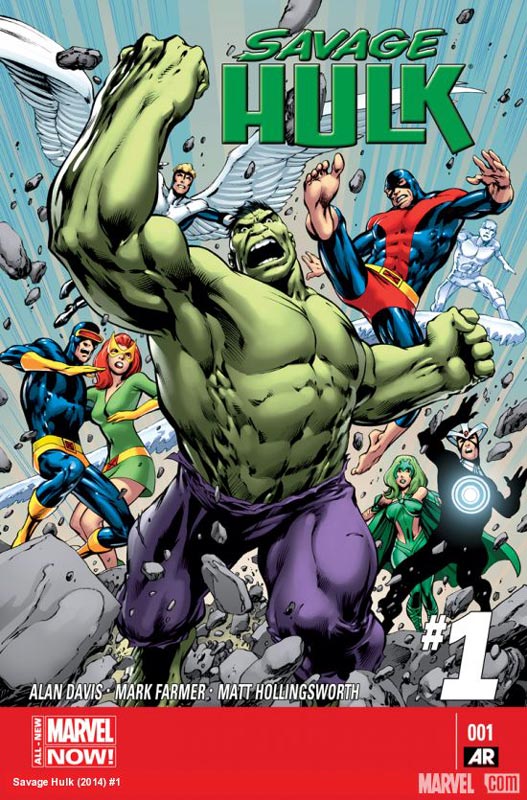 Savage Hulk #1
Marvel Comics Writer & Penciler Alan Davis, Inker Mark Farmer, Colorist Matt Hollingsworth, Letterer Clayton Cowles
Alan Davis could draw the phone book and I would buy the book. So yes I am a little bias so take for that what you wish. The plot from Marvel is, An All-New Series! Alan Davis writes and draws a blockbuster story pitting the Hulk against… the X-Men? Learn the startling secret of Professor Xavier's connection to Bruce Banner! Guest starring the Leader and the Abomination! The good news is that this is old school Hulk meaning that it's HULK SMASH! Davis take the story from the last original story in X-Men #66 and then continues it while staying in the time period. Anyone that brings back the hay days of Hulk and X-Men is my kind of storyteller. The plot of X-Men #66 is on the first page so newer readers are brought up to speed with the events from that issue. Davis story is a throwback to a simpler Hulk where continuity is not all over the place. While the story may be a simple one sometimes that can be really entertaining and in this case it's a really fun read. For some readers they may think that the story is too simple and I say that to each their own. This is a back to basic book that for me was surprisingly fresh. The other thing is that it's only the first issue that is setting up the story and taking that into account Davis has set up the story very nicely. The art by Davis and Farmer is up to their usual high standards. To have Davis drawn classic Hulk and classic X-Men in one book, it just doesn't get any better than that. As with Savage Wolverine I'm guessing that Davis and company are only going to be doing the fist story arc and then new creators will come onto the book.
Is this book worth your time and money? If you are an Alan Davis fan then you have already said the phrase "shut up and take my money", for the anyone else here what you need to know. If you are looking for a Hulk book without all of the baggage that comes with it this is the one for you. Anything you need to know is on the first page and you are ready to roll. Sure the story is not earth shattering but you know what it's really well done with both the story and art. Sometimes simpler is better and in this case it makes a really fun read with fantastic artwork. If that appeals to you then buy this book. If you are a complainer then move along and let us have fun with the book. RECOMMENDED!
Outcast #1
Image Comics Writer Robert Kirkman, Artist Paul Azaceta, Colorist Elizabeth Breitweiser, Letterer Rus Wooton
Robert Kirkman steps out of the shadows of The Walking Dead to bring a new series to life. The plot from Image is, Kyle Barnes has been plagued by demonic possession all his life and now he needs answers. Unfortunately, what he uncovers along the way could bring about the end of life on Earth as we know it. It begins here – with this terrifying DOUBLE-SIZED FIRST ISSUE. Even before getting to the afterwards by Kirkman it's very obvious that he is a fan of the Exorcist. If you are going to be inspired by something at least he picked a good on to work from. Kirkman is doing a lot of set up in this first issue but while the story was good it never quite elevated to blowing me away. I'm not saying it's bad by any means it just felt all too familiar. That is where the first issue does stumble a bit, because it never really breaks new ground. I also didn't connect that well with Kyle because he came off as an asshole but not much more. On the plus side Azaceta's artwork does a great job of setting the mood of the story. Any good horror comic need to rely on art that is able to capture the horror elements of the story. I did find that the art did make the story a bit more interesting than the overall story. He does a really nice job on the facial expressions that are the key to this story working. Also kudos to Breitweiser's coloring job on the book. She really did an outstanding job on bringing the right mood to complement Azaceta's artwork.
Is this book worth your time and money. I really thought that the first issue got off to a bumpy start. While the story is OK it never really got beyond that. I will give it a few issues to see if can break free of the familiar funk that this first issue suffers from. Kirkman really need to make this book stand out because now he has brought nothing new to the table. The story felt like leftovers from another meal. The real story here is Azaceta's and Breitweiser's art that visually saves the day with the book.