There is a crazy amount of new books that hit the shelves this week so to get through as many as I can I will try to keep the reviews on the shorter side.
Monstress #1
Image Comics Writer Marjorie Liu, Artist Sna Takeda, Letterer Rus Wooton
Monstress gets off to a solid start in this oversized first issue. Liu's script does a great job of opening the series with a good balance of exposition and story to where it doesn't seem to get bogged down with it. She does a good job of setting up the characters but the world that will have an effect on them. Takeda's artwork is stunning and she creates wonderful visuals for the world. Her art is gives the book a nice fairy tale quality that really draws the reader into the story. Is this book worth your time and money? I was very impressed with this first issue and was really taken by the story and the world that Liu and Takeda have created. There is a lot of set up in the story but have wisely not reveal elements that will lead from the events of the first issue. This is a very solid start to the series and I can't wait to see where the story goes. VERY RECOMMENDED!
The Hangman #1
Dark Circle Comics/Archie Comics Writer Frank Tieri, Artist Felix Ruiz, Colorist Kelly Fitzpatrick, Letterer Rachel Deering
Being a big fan of the Dark Circle line at Archie was excited to see what The Hangman would bring to the table. To say that the book gets off to a great start is an understatement. Tieri doesn't pull any punches with this first issue. The story hits the ground running and has a great feel of 1970's gritty cinema. The tone of the book is very dark and very gruesome but fits the story and didn't feel gratuitous. Ruiz's artwork captures the dark tone of the story perfectly. He handles both the dramatic and the action scenes very well. Is this book worth your time and money? The only complaint that I have about this book is that the story ended way too soon and really had me craving more. Tieri and Ruiz have crafted a very good first issue that is light on exposition and leaves more questions than answers but, that is a good thing. I really liked this book and is well worth reading. RECOMMENDED!
A Train Called Love #2
Dynamite Writer Garth Ennis, Artist Mark Dos Santos, Colorist Andrew Elder, Letterer Rob Steen
This book is going to either be a love it or hate it book. I am in the love category and Ennis is setting up the book to be a very wild ride. There is still a fair amount of set up in the second issue and there is a bit of bouncing around with the story line elements. Ennis tends to go for the long haul on a lot of his stories and this one is no exception. Dos Santos's art has a nice cartoony style that fit the goofy nature of the story and give the comedy a nice visual punch. Is this book worth your time and money? This is a very wild book with lots of very non PC elements to it. I like the fact that Ennis is never one to shy away from mixing things and elements up and this book has a lot of wild and offensive stuff going on. This is not going to be for the timid but if you are looking for a very un PC comedy/drama comic then this is for you.
Klaus #1
Boom! Studios Writer Grant Morrison, Artist Dan Mora, Letterer Ed Dukeshire
Morrison take on the most well-known figure of Santa Clause is a prequel story on how he became the Santa we know is not the story that you might expect, and that is a very good thing in this case. Morrison has a great knack for taking well-known characters and giving a different angle to them without losing what made them great in the first place. A lot of people are going to call this story dark but any good story of light must have an equal amount of darkness to them. He plays on the known myths of Santa and blend in other mythologies to give a great new twist on the character. Mora's artwork has wonderful detail and avoids the typical storybook look that would have not worked for this story. He really captures the scope of the story and yet is able to put very subtle detail into the art at the same time. Is this book worth your time and money? Morrison is one of the best writers in comics and yet with this book finds a way to give a whole new spin on it and it's extremely satisfying as well as original. This is very good start to this story and I'm very excited to see where it's all going to go. RECOMMENDED!
Dead Vengeance #2
Dark Horse Comics Writer Bill Morrison, Penciller Tone Rodriguez, Inker Keith Champagne, Colorist Carlos Badilla, Letterer Nate Piekos
The first issue of this book I liked but wasn't totally convinced but liked the concept of it. There was a lot of exposition in the first issue that did drag the story a little but Morrison more than makes up for it in this issue. One of the things that I liked about the book is that he keeps the reader in the dark about what has happened to Johnny along with him in the book. The second issue continues on this theme and continues to build on it. This is one of those slow burn type stories and I am enjoying what Morrison is doing story wise on the book. I will give him big props for the story elements with Madam Cansino that I thought would go one way but went a great way that surprised me. Rodriguez and Champagne take over the art duties for the remainder of the series and continue the great pulp feel that Morrison started in the first issue. While I love Morrison's art I think that the new art team really up the story and give it a more realistic style that gives the book a boost. Is this book worth your time and money? It's pretty rare to see a book like this in todays comics and that is a real shame. I love that Morrison is willing to go for an overall story instead of blowing his wad in the first issue. The book is a great throwback to the EC Comics period and that is what is making this book so much fun. If you like those types of books then this one is for you.
Citizen Jack #1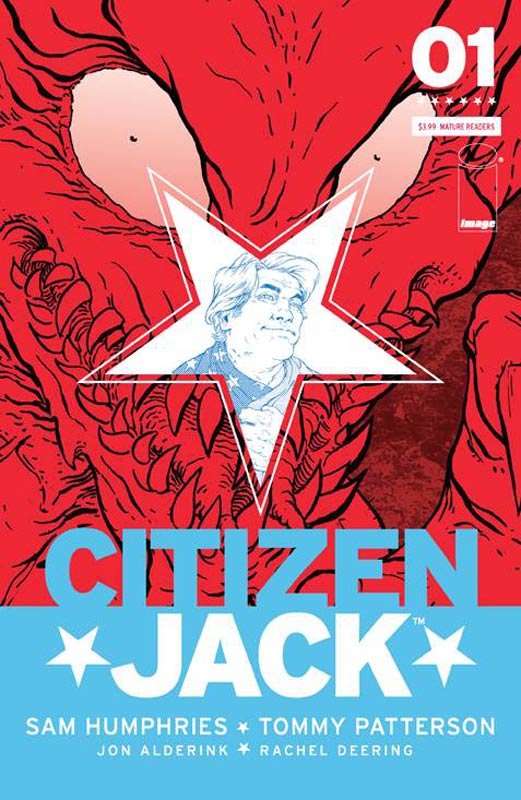 Image Comics Writer Sam Humphries, Artist Tony Patterson, Colorist Jon Alderink, Letterer Rachel Deering
Political satire comics are tough to pull off and this book gets off to a shaky start. Humphries script has some good ideas in it but for me never quite takes off. The big problem is with Jack in the fact that you neither really hate him or really love him. While reading the issue I felt pretty indifferent to him and didn't feel that there was as great of a connection as there needed to be. The other issue that I had was that the humor fell pretty flat and seemed pretty forced. On the plus side was Patterson's artwork that had a very nice amount of detail to it and did help make the reading experience much more pleasing. Is this book worth your time and money? While the book is not a train wreck it never really grabbed me either. The satire should have been more biting but instead it was a by the numbers affair that had no twist or surprises to it. The other big problem is that this book is coming out after the far superior Prez over at DC Comics now and this is a very watered down version. SKIP IT! 
Doctor Strange #2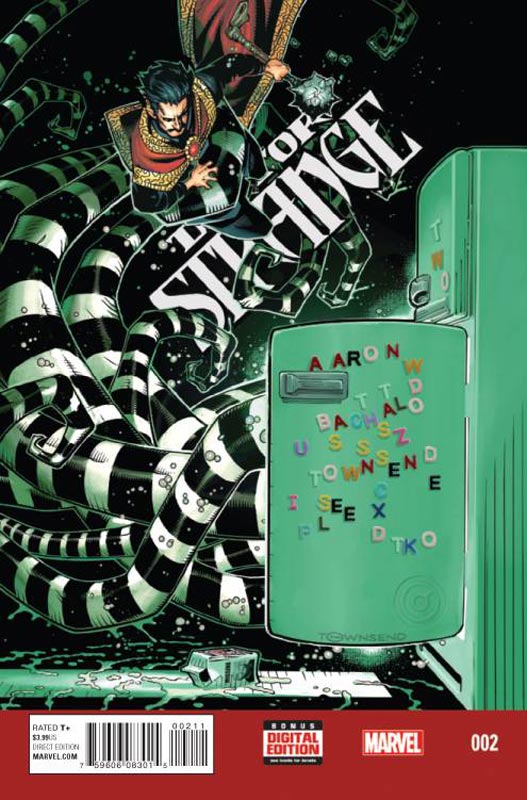 Marvel Comics Writer Jason Aaron, Penciller and Colorist Chris Bachalo, Inker Tim Townsend, Al Vey and Mark Irwin, Letterer Cory Petit
The first issue of this new Doctor Strange series got off to a fair start and the second issue did a nice job of getting the book on a better footing. Aaron story was better focused that helped it along. While I enjoyed the story I really worry that the book may turn into the monster of the month because there seemed to not be a strong overall story arc that you should see in this second issue. The best reason to get the book is still Bachalo's art that make the book work a lot better than it should and is one of the best reasons to get the book. Is this book worth your time and money? I'm still iffy on the book but the second issue did work a lot better than the first. The next issue is going to be a make or break it for me. Bachalo's beautiful artwork will only make this book worth buying for only so long.
Scooby-Doo! Team-Up #13
DC Comics Writer Sholly Fisch, Artist Dario Brizuela, Colorist Franco Riesco, Letterer Saida Temofonte,
While the books Halloween theme story missed it by a few days it was well worth reading. Fisch story mixing the Scooby gang and the ghost/magic DC characters was s stroke of genius. As with the previous issues this is a done in one story and was a blast to read. It was great to see a lot of the old school DC characters brought back in this issue. The story is simple fun and a treat to read. Brizuela's does a fantastic job of keeping the book on model with the animated series and really hit it out of the park with turning the DC characters into animated versions. This was a really fun read and was simple and sweet. Very much worth your time and money. RECOMMENDED!
James Bond 007: Vargr #1
Dynamite Writer Warren Ellis, Artist Jason Masters, Colorist Guy Major, Letterer Simon Bowland
As with any good James Bond story you can't base the book on just the first chapter and this is the case for this new story from Ellis. There is a lot of set up to the series and Ellis gets one thing right off the bat is that this feels like a James Bond novel. While most people are familiar with the Bond films this book feels a lot more like the original Fleming novels. The only changes that he makes are that he tailors the scripts fit the visual style that makes comic books work so well and this is where Masters artwork comes in. While it may not be the flashiest artwork he does a nice job on it. There are a few time where the art is a little stiff but overall is pleasing. Is this book worth your time and money? The story gets off to a solid start and I like the direction that Ellis is taking the story back to the original novel roots. My only complaint is that I wish that Masters was a bit stronger artist. With a book this high-profile I wish that Dynamite would have spent some extra money on a bit more established artist. Overall the book is very good and it looks like James Bond is back in form but this time in comics.
Johnny Red #1
Titan Comics Writer Garth Ennis, Artist Keith Burns, Colorist Jason Wordie, Letterer Rob Steen
Based on the UK stories from the weekly Battle war comic Ennis brings this little known hero from the late 1970's back to comics. Ennis has a fondness for war stories with previous series for Vertigo War Stories and the Unknown Soldier for DC. While I am not familiar with the original incarnation of Johnny Red it has a very similar feel to DC's Enemy Ace by Robert Kanigher & Joe Kubert from 1965. This does not mean that this is a rip off of it but if you're a fan of that and war stories of that era then this book is for you. Ennis story has a very good balance of back story and mystery of the plane and how the past relates to the present. There is a lot of promise to the series with this issue and I liked where he is taking it. The artwork by Burns is very nice a he definitely gets the style of the classic war comics of the past but makes it his own. I can see why they chose him for the book. Very few contemporary could get the look and feel of the period that Burns really nails perfectly with his artwork. Is this book worth your time and money? I'm a sucker for good war comics and there are so few today. The really good news is that the story is solid and the art is great. It well worth checking out if you like this type of comic.
Hercules #1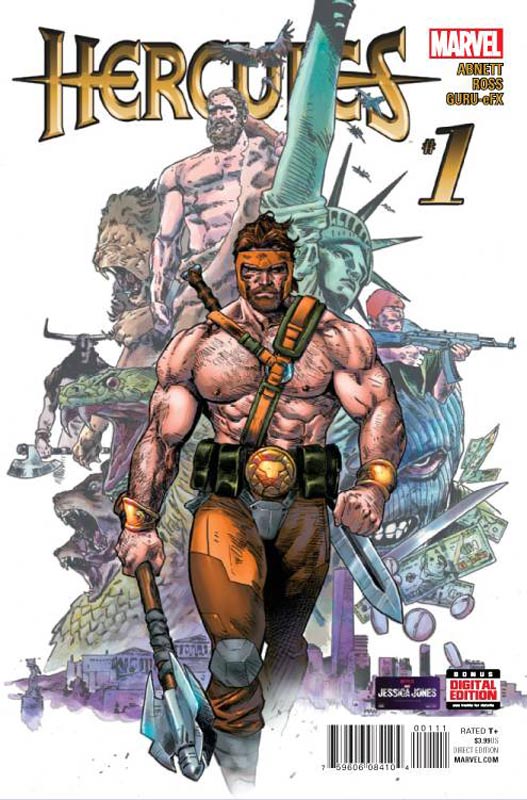 Marvel Comics Writer Dan Abnett, Artist Luke Ross, Colorist Guru-FX, Letterer Joe Sabino
I am a huge fan of Bob Layton's Hercules series back in the early 1980's that was a lot of fun and had a good mix of humor and action. Sadly this new incarnation of Hercules really misses the mark. Abnett story is bland and boring without bringing much new or original to the character. The script ends up being a very by the numbers affair and there is nothing that will surprise you. Ross does a good job on the artwork for the book but with the weak story there is not much for him to go with. Is this book worth your time and money? There is not much here to get excited about mediocre story with decent art is not going to get anybody to return for a second issue of this book and if you haven't bought it then you should just SKIP IT!
Pacific Rim: Tales From the Drift #1
Legendary Comics Story Travis Beachham, Writer Joshua Fialkov, Artist Marcos Marz, Colorist Marcelo Maiolo
In this prequel story Pacific Rim is an interesting idea but gets off to a slower start than I would have liked. Fialkov does capture the feel of the film but gives the story a good character driven story that a comic series allows it to breath better than a movie would allow. I like the back story that he gives the book and while the story had a lot of exposition that may have bogged the story down a bit more than it should have. Marz's artwork is really good and he delivers the action with very cinematic visuals but also captures the emotions in the dramatic elements. Is this book worth your time and money? If you're a fan of the film (and who isn't) this book is for you. While I wasn't over whelmed with the first issue Fialkov does set up an interesting story that the second issue should kick into high gear. There is definitely more to like than to dislike. Worth checking out if you're a fan.
Extraordinary X-Men #1
Marvel Comics Writer Jeff Lemire, Penciller Humberto Ramos, Inker Victor Olazaba, Colorist Edgar Delgado, Letterer Joe Caramagna
I base every new X-Men title on the classic Claremont/Bryne/Cockrum/Smith period so with that being said this new X-Men title falls pretty flat. Lemire is a good writer but one of the big problems is that he is saddled with such a mess with continuity history that has dragged the X-Men books down for so long that any new reader is going to always have a hard time with it. The other problem is that nothing really happens in this first issue and by the end there is not much story to compel you to read past this first issue. The entire issue is just bloated exposition that it wasn't that fun to read. Ramos and Olazaba turn in a wonderful job on the artwork that is the only high point to this book. The book looks fantastic but it's such a shame that their talent is wasted on this book. Is this book worth your time and money? It's a real shame that Lemire wasn't able to come with a new angle on these great characters. It was not terrible but it was very underwhelming and he has certainly written better stories. SKIP IT!
Unfollow #1
Vertigo Comics Writer Rob Williams, Artist Mike Dowling, Colorist Quinton Winter, Letterer Clem Robins
This first issue is a bit of a mixed bag. I do like the idea that Williams presents in the story but it was a little slow in coming together. The good news is that the setup for the story has some really good potential but he will have to pull a lot together in the next issue. I was very intrigued by the idea using social media to pick the 140 winners and there is more questions than answers. The good news is the questions are good ones and I hope that the answers are worth waiting for. Dowling's art is very good and not only has great detail but nice layouts with full backgrounds. This is a very good-looking book. Is this book worth your time and money? There are some good ideas here the question is it worth sticking around for the second issue. I would say that it's worth a read to see where he takes the story in the second issue and make a final decision at that point.
Paper Girls #2
Image Comics Writer Brian K. Vaughan, Artist Cliff Chiang, Colorist Matt Wilson, Letterer Jared K. Fletcher
Vaughan really build on the great momentum of the first issue and is making this one the must read books of the year. He really does a fantastic job of not only propelling the story forward but continues to build the characters in the story. This is one of those books that the story has a very natural feel and really delivers the emotional ride perfectly. Chiang's art is wonderful and hits all of the story beats visually perfectly. Is this book worth your time and money? If you're not buying this book then you are missing one hell of a story. VERY RECOMMENDED!
The Vision #1
Marvel Comics Writer Tom King, Artist Gabriel Hernandez Walta, Colorist Jordie Bellaire, Letterer Clayton Cowles
This book really caught me off guard and might be one of the biggest surprises of the new Marvel books. Kings script has a lot of elements that you rarely seen in mainstream superhero books. There is a lot of genres in the mix and yet he is able to hold the whole thing together. He does a superb job of balancing the emotions (and sometimes lack of) in the characters that add a great dimension to the story. He really ends the issue with a bang and turns the whole thing upside down but in a very good way. Walta's artwork is amazing because of the very subtle elements of the story. It was very impressive that he was able to show emotions in the family when they were not actually showing any. This is a rare feat and very difficult even for seasoned artist and yet Walta handles it with such ease that make reading the book that much more effective. Is this book worth your time and money? I honestly wasn't expecting this book to be as good as it is. King and Walta have crafted a very impressive story that is a must read and I only hope that they can continue this quality in future issues. VERY RECOMMENDED!