It seem like every week there are so many comics that hit the stands and I never seem to keep up with them. I was able to catch up on a few titles from the past few weeks to throw in with this week releases.
Daredevil #36
Marvel Comics Writer Mark Waid, Artist Chris Samnee, Colorist Javier Rodriguez, Letterer Joe Caramagna
Sadly this is the last issue of Daredevil. But the good news is that Waid and Samnee team that has been bringing the goods are starting a new #1 starting next month. So in this last issue of the current run they are wrapping up the current storyline to pave the way for Matt Murdock and company to move to San Francisco. If you have not been reading this fun book then I doubt you would want to pick up this issue because you are really going to be lost with most of the subplots that are wrapped up. For the regular readers Matt has decided to reveal that he is Daredevil to flush out the Sons of the Serpents in the court-house and in doing so he is disbarred from New York State. This paves the way for him to move out west to set up a new practice. Waid ties up all of the loose ends quite nicely and sets the stage for the new book. Samnee as always delivers really nice artwork that has grace this book for most of its run. This run of Daredevil has been quite fun and if you have not been reading it I very much recommend picking up the collected editions of it. For me it's been the shinning light over at Marvel from day one and I can't wait to see what Waid and Samnee have in store for us with the new book.
Is this book worth your time and money? If you are regular reader then you will be very happy with the way the story is wrapped up and the stage is set for the new series. If you are new to the book then go buy the trades and wait until next month for the new series to start.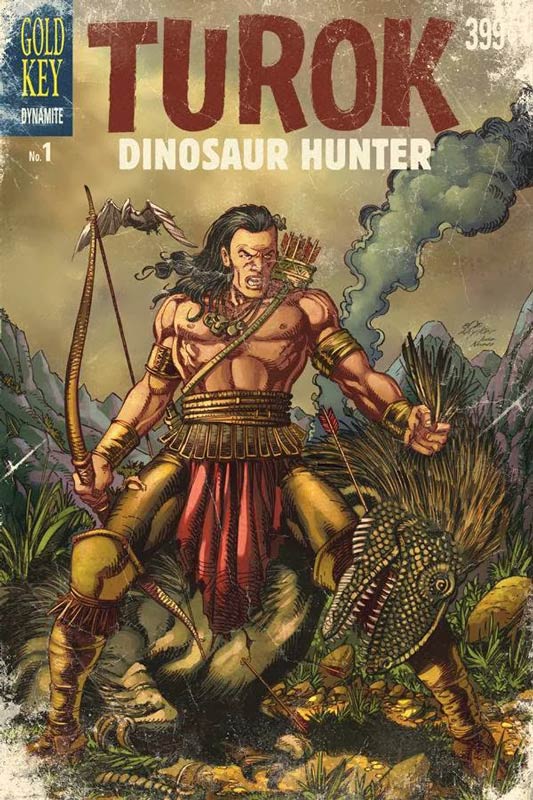 Turok Dinosaur Hunter #1
Dynamite Entertainment Writer Greg Pak, Artist Mirko Colak, Colorist Lauren Affe, Letterer Marshall Dillon
The first of the new Dynamite revivals of the classic Gold Key Comic characters. The plot synopsis from Dynamite is, THE GOLD KEY UNIVERSE BEGINS HERE! Classic Characters by some of Comics Hottest Creators! – Magnus, Solar, Turok and Dr. Spektor! Dynamite is proud to present an all-new adventure ongoing from superstar GREG PAK (Batman/Superman, World War Hulk) and incredible artist MIRKO COLAK (Red Skull: Incarnate, Conan)! Shunned from his tribe, a young Native American named Turok fights to survive, making a lonely life for himself in the unforgiving forest. But his hard-won cunning and survival skills face the ultimate test when man-eating THUNDER LIZARDS attack his people! Why are dinosaurs here? How have they survived? And will Turok use his abilities to save a society that's taken everything away from him? Most of todays comics readers are not going to be too familiar with Turok except maybe the disaster of the revival at Dark Horse Comics by Jim Shooter that was thankfully short-lived. Pak's take on the character gets off to a good start for a first issue. It introduces Turok but does suffer from the first issueitis in the sense of it's a nice story but you don't get much back story but it is a decent set up for the series. It's one of those nice reads but you hope that something more exciting happens in the second issue. Colak's art is good but there are some panels that look as if they were drawn by someone else. It did have a bit of a consistency  issue. While it was not fatal it was a bit jarring at times.
Is this book worth your time and money? It was a fair start to Turok but it did lack a bit of bite in this first issue. The story and art were good but it just doesn't take off in this first issue. It's worth a throw for this first issue but I really do hope that the second issue brings a bit more to the party. Good but nothing great.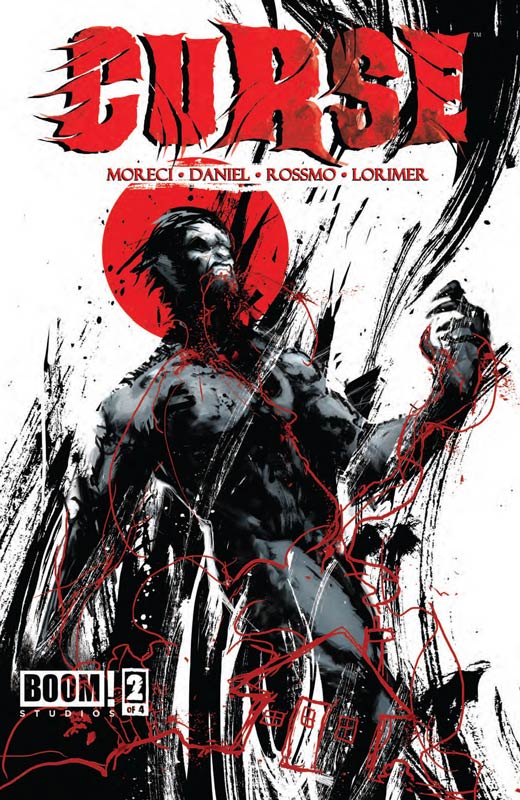 Curse #1
Boom! Comics Writers Michael Moreci and Tim Daniel, Artists Riley Rossmo and Colin Lorimer with additional colors by Tamra Bonvillain, Letterer Jim Campbell
I did like the first issue of Curse so lets see how the second issue holds up. The plot synopsis from Boom! is, Laney Griffin has captured the murderer that has been terrorizing his small town, but Anton Chavoy is no ordinary psychopath — he's a werewolf. As Laney scratches dates off the calendar until the wolf's return, hoping Anton's transformation will be the proof that wins him the bounty to finance his son's leukemia treatment, Laney's problems continue to mount – he's the chief suspect in Sheriff Nora Hughes' pursuit of the town's murderer. Laney is going to learn the hard way that the CURSE comes at the greatest cost. The second issue gets off to a bumpy start because the writers do a lot of time jumping with the story and they do not label any of it. So as a reader I was a bit confused and there are three jumps in the first seven pages. The overall feel for the second issue it seemed as if Moreci and Daniel had to maybe condensed the story down but left some things out while they were doing it. The story also seemed to become a bit more predictable and familiar werewolf story and has seems to have lost its way a little bit. Rossmo and Lorimer's art is still really nice and they really know how to use color for the story.
Is it worth your time and money? While the first issue was good and an interesting twist on the werewolf story, the second issue is a real jumble and kind of disappointing. When you do time jumps in a story you have to be extra careful to not confuse or lose the reader and sadly Moreci and Daniel have done that to an extent. Hopefully this issue is a fluke and they can pull it together for the next two issues.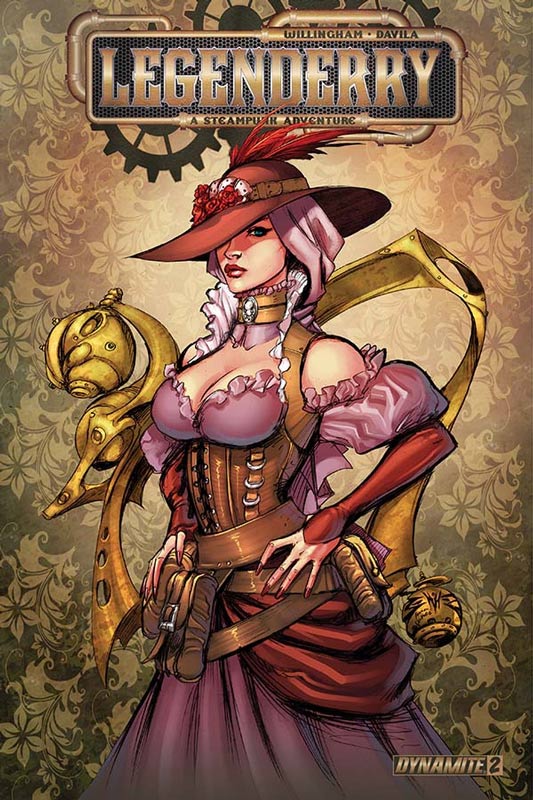 Legenderry A Steampunk Adventure #2
Dynamite Entertainment Writer Bill Willingham, Artist Sergio Fernandez Davila, Colorist Wes Hartman, Letterer Rob Steen
The alternate steampunk version of the Dynamite characters continue. The plot synopsis from Dynamite is, THE EPIC STEAMPUNK CROSSOVER CONTINUES! Magna Spadarossa gets a taste of life in the Big City, but it's not all she had hoped. Assassins galore are after her, but why? It's up to Vampirella, the Green Hornet, Kato, and the best Victorian futuristic technology they have to keep Magna safe … but will that be enough? Willingham continues to introduce the cast in this second issue with Green Hornet and Kato help keep Magna safe so that they may figure out why she is being targeted. By having the thread of Magna to lead to each introduction of new charters is quite ingenious. Instead of throwing them all in at once or having some cosmic disaster bring them together he wisely gives each issue a full introduction to the characters. This really give the story breathing room to not only to introduce the cast but to keep the main story going along with it. Davila's art continues to be really quite good and definitely the exception to the usual mixed bag that Dynamite books suffers from. This is becoming quite the fun read every month.
Is this book worth your time and money? The first issue was good but I have to admit the second issue gets even better. Willingham is really having a fun time with the book and the thing that I really love is the fact that he doesn't feel the need to recreate and or drastically change the characters and that they still feel the same. Both Green Hornet and Kato still feel the same but they are slightly tweaked to fit the story. If the rest of the run is as fun as this issue then it is really becoming a must read book every month. Recommended!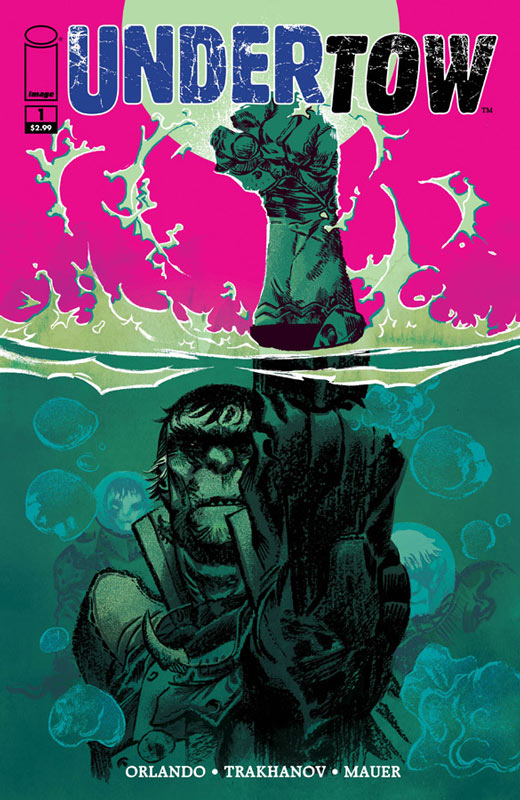 Undertow #1
Image Comics Writer Steve Orlando, Artist Artyom Trakhanov, Letterer Thomas Mauer
Another week and another new #1 comic from Image will they ever run out, I don't think so at this point. The plot synopsis from Image is,  Atlantis is the world superpower, and Redum Anshargal is its worst enemy. If you want to break free of the system, he can offer you a place at his side, exploring the wild surface world in his watertight city barge The Deliverer. He and his hostage-protege Ukinnu Alal hunt the Amphibian, a legend that could be the key to an air-breathing life on land. But as they become the hunted, can Anshargal's team survive long enough to turn the tables on the godlike beast they set out for? A brand new pulp monster adventure with Ray Harryhausen at its heart and a look at Atlantis like never before from the up-and-coming team of writer STEVE ORLANDO (Mystery in Space) and artist ARTYOM TRAKHANOV. Undertow was very perplexing to me. After reading the first issue I felt as if there was too much going on and yet at the same time there was too little going on. While I liked the first issue I was really confused as to what I had just read. I got it but am not sure of what I got. Orlando seems to know what the story is but it feels like a shotgun blast. There are times where there is a lot of story and then there are times where it seems as if you are plodding along. The big problem is the pacing and it's all over the place. Orlando really need to focus on what story he wants to tell because the first issue is really cluttered mess. I really loved Trakhanov's artwork and color design of the book. But as good as the artwork is it also suffers from being jumbled at times also but is clearly dictated by the story. His art has a great gritty pulp feel that is not seen very often in books today.
Is this book worth your time and money? I really can't say. While I like the book at the same time I was super frustrated at it. The story is just so unfocused that it's downright confusing at times. There is a glimmer of hope that maybe the second issue will find it's footing. It's a real shame about this book because the idea is good but overall the story is a mess. The artwork is the big saving grace of the book.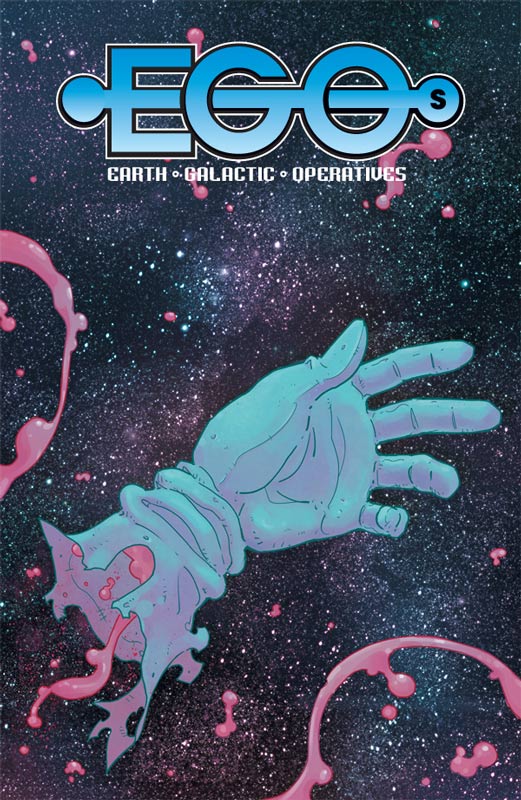 EGOs #2
Image Comics Writer Stuart Moore, Artist and Colorist Gus Storms, Letterer Rob Steen
EGOs #1 really impressed me and really was looking forward to the second issue. The plot synopsis from Image is, The hero-epic of the far future continues as Deuce, the EGOs' leader, flies off to battle with his army of [CENSORED]s. Meanwhile, his estranged wife Pixel must deal with an army of new team applicants. Featuring: Costumes! Battles! Masse, the Living Galaxy! Blood and gore! Uncomfortable emotions! So how does the second issue stack up. While I still like the idea of the story I did feel that the second issue started to fall into a little in danger of being a bit too familiar territory. Moore story for this issue was missing a little bit of the snap that the first issue had. I would say that the second issue felt a little more like a first issue in the sense that the story moves along it seemed to be a bit plodding. I still like the book and the story is really good but this issue was a little bit of a letdown from the first issue. I am not worried because there was a lot of exposition going on in this issue. Storms art is still really nice and the battle scene was really done nicely.
Is this book worth your time and money? I would still say yes because Moore is still setting up the story and there is a lot of exposition that is still going on. I just hope that he keeps it from becoming too familiar that we have seen before. Still a good read for the money and am looking forward to where he is going with it.
Alex + Ada #4
Image Comics Story and Script Sarah Vaughn, Story and Art, Color and Lettering Jonathan Luna
I saved the best for last. If you are not buying this book then you are missing one of the best books being published right now. I have been raving about this book for four issues now and it just keeps getting better. The plot synopsis from Image is, Alex is still unsure of what he wants from Ada and has decided to go to a chat room to find out more about A.I. and A.I. supporters and what he finds will change both of them. Vaughn and Luna have truly mastered how to pace a story. Every issue has been pitch perfect and it continues this issue. The thing that I love about this book is that Alex is so relatable as a main character that you are with him 100% on his journey of discovering what he wants to do with Ada and himself. With this issue Alex make a major decision that will affect them both. The story just flows with such ease that it truly is a pleasure to read each month. In fact it's now at the top of the list to read each month, period. Luna's art is just amazing. He is able to capture every little detail that is needed and it just feels so effortless.
Is this book worth your time and money? I can not recommend this book enough. Great story and great art make this a must buy book every month. It really doesn't get much better than this right now. This is a truly must read book!