The kick off to the summer big two events starts this week and so there will be a flood of new books each week so I hope to get to as many as I possibly can each week.
DC Universe Rebirth #1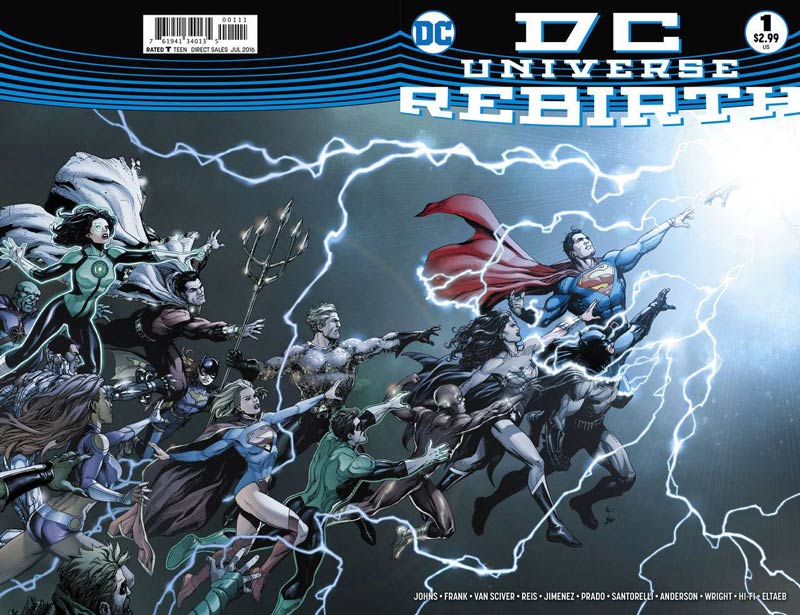 DC Comics Writer Geoff Johns, Artists Gary Frank, Ethan Van Sciver, Ivan Reis, Joe Prado, & Phil Jimenez, Matt Santorelli Colorists Brad Anderson, Jason Wright, Hi-Fi, Gabe Eltaeb, Letterer Nick J. Napolitano
DC Comics hits the reboot button again but this time they pretty much blow off the New 52 books continuity which is probably a good idea in the long run. It does read like an apology for longtime DC readers with the New 52 jettisoning all previous DC continuity that alienated a lot of longtime readers and while there were a lot of new readers they didn't stick around in the long run and that is where DC Comics has really struggled over the past couple of years. The book is both a good start for regular DC readers but might be a little confusing for new or lapsed readers because of the references to story lines that they might not have read. While the book reads like a Cliff Notes for the DC Universe I have to give Johns credit for wrangling a lot of story lines and history and was able to make it a nice clean start but with the ability to honor and use the past to guide the future DC Universe. Overall the script hits all of the beats for the main set up to the reboot series. There are no real major action scenes just pure exposition of what has been and what can be in the future. The only big surprise was that the Watchmen book has now been added to the DC Universe continuity. For me the bigger question will this hamper the ability for the Charlton Comics characters that they were based upon. While we do see the original Blue Beetle I guess that there is hope for the others. On the art side of the book is a really strong line up of some of DC's heavy hitters that deliver a really good-looking book that while each artist has their own distinctive style the book actually flows together very nicely and it all fits together visually very nicely.
Is this book worth your time and money? Well I have to give DC for delivering a 48 page book for $2.99 that bucks the trend to charge more for an event comic. Overall the book does what it needs to do, sweep away the mess of the New 52 that threw out the history of DC Comics in favor of a quick fix that didn't work overall and reset the books to be able to use any history that the creative teams decide to use or not use. This book will certainly not blow you away or anything but is a good starting point for both new and old readers. The only problem that I can foresee is that DC seems to be concentrating on the superhero characters with this reboot that is fine but what I have always loved from DC is that back in the day they would go out on a limb with books like Mazing Man, Camelot 3000, Kyle Baker's Plastic Man, Prez, Swamp Thing by Wein and Jones, and Bizarro. While I understand that the core superhero books are the bread and butter of the company they also have a rich history of off beat characters and titles that have brought some real excitement to comics. I hope that they new books have some real spark to them and are able to pull DC Comics from its current free fall in sales. I will give this book that it's a good step in the right direction. It's worth reading.
Justice League #50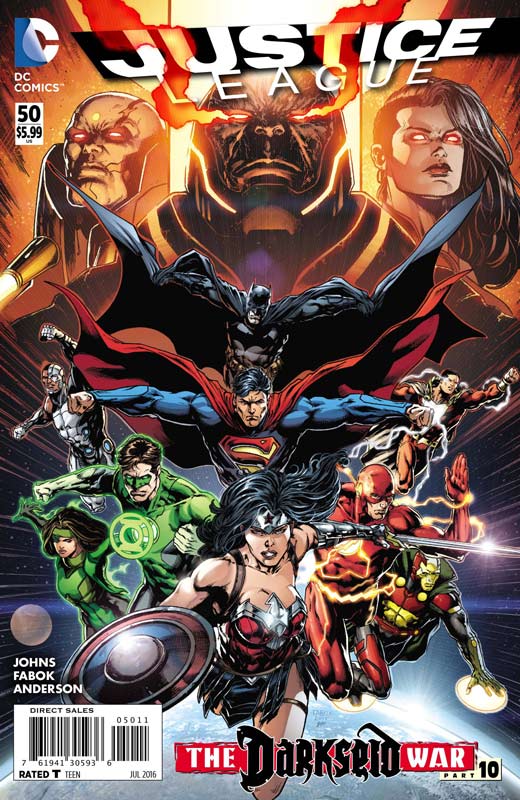 DC Comics Writer Geoff Johns, Artist Jason Fabok, Colorist Brad Anderson, Letterer Rob Leigh
Before I get started at the bottom of the first page of DC Universe Rebirth it says that the story takes place after the events of Justice League #50 and Superman #52. So I picked this book up and have not been reading the Darkseid War story and if this issue is any indication of the story line then I am so glad I haven't wasted my money on this. First there is absolutely no need to buy this book to read the Rebirth issue. Johns script is long and pretty much just has shit blowing up for 42 pages that resembles Hollywood tent pole films that has no substance and just relentless fighting and destruction. The "threads" of the story points that lead into the Rebirth book are no where nearly enough to justify the $5.99 cover price. This book is one of the reasons that I'm not the biggest Johns fan. He's a competent writer but more often than not this books are like this one, just super average story with little substance. The one saving grace is that Fabok's artwork make the book at least look really nice for the money that you spent on the book. He handles both the dramatic moments and the action with ease that at least for me helped me trudge through the book to the end. If he is on one of the new Rebirth books I would be on the lookout for it.
Is this book worth your time and money? If you're an avid reader of this book nothing I am saying here is going to change your opinion of the book. If you're a new reader that is picking this book up because of the Rebirth book saying you should then you need to NOT WASTE YOUR MONEY OR TIME ON THIS BOOK! There is absolutely nothing that adds to the story of Rebirth besides set up to some of the books that is not important at all. SKIP THIS ONE!
Captain America: Steve Rogers #1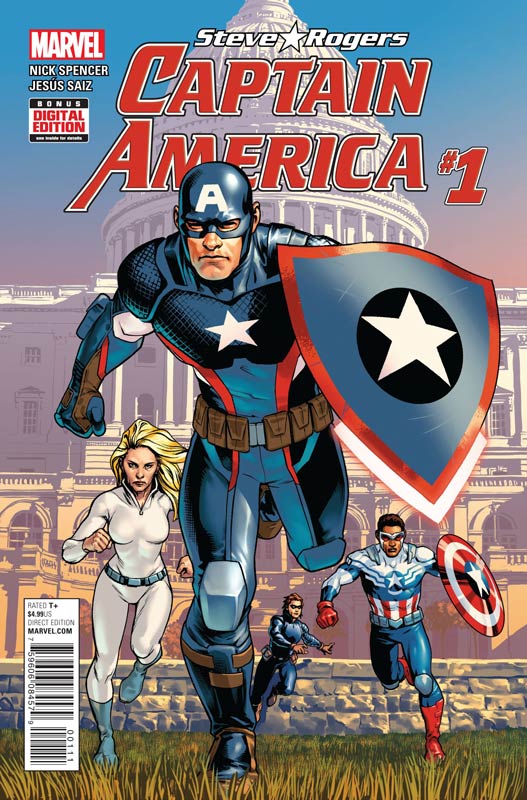 Marvel Comics Writer Nick Spencer, Artist Jesus Saiz, Letterer Joe Caramagna
I won't get into the "controversy" that this book has set off but I do think that people should be upset that this book is simply not that good and simply done for shock value and publicity. Spencer's script is not terrible but simply wallows in its own mediocrity. Simply put the story is boring and riddled with clichés that make it a real chore to get through. The whole Hail Hydra thing is one of the oldest story tropes and for people to get upset and at this point threaten the writer with death just show how naive and childish vocal comic book readers are. It's a set up to shock you and lead you down a path that you think will be one thing and then lo and behold it was just a macguffin (and if you don't know what that is then click HERE) It's truly hard to believe that this is the same Spencer that writes The Fix over at Image Comics now. This book is simply lazy writing 101. The art is a real mess here and is some of the absolute worst coloring work that I have seen in a comic in a long while. Saiz's art is wildly inconsistent because there are times where it looks really good then there are times where the line work is simply too thick and odd-looking. One of the oddest looks is Sharon Carter and while I get that he was trying to make her look older it ended up most of the time looking like she had just been beaten in the face. It's a real mess on every level of this book.
Is this book worth your time and money? Setting aside the "shocking events" of the story, simply put this is a book that tries to be controversial but is simply just a mess in both the story and artwork. It constantly stumbles over clichés and plot holes that simply make it a waste of both your time and money. I will say that anyone who read this and feels the need to threaten the creators of the book need to grow up and get their shit together. It's just a FU*KING COMIC BOOK PEOPLE!, and not a very good one at that. SKIP IT!
Afterlife With Archie #9
Archie Comics Writer Roberto Aguirre-Sacasa, Artist Francesco Francavilla, Letterer Jack Morelli
Well it seems as if this book has went from a monthly release to a yearly one (yes the last issue came out May 6th 2015) and I have to say that it was well worth the wait. This has been a breath of fresh air that has ever come from Archie and continues to deliver an exciting and deep reading experience. Thankfully there is a Story so far on the first page that helps with the whole taking a year to come out with a new issue that will get you back up to speed on the story. This is a Reggie based story this issue and I have to hand it to Sacasa that he really delivers not only a great script this issue but one filled with lot of surprises and twist that really sets up the next issue of the book. While Reggie has always been a real asshole Sacasa dives really deep with that and sets up a nice protagonist that is not a zombie. Francavilla as usual delivers great moody artwork this issue and really impresses with the dramatic elements of the story. One thing that is always impressive is his use of color that really helps set the overall mood and tone of the story in a way that very few artist can do.
Is this book worth your time and money? While you could gripe that it took a whole year for this issue to get done it was well worth the wait. Hopefully the team have fixed the delays in their schedules so the book could at least come out every 2 to 3 months that would be a huge help. That being said Afterlife with Archie is still a cause for celebration when it does come out because of the solid story and artwork that have made it such a strong book to begin with and still delivers the goods a year later. Still at the top of my reading list! HIGHEST RECOMMENDATION!
X-Men: Worst X-Man Ever #4
Marvel Comics Writer Max Bemis, Artist Michael Walsh, Colorist Ruth Redmond, Letterer Clayton Cowles
This book continues to be a real winner that is one of the best X-Men stories that I have read in quite a while. Bemis continues to have fun and be silly in the mutant sandbox and all of the storylines are starting to roll quite nicely into the final stretch of the book. While on the surface the book has a nice a welcome light tone, Bemis mixes real life struggles of a teenage boy who is very relatable to the reader and really makes you love Bailey that much more. What is making the scripts so good is that it's simple a great charter driven story that keeps it simple and yet is telling a deep and compelling story. Bemis gets what makes the X-Men so great in the first place and yet makes it fun and fresh without trying to change what works so well. Walsh style really brings this book to life. His simple yet very detailed artwork really captures both the dramatic and the sweet tones of Bemis script. I love that he keeps it simple and to the point that makes it a visual feast.
Is this book worth your time and money? Bemis and Walsh have really delivered one of the wildest X-Men stories that simply has a light tone but delivers a solid book that has heart. Sometimes simple is better and in this books case it's a big win. VERY RECOMMENDED!
Scooby Apocalypse #1
DC Comics Writers Keith Giffen and J.M. DeMatteis, Artist Howard Porter, Colorist Hi-Fi, Letterer Nick J. Nap
While not anywhere nearly as good as last weeks Future Quest Scooby Apocalypse isn't a real train wreck either. The biggest problem with this first issue is that it's really bogged down by exposition that just keeps the book from being fun. Giffen and DeMatteis are known for their fun and snappy books but they just bogged the issue down with so much dialog and exposition that it never quite gets off the ground. But on the flip side there is a glimmer of hope that is there is all of it. I don't mind the new versions of the characters just as long as the book brings more fun in the next issues. The reason that I have hope is the back up story When Shaggy Met Scooby has a fun and charming story that shows that they can get the book on the right track. The biggest win for the book is Porter's artwork that really makes the book stand out. He really delivers some great artwork that is some of his best work to date. He really put a lot of detail into every panel and is able to still manage to fit artwork in with the ton of dialog that fills a lot of the panels.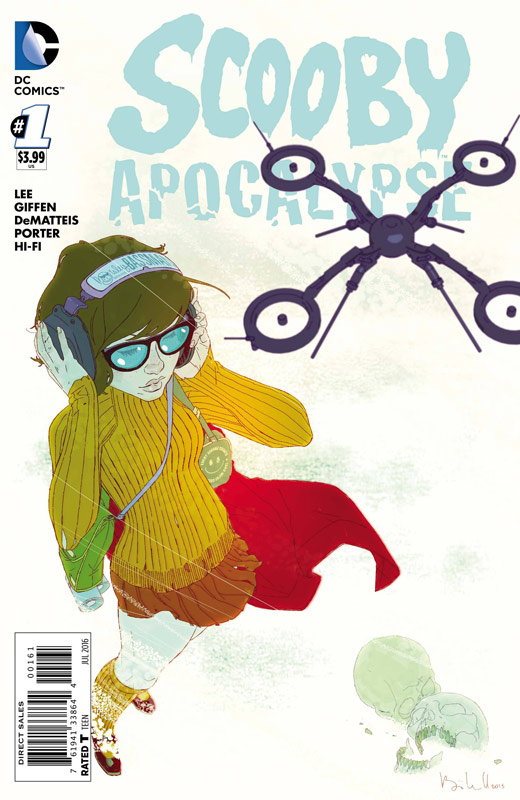 Is this book worth your time and money. If Giffen and DeMatteis can get the book on the fun track then this book could be a real winner but this first issue really stumbles over itself with too much dialog and exposition that keeps it from being really enjoyable. I grew up on classic Scooby-Doo and while I'm not opposed to change, you still need to keep what made the show successful and beloved. Hopefully it will find it's groove next issue. Future Quest has set the bar on the Hanna-Barbera titles very high and Scooby Apocalypse has potential just hard to see in this first issue. Still worth a shot at reading because there is a glimmer of hope here.