Sorry about not posting on Wednesday. I was a bit under the weather Tuesday night so got some well deserved rest and so everything should be back on track now. So there are new comic book reviews to get to so let's get cracking.
Bitch Planet #1
Image Comics Writer Kelly Sue DeConnick, Artist Valentine De Landro, Colorist Cris Peter, Letterer Clayton Cowles
There was a lot of hype on this book and well that didn't work out so well. The plot from Image is, 2014 Best Writer Eisner Award nominee KELLY SUE DeCONNICK (PRETTY DEADLY, Captain Marvel) and VALENTINE DE LANDRO (X-Factor) team up for the very third time to bring you the premiere issue of BITCH PLANET, their highly-anticipated women-in-prison sci-fi exploitation riff. Think Margaret Atwood meets inglorious Bastards. I will be honest I was not a fan of DeConnick's writing on Captain Marvel but I am always willing to not judge a book by their previous work. In this case there are a lot of the same issues that plagues both books. The first big issue is that the first issue really lacks focus and there is very little characterization to any of the cast. You are thrown into the story and the women sadly come off as sad stereotypes and very little for the reader to care about them beyond that they are in prison. I will say that as disjointed the story is there is a small glimmer of hope to the book. I at least thought that deep down the premiss had some promise. De Landro's artwork had a very stiff feel to it and there were to many times where there was no backgrounds or very little of it. Overall the art was disappointing and didn't really bring much to the book.
Is this book worth your time and money? There was a lot of fanfare when this book was announced at the Image Expo but hype will only get you so far. While the book is not a train wreck, it wasn't very good either. There were some fair ideas thrown against the wall but in the end nothing stuck for me to read the second issue of the book. The art was just flat and lacking detail and was not visually appealing in the end. I would pass on this one.
The Valiant #1
Valiant Entertainment Writers Jeff Lemire & Matt Kindt, Artist Paolo Rivera
I am not a regular Valiant reader and was very disappointed that their Unity series was no friendly to new readers. They are trying to entice new readers with this new mini series. The plot from Valiant is, The Eternal Warrior has protected the Earth for more than 10,000 years. A master of countless weapons and long forgotten martial arts, he is guided by the Geomancers – those who speak for the Earth. During his long watch, the Eternal Warrior has failed three times. Each time, the Geomancer was killed…and a new dark age for humanity began. Each time, he was unable to stop The Immortal Enemy – a monstrous force of nature. A civilization killer. A horror that appears differently each time it arrives…and whose seemingly only purpose is to bring disorder and darkness to the world. Now, the time has come for The Immortal Enemy to return once more. But, this time, the Eternal Warrior will be ready. This
time, he has a force greater than any single warrior. This time, he has…THE VALIANT. I was pleasantly surprised how new reader friendly this book was. Lemire and Kindt are really good writers and have done a really nice job on setting ups this mini series. It does help to have a bit of knowledge of the characters but there is a page after the story that explains who's who. Valiant should have really put this page in the front of the book. The first issue is a set up type story so be aware of that but I thought that the overall story and set up was very well done. Rivera's artwork was very nice and did a nice job on the characters and handled the action scenes with ease, He gave the story a really nice flow that give the book a good feel.
Is this book worth your time and money? For non Valiant readers I can recommend this book and while I will have to wait and see if the books that are to spin out of this mini series next year are going to be worth buying. This series is a really good step in the right direction for Valiant for new readers. Lemire and Kindt have set up a really interesting story that I am looking forward to reading. Add in Rivera's artwork and the book is off to a solid start. RECOMMENDED.
Harley Quinn Holiday Special #1
DC Comics Writers Amanda Conner & Jimmy Palmiotti, Artists Mauricet/Brandt Peters/Darwyn Cooke, Colorists Dave McCaig/Paul Mounts/Dave Stewart, Letterer John J. Hill
Harley is the belle of the DC ball now and the specials are coming it seems for every holiday. The plot from DC is, We got you a present, comics fans – a gut-busting (sometimes literally) collection of short stories featuring Harley and her special brand of holiday cheer! Can she get through Christmas dinner without blowing something up? Who will survive the war of the department-store Santa's? Don't miss this one – after all, you can't spell "holidays" without "Harley!" (Give or take a couple letters.) There are 3 stories in the special. First up Bad Toy with art by Maurucet is on paper a cute idea but the story ends up wearing out is welcome. I think the problem is that it's really two stories strung together. The first part is Harley giving puppies and kittens to holiday shoppers so they don't have to go to the pound. The other part of the story is a girl lost her mother on Christmas and blames her father for it. Harley must mend the two back together. While it's not bad I just think that the don't go well together and it ends up being too long. Mauricet's art is nice and does a good job with what he has to work with, Peters does the artwork for the second story Get Yer Cheer Outta My Ear and it's a simple story of an ear worm that picks a host and sings for two days. Harley must get Santa to help her out. This is a fun story that is short and sweet. Peters art is really visually pleasing and a different style that looks like a storybook. The last story is the one you were waiting for. Superstar Darwyn Cooke supplies the art for Killin' Time. Harley tries to stop Father Time from passing the new year to the New years Baby because she has a grey hair. This is classic Harley and having Cooke do the artwork is simply perfect. This is my favorite story of the book and worth the cover price alone.
Is this book worth your time and money? While the first story is a bit disappointing overall the book is well worth the cover price. Conner and Palmiotti continue to have fun with Harley and it's nice to see her in Christmas stories. While I love the regular Harley book I am starting to worry that DC might be over exposing her like Marvel has done with Deadpool. I hope that they slow down a bit with the specials. With that being said this is worth buying if you are looking for a holiday book that is a fun read.
George Perez's Sirens #2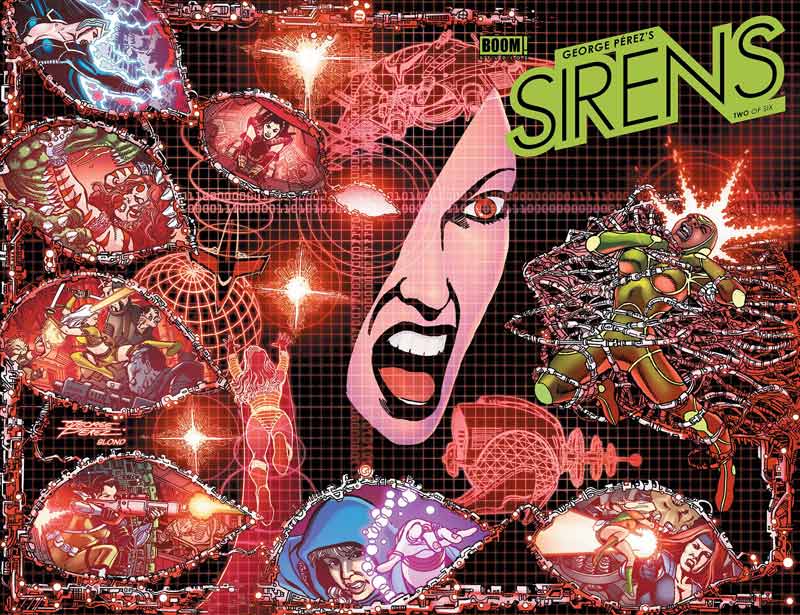 Boom! Studios Writer & Artist George Perez, Colorist Leonardo Paciarotti, Letterer Ed Dukeshire
The second issue of Perez's Sirens is a mixed bag. The Plot from Boom is, Under attack by their greatest foe, Naida, the Sirens put together a last-ditch plan to keep their team-and their ship-together! With their memories of each other and themselves still hazy, the Sirens must re-learn how to work together before Naida destroys them all. It seems as if Perez has the story mapped out but from a readers view I'm not sure where the book is going. The story moves along but the overall point doesn't seem to be standing out. At least this second issues hits the ground running as far as the action goes but it really doesn't seem to have a point. His art is a little on the mixed side. While he is still a master draftsman there were a few times that the art seemed a little on the rushed side. It wasn't bad but it was noticeable at times throughout the issue.
Is this book worth your time and money? As much as I love Perez this book is becoming a bit off the mark for him. While overall the story could be good the book for an average reader is going to be tough to continue with. If you are buying the book because of his artwork, even the bumps in this issue still are worth buying the book for. But I am starting to worry that he may be on shaky ground with the overall story.
Batgirl #37

DC Comics Writers Cameron Stewart & Brenden Fletcher, Artist Babs Tarr, Colorist Maris Wicks, Letterer Jared K. Fletcher
Batgirl continues with the new team that is making this a must read book each month. The Plot from DC is, The Batgirl of Burnside is the name on everyone's lips…but she sure is acting strange since she took up residence in Gotham City's outer borough! Dangerous joy rides? Photo ops? Sequins? Either Barbara Gordon's gone off the deep end–or there's a doppelganger under that cowl! Stewart and Fletcher continue to do the "done in one" type stories but continuing the overall storyline in each issue. This is a really good thing for new readers to be able to somewhat jump on board with a new issue. They continue to develop their Barbra Gordon into a still figuring the whole superhero thing out while still trying to have a "normal" life at the same time. The writing is very natural and they don't try to make it so that it tries too hard to be hip to the kids of today. While they make the book current it hasn't gotten caught up with being too trendy. Tarr continues to make the book standout from the superhero crowd, Her style is really capturing the story perfectly and effortlessly. I really love the way that she draws the cast and handles both the dialog and the action with such ease that it makes a really fun read.
Is this book worth your time and money? This book continues to impress with both story and art. This month we get the treat of a great Darwyn Cooke variant cover that is a must buy for this issue. I love that this is a real outside the box mainstream superhero book that feels fresh and not overdone or to hip for its own good. HIGHLY RECOMMENDED!
QUICK SHOTS:
Little Nemo Returns To Slumberland #3

IDW Writer Eric Shanower, Artist Gabriel Rodriguez, Colorist Nelson Daniel, Letterer Robbie Robbins
Shanower and Rodriguez continue to bring Winsor McCay's beloved Nemo not only to a new generation but will warm those who have traveled to Slumberland before. This book is one if those rare books that is simply perfect in both story and art. They complement each other so perfectly that you savor the book. This is a wonderful book that if you are not reading than shame on you. HIGHEST RECOMMENDATION!
Wild's End #4

Boom! Studio Writer Dan Abnett, Artist I.N.J. Culbard
The mystery of the space invaders continues and the only complaint that I have with this book is that there are only two issues left and that I have to wait 2 more months to finish this wonderful book. We learn the fate of the towns people and our band of fighters seem to have lost some of their members. This story is one that is very well paced and is flowing very well. It's not a super fast pace that most are used to. It's a grand science fiction and fairy tale all rolled into one story. Abnett and Culbard are a fantastic team and are really impressing me with this book. Solid story and the artwork fits the story perfectly. VERY RECOMMENDED!