This week brings both old and new comics back to the review pile. So let's get going shall we?
The Kitchen #3
Vertigo Comics Writer Ollie Masters, Artist Ming Doyle, Colorist Jordie Bellaire, Letterer Clem Robins
Vertigo has put out some really solid books lately and The Kitchen continues to impress. The plot from Vertigo is ,Kath and Raven continue to solidify their bloody hold over the rackets of Hell's Kitchen, and we get a glimpse into their childhood – and what it was like being rival siblings of the toughest Irish gangster in New York. I am really impressed with the pace that Masters is taking with this book. There is a lot of story both past and present that is being covered in this issue and the story really flows with great ease. While there is not a lot of action on the surface of this issue it really is setting things up with both the characters and the overall story. While some would say that this issue might be pedestrian you have to look at the overall story arc that the book is doing. Tommy is a great addition to the story and brings a dark humor to the book and you can't wait to see what he does next. Doyle continues to bring his A game to the book. His gritty style really grounds the book in a reality that is really making this book work so well. He really does a great job of capturing the subtle emotions and expressions of the characters. Bellaire's color work is really great this issue with the way that she does the flashbacks in a more muted tone than the regular book. Her overall use of color on the book is really top-notch with the mood that she brings to Doyle's artwork.
Is this book worth your time and money? I have been really impressed with this book and the third issue really solidifies the book as a win for Vertigo. This type of comic is pretty rare and to get the right tone is even rarer. The book is really firing on all cylinders and this issue has a lot of great set up to the story arc. I am really loving this book and has become a must read every month. RECOMMENDED!
Rocket Salvage #2
Archaia Writer Yehudi Mercado, Artist Bachan, Colorist Jeremy Lawson, Letterer Deron Bennett
The first issue of this book showed promise but didn't hit a home run. The second issue does have a nice improvement. The plot from Archaia is, When Primo Rocket finds out the alien and robot federations are gunning after him in search of a long-lost mythical weapon, he has no choice but to rope his family into an adventure across the galaxy to find the alien responsible. Too bad that alien is locked away in the most dangerous and impenetrable Kaijer Prison Planet known to man! This issue is a classic prison break story and Mercado certainly brings a new charm to the standard telling of it. While the story is not mind-blowing it certainly is a lot of fun and that is where the book really hits its sweet spot. Mercado keep things moving along nicely with the story in this issue and brings up an interesting twist with the "hidden weapon". Bachan's art is a lot of fun and has a lot of great detail put into it. There is a lot of great visual elements that he does a great job with in this issue and does a nice job with the backgrounds in the book. Lawson does a nice job with the coloring on the book and really makes Bachan's art pop off the pages.
Is this book worth your time and money? While this book is not earth shattering it's a fun little book that is keeping me interested in what is going to happen. The idea of the story is still keeping me guessing as to where Mercado is going to take it. As long as the book keeps going smoothly I will hang in for the full 5 issues.
Powers #1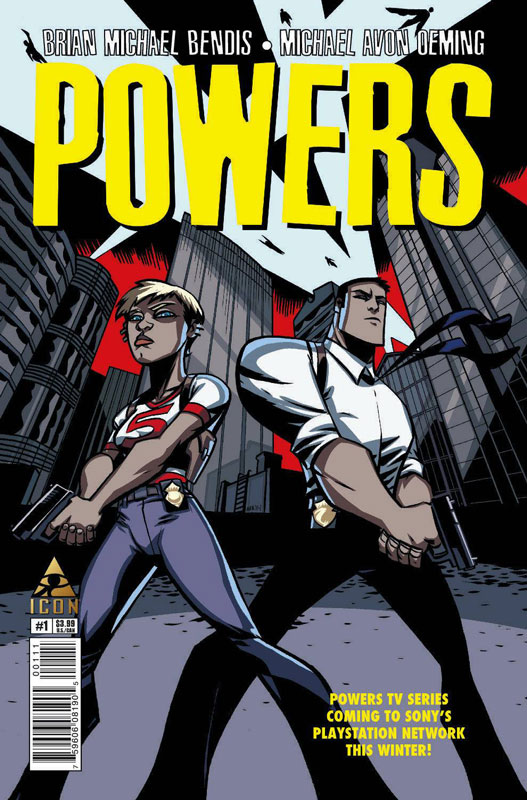 Icon Comics Writer Brian Michael Bendis, Artist Michael Avon Oeming, Colorist Nick Filardi, Letterer Chris Eliopoulos
I know I have never read the book and I should but this is a new jumping on point for new readers to help you get ready for the television show that will be on the Playstation Network in February. The plot from Icon is, Just in time for the debut of the long-awaited POWERS TV show comes this brand-new number one, a perfect jumping-on point for fans new and old! The Eisner Award-winning POWERS tells the story of homicide detectives Christian Walker and Deena Pilgrim, who are assigned cases specifically involving powers. If a superhero falls dead from the sky or a super villain is found dead in the gutter, it's up to Walker and Pilgrim to solve the case. But having barely survived the most harrowing case of their careers and discovering government corruption of the highest level, Walker and Pilgrim are now faced with the most difficult decision they've ever had to make. Plus: the discovery of a power no one has ever seen before! So for not having read the book before Bendis has done a nice job of bringing new readers up to speed with general idea of the book and characters and still makes the issue entertaining read. While there might be a few things that I didn't catch but I never felt as if I got lost in the story. The first issue story gets off to a rousing start with getting right into the world of Powers and having a great action scene from the get go. The only minor thing is that at the end of the issue new readers are introduced to Christian Walker and have no idea about him. I just hope that the back story is covered for the new readers. Other than that it was an excellent introduction to the Powers world. Oeming's art fits the story very well. His style has a lot of detail with a lot of clean lines to it. He is one of those artist that has an animation type style that I really enjoy. Also a tip of the hat to Filardi's color work that really adds a great deal of mood to the book.
Is this book worth your time and money. This is a really solid book and will have to now go back and pick up the original run of the book. The book does a great job of balancing action, mystery, detective and superhero themes all in a great package. Great story and art make this a must read book. If you have never tried this book, now is the time to jump on board and read a really good book. HIGHLY RECOMMENDED!
Galaxy Quest: The Journey Continues #1
IDW Writer Eric Burnham, Artist Nacho Arranz, Colorist Ester Sanz, Letterer Gilberto Lazcano
Attention: Public Service Announcement! If you loved the movie, please do not pick this book up. The plot from IDW is, Once upon a time, a troupe of has-been actors that starred on an old sci-fi show were enlisted by an alien race to save them from an intergalactic tyrant. Despite being way out of their depth, the cast somehow managed to save the aliens and stay alive… but their actions in outer space may have had dire consequences for another world. Join us this January as the cast of GALAXY QUEST returns for another bombastic journey into space! I honestly don't know where to start on this train wreck of a comic. The story is tedious and has way too much exposition. Burnham story is bogged down by dialog and too much plot. He really missed the point of the movie and why it worked so well and this comic does not. The movie is a simple straight forward story that kept it simple and fun. This book is neither fun or simple. The artwork is pretty mediocre and doesn't help the situation. If you're doing a licensed book and are unable to secure the actors likeness for a book not based on a huge film then what is the point? All of the characters look generic and boring. The art is stiff and has very little life to it.
Is this book worth your time and money. This might be one of the worst licensed books I have read. This is really embarrassing book. Poor story and bad artwork makes this book super disappointing. The bigger problem is that it doesn't even resemble Galaxy Quest and so what is the point. SKIP IT!
Burning Fields #1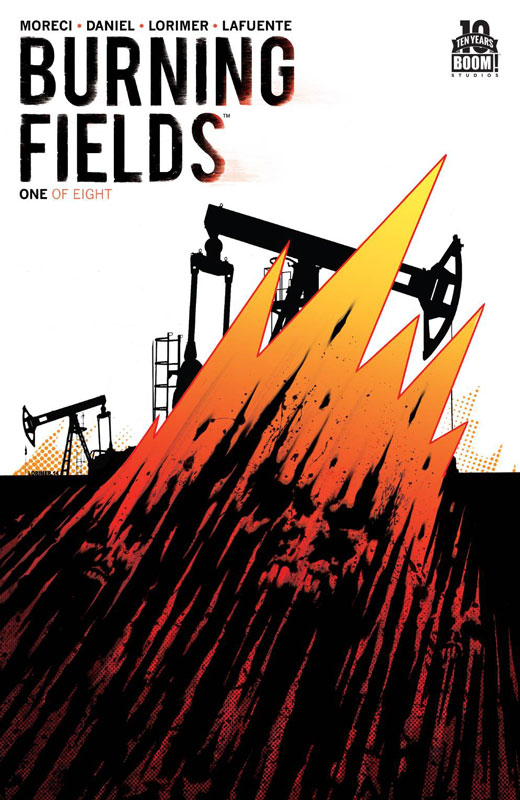 Boom! Studios Writer Michael Moreci & Tim Daniel, Artist Colin Lorimer, Colorist Joana Lafuente, Letterer Jim Campbell
This was an interesting book this week. The plot from Boom is, Dana Atkinson, a dishonorably discharged army investigator, is pulled back to the Middle East when a group of American oil technicians disappear under bizarre circumstances. With the help of an Iraqi investigator, what Dana discovers is unimaginable: a series of unusual incidents at the drill site lead her and her unlikely ally to discover a mythic evil that has been released, one that threatens both the lives of the entire region and the fragile peace that exists. This is one of those book that does show promise but the first issue is a little rocky. The story by Moreci and Daniel is good but the issue has a lot of exposition that is setting up the series and while it's interesting it gets off to a bit of a slow start. The other problem that I had with it was while there was some back story on the characters I didn't feel as attached as I should have been. I did like the ideas that were presented in the story and it does show promise. Lorimer's art is nice with a lot of grit to it. He does a nice job in the detail of the facial expressions of the characters. He also sets the mood and tone of the book off to a really nice start.
Is this book worth your time and money? The first issue got off to a little slower start than I would normally like but, there are some interesting ideas to the concept. The location of the story in Iraq is a really great idea and the tensions that the story introduces is very interesting. The next couple of issues are going to make or break this book. Good idea just not totally sold on the book yet.
The Valiant #2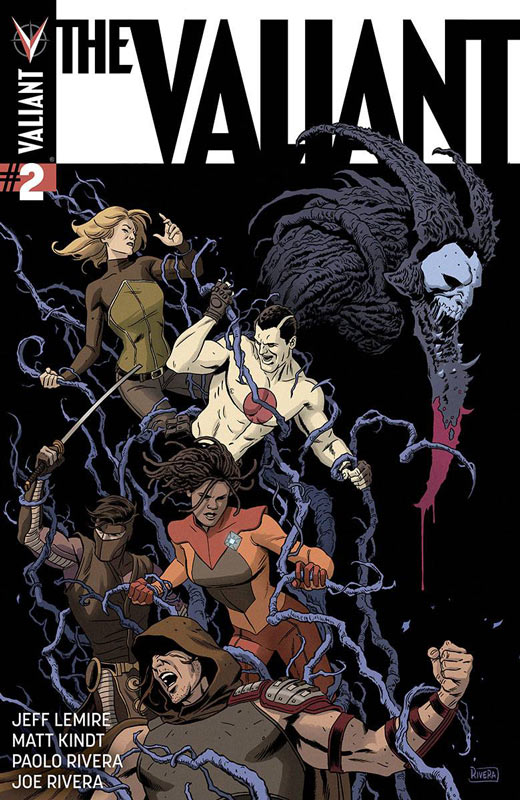 Valiant Writers Jeff Lemire and Matt Kindt, Artist/Colorist Paolo Rivera with Joe Rivera, Letterer David Lanphear
I was very impressed with the first issue of this series and hoped that it kept the momentum going. The plot from Valiant is, The Immortal Enemy has crawled out from the black depths of history to destroy this generation's Geomancer and send Earth back to the Dark Ages! Now…the Eternal Warrior, Ninjak, and Kay McHenry must overcome their worst nightmares before the unlikeliest of white knights rides in to save the day. Will he be enough to battle back the unyielding evil that threatens to plunge the Valiant Universe into the darkness? This is what Valiant should have done a long time ago. Introduce the Valiant characters in a solid story for people who are no necessarily looking for just an average superhero book. Lemire and Kindt script make this not feel like a standard superhero get together. The story really flows very well and this second issue is I enjoyed it more than the first issue that I did like a lot. They really build on the ground work that they laid in the first issue and I never felt as if characters were getting thrown into the story because they have to use so and so. This is a really good story that I am now hooked on and can't wait to see where they are going to take it. Rivera's art is simply fantastic and really brings the story alive. There is a lot of twist in the story that he visually handles with ease. This is a really good-looking book.
Is this book worth your time and money? I am really impressed with this book and Lemire and Kindt did not disappoint. This is the book that I have waited for from Valiant. I'm excited to see what this book is going to set up in the future of books from Valiant. I hope that they are able to break out of the averageness of a number of their current books and continue to shake things up creatively. If they get solid writers like Lemire and Kindt this could be a great thing for Valiant. RECOMMENDED!
Star Trek/Planet of the Apes: The Prime Directive #2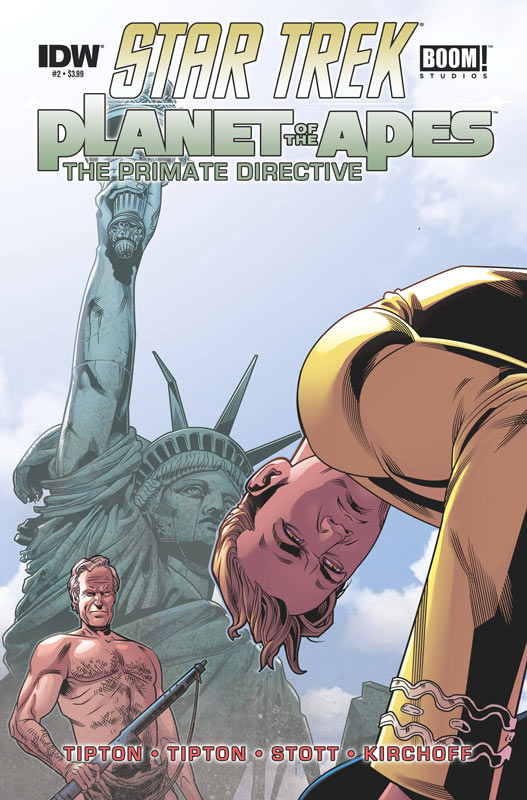 IDW/Boom! Studios Writers Scott Tipton and David Tipton, Artist Rachael Stott, Colorist Charlie Kirchoff, Letterer Tom B. Long
I didnt' expect much from this book when I read the first issue and was pleasantly surprised by it. The plot from IDW/Boom is, The colossal crossover nobody ever expected continues! Captain Kirk and the Enterprise crew have landed on the Planet of the Apes-but how?! And how are the Klingons involved? Plus: Taylor meets up with Kirk and Spock, but will he greet them with open arms? Or flying bullets? While the story was not quite as strong as the first issue it was still a lot of fun. I think the second issue suffers from a bit too much exposition and drags a little compared to the first issue and the pacing was just off. Stott did a nice job on the art in the first issue but there are some really glaring badly drawn panels and characters in this issue. It feels as if the art seems a bit rushed that runs both good and bad throughout the issue.
Is this book worth your time and money? While there are some glaring problems with the second issue I still have a fondness for the book. I hope that it's just a bump in the road with this issue. It's not bad but it's not as good as the first issue. There are some really embarrassing artwork in this issue and hope that it's just a fluke because Stott is a good artist but hopefully she will bounce back in the next issue. If you liked the first issue the second isn't bad but a little disappointing. Still having fun with it in the end.