Boy it seems like every week there are so many new number one books that hit the shelves and then get farther behind on catching up. This week we have four new books, two reboots and a returning book. So lets get to it.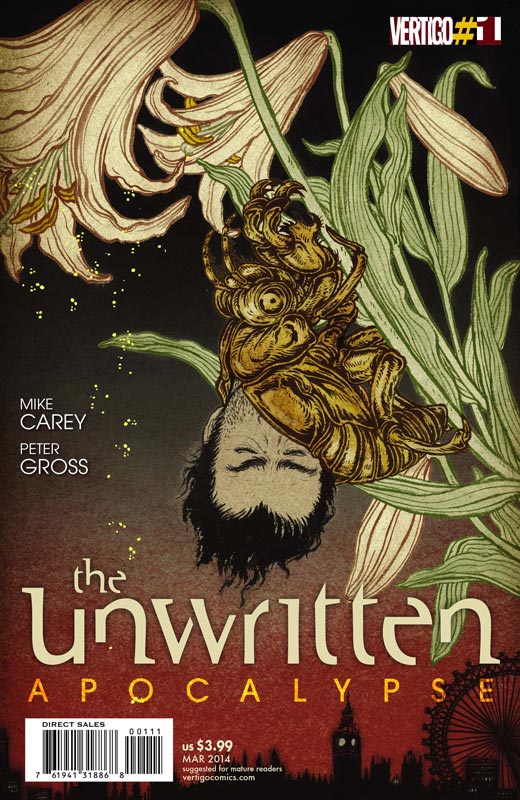 The Unwritten Apocalypse #1
Vertigo Comics Story and Art by Mike Carey & Peter Gross, Colorist Chris Chuckry, Letterer Todd Klein
After the crossover with Fables for the final four issue story arc, the book is getting a fresh start and a new #1. The basic premiss is Tom Taylor, who was the inspiration for a series of hugely successful children's fantasy novels in the vein of Harry Potter. The series deals with themes related to fame, celebrity, and the relationship between fiction and human consciousness. While many people assume that the story is inspired by Harry Potter, Mike Carey, in an interview with Nicholas Yanes from scifipulse.net, claimed that "the most important reference point is the autobiography of Christopher Miline– who is famous as the Christopher Robin of the Winnie the Pooh books. Milne grew up feeling that his father had stolen his childhood from him, turned a profit from it and then given it back to him in a form he couldn't use. Our Tom is very much in that situation when we first meet him, although we take his identity crisis a fair bit further than that. The plot synopsis from Vertigo is, It's the perfect jumping on point, as Tom Taylor is stranded at the beginning of all creation! Lost in the unwritten scenes of all the world's stories, Tom Taylor is headed back to reality — and all the gods and beasts and monsters ever imagined can't stop him. But there's a toll on the road that may be too high for him or anyone to pay. While Vertigo touts this as a great jumping on point I think that it's an OK jumping on point. If you are a Fables fan you might want to actually read issues #50-#54 of the previous story. It will also help you get up to speed a little faster because you are familiar with the Fables cast. While this first issue does a decent job of bringing in new readers I just wish that they would have noted the back story a little better. Carey writes this issue with a storybook point of view that is quite fun to read and helps you get familiar with the style that the book has. Having the narrative go through familiar classic fairy tales is a lot of fun and gives Peter Gross a lot to work with visually. Gross really knocks the fairy tale parts out of the park per usual. Adapting his art style to fit the original art from the fairy tales is a truly amazing feat. And Chuckry's colors help capture each tale to perfection. Klein's letters on the book are simply perfect his is one of the best in the business and this book proves it again.
Is this book worth your time and money? While it may not be the best jumping on point for new readers, this is a really good book and worth the $3.99 to see if you like it. If you do then go back and buy the original run or at the very least pick up the Fables crossover issues from the last few months. Really solid story and art make this a great read every month. I just wish that they had done a little bit better for new readers to join the book.
All New Invaders #1
Marvel Comics Writer James Robinson, Penciler Steve Pugh, Colorist Guru-eFX, Letterer Cory Petit
Marvel is reviving The Invaders that was a book from 1975 that had Captain America, The original Human Torch and Sub Mariner that had the heroes based in WWII. This new incarnation has the same cast and the plot synopsis from Marvel is, Eisner Award winner James Robinson (STARMAN, EARTH 2) returns to MARVEL, uniting with Steve Pugh (ANIMAL MAN, HOTWIRE, GEN-X) to create a unique, modern-day take on the INVADERS. The KREE EMPIRE intends to conquer the universe using a weapon that will grant them an army of NORSE GODS. It falls to four heroes united by their past—CAPTAIN AMERICA, NAMOR, THE ORIGINAL HUMAN TORCH and the WINTER SOLDIER—who must now face the future and wage war against the Kree to save Earth. The first issue centers around the Human Torch and him trying to lead a norma life that is shattered with the Kree invasion. While I like the first issue it overall didn't set the world on fire either. It's a storyline set up issue that hit all of the beats well but maybe that was a little bit of the problem. Robinson has written some great books including the recent Saviors over at Image but this was just standard superhero stuff. Likable but didn't leave a huge impression. The artwork by Pugh is really nice and gives the book a nice style that balances the classic feel for the original book but also has contemporary feel at the same time.
Is this book worth your time and money. While the first issue is not bad by any means it didn't blow any air up my skirt either. I will give it at least another issue to see if it's going to go somewhere but the second issue is going to have to really bring the goods for it to be a regular book on the pull list. Neither bad nor good but middling.
Scribblenauts Unmasked Crisis of Imagination #1
DC Comics Writer Josh Elder, Art by Adam Archer & Ben Bates, Colorist Ian Herring, Letterer Saida Temofonte
Another DC book to try to get younger readers into comics. Based on the hugely popular video game Scribblenauts that recently tapped the DC Universe for the newest game. The plot from DC Comics is, It's here! Straight from the hit video game Scribblenauts Unmasked: A DC Comics Adventure comes an all-new, all-ages adventure featuring Maxwell, Lily and as many DC characters as you can imagine! Max and Lily travel with the Phantom Stranger back to the DC Universes to help the heroes find out who is giving the villains with new powers. While I admit that I may not be the intended target audience for this book, it should still hold its own. Well it sort of did. The main problem is that there is a lot a dialog here for a young readers book. It's almost as if it's too cute for older young readers and too much dialog for the younger ones. While the book is not bad it really pales in comparison to the much better Batman Lil Gotham book by Dustin Nguyen. The funny thing is that there are a lot of references in the story that only an older comic book reader is going to get. After reading the issue I am still not sure who the intended audience for this book is. While the story by Elder is OK I even found it to have too much dialog at times. It seems like he is trying to cram too much in this issue. The flow of the story is just not there. If you are an adult reader there are some neat things like Phantom Stranger and Madam Xanadu and some nods and winks in the story that you will catch. The art by Archer and Bates is really nice and very above average for a "kid title". There are some really good layouts in the book.
Is this book worth your time and money. Well if you are giving this book to a younger reader I would say that the age range on the book is going to be pretty limited. I'm guessing that the range would be maybe 7 to 11 at best. I think younger than that is going to be overwhelmed by the dialog and older is going to find it to kiddy. Sadly there are much better young reader books out there right now like Batman Lil Gotham that is a much better choice for both you and a younger reader.
Hacktivist #1 
Archaia Black Label Created by Alyssa Milano, Written by Jackson Lanzing & Collin Kelly, Artist Marcus To, Colorist Ian Herring, Letterer Deron Bennett
Originally a digital comic and is now seeing print in the physical realm. Inspired by Alyssa Milano's obsession with social medias and how people use it to inspire others. The plot synopsis from Archaia is, From the creative mind of Alyssa Milano, with artist Marcus To and writers Jackson Lanzing and Collin Kelly, Hacktivist is a fast-paced cyber-thriller about friendship and freedom in a time of war. The world knows Ed Hiccox and Nate Graft as the young, brilliant co-founders of YourLife, a social networking company that has changed the way the world connects with each other. The world knows "sve_Urs3lf" as the largest white-hat hacking group on the planet, exposing information and sparking revolutions across the globe. What the world doesn't know is that this is a lie. Ed Hiccox and Nate Graft are sve_Urs3lf. When their operation is discovered by the US Government, and their company is taken over by military contracts and the CIA, Ed and Nate must face the real world beyond the code and choose between friendship and what they believe to be right. I have to admit I was a bit surprised that this was a pretty good read. It's a very timely issue because we all use some form or another of social media. I think the thing that I liked about the story was that it wasn't just another big brother is watching you and invading your privacy. It was a more what if type of story. The pacing of the story is good and it does make you look forward to the next issue. Lanzing and Kelly give you a nice introduction to the characters and the plot but do keep some of the cards close to their vest. They leave a nice story idea to lead to the second issue. The art by To is very pleasing and has some really nice layouts and design choices. He capture both the action and dialog scenes well and put some nice work into the backgrounds.
Is this book worth your time and money? I have to admit I was skeptical of the book and picked it up due to the nice artwork. While not the most mind-blowing book ever done, it has a solid topical story that doesn't hit the subject over your head. With an intriguing concept and very nice art I would say it's worth it for the four issue series. It's definitely something that makes you think.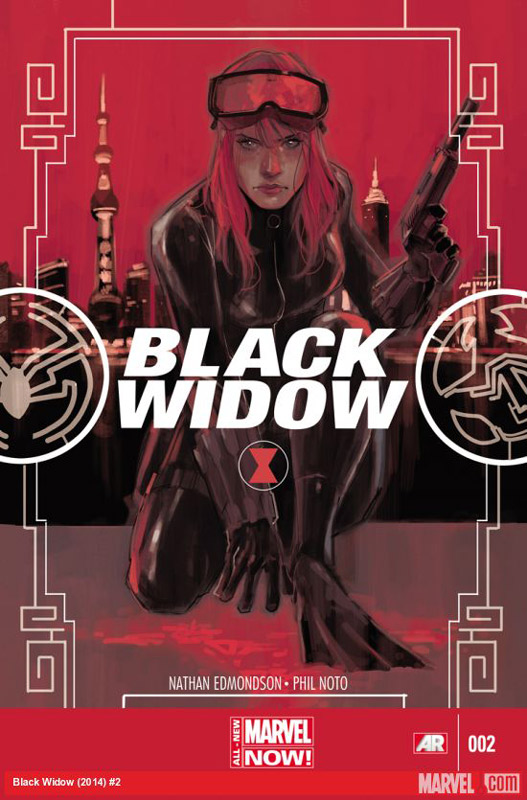 Black Widow #2
Marvel Comics Writer Nathan Edmondson, Artist Phil Noto, Letterer Clayton Cowles
With the first issue a very good read but was concerned with where the book was going to go. Well now that the second issue is out it's still a little unclear. The second issue has Natasha on another mission and this time she is set up and make some mistakes that could cost her big time. The story in this issue is a lot like the first issue in that it's just another mission. While Edmondson does add a dash of subplot I am still not sure of where this book is going. To be honest you could read this second issue and not even bother with the first issue. There are only a couple of very minor plot threads from the first issue. While the idea of done in one stories is neat, in the long run there needs to be a whole lot more to this book. Otherwise this is going to get old really fast. Noto is the real draw of the book (pun intended!) He brings this book to a whole other level. It's rare that a standard monthly superhero book from the big two look this good. His use of layouts and color are simply breath-taking. He really bring a class to this book and does not disappoint with this second issue.
Is this book worth your time and money? While the quality of the book is still strong there is no underlying ongoing plot that really needs to get going. The done in one mission story is going to get old very fast. Edmondson needs to bring some mythology to this book. We need a reason to come back every month besides drooling over Noto's artwork. Still a good read just starting to get a little worried about it.
Deadly Class #1
Image Comics Writer Rick Remender, Artist Wes Craig, Colorist Lee Loughridge, Letterer Rus Wooton
It seems like Image Comic is going to try to release a new #1 issue every week this year. If they keep up the quality it is sure going to break the piggy bank for a lot of us. This week Deadly Class is the new kid on the block. The plot synopsis from Image is, It's 1987. Marcus Lopez hates school. His grades suck. He has no money. The jocks are hassling his friends. He can't focus in class, thanks to his mind constantly drifting to the stunning girl in the front row and the Dag Nasty show he has tickets to. But the jocks are the children of Joseph Stalin's top assassin, the teachers are members of an ancient league of assassins, the class he's failing is "Dismemberment 101," and his crush, a member of the most notorious crime syndicate in Japan, has a double-digit body count. Welcome to the most brutal high school on Earth, where the world's top crime families send the next generation of assassins to be trained. Murder is an art. Killing is a craft. At King's Dominion High School for the Deadly Arts, the dagger in your back isn't always metaphorical, nor is your fellow classmates' poison. Join writer RICK REMENDER with rising star WESLEY CRAIG (Batman) and legendary colorist LEE LOUGHRIDGE (Fear Agent) to reminisce about the mid-1980s underground through the eyes of the most damaged and dangerous teenagers on Earth. I really loved the way that Remender set up the story on this book. First setting it in the late 1980's lets the book draw from the period without being stuck in the period. Also the short time jumps to tell Marcus story get the plot going without it being too slow or going to fast. You really get to know Marcus very well before the action starts. By doing that Remender gives us a character to hang onto when all of the weird stuff hits the story at the end of the first issue. This could have really turned into a bad teen angst type of story and I am very glad he didn't go there.  I was very impressed with Craig's artwork. While some people might find it a bit sketchy I found it that there was a lot of detail without over doing it. There was a nice balance of detail and minimalist that really captured the story so well. There are some really fantastic layouts and angles  that really keep the book moving and flows really naturally. Loughridge color work on the book is a real plus for this book. He really knows where and when to use color to tell the story. This is some really impressive color work that you rarely see in a monthly book and really takes Craig's art to another level. I haven't been a huge fan of Remender's  mainstream work with Deadly Class and Black Science he is on a roll.
Is this book worth your time and money? This is a really solid book that gets off to a great start with this issue. Really well done first issue story with great art and coloring. They have really set up a great world with this book and I can't wait until the next issue to visit it again. Highly Recommended! 
Empire of the Dead #1
Marvel Comics Writer George Romero, Artist Alex Maleev, Colorist Matt Hollingsworth, Letterer Cory Petit
Zombies are the current media darlings and it seems that everyone is doing it. Well Marvel decided to go back and get the true Godfather of the modern Zombies George Romero to write a comic for them. If you are going to go there you might as well get the best. The plot synopsis from Marvel is, ZOMBIE GODFATHER GEORGE ROMERO UNLEASHES HIS NEXT UNDEAD EPIC—AS AN ALL-NEW MARVEL COMIC! Welcome to New York City years after the undead plague has erupted—but just because Manhattan has been quarantined, don't think that everyone inside is safe! Not only do flesh-eaters roam within Manhattan, but there's another ancient predator about to take a bite out of the Big Apple! So do we need another zombie book even if it's written by the Godfather himself? Surprisingly it's very good. First Romero makes sure that it does not fall into the trap that most fall into. Do not rehash what we have already seen. Romero doesn't go on about the zombies and how they came to be or running through the streets trying to survive. He does use a plot device from his third film Day of the Dead that is the idea of trying to study the zombies to see if there is something inside that can connect us with them. He also references the original Night of the Living Dead in a flash back and adds a new twist to it. He also brings another mythology at the end of the issue but I am not going to spoil that one for you. Thankfully the story does not feel like been there done that trap that most horror stories fall into. The great thing that he bring to the book is himself. He can pull from his movies because it's his mythology that he created. With the comic book canvas it looks as if he is telling a story with a large scope and an unlimited budget. Maleev's art fits the mood of the book. His use of black tones in the art give the book a great mood and feel. He captures both the big and the small details with ease. The only minor issue is that there were a few times that the coloring seemed a bit odd. I don't think that Hollingsworth work is bad it just seemed a number of times that the colors just seemed a bit off for me. It just took me out of the story a couple of times.
Is this book worth your time and money? I was very skeptical of the book even with Romero writing it but he really brought the story on the first issue. It didn't feel like a rehash but using plots from the previous films works really well and did feel fresh. Great art by Maleev captures the story very well. I am very much looking forward to the next issue and hope that Romero has a lot of stories to tell because I would like to read them. Very Recommended!