It's the end of a long week and there was a flood of comics that came out this week. So let's go!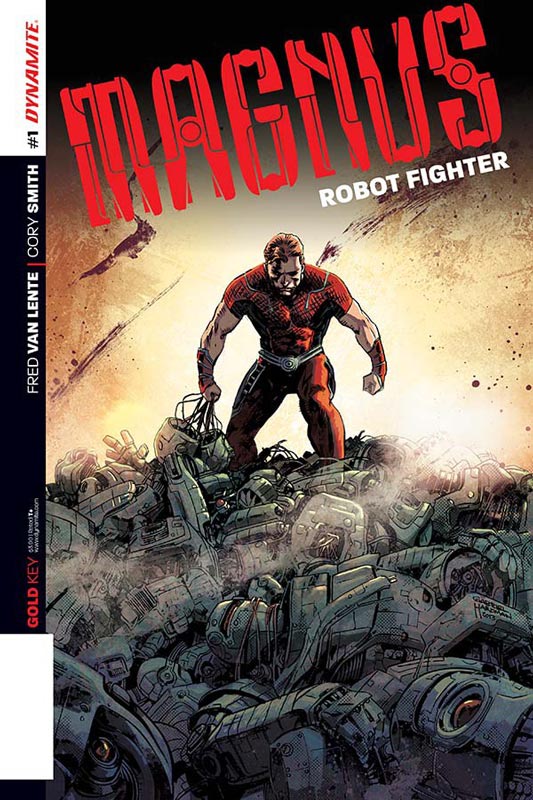 Magnus Robot Fighter #1
Dynamite Writer Fred Van Lente, Artist Cory Smith, Colorist Mauricio Wallace, Letterer Marshall Dillion
This is Dynamite's second in the relaunch of the Gold Key Superhero line. The plot from Dynamite is, THE GOLD KEY UNIVERSE IS EXPANDING! Superstar Fred Van Lente (Marvel Zombies, Amazing Spider-Man, Conan: The Barbarian) and the astounding Cory Smith (Fathom) present a stunning re-imagining of Magnus: Robot Fighter you never saw coming! In the blink of an eye, young martial artist Magnus has everything taken from him…his father, his wife, his entire life. He's suddenly thrust into a futuristic world he doesn't understand, populated by humans and robots living together in oppression! Can Magnus fight to get his life back…and once he learns the truth about himself, will he want to? As with the previous Turok #1 from a few weeks ago this book is starting off better than the last reboot over at Dark Horse Comics a few years ago. While it's better than that one was this ends up being an average first issue. The story by Van Lente starts with a sort of flashback type of story where Magnus starts off in one setting then is ripped out of that to a new unknown one. While it's not bad first issue it ends up being a bit to cliché for its own good. It gives you story but doesn't really tell you much of anything. Smith's art is pleasing and has nice detail to it. He is able to capture both the action and the dialog scenes well.
Is this book worth your time and money? Kind of. I am a huge fan of the original Gold Key comic by Russ Manning so I set the bar pretty high for the character. This incarnation is off to an OK start but Van Lente is really going to have to pick up the pace on the next couple of issues. I hope this book does find its voice because Magnus is a great character and he deserves a good book.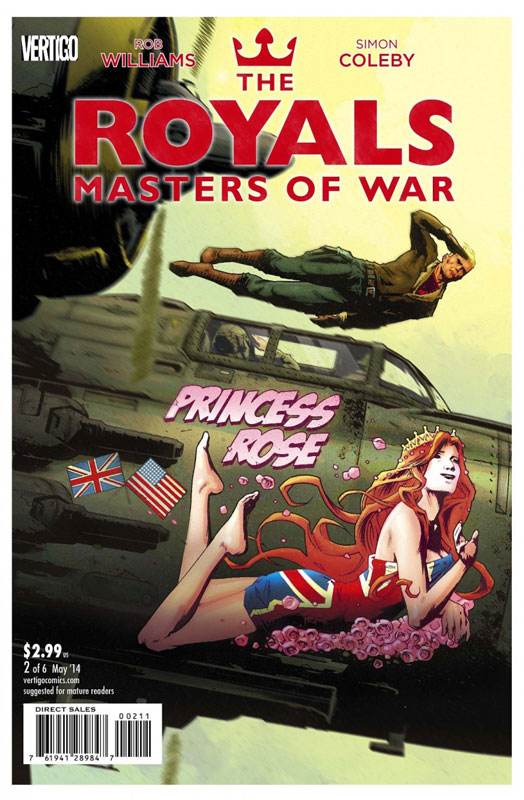 Royals Masters of War #2
Vertigo Comics Writer Rob Williams, Artist Simon Coleby, Colorist JD Mettler, Letterer Wes Abbott
I was a fan of the first issue of this book so I was looking forward to see if the second issue was just as good or was it a fluke. The plot synopsis from Vertigo is, As THE ROYALS continues, the truce is broken thanks to Prince Henry's actions during the Battle of Britain! Now, Royals across the world are entering World War II – and that includes the oldest and most powerful of them all, the immortal Emperor Jimmu of Japan. Meanwhile, Henry, Arthur and Rose travel to the United States to attempt to convince President Roosevelt to join the conflict. Will Arthur's drunkenness and Henry's attraction to his sister torpedo the alliance? And who is the uninvited visitor on the White House lawn? The first issue had a nice set up concept and the second issue really delivers on the groundwork from there. I like the way that Williams take real elements from WWII and inserts his characters into it. We start to find out that there are other key players from different countries that have their own super powered people and we start to get an idea of how that might play out during the war. Reading the book is like the real behind scenes of what really happened during WWII and that we were told of the non classified version. Coleby's art is really just amazing and he really captures the real life people like Churchill and Roosevelt beautifully. The detail of his artwork adds so much to the story that the only bad thing I can say about this issue is that it ended way too fast and I can barely wait until the nest issue.
Is this book worth your time and money? This is turning into quite the great mini series. This is one of those books that gets everything so right and the story and the art are just really perfect. While the story of WWII is the background this take is just so refreshing for a change. Really solid story that is keeping me coming back for more. At this point I don't know how they are going to fit it all into 6 issues. Very Recommended!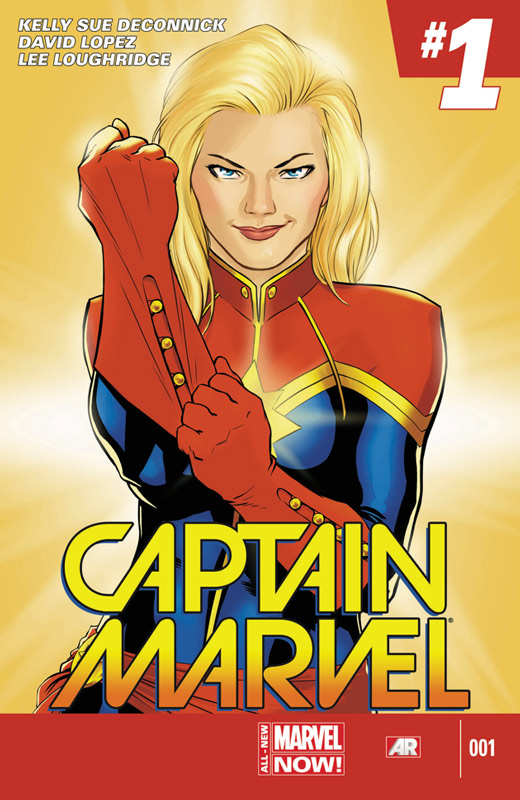 Captain Marvel #1
Marvel Comics Writer Kelly Sue DeConnick, Artist David Lopez, Colorist Lee Loughridge, Letterer Joe Caramagna
And the Marvel Now! books just keep rolling in. The plot synopsis from Marvel is, Hero! Pilot! Avenger! Captain Marvel, Earth's Mightiest Hero with death-defying powers and an attitude to match, is back and launching headfirst into an all-new ongoing series! As Captain Marvel, a.k.a. Carol Danvers, comes to a crossroads with a new life and new romance, she makes a dramatic decision that will alter the course of her life and the entire Marvel Universe in the months to come. It's time to go HIGHER, FURTHER, FASTER and more in the most super-powered comic around! After reading the first issue it just felt so-so. I think the problem might have been as a new reader I felt as if I was dropped into an ongoing story. While first issue origins can be really tough to pull off well, the problem with this one was that you have no idea by the end of the issue who Carol Danvers is. DeConnick flaw in the story is that if you don't know anything about Danvers and then she certainly doesn't fill you in on it. Captain Marvel is not a household character and she should have at least though about that. The art by Lopez is good but is a little standard. I will give him that his facial details are quite good but there were a number of times where there was a lack of backgrounds in the artwork.
Is this book worth your time and money? I was really blah at the end of the issue. It is certainly not a train wreck but it doesn't really do a whole lot either. If you know who Captain Marvel is then you might have a better chance of liking the book. The problem is that I doubt there are a lot of readers out there that know who she is and that could be a problem in the long run. I just wish that the book was a bit more friendlier to new readers. I will give it at least another issue to see if I care longer than that.
Mercenary Sea #2
Image Comics Writer Kel Symons, Artist and Colorist Mathew Reynolds, Letterer Pat Brosseau
I did enjoy the first issue of this book so lets look at the second issue. The plot synopsis from Image is, When the Venture is damaged in a trap laid by the Chinese admiral after Captain Jack Harper's head, he's forced to take the job offered by the mysterious American agent, Mr. Taylor, to rescue a British spy trapped behind enemy lines. It very obvious that this book is either a failed screenplay or a comic being done to make a screenplay. I admit that this book is not anything earth shattering and is a throwback to old war movies. But I am still having fun with it. Symons story is unfold as well as a screenplay should. Nice introductions in the first issue with a cliffhanger at the end. The second issue gets the cast in need of repairs for the submarine and surprise they have to take on a job that pays well and is dangerous. Lets face it you can kind of see a lot of it coming a mile away but, there are so few of these types of books anymore that in a weird way it's a little refreshing. Reynolds does a nice job on the art and does capture the cinematic nature of the story very well.
Is this book worth your time and money? For the average reader this book is not going to be your cup of tea, but if you are a fan of old war movies then it's a fun little read so far. It's not going to win any awards but it's a nice diversion and better than some books out there.
Fantastic Four #2
Marvel Comics Writer James Robinson, Penciler Leonard Kirk, Inker Karl Kesel, Colorists Jesus Aburtov & Rachelle Rosenberg, Letterer Clayton Cowles
This current version of the Fantastic Four got off to an OK start on the first issue so I was willing to give it a little time. The plot synopsis from Marvel is, "THE FALL OF THE FANTASTIC FOUR" PART 2 Manhattan is under attack by a monstrous killer swarm from a corrupted pocket universe, and in order to defeat it the FANTASTIC FOUR will need all their courage, powers and skill…as well as those of every other hero in New York!But to attain final victory one of the First Family will must make a TERRIBLE SACRIFICE!And so the first strings are pulled and the first pieces are put in place……On the Fantastic Four's DOWNFALL! Robinson's story is moving along but still not quite grabbing me yet. I will give him that he does capture the characters familiarity well. He thankfully has not tried to make them something that they are not. While the story is OK it's starting to drag a little bit. It's not slow but on the other hand it's not really rushing to go anywhere. I will give the twist at the end was really good and I am looking forward to how it plays out. Kirk and Kesel art is solid and they do some really nice battle scenes. Nice artwork in the book that is helping keep the book rolling along.
Is this book worth your time and money? It seems as if the first two issues were more like 1 1/2 issues and felt a little padded. But the cliffhanger did pique my interest to see where Robinson is going to take the story. It does give me hope for the future issues. So it's still hanging in there.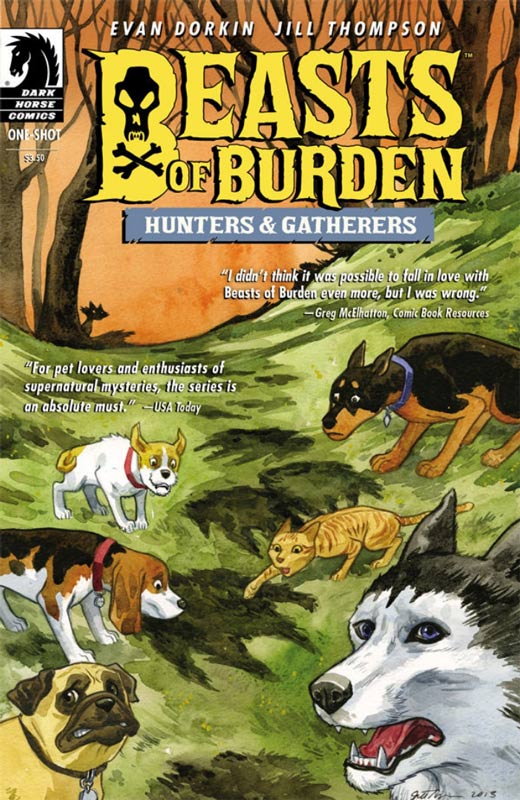 Beast of Burden: Hunters & Gatherers One-Shot
Dark Horse Comics Writer Evan Dorkin, Artist Jill Thompson, Letterer Jason Arthur
The paranormal pets are back in this one shot story. The plot synopsis from Dark Horse is, This standalone adventure is the perfect entry point for readers new to this award-winning series. The town of Burden Hill is defended from monsters and madmen by a brave crew of dogs and cats—and one werewolf hybrid. This book packs serious scares and occasional gross-outs, and sometimes drives readers to tears. This story while short and pretty simple was a really nice read. Sometimes a short and sweet story is a lot more satisfying than some epic that falls flat on its face. Dorkin really tells the story to the point and keeps it on track the whole time. While Dark Horse is touting this as a good entry point for new readers and it is and is not at the same time. There is some back story that new readers are a little lost on but it is certainly not fatal. Thompson artwork has always been perfect for this book. Her artwork just captures the spirit and magic that the animals have. I am a big fan of her color work and this is another great example of it. I also love how she captures expressions on the animals faces with the limits of them that  it brings. Reading this issue is a lot like reading a great children's book. While it maybe a simple story, you walk away from it with a really great feeling afterwards.
Is this book worth your time and money? I really enjoy this book when it comes out (which is far too infrequent) but when it does I am very satisfied after reading it. I really like that this story was simple and this is proof of where simple is a lot better than most people's more complex stories. With Thompson's art that is just the icing on the cake. Perfect story and great artwork make this a steal at $3.50. Very Recommended! 
Black Widow #4
Marvel Comics Writer Nathan Edmondson, Artist Phil Noto, Letterer Clayton Cowles
Well it only took four issue for its first continuing storyline. The plot synopsis from Marvel is, From the cold streets of old Russia, the Hand of God reaches out to crush Black Widow—and it is merciless.Outmatched by the brute force of a powerful new villain, Natasha finds a deadly plot unfolding that spans the entire globe. Jump on to the sensational new series as the most lethal The Avenger faces her deadliest test! I guess that Edmondson finally realized that you can actually do an ongoing storyline with a comic book. While a done in one story is not a bad thing, starting off a series with three of them was certainly not the best idea. It was also nice to see Natasha get her butt kicked for a change. Having her winning all of the time gets a little tiring after a while. While we know that she will ultimately win in the long run but making her work harder at it is very satisfying. It was also nice to have her use some stealth instead of constant action. I hope that this means that Edmondson's is going to step up his game. While I did like the first three issues I was definitely getting board with the done in one. An ongoing book needs to have more meat to it and this issue maybe the start of it (fingers crossed). Noto's art again is top-notch and has been driving this book from day one. It's nice to see he gets a little more to work with on this issue with both big and small scenes.
Is this book worth your time and money? The story has at least started the race that Noto's art has been running circle around. This issue is the first glimpse of where the book might be going. It definitely had a lot more character driven story. If  Edmondson can keep up this pace it might be worth reading the stories instead of just salivating over Noto's artwork.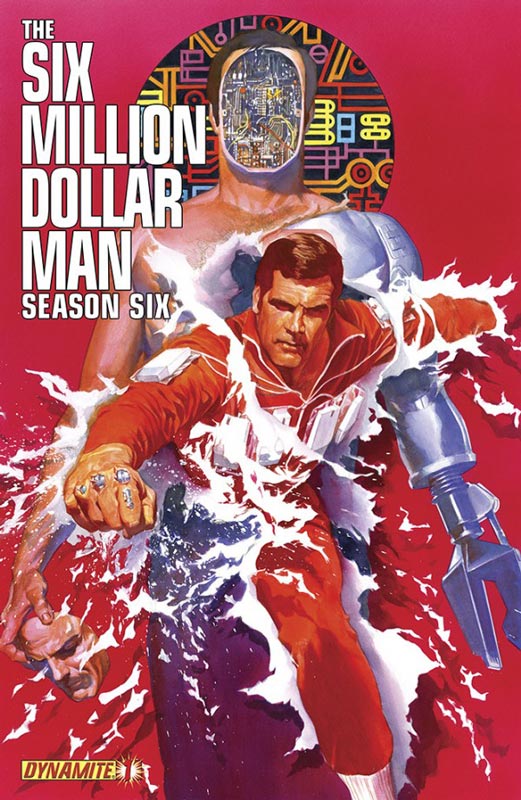 The Six Million Dollar Man: Season Six #1
Dynamite Writer Jim Kuhoric, Artist Juan Antonio Ramirez, Colorist Fran Gamboa, Letterer Joshua Cozine
Here is another comic series based on a defunct television show that is creating a new season of stories based after the original show ended. The plot from Dynamite is, It's The Six Millions Dollar Man's 40th anniversary, and we at Dynamite are proud to bring you the direct continuation of the classic television series with Season 6! Better. Stronger. Faster. The original Six Million Dollar Man, Steve Austin was a man barely alive until the OSI turned him into the world's first Bionic Man. Now he and Oscar Goldman are the most effective team in National Security. But a rogue faction in the OSI is making a power play for that position with a new type of infiltration agent – one that is completely obedient and robotic. Can a soulless machine that wears Steve Austin's very face make the Six Million Dollar Man obsolete? For the 1st Time EVER! Fan favorite toy-line character Maskatron makes his Six Million Dollar Man debut and becomes a part of the classic television series mythology with a violent and terrifying purpose. And as Steve's world is threatened from within, his very actions unknowingly release an alien menace upon an unsuspecting world. Classic action, powerful science fiction, and a cast of characters from one of television's most original series combine to make The Six Million Dollar Man: Season 6 a must have for comic fans! After reading the first issue I was left with a feeling of it being too goofy. While I get the last couple of seasons of the Six Million Dollar Man are not its high point, you should try an attempt to rise above it. Unfortunately Kuhoric's story just becomes too silly at times. When the shark attacks Steve it comes off as looking like it's a rubber shark and then he drop kicks it. I'm sorry it's just stupid and does not work. The Six Million Dollar Man television series was never art but modeling it after the later poorer quality seasons is just embarrassing. Ramirez's art is OK and seems to be pretty standard licensed type of look. Not stunning but far from awful but kind of flat at the end of the day.
Is this book worth your time and money. I wish that I could say yes because I am a big Six Million Dollar Man fan but this book is pretty embarrassing. It's like Kurhoric based the idea on the later mediocre seasons and that is a big mistake. Instead of nostalgia I really felt betrayed. This book for me was a real failed opportunity to breathe some new life into the original series. Sadly that did not happen.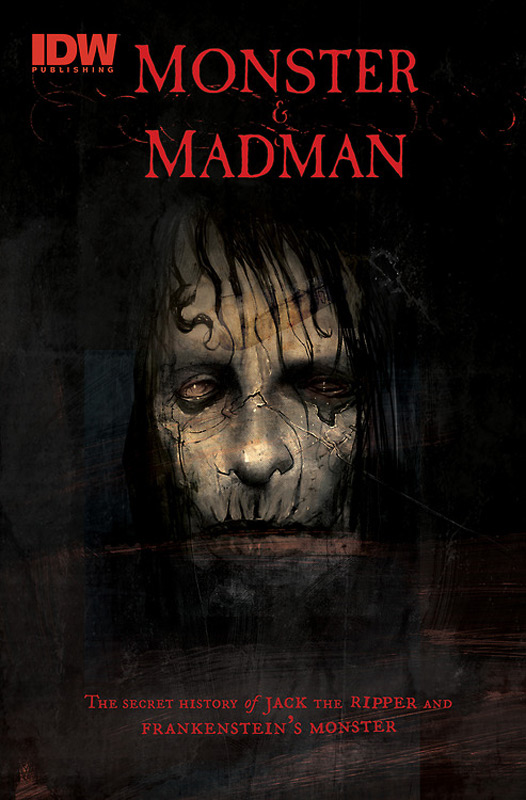 Monster & Madman #1
IDW Writer Steve Niles, Artist Damien Worm
I really saved the best for last this week. Horror fans rejoice Steve Niles is back with his new monster book and it's a doozy. The plot synopsis from IDW is, Contrary to popular belief, the story of the Frankenstein Monster did not end at the end of Mary Shelley's famous novel. Now, Steve Niles and Damien Worm have uncovered the shocking fact of the time the Monster met… Jack the Ripper. Read if you dare! I have been a big fan of Nile's for a long time because he is one of the few horror writers that just gets it. He gets the fact that what makes characters like Frankenstein so great is the tragedy of his situation. It's the heart in the story that make this book so great. A horror story with heart, yes I said that. The point is that while on the surface Frankenstein is a monster he does have feelings and thinks. Niles also doesn't treat him as a stupid monster either. He uses the things that he has learned from his experiences to help him continue his journey. Worm artwork really captures the mood that is necessary for the story to work and boy does he deliver. This book oozes with mood and so much more. Worm really capture the story without felling the need to clutter the artwork with the unnecessary art, color or lettering. His use of color is really nice here. Overall I really love his less is more approach to the layout of the artwork. He is a real find here and can't wait to see what he has in store for later issues.
Is this book worth your time and money? If you are a horror fan then this book is a no brainer. The really exciting aspect of it is that Niles is continuing the Frankenstein story and by adding Jack the Ripper to the mix is a really surprising twist that will be very interesting to see how it all unfolds. This is a very solid first issue story with amazing art that is the best book that I have read this week. HIGHLY RECOMMENDED!