Welcome back to this weeks new comic book reviews. It's a small week and being a fifth shipping week of a month is always a bit on the light side. DC usually is the big winner that loads specials in this week and they have the most this week. Lets get down to it.
The Silencer #1
DC Comics Writers John Romita Jr. and Dan Abnett, Penciler John Romita Jr., Inker Sandra Hope, Colorist Dean White, Letterer Tom Napolitano
After last weeks very so-so Damage debut of The New Age of Heroes the bar was not set very high going into The Silencer. The good news is that Abnett and Romita Jr. get this series off to a very good start. While the premise has been done to death, I will give them that they give the dusty old tropes a nice coat of paint and make this first issue an enjoyable read. Sure the whole hero trying to live a normal life is pretty basic and that does keep this first issue from really standing out as original but they at least keep the story moving along at a nice pace and do a good job of introducing Honor and what her abilities are. I did enjoy the first issue but do hope that they infuse the story with a bit more originality. At this point it's too early to call but shows promise. I am an admitted not the biggest fan of Romita Jr's artwork but I have to say that his work since moving over to DC a few years ago that he has really stepped up his game. It also helps when he has a strong inker and Hope is a good match for him on this book. The one thing that the book is really strong with is the visuals of the story and Romita Jr. and Hope really deliver the goods with that. The opening sequence at the car was very impressive and got things off to a solid start with this first issue.
Is this book worth your time and money. Well it wasn't a stretch for this book to be better than last weeks Damage but that wasn't very difficult to do. Abnett and Romita Jr. have set up a good idea but the big question is going to be will they just tell a Lone Wolf and Cub rip off or do they have some originality up their sleeves. But with this first issue that moves along nicely and Romita Jr. and Hope delivering some very nice artwork makes this a book worth reading this week.
Justice League of America/Doom Patrol Special #1
DC's Young Animal Writers Steve Orlando & Gerard Way, Artist Aco, Colorist Tamra Bonvillain & Marissa Louise, Letterer Clem Robins, Back-Up Story Writer Magdalene Visaggio, Artist & Colorist Sonny Lew, Letterer Todd Klein
The first part of the Milk Wars that is the cross over of the Young Animal and DC line and it is definitely grounded in the Young Animal Universe. With that being said the book is a very dense read and make sure that you take your time to let it all sink in. Orlando and Way seamlessly blend the two universes together quite nicely here and have a wild time with turning the JLA into a suburban Neighborhood Watch Squad that is one of the wildest and funniest takes or both superheroes and suburbia that I have ever seen. They also do a good job of getting new readers of both the DC and Young Animals titles a nice ease into the book with lots of exposition but they do a nice job of not letting it bog down the story. As dense as the script is there is a lightness to it at the same time. The story is pretty straightforward but also sets up a nice amount of mystery as to where and what is going on in the story. While there are not many explanations in this first story they do set things up to run through the other Young Animal titles and will finish up in the second special. As with most crossovers there are plot elements that are simple and cliche but these types of book are simple special occasions that are not super deep but simply fun. The really big win for this book is the gorgeous artwork by Aco that simply blew me away. He had quite the Herculean task of taking this dense script and bringing it all to life with every little detail and he does that and more. The one thing that has always impressed me with his artwork is his ability to come up with some of the most awe-inspiring layouts for comics and this book really shows that off. The only thing that could have made it better was that DC should have sprung for at four page foldout for the stunning middle spread to see all of Aco's artwork in one gorgeous piece of art. It really deserved it and DC really dropped the ball on that one.
Is this book worth your time and money? For regular Young Animal readers this is a book that your going to buy anyways, but the bigger question is that if you have never read any of the Young Animal book is the a good gateway drug into the universe? I think so. While the writing style is way above the average superhero comic from most of the DC line if you're looking to expand your horizons and want to dip your toe in the Young Animal universe then this is a good place to start. The key is to take your time when you read it and let it all soak into you with both the script and the artwork. I enjoyed what this crossover can be and it's off to a solid start. RECOMMENDED!
Motherlands #1
Vertigo Comics Writer Si Spurrier, Artist Rachael Stott, Colorist Felipe Sobreird, Letterer Simon Bowland
Vertigo has really struggled lately with comics that have been really good but honestly haven't sold a heck of a lot. And now we come to another solid comic that is a nice little surprise that I can only hope that people pick up. I've never been the biggest fan of Spurrier's mainstream work but his creator owned books have had a bit more luck. With Motherlands he has crafted a unique and fun little book here. He crams a lot of story in this first issue and while there is a lot going on he wisely let the readers get to not only know Tabitha but her back story and how it fits into the present storyline. It also sets up the relationship with her mother that put other mothers to shame. He rolls it all up in a fun bounty hunter package that allows the story to mix many things together at once. The one big plus with the script is its sly humor that gives the comic a nice charm. Stott has really outdone herself with the artwork on this book. While her previous comic work was good this book is a big step up with her artwork. She really delivers some impressive artwork on this comic and is one of the reasons that it work so well. What is most impressive is the characters facial expressions that really sells the story on many levels. She is able to seamlessly go from all out action to dramatic dialog scenes with effortlessly ease that is very impressive.
Is this book worth your time and money? This comic is off to a great start and Spurrier sets up the story very well here and gives readers a good reason to come back for more. With its sly wit and solid story this is a comic that is a pleasant surprise and well worth picking up. RECOMMENDED!
Black Crown Quarterly #2
Black Crown/IDW Writers Rob Davis, Will Porter, Carl Puttnam, Christopher Sebela, Jamie Cole, Leah Moore Artists Rob Davis, Philip Bond, Shawn McManus, Jamie Cole, Nanna Venter Colorists Lee Loughridge, Letterer Aditya Bidikar
I was very disappointed in the first issue of this quarterly special from Black Crown and while I appreciated and like the idea of the book it simply was half a book at best with the rest previews for upcoming and already released series from Black Crown. Thankfully this second outing is more rounded out with original material. Davis continues to deliver another solid outing with his Tales from the Black Crown Pub that continues to venture into the weird and ironic world of a pub and the dark side that it has. I like the idea of Cud but with these small bites it's not moving along as well as I would have liked so far. It's good but not great. The big win for me in this issue was House Amok that not only had a catchy story but was great to see new art from one of my favorite artist McManus. There are some great ideas here and wished that there was more story here but I did really like what we did get. There are also interviews and text stories that round out this issue but overall it's still a bit of a disappointment.There are part that I liked but just not enough of them.
Is this book worth your time and money? I think that the concept is good but in today's comic market the hefty $7 buck price tag is just too high for a comic that ends up just being OK. There is just not enough meat on the bone here to justify the price of admission. I think that the other thing that the Black Crown books have struggled with is that they are stuck in a period of a time that has passed. This book would have worked in the late 1990's but now seem dated. It's not to say that the quality of any of the material is weak or bad, but just seems a bit irrelevant in today's comic marketplace. Bond is trying to recreate the heyday of Vertigo when she ran the line and while I applaud her books I find more so with this one is that it's not as groundbreaking as I had hoped it would be. It's seems to try to capture lightning in a bottle again but there is no lightning storm in the current market. While I'm not overwhelmed with the book, it might however be a great one for some readers. This is a book that your either going to love or not and the question is if your willing to spend seven bucks on it. I like it just not loving it enough to pay for it.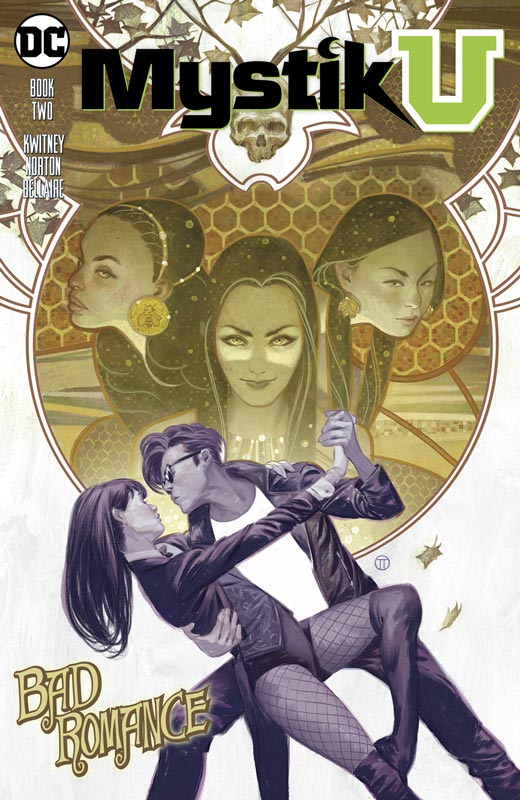 Mystik U #2
DC Comics Writer Alisa Kwitney, Artist Mike Norton, Colorist Jordie Bellaire, Letterer Deron Bennett
The first issue of this mini series got off to a good start and this second outing did a nice job of building upon it very nicely. With the exposition out-of-the-way in the first issue Kwitney starts to delve deeper into the students and them learning to master their skills but continues to make sure that they act and feel like young adults. Sure the whole Harry Potter is evident but she does a nice job of keeping it grounded in the DC Universe. The one thing that I give her high marks is that she has really done her homework here with the characters and while they may be younger versions they still have all of the classic traits of their more familiar history. Another strong element is the mixing of old and new characters into the mix that is keeping both new and old readers on their toes as to where the stories are going to go. While a number of the tropes are easy to spot but what is making this book work is that it simply a fun ride. Sure the book is not perfect and there are a few bumps along the road here and their with the teen angst and other clichés, but it's a book that is easy for readers of all ages and new to comic ones that makes this work so well. Norton continues to deliver solid artwork for this book that is an old school comic book style that fits this book perfectly. There is something about the style that is a throwback to the 1960's and 1970's house style that suits this book and complements Kwitney's script very nicely. Personally I'm a big fan of this type of art because Norton knows how to capture every element of the script and makes it easy to follow the story visually that a lot of artist would have over thought and tried to make it flashy. Norton ground it in a nice comic book reality that is one of the reasons that the book is working so well.
Is this book worth your time and money? I'll be honest this book is not going to blow you away and that is OK because it sets out to do is tell a simple comic book story of growing up with magical powers in the DC Universe and delivers it in a fun way. Sometimes doing something simple is the best way and Kwitney and Norton are delivering that here quite well and is still worth getting.