Swamp Thing Winter Special #1
DC Comics Writers Len Wein and Tom King, Artists Kelley Jones and Jason Fabok, Colorist Michelle Madsen and Brad Anderson, Letterer Deron Bennett
This release is a very bittersweet comic because it is the last work of the great Len Wein on one of his greatest creations Swamp Thing. This final story was supposed to be a new mini series and sequel to last years stunning Swamp Thing: The Dead Don't Sleep. Sadly only the first issue was illustrated but not finished dialogue. While it is the second story of this special, it's by far the first you should read because it gives you one last story from the master. The wonderful thing is that even without the dialog Jones gorgeous artwork tells the story in a way that works silently. While there is his full plot for the issue after the story that fills in a few of the moments where dialog fleshed the story out a little better but it really shows how in sync Wein and Jones were with book. As with the last series it's obvious that Jones was and is the heir apparent to Bernie Wrightson and was able to capture Wein's vision of the story perfectly. Madison color work is very in tune with Jones uniquely dark style and is about to complement his art so the blend together seamlessly. It's a fitting tribute to Wein and the saddest part is that it will never be finished and this first/final story only wets your appetite for what could have been. While it's sad to read it also fills your heart with the love that both Wein and Jones have for Swamp Thing and they truly gone out on one of the highest notes in comic history. In a story that complements this final chapter is a wonderful story by King and Fabok that fits nicely with the tone of bittersweet endings. King's story is a more introspective one that was always one of the strong elements to Swamp Thing and he captures it perfectly here. What I loved about it was the subtle undertones of the story and when you find out the secret it's not about shocking the reader but it all comes together perfectly. Fabok art gives a great lushness to King's script and he does an outstanding job of all of the details that make it such a wonderful story.
Is this book worth your time and money? It was heartbreaking to hear of Len Wein's passing and even worse was that he was working on a new Swamp Thing series with Jones again was never going to see the light of day. I have to applaud DC for not only printing his final story but to pull out all of the stops to make it a truly special event. Having King and Fabok deliver a story that fit the tone and legacy of both Wein and Wrightson that fit perfectly with Wein's final Swamp Thing story was the icing on this wonderful comic. While this may be the last Swamp Thing story by Len Wein it just shows what a great character that he and Wrightson created and that legacy will continue with new voices such as King and Fabok. It's hard not to shed a tear while reading this book but it will fill your heart with love and warmth. HIGHEST RECOMMENDATION!
Incognegro Renaissance #1
Berger Books/Dark Horse Comics Writer Mat Johnson, Artist Warren Pleece, Letterer Clem Robins
This is one of the first new comics under the Burger Books from legendary editor Karen Burger and is an impressive start to what comics that the line will be. While I have not read the original Incognegro graphic novel, after reading this first issue I will definitely go out and get it because this second story gets off to a really great start. It has many great things that you rarely see in comics today with a great mystery story and a wonderful period piece. What impressed me the most was the richness that Johnson infuses the characters with. He gives so much detail to each of the characters that gives the reader a reason to care what happens to them in the story. So many writers forget to develop deep characters in comics and that is why this book works so well because Johnson gives you a good reason to want to know what is going to happen and all of the little details that make up this rich mystery story. I also loved that it's set in the 1920's that gives the story a unique feel for the story because of the era that blacks were going through. While the story is fictional the undertones of the era add greatly to the story. Pleece's artwork is very impressive and shows how to deliver great black and white artwork and how visually impactful it can be. What is most impressive about his artwork is the shading of his live work that add a wonderful richness to the art.
Is this book worth your time and money? I was really impressed with this fist issue and am very excited to see where Johnson and Pleece take the story. With it's deep story that shows the complexity of race relation and how they are relevant today as they were in the period that the story is set in. It's a comic that is not only entertaining but though provoking at the same time. With great looking artwork by Pleece makes this a book that really stick with you. I can't wait to see where they take the story. HIGHLY RECOMMENDED!
Young Monsters in Love #1
DC Comics Writers Kyle Higgins, Tim Seeley, Mairghread, Collin Kelley & Jackson Lanzing, Paul Dini, Mark Russell, Steve Orlando, Alisa Kwitney, Phil Hester, James Robinson, Artists Kelley Jones, Giuseppe Camuncoli & Cam Smith, Bryan Hitch & Andrew Currie, Javier Fernandez, Guillem March, Frazier Irving, Nic Klein, Stephanie Hans, Mirko Colak, John McCrea, Colorists Michelle Madsen, Tomeu Morey, Nathan Fairbairn, Trish Mulvihill, Dave McGaig, Michael Spicer, John Kalisz, Letterers Rob Leigh, Clayton Cowles, Carlos M. Mangual, Sal Cipriano, Travis Lanham, Tom Napolitano, Dave Sharpe
Most anthology comics are usually a mixed bag of both quality and talent but in a very rare case they can really shine and this is one of those super rare ones. One of the gripes that I have with DC when they did these types of specials is that there are a few "big name" writers and artists and then it turns into the New Talent Showcase of unknown creators that more often than not are not ready for prime time. Surprisingly there are no clunkers in this book and as a matter of fact they are all solid in both the story and art department. The big winner for me was the Swamp Thing story by Mark Russell and Frazier Irving that captures all of the element that make the character so great and they deliver a brilliant story and art in 8 amazing pages. The Man-Bat story by Kyle Higgins and Kelley Jones is another big winner with a great take on the Dr. Jekyll and Mr. Hyde story that is quite touching that was a huge surprise. The one that caught me off guard the most was the Raven story by Collin Kelly, Jackson Lanzing and Javier Fernandez that starts off very cliché and was thinking that it was going to not turn out well but they fashioned a solid ending that really pulled it all together. Even with the $10 price tag I found this to be a great bargain for 10 solid stories that features some of the great DC Comics horror characters in a whole different light. All of the talent deliver the goods here and if you love monsters and the more obscure characters then this is right up your alley.
Is this book worth your time and money? Sure at ten bucks this is going to be a hard sell for most buyers but while I bought it for a few of the creators alone, I have to say that I was blown away that every single story delivered a quality that I simply didn't expect. Who knew that mixing monsters and valentines holiday could be so much fun. VERY RECOMMENDED!
Rock Candy Mountain #8
Image Comics Writer/Artist/Letterer Kyle Starks, Colorist Dylan Todd
The final chapter of this wonderful series ends in high fashion that brings all of the story elements together in a very satisfying conclusion to this great comic. I won't give any of the story away but Starks ties up everything nicely here and yet leaves it open to tell more stories about these characters if he wants to. What has made this book so great is that Starks crafted a story that took a lot of different genres and blended them together seamlessly and effortlessly. The key to this stories success was that he always kept the heart of the story in perfect balance and no matter how crazy things would get sometimes he always made sure that the story never strayed far from the path. Starks story was great but it was his artwork that I found was the real charm of the comic. It was a simple cartoony style that gave the book a special feel and look that always made it a pleasure to read each issue.
Is this book worth your time and money? At this point if you haven't read this book then I can't recommend it enough to pick up the trades of the series and you will be able to read it in one setting. For those of us who have been there every issue this is a grand and sweet ending to a wonderful series that is one that you will want to revisit like an old friend that you have missed and what to catch up with again. VERY RECOMMENDED!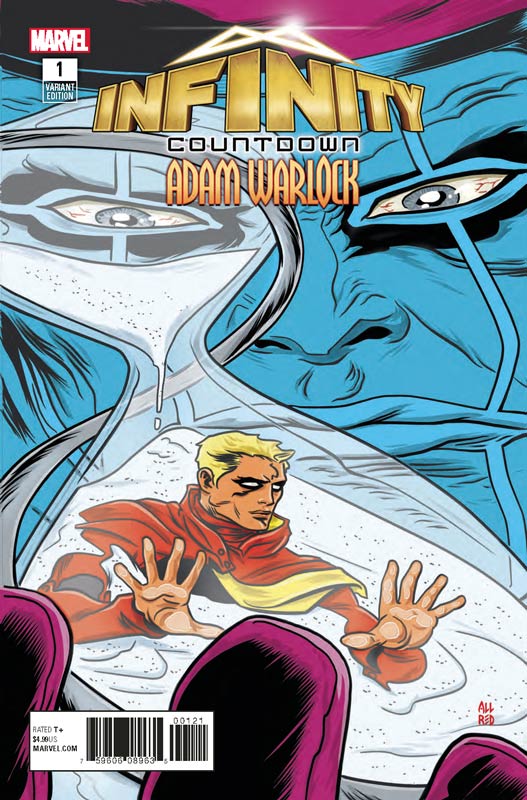 Infinity Countdown: Adam Warlock #1
Marvel Comics Writer Gerry Duggan, Artist Michael Allred, Colorist Laura Allred, Letterer Cory Petit
I highly doubt that I will end up reading this event book but I will say that having Allred doing the artwork for this kick off book will at the very least satisfy you beyond his artwork. I will give Duggan credit for knowing that Allred was the artist because he taylor's the script as a retrospective of hits of the Adam Warlock story. Sure the story is setting up the Infinity Countdown to tie into the. Avengers Infinity Wars movie coming out this summer and there is not much that will blow you away with this story but it's simply a story that lets Allred play in the cosmic realm of Marvel Comics. The story is fun and surprisingly not bad for a first outing of an event comic that are usually pretty bad and give credit to Duggan for delivering a story that is likable. But honestly the main reason to buy this book is for Allred haven't a blast playing in the Marvel Universe. His artwork is like a trip down memory lane with lots of nods to Kirby, Ditko, Starlin and many others who crafted these characters. His pop art style gives this book great heft and honestly makes it worth getting the book for.
Is this book worth your time and money? It's a set up story and Duggan delivers a good first outing for the event and that is saying a lot. Sure it's a greatest hits package with a retelling of the history of Adam Warlock but he does it well here and I give him props for that. The real win for this book is Allred's gorgeous artwork that really exceeded my expectations and made me enjoy it more than I thought I would. I cant say that it will convince me to read the event but at the very least this book is worth getting.
Exit Stage Left: The Snagglepuss Chronicles #2
DC Comics Writer Mark Russell, Penciller Mike Feehan, Inker Mark Morales, Colorist Paul Mounts, Letterer Dave Sharpe, Back-Up Story Writer Brandee Stilwell, Artist Gustavo Vazquez, Colorist Chris Sotomayor, Letterer Dave Sharpe
This book continues to intrigue with spot on social commentary, humor and the red scare of the 1950's. Russell script goes deeper into the story with this second outing that build very nicely from the set up of the first issue. I'm digging the slow burn approach that he is taking with the story and letting it unfold very naturally. He isn't pulling any punches with the taboo elements of the story and that is why it feels fresh and new and with a lot of sly humor it really keeps readers on their toes. What is really scary is that how the McCarthyism elements of the 1950's is eerily resembling what is going on today that gives this comic an edgy tone but never goes too far to become too political. It does however give you a lot to think about and yet is still a very entertaining read. I'm still impressed with Feehan's artwork on the book because he is able to capture the look and feel of the 1950's with the human characters and yet seamlessly has the animals blend in with a very natural feel and tone. His artwork has an old school comic book artist feel that gives the book a classic feel and tone that really enhances Russell's script nicely. The Sasquatch Detective back up story by Stilwell and Vazquez is a bit of a puzzle addition to the book. I would have preferred another Hanna-Barbera character that this original one but the bigger issue is that the story is cute but pretty pointless. The problem is that there is not much of a story here just vignettes strung together that really doesn't tell much of a story. The artwork by Vazquez is nice but he can't really save this one.
Is this book worth your time and money? This is a strong second issue of this book and is both entertaining and thought-provoking at the same time. There is a lot of social commentary within Russell's script that shows how we should never forget the past so that we don't make the same mistakes again and yet history seems to sadly be repeating itself. With that being said it not all depressing to read it just gives you food for thought in a unique way that I'm really enjoying. RECOMMENDED!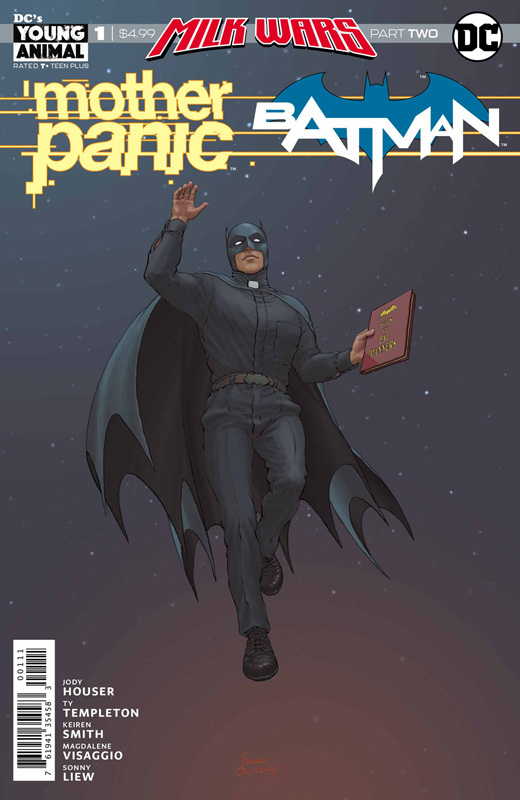 Mother Panic/Batman Special #1
DC's Young Animal Writer Jody Houser, Artist Ty Templeton, Colorist Keiren Smith, Letterer John Workman
Part two of the Milk Wars crossover of the DC's Young Animal and DC Universe is not so much a full continuation from last weeks special but more of a side story that centers on Mother Panic and Batman but does lead to the next crossover title. Regular Mother Panic. Writer Houser does a nice job with the script and mixes fairytale with cults and comes up with some really clever story elements when they are all thrown together. The really interesting thing is the element of milk that is running through these specials and how it will all fit together definitely has my curiosity peaked. The story gets pretty wild here but Houser does a very good job of keeping things on track here and there are times where you're not quite sure of what is going on but that is what keeps it interesting and on your toes. This big win for this special is getting Templeton as the artist on the book. I'm a huge fan of his artwork and he does a great job here on this book. His clean line style give the story a feel of an animate film that also makes it feel very cinematic and really captures all of the big and smaller details perfectly.
Is this book worth your time and money? I like how this Milk Wars crossover is working so far with the first and last specials being the bookends to the story but letting the middle chapters be a little more stand alone but adding greatly to the overall story. Houser take on Gotham has always been unique and she continues that here nicely. Templeton delivers some very nice artwork on this book and is always a pleasure to see his work. If your new to the Young Animal titles these are a fairly good representation of what they are like so I'm still digging what the Milk Wars is delivering.