So this was a very welcomed quiet week with new comics. So there are only a few books to review this week. So let's get started shall we.
Fables: The Wolf Among Us #2
Vertigo Comics Writers Dave Justus & Matthew Sturges, Artists Steve Sadowski, Shawn McManus, & Travis Moore, Colorist Lee Loughridge, Letterer Sal Cipriano
I was pleasantly surprised by the first issue of the comic based on the video game and the second issue starts to really get into the mystery. The plot from Vertigo is, The murder mystery deepens as Bigby and Snow get dressed down by acting Mayor Ichabod Crane, a fairytale princess gets dressed up in furs, and the Magic Mirror gets addressed in rhyme. Bigby has the beginnings of a theory, as well as a suspect…but both could turn out to be full of holes by the end of this thrilling issue! As with the last issue the comic covers three chapters of the digital first comic and each chapter is drawn by a different artist and bring their own style to the book and McManus does get the juicy story this issue with the storybook flashbacks. The story this issue delves deeper into Fables mythology of the former rich and how it relates to the murder mystery. Justus and Sturges keep the story tight and each chapter flows into each one very well. The really fun part of the issue is the McManus Once Upon a Time section that is pure storybook gold and adds a great deal to the feel of the story. The cliffhanger of this issue and had me craving more.
Is this book worth your time and money? If you are a Fables fan then you are already getting this. If you have not read a Fable book this is a good jumping on story that is very new reader friendly. The second issue keeps the momentum of the first issue and is even mire satisfying. With a solid story and very good art this is a really good read and well worth checking out. RECOMMENDED!
Divinity #1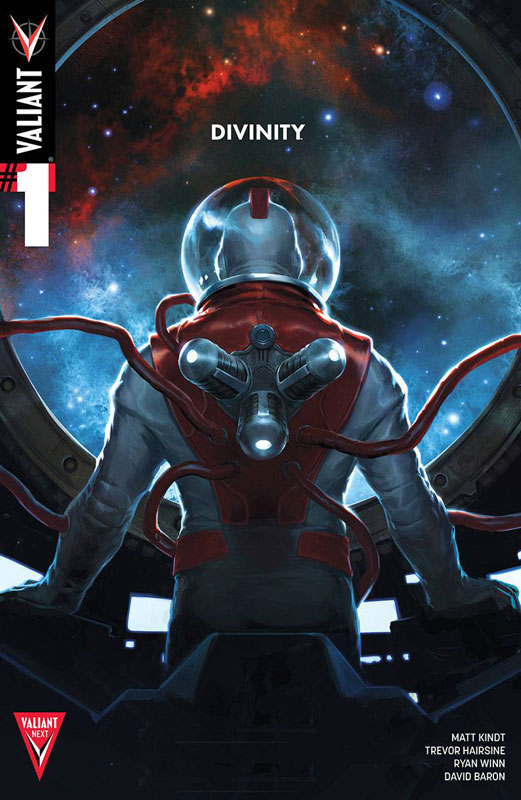 Valiant Writer Matt Kindt, Penciler Trevor Hairsine, Inker Ryan Winn, Colorist David Baron, Letterer Dave Lanphear
After last weeks Imperium disaster I was a bit hesitant on picking up Divinity but I know that Kindt is a good writer so I gave it a chance. The plot from Valiant is, At the height of the Cold War, the Soviet Union – determined to win the Space Race at any cost – green lit a dangerously advanced mission. They sent a man farther into the cosmos than anyone has gone before or since. Lost in the stars, he encountered something unknown. Something that…changed him. Long thought lost and erased from the history books, he has suddenly returned, crash-landing in the Australian Outback. The few that have been able to reach him believe him to be a deity – one who turned the scorched desert into a lush oasis. They say he can bend matter, space, and even time to his will. Earth is about to meet a new god. And he's a communist. How long can it be before the first confrontation between mankind and DIVINITY begins? I will say that Kindt's story has a lot going on and it can be a bit overwhelming at times and if you add in the time shifts you have to pay attention. This is one of those stories that starts off with a lot of questions but looks to an overall story than trying to do everything in the first issue. There is a lot to digest after reading it but I did like how it started. The artwork by Hairsine and Winn was very nice and they put a lot of detail into it both with characters and settings. They do a nice job of visually brining the story to life.
Is this book worth your time and money? There is a lot to digest with Kindt's story but the concept of the story did intrigue me. While I was thrown a few times with the story I did like what I read. With solid artwork this is a good start to this four issue series. If you are looking for something a bit different then you might want to check this book out.
Harley Quinn Valentine's Day Special #1
DC Comics Writers Amanda Conner & Jimmy Palmiotti, Artists John Timms, Ben Caldwell, Aaron Campbell, and Thony Silas
Another holiday brings another Harley Quinn special and this time it's Valentine's day. The plot from DC is, Love is in the air in New York City! The planet's richest bachelor, Bruce Wayne, is in town for a charity auction – and the highest bidder gets a date with Mr. Tall, Dark, and Brooding! Good thing Harley Quinn just came into some money (please, whatever you do, don't ask how). But can Bruce really spend a night with Harley without her learning how he spends his nights? Conner and Palmiotti continues the fan and fancy free spirit of the regular book and expand a story into a longer story. While I still enjoy the work that they do on the book I am starting to get a little burned out on the specials. The story is good but the plot is pretty much a regular story that is padded out with dream sequences that while fun don't really add much to the overall point of the story. As with the regular monthly this is a done in one story that is easy for new readers to just pick up and go. The art is one of the main draws of these specials because it brings in different artist to draw Harley. Timms brings the usual solid artwork to the book and this special show what a good artist he is. I was very impressed with Caldwell's sequence that brought a great storybook style to Harley's dream. Campbell has a lot of fun with the Bruce Wayne sequence and the image of the bat guano covered batmobile is comic gold.
Is this book worth your time and money? While the book is not bad I just think that DC needs to slow down on the flood of Harley Quinn specials. The story is fun but in the end I wasn't overwhelmed by it either and at $4.99 it didn't blow me away. So if you are a Harley Quinn fan and have to get every issue then you have already bought the book. If you are looking for something special then I can say that this book was very special.
Darth Vader #1
Marvel Comics Writer Keiron Gillen, Artist Salvador Larroca, Colorist Edgar Delgado, Letterer Joe Caramagna
Marvel continues to create new stories now that Disney owns the Star Wars franchise. The regular Star Wars series got off to a great start I had high hopes for the Darth Vader series. The plot from Marvel is, Ever since Darth Vader made his first on-screen appearance, he became the one of the most popular villains to ever haunt an audience's dreams! Now, follow Vader straight from the ending of A NEW HOPE (and the pages of the new STAR WARS comic book) into his own series, showing the Empire's war with the Rebel Alliance from the other side! Gillen story while good does end up being a bit of a side story from the regular Star Wars series. That is where I had some trouble with the book is that it rehashes a lot of the same story that we have already read in the new Star Wars series. So it suffers from a lot of been there and done that when you are done. The flaw in it is that overall it doesn't bring much new to the story and the pacing is somewhat up and down. Larroca's artwork does try to save the day and is really solid and very nice. There is a lot of detail to the art and helps the book immeasurably.
Is this book worth your time and money? I didn't hate the book but if you have read the new Star Wars comic then quite honestly this book is a side story to that at best and there is a lot rehashing the story that the readers already know. The big winner of the book is the great Larroca art but in the end overall it's just OK. I hope that the second issue will be a huge improvement over this.