Wonder Woman Annual #1
DC Comics Writers Greg Rucka, Vita Ayala, Michael Moreci, Collin Kelly & Jackson Lanzing, Artists Nicola Scott, Claire Roe, Stephanie Hans, David Lafuente, Colorist Romulo Fajardo Jr., Jordie Bellaire, John Rauch, Letterers Jodi Wynne, Josh Reed, Dave Sharpe
With this being a fifth week month there were few books from DC this week but in a stroke of timing that was I'm sure was on purpose the Wonder Woman Annual was released a few days before the film opens. The book contains four short stories that are all fun little shorts that will give both new and old readers a good jumping on point to her. Rucka and Scott get the book off to a nice start with smart story that brings Superman and Batman together for the first time in her current continuity and show them that she is not only a force of good but a pure soul. It's great to see Scott back drawing her and she brings her great style to Superman and Batman. She really captures them very well. Next up is Ayala and Roe's story that shows the true power of the Truth and Justice that is one of the essences of her character. I loved that Ayala script is one that is not what it seems and it plays quite well here. Roe brings a great and powerful style to the artwork for this story and really captures the action of the story but also the emotions of the script. Moreci and Hans story centers on honor and is a really heartbreaking story that Moreci script hit the tone that the story needed and I really fell in love with this one. Hans gorgeous artwork perfectly captures the tone and location of the story and her artwork has a great lush look that perfectly fits the story. The last story by Kelly, Lanzing and Lafuente is the one that put a great big smile on my face. Kelly and Lanzing's script is one of those starts as one thing but is really another that ends up being not only fun but really sweet at the same time. Lafuente artwork is a real treat and brings great scope to the giant monster story. There is a lot of action in this little story and he really delivers some great artwork for it.
Is this book worth your time and money? This is a really fun little book that delivers four short but solid stories. None is earth shattering but they all deliver a great facet of what makes Wonder Woman such a great character and why she continues to be so enduring. Each story captures the essence of what makes her so great and in the end each creative team delivers the goods. This is a no brainer as a solid RECOMMENDATION!
Paklis #1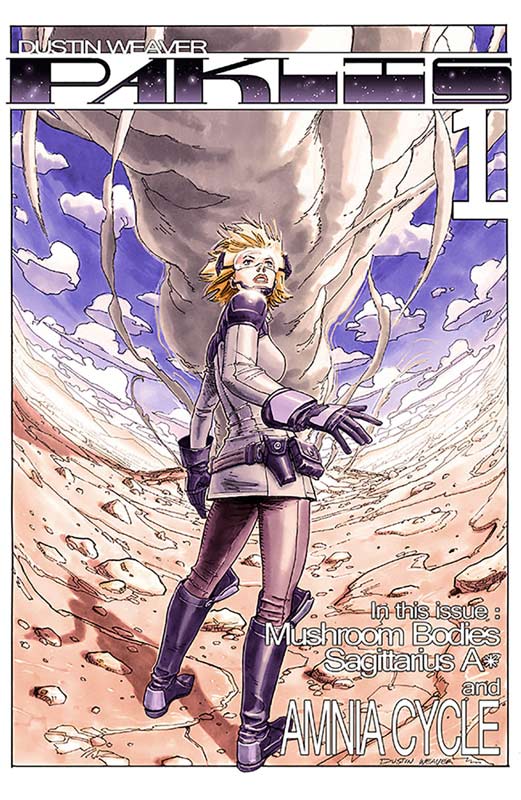 Image Comics Writer, Artist, & Letterer Dustin Weaver
Paklis is one of those book that is a little hard to describe but each story delivers a unique and captivating story. Mushroom Bodies is by far the strangest but yet is based on a dream by Weaver and is oddly satisfying. It's very surreal and strange but it actually captures an ethereal quality that few stories in comics try. It's almost like a old House of Mystery type story that I found weirdly entertaining. Next up is a two page strip that is interesting but is a little unsatisfying because it's so short. Finally there is Amina Cycle that is the best story in the book. I really enjoyed the twist and turns that Weaver wove into the story on this one. While on the surface the story is basic and has many familiar tropes to it but there was something really charming about the story. It's not that the story is so original but it's simply well told. What is impressive with the book is that Weaver gives each story a unique art style and no two look alike that is pretty impressive for an artist. I also have to give him props for his color work on the book that adds some very striking looks to his line work.
Is this book worth your time and money? While I did like the stories the problem is that at $5.99 cover price is a hard sell in comics on a good day. The other issue is that Weaver storytelling is pretty unique and is not going to be for everyone. The best story is Amina Cycle but it's going to be hard to convince buyers at six bucks for one story. If you're looking for something different and personal then if your willing to buy the book I think that you'll like it but if your tastes are more mainstream then this is not a book for you. In the end I did like the book and will give the second issue a go.
Aliens: Dead Orbit #2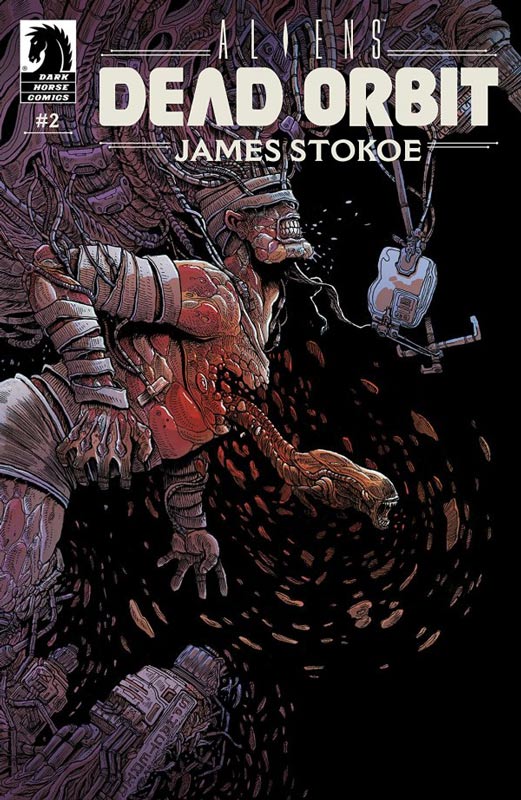 Dark Horse Comics Writer, Artist and Letterer James Stoke
Man this is a tough one because I really love Stoke's artwork on this book that is really amazing but the story is such a rehash of the same Alien story that is becoming such a been there and done that. It's certainly not a terrible read or anything at least Stoke's tries to infuse some new things into the story but in the end there is nothing here that you haven't read or see before. It's a real shame because visually it's one of the most impressive Alien mini series in quite a while. The detail that Stoke put into each panel is really amazing and it's quite a visual feast. By the end of the issue I was simply board by the story and that is where the problem is.
Is this book worth your time and money? If you like this series I have no problem with that and it certainly not a train wreck by any stretch, but I have simple read this story so many times and there is very little new twist in the story to make me want to continue with it. For me it's a SKIP IT.
Man-Thing #4
Marvel Comics Writer R.L. Stine, Artist German Perlata, Colorist Rachelle Rosenberg, Letterer Joe Sabino, Back-Up Story Artist Jonathan Marks Barravecchia
Wow this book started off really strong but is just kind of petering out with this issue. I think the problem with Stine has a good idea for the book but the overall structure of it is where the story is faltering. The biggest problem with this issue is that it really meandered around and didn't really move the story forward very much. There were a few interesting things in the story but this issue just kind of sat there for me. The other thing was the back up stories have been quite good but this issues wasn't as good as the previous ones and with the main story struggling it made for a really disappointing read this month. On the plus side Perlata is still doing a great job with the artwork on the book but he can only do so much with a boring story. He does his best to make it visually interesting and there are some  good visual moments in the story.
Is this book worth your time and money? I really liked this book when it started but each issue seems to go more downhill in the story department. I think that Stine had some really good ideas when he started but the execution of it is simply not working. Perlata artwork on the book as good as it is can't save a dying script. I will stick it out at this point with one more issue but if you're not reading it at this point there is no use now. SKIP IT!
Saga #43
Image Comics Writer Brian K. Vaughan, Artist Fiona Staples, Letterer Fonografiks
This issue is a fairly decent jumping on point to the book if for some reason you have been living under a rock and haven't been reading one of the best comics going now. Not only does this issue do a good job of getting new readers up to speed with a quick recap of the basic story line but with the cover price of .25¢ it really hard to pass up. Vaughan does a good job of making the exposition of the recap moving along nicely here while covering the basics. He also does a nice job on setting up the next story arc so they will hopefully get more new readers on board with this issue. With that aside the story was a solid read and while long time readers won't be blown away by this issue they will still enjoy it. Staples delivers her usual top-notch artwork with this issue. She really does a great job on this book and new readers will fall in love with the way she visualizes Vaughan's scripts.
Is this book worth your time and money? Look how can you go wrong with a book that is only 25¢, honestly you can't but here is my suggestion for new readers. Buy this issue and see if you like what they are doing here. If you do go buy the first trade paperback that is only $10 bucks and start there. This is a great jumping on point but I look at it more as a gateway issue. It will get you started on one of the best comics going now and is HIGHLY RECOMMENDED!
CATCH UP REVIEWS
Kamandi Challenge #5
DC Comics Writer Bill Willingham, Penciller Ivan Reis, Inker Oclair Albert, Colorist Marcelo Maiolo, Letterer Clem Robins
This is a book where each issue you never know quite what to expect and this one is a real doozy. Willingham takes the wheel for this issue and not only crafts one of the best stories yet (no disrespect to the previous issues intended). I was glad that he parted ways with Vila because while she worked for a while it was starting to get a little long in the tooth and he found a great ending point for her. Willingham has always done a great job of balancing both the big and smaller elements of a story and he really hits a great groove in this story. While the cliffhangers have been good, Willingham has left the next creative team a real hard one for them to figure out. He got very lucky with the art team of Reis and Albert that really make this issue shine. They give the story a great lush look that gave the story such a great scope and feel. They really capture all of the nuances of Willingham's script and is simply visually stunning.
Is this book worth your time and money? I have been loving this book from day one but this issue I really was blown away by. Willingham really captured the essence of Kamandi and delivers a fantastic read and the best cliffhanger so far. When you throw in the amazingly gorgeous artwork by Reis and Albert this issue is a real winner that even Jack Kirby would have been proud of. HIGHEST RECOMMENDATION!