It's another big week for new comic books. Lot of new series kicking off this week and a nice mix of independent comics to dig into. DC makes a return this week with two new solo comics with Hawkman and Plastic Man. It going to be busy so let's get going.
The Magic Order #1
Image Comics Writer Mark Millar, Olivier Coipel, Colorist Dave Stewart, Letterer Peter Doherty
Millar is back now with the deep pockets of Netflix and I imagine a slew of new titles to create new IP's for them and it's obvious from reading this that is just the case. Miller does a nice job of setting both the story and the characters up here in this first issue nicely. We get the set up to the mystery and all of the checks that are good for a first issue. The only problem is that if this story seems too familiar then you're not alone. It's basically the same story as this little comic book from the 1980's call The Watchmen. I have busted Millar for this before with Chrononauts that was a Time Tunnel rip-off but The Magic Order is so much worse. It's like he's not even trying to hide it this time. To his defense not all of his comics are blatant rip-offs but this one is way too close not to notice. Sure he makes little tweaks here and there and to be honest it's a decent read but by the time you're at the end of the issue you realize that your deja vu alarm has went off and wakes you up. The shame here with this book is Copel's gorgeous artwork that is some of the best of his career is wasted on a non original story that is practically re-skined version of a classic comic story. To add insult to injury he gets Stewart one of the best colorist in the business to really make Copel's artwork look even better with wonderfully complementing his line work here. 
Is this book worth your time and money? I will be really honest here that while reading this first issue id did enjoy the story at the beginning but it was very apparent as you keep reading that he simply lifted the framework of The Watchmen and didn't even try to make it that different. Sure there are a few things thrown in here and there that give the appearance that it's original but it's just a wolf in sheep's clothing. It's a real shame that Miller can't come up with anything original anymore and it's a real disservice to Coipel, Stewart and Doherty who all turn in fine work here that is simply wasted on a hack remake of an original and brilliant comic and trying to pass it off as his own. SKIP IT!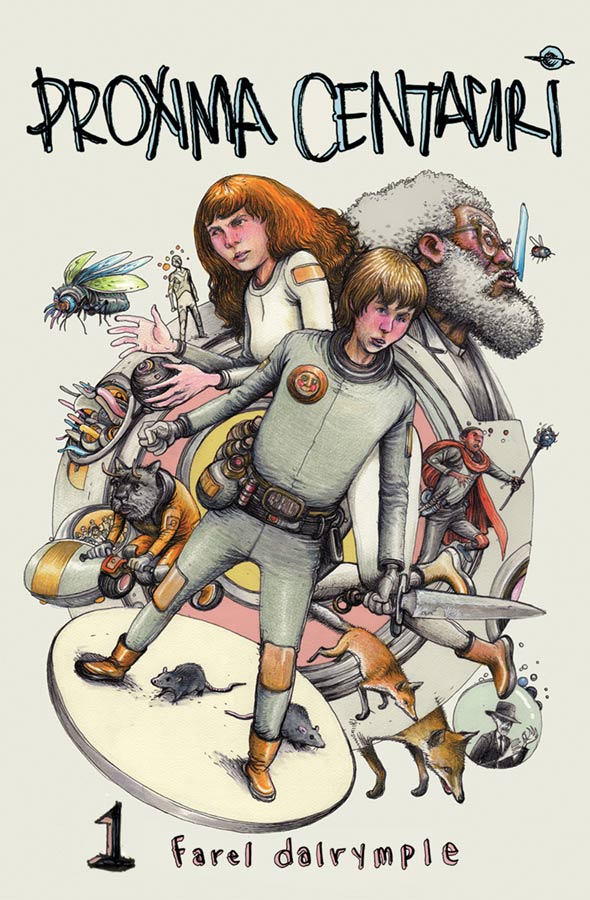 Proxima Centauri #1
Image Comics Writer and Artist Farel Dalrymple 
Every once in a while you read a comic and are simply not quite sure what to make of it but there is something intriguing about it and Proxima Centauri is one of these. In a way this comic is not a linear story but more of a stream of conscious. In a way I'm not even sure I know where Dalrymple is going with this story but there are some interesting ideas along with some really wonderful artwork that make this a comic that is worth giving a chance. In a way it has a feel of an adult children's story from a shields mind but you're not sure if it his imagination or reality of a weird mix of both. While the story is one heck of a ride, it's the visuals that make this book both unique and personal. You can really tell that this is a book that spilled out of the creator and is simply needing to be what it is. The artwork really helps the reader move along with the story in a way that is very impressive. There is a lot of groundwork here and while you're not quite sure at times what to make of this book it works as it washes over you. I really love Dalrymple's artwork on this book and the storybook look is a perfect way to connect this strange story to the reader. 
Is this book worth your time and money? This is a comic that simply defies reviewing. There is no grey area that this is a comic that  is going to have a very limited appeal but has the potential to either be ground breaking or a confusing mess depending on how you look at it. If you willing to go on a stream of conscious ride then you should check out this comic. This is about as far from the mainstream that you can get and that alone makes this a comic that is what make the medium so great and unique compared to other media.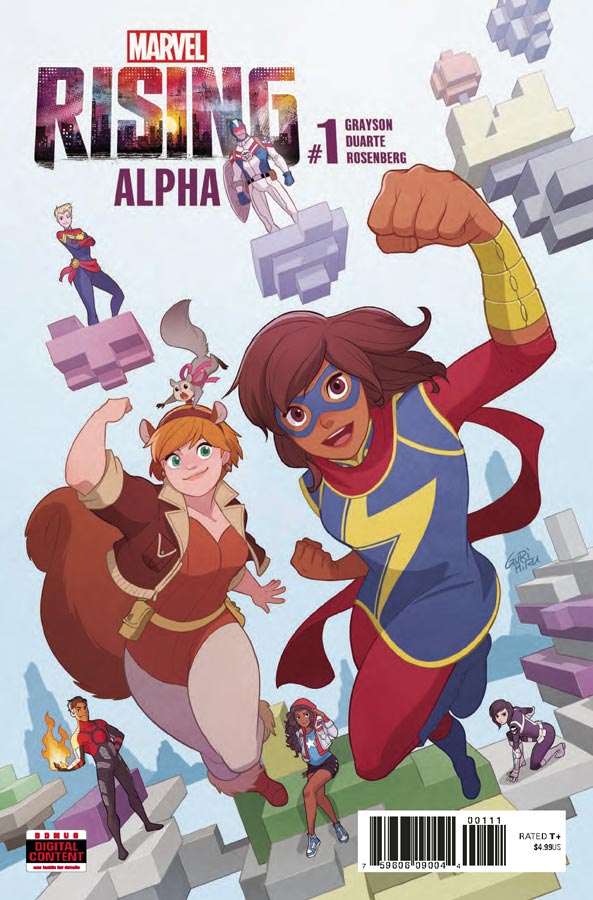 Marvel Rising: Alpha #1
Marvel Comics Writer Devin Grayson, Artist Georges Duarte, Colorist Rachelle Rosenberg, Letterer Clayton Cowles
The first thing about this book is that it is not intended to a reader like myself but is trying to capture a very difficult audience to reach the young adult female audience. While if found the book to be a bit too pedestrian for my taste, I'm glad that Marvel is doing a comic like this. The Unbeatable Squirrel Girl and Ms. Marvel are two of the big breakout comics to non regular comic book readers so it make great sense to put them together in one book. The only complaint that I had been that the way that Grayson wrote Squirrel Girl was close to the North/Henderson version of the regular series but lacked the goody charm that make the regular series so good. I will give Grayson credit for delivering a nice and simple straight forward story that is not bogged down with continuity so for new readers this is a very good book to jump in on and that is one of it's best assets. Grayson also keep the story light and fun that makes for a quite but fulfilling read for what it is. Duarte clean and simple art style is perfectly suited for this book because it has a classic comic book feel but is very inviting for new readers too and gets the job done well.
Is this book worth your time and money? Most regular comic readers need not apply to this series but if you have a younger reader that is looking for a comic then this is a solid pick for this book. Grayson wisely doesn't make it more than its intended to be sweet, simple and to the point and that is what a good young adult comic should do. 
By Night #1
Boom! Box Writer John Allison, Artist Christine Larsen, Colorist Sarah Stern, Letterer Jim Campbell
I tried Allison's Bad Machinery comic and wasn't the biggest fan of the book but appreciated it for what it was so I had mixed feelings going into his new comic By Night and was thankful that I did because it has a great story with intriguing ideas and some great characters. What Allison get right here is how he sets up both the story and the characters so that you become invested in both when things go to the Twilight Zone elements in the story. By the time you get to the end of this first issue, your invested in both and ready to go on their adventure. The other big plus for this book is the spot on pacing of the story that has a great flow while your reading it and has great emotions to also. Another win for this book is Larsen's artwork that adds a great charm to this book and she is able to capture all of the subtle nuances of Allison's script perfectly. Her art style has a nice animation type style that has quite a bit of detail that you don't necessarily notice but that is a testament to her talent because you shouldn't notice it. One thing that I really loved was the way that she was able to capture the mood and tone of the darker elements of the story and yet balances it with the whimsical tone at the same time. 
Is this book worth your time and money? This is a wonderful little book that has a great broad appeal and has some great strong female characters that is nice to see more of in comics. The other strong asset is it's broad appeal and its mix of supernatural elements give this book some nice twist and turns that you don't expect. I love this first issue and am excited to see where they take it from here. RECOMMENDED!
Hawkman #1
DC Comics Writer Robert Venditti, Penciller Bryan Hitch, Inkers Andrew Currie & Bryan Hitch, Colorist Alex Sinclair, Letter Starkings & Comicraft 
Hawkman is a character in the DC Universe that has struggled over the years in solo books and while his is a strong member of the Justice League, writers have struggled to find that hook for a regular series. Venditti give it a good shot here and while I wasn't super overwhelmed with this first issue there was some promise to it. Because it's been a while for a series with him there is a fair amount of exposition with a simple action set up that sets things up for new readers but is not very compelling on the other hand. It's not to say that this first issue is bad because it's not but, it doesn't have a real wow factor either. I will give Venditti that he keeps the classic feel and tone of the character that is a reason that he has endeared for so many years and wisely didn't try and change him to make him different. The one thing that I was very impressed with was that he brought in Madam Xanadu as Carters shrink basically and that was a really nice touch instead of a nobody. Hitch's artwork is quite nice here and does some really nice action scene but is also able to handle the dramatic scenes as well. There were a few moments where there was a tad of inconsistencies in the artwork that were minor but noticeable but not fatal and most readers will probably not notice it but overall its a very nice looking book.
Is this book worth your time and money? I had wished that this book had gotten off to a bit better start but Venditti does drop some nice story mysteries by the end of this first issue that show some promise for the book. Hitch delivers nice artwork for the book and is a good choice as artist. If you're a fan of Hawkman then its worth checking out but as a new reader it might be wise to wait and see if the second issue is a little stronger than this first outing.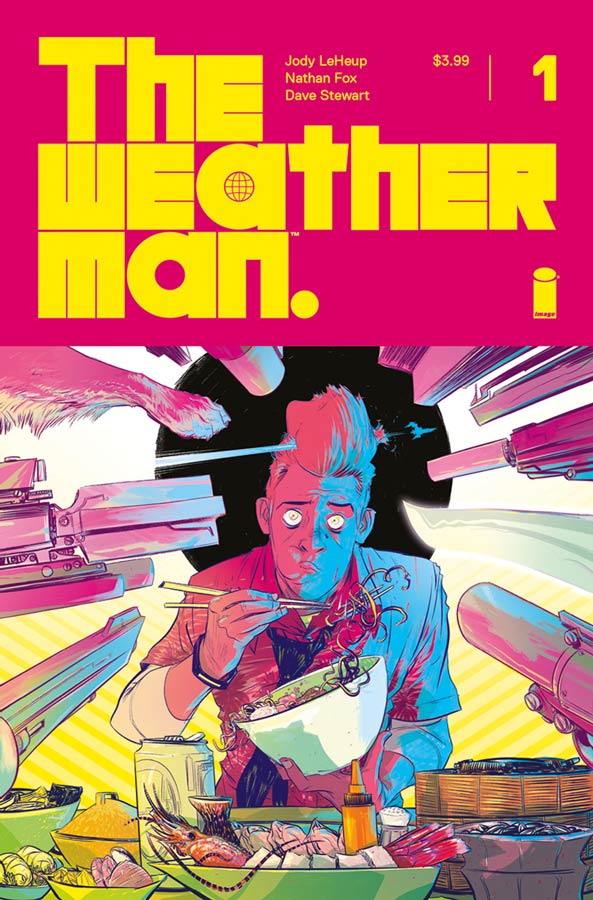 The Weather Man #1
Image Comics Writer Jody Leheup, Artist Nathan Fox, Colorist Dave Stewart, Letterer Steve Wands
I picked this book this week on a whim and to say that I was impressed is an understatement. This is a solid first issue that hits all of the right beats with setting the story up, introducing the cast and then adding in some mystery and then BAM throwing a monkey wrench into it and catching you off guard with a fantastic story twist at the end that will have you saying WTF just happened. I really have to give props to Leheup for crafting a story that sucks you in and does everything right with setting things up so you really care about the characters when all hell breaks loose in the story. He also keeps some secrets close to the vest here at the same time that adds great depth to the book. One of the books best assets is it pacing that is perfect that is very hard to do but Leheup does it here with ease. Sure there are some elements of the story that you have read before but he gives them a fresh coat of paint and makes this story all his own. Another big win for this book is Fox's artwork who captures the emotional core of the story and is the other reason this book works so well. One of the best things he delivers is the emotions and heart that he infuses Nathan's dog Sadie-lady is just as important as Nathan and that is a big reason that you will love this comic. 
Is this book worth your time and money? This comic is a must read and is a great marriage of story and artwork that you don't see very often. Leheup and Fox are a well oiled machine here and that is a really big reason the book works so well. It does all of the things a first issue should do and even delivers above that. A big win this week. HIGHLY RECOMMENDED!
Plastic Man #1
DC Comics Writer Gail Simone, Artist Adriana Melo, Colorist Kelly Fitzpatrick, Letterer Simon Bowland
I've always had a soft spot for Plastic Man and was excited when this mini series was announced. Having read the first issue I found the story to be pretty pedestrian for the first outing. The character is one with infinite possibilities and yet there are so few times that Simone takes advantage of that here. The other thing that I found odd in the script was that the story takes place in the present but in both the scripting and the visuals make it seem to be set in the 1940's and that gave the story a very disjointed feel and look at times. The story sadly ends up being pretty bland and with the great way that Jeff Lemire is handling him in The Terrifics didn't help this books case at all. The one thing that was a positive for this book is the artwork by Melo that does her best here to help move the story along and while there are some minor inconsistencies here and there with the art, she gives the overall look for the book a good enough reason to give the second issue a chance. 
Is this book worth your time and money? I really wanted to like this book more than I did but frankly find this first issue was pretty boring. With a character like Plastic Man and Simone I expected a story that had more fun and silliness but ends up being all too familiar and mundane. I'm willing to give the book a second chance but Simone is really going to have to step up the story or sadly it's off the pull list.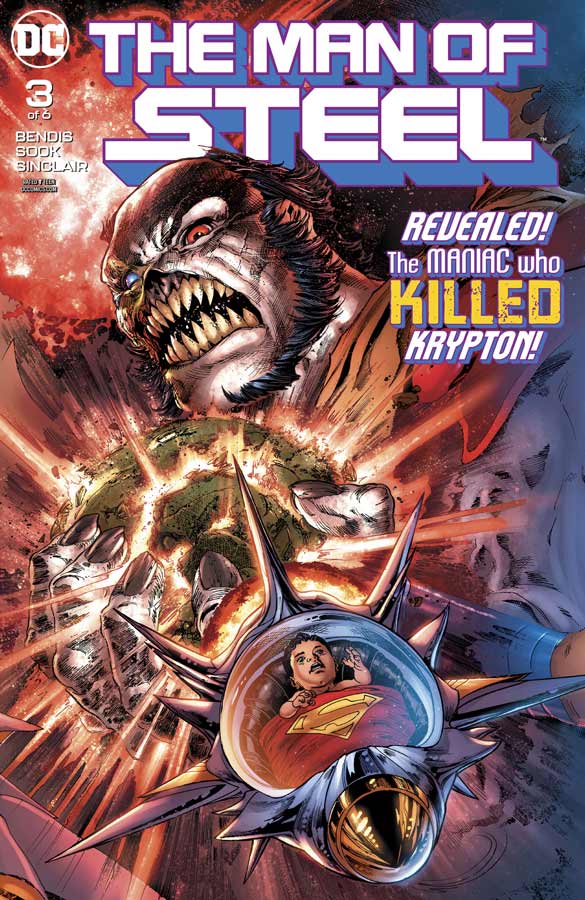 Man of Steel #3
DC Comics Writer Brian Michael Bendis, Artists Ryan Sook and Jason Fabok, Inker Wade Von Grawbadger, Colorist Alex Sinclair, Letterer Josh Reed
This third chapter really hits the ground running with a grand and epic story but wonderfully grounded in emotions that is the best issue so far and it's been really good. Bendis has been upping the story each issue and so far I've been very impressed with the direction his is taking it in. One of the best things about this story so far is how is blending the continuity history into the story that for long time readers are wonderful nods and winks to the long history of Superman but never makes newer readers lost for what he is using them for. The mystery of the villain continues to ramp up and it going to be interesting to see where the story goes from here. One thing is for sure after this issue there is nothing sacred left on the table that Bendis won't use in this story so nothing and no one is safe and that makes for great tension in the story. This issue brings Sook and Fabok to the party with their gorgeous artwork and they do a fantastic job of capturing the scope of the events in this issue but it's the emotional core of the story where the artwork really shines in this issue. No spoilers but there is some really heartbreaking moments here so be prepared.
Is this book worth your time and money? This book just keeps getting better and better with each chapter and we still have three more issues to go. Bendis is going full throttle here and it appears that Superman is in good hands here. VERY RECOMMENDED!
Doctor Star and the Kingdom of Lost Tomorrows #4
Dark Horse Comics Writer Jeff Lemire, Artist Max Fiumara, Colorist Dave Stewart, Letterer Nate Piekos
This issue actually came out last week but my local comic shop didn't get it until this week. With all of the new books this week it was hard fitting them all in but this book no matter when it came out is the big winner. Lemire's Black Hammer Universe continues to be simply some of the best comics being published now. One of the best things about this side story in particular is that rarely will a superhero comic book make you cry but this one surely will. What Lemire does best is making sure that the emotional core of the characters is always the most important part of a story and this one is one of his best. What makes a great superhero is not his power but that at their core is their humanity and that is what made this story so great. While Jimmy may be a superhero he was alway human with both the good and the bad that comes with that. Humans are not perfect and the decisions that we make have consequences and those choices affect those around us. But when the time comes it's the heart and soul that makes us try to make things right and that is what makes this story so touching. It's one thing to have a great story but you need the perfect artist to make it all work and Fiumara has delivered on every facet of the story perfectly that has made you feel every subtle moment. He never overplay the visual emotions and simply lets it breath and that is where you separate the simply good artist from the great ones and this story shows that he is a truly great artist. 
Is this book worth your time and money? I have been a huge fan of the Black Hammer Universe books but this one will always hold a special place because of the raw emotions that Lemire and Fiumara have captured. They kept it simple and perfectly to the point and that is why its a great comic book. HIGHEST RECOMMENDATION!