Another big week for new comics and DC Rebirth keeps rolling in and there were a few surprises too. So with so many books I will try to keep it brief so I can squeeze them all in this week.
COMIC BOOK OF THE WEEK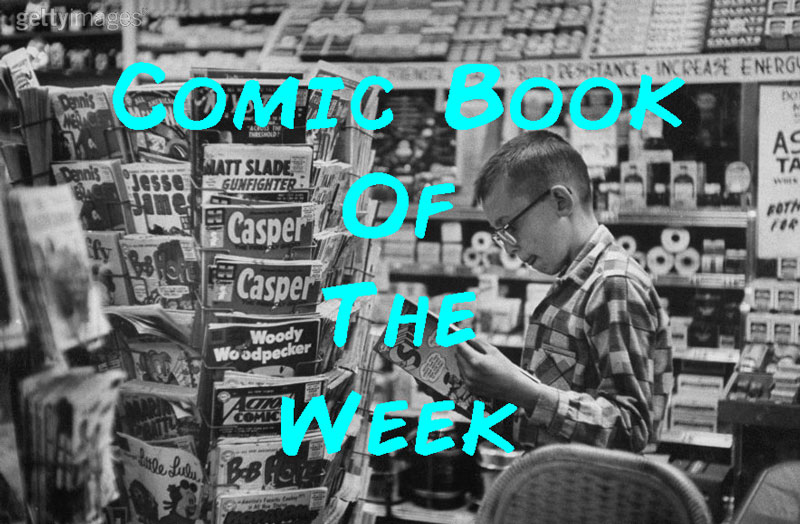 Swamp Thing #6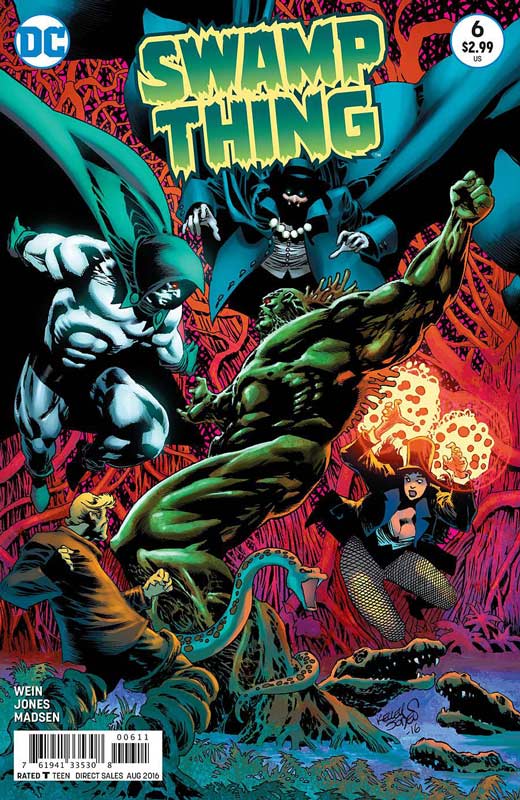 DC Comics Writer Len Wein, Artist Kelley Jones, Colorist Michelle Madsen, Letterer Rob Leigh
While most people are focusing on the DC Rebirth books now this has not only been a true breath of fresh air at DC but has reaffirmed hope that DC can actually green light a book that really raises the bar to what mainstream comics can and should be. Swamp Thing has been my top pic for 6 months now and not only did it deliver solid story and artwork but wrapped up the mini series that even blew me away. I have alway had a soft spot for Swamp Thing ever since the 1982 feature film introduced the character to me. While I discovered the Wein and Wrightson run of the book after I had been reading the  current series at the time I always found Swamp Thing to be a great tragic character. What Wein and Jones have delivered in this mini series is the essence of what make the character so rich and fascinating. Wein story of giving Holland the wish that he always want to become human again was a stroke of genus and he played the be careful what you ask for card in a way that gave the tried and true concept a really fresh approach. The script was perfect for both long time fans of the characters but also invited new readers to the world. So many writers forget that with characters like Swamp Thing that have a long a rich history that you need to craft a story that works for both. Wein not only deliver this he showed how simply it can be done and deliver a satisfying story that can be built upon if this team is lucky enough to be able to tell more stories in the future. My favorite thing about this series has been the use of the horror/mystical DC characters that Wein weaved into the story that was simply a huge treat for long time fans of this genre. When it comes to the artwork there is simply no one but Jones who could have pulled this book off. There are so few artist that understand how art can affect the mood and flow of a comic and Jones delivered some of his finest work to date. There are rare times when you can see an artist actually enjoying the book that they are working on because they deliver well above the pay that they are getting on the book because they believe in it. Jones brings Wein's script to a whole new level that I rarely see in comics today let alone at one of the big two publishers. From beginning to the end Jones delivers a visual feast of mood that really draws the reader deeper into the story with both the action and the subtle dramatic moments of the story. I must really point out that while Wien and Jones get credit I have to say that Madsen's color work and Leigh's lettering on this series has been nothing short of top-notch that really brought the book together perfectly. There are few books that deliver on every creative level.
Is this book worth your time and money? I have been the biggest fan of this book and not only has it delivered a gripping and satisfying story, it's one of the few times that I can think where a book has delivered more that I had expected. I had high hopes for this series when it was announced and has truly exceeded my wildest dreams. This is what mainstream comics can and should be, simply give creators the freedom to create and there would be a lot more comics like this. I can only hope that DC gives this team another mini series for Swamp Thing because there is a nice little story element on the last page that could lead to another story. While the series is done and DC has yet to announce the trade for this series but hopefully it will be collected for even more readers to enjoy. HIGHEST RECOMMENDATION!
Titans Rebirth #1
DC Comics Writer Dan Abnett, Penciller Brett Booth, Inker Norm Rapmund, Colorist Andrew Dalhouse, Letterer Carlos M. Mangual
So it seems that this is Rebirth part 3 after Flash Rebirth #1 and as with that book this falls into the same that it really isn't a stand alone story per say so if you haven't read those two books than you could be a little lost here. The book has the same problem that the Flash had in the fact that while Abnett's story is decent it never feels very satisfying. The cast of characters go through the motions of action then drama but it all feels pretty average. This is another one of the Rebirth books that will be very confusing to new or lapsed readers because of the mixing of continuity from pre and New 52 that does little to connect the reader with the characters and that is where I was really disappointed with Abnett's script. On the plus side Booth and Rampmund do a really nice job on the artwork that makes for a nice looking book. There are noticeable times where they let the colorist do the backgrounds that is a pet peeve of mine but a good-looking book that is let down by its middeling script.
Is this book worth your time and money? The biggest flaw of the book is that it really just sits there. It doesn't really bring anything new or exciting to the Titans. In fact the book really is more of a footnote to the Rebirth Wally West story and is certainly not going to get anyone excited to read the regular Titans series. This is one of the Rebirth books that should have really focused on getting new readers into the Titans, instead it's a so-so book that is pretty forgettable. SKIP IT!
Superman #1
DC Comics Writer Peter J. Tomasi, Penciller Patrick Gleason, Inker Mick Gray, Colorist John Kalisz, Letterer Rob Leigh
I really love Superman but between this book and Action #957 these books are really getting this beloved character off on the wrong foot. Bringing the New 52 continuity to the Superman books has been a huge mistake for getting new readers back into the fold. I was not reading the previous series so I have no idea if this is the real Superman or a clone or simply an imaginary story. Tomasi's script plods along and but never really compelled you to care much about what is going on here. I get that Jon has superpowers and he is trying to cope with them but Tomasi doesn't give anything new to the basic concept of this and feels like you have read or seen this before. Gleason and Gray's artwork is a little mixed here. While I did like the majority of the art there were times where they went off model or the anatomy was just weird at times. While it only happened a few times it was very distracting when it happened. Overall the art was pleasing with just a few hiccups.
Is this book worth your time and money? I have been very disappointed in the two Superman book so far so DC is really going to have to do something with these books. I was hoping that Rebirth would be a fresh start for new and old readers but someone forgot to tell the Superman teams that they needed to go back to basics and ditch the New 52 story lines that no one was reading. This book was a read disappointment. SKIP IT!
Batman #1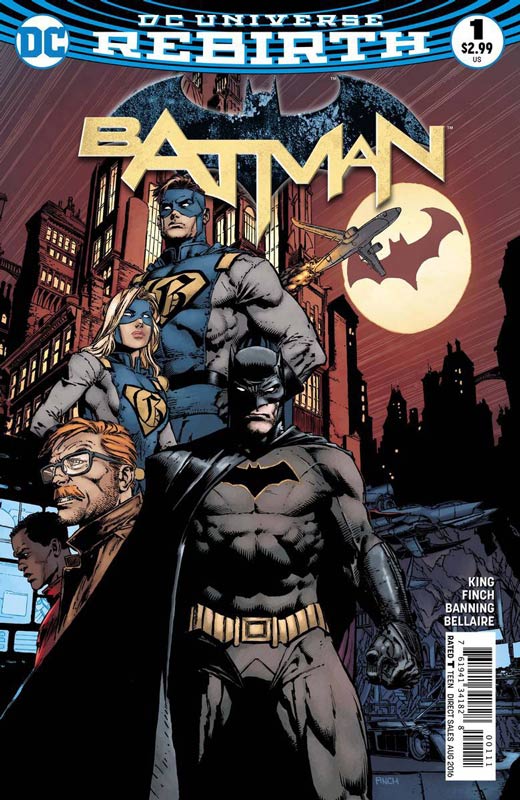 DC Comics Writer Tom King, Penciller David Finch, Inker Matt Banning, Colorist Jordie Bellaire, Letterer John Workman
Now here is how you start a new series off (hint to the Superman group). I have to hand it to King who gets the point of starting a new series off. He gets that we all know who Batman is and all that comes with it so, he really hits the ground running with the story dispensing with unnecessary exposition that would just drag the story down. King gets what makes Batman work so well and he wisely doesn't try to reinvent the wheel here. He delivers a great action story that moves along at a nice pace and then he pulls the WTF ending that is setting up the first story arc. By keeping the story light and tight it made for a very enjoyable read. Finch and Banning do a great job on the art here delivering solid action scenes that really help drive the story and yet are able to do a great job on the very dramatic moments in King's script. This is one of the best looking of the Rebirth books so far.
Is this book worth your time and money? King and Finch deliver a solid start to this new series and a nice take on the Dark Knight. It's a nice start and build from the Snyder and Capullo run but new readers are not lost by getting this book. King's recent Omega Men series shows what he can do as a writer and it appears that he is settling nicely into Gotham. RECOMMENDED!
Green Arrow #1
DC Comics Writer Benjamin Percy, Artist and Colorist Otto Schmidt, Letterer Nate Piekos
Green Arrow Rebirth was one of the strongest starts and this issue really continues that story for a very enjoyable and solid book. While it was not as exciting as the #0 issue that is fine because Percy is moving the story along and now were starting to get to the meat of the story. His is wisely taking Oliver Queen back to basics and keeping the story focused on a nice momentum. The one thing that I liked about the story is that it's building a nice momentum while developing the characters along with the story. Percy script does a nice balancing act of all of the elements. Schmidt continues to impress with his artwork on the book. Where he really shines is on the dramatic dialog scenes because if an artist can make the script compelling during the dramatic moments then when the action hits they can really bring the script to life. Schmidt does both very well and is giving this book a great look and feel with his artwork.
Is this book worth your time and money? What I am liking about this book is that Percy is keeping the story simple and straight forward that while some may find it not flashy enough for them he is making an enjoyable read with this book and then adding in Schmidt's art is making for a fun book that isn't trying to be bigger than it is and that is why it's working so well. RECOMMENDED!
Scooby Apocalypse #2
DC Comics Writers Keith Giffen and J.M. DeMatteis, Artist Howard Porter, Colorist HiFi, Letterer Nick J. Nap
The first issue got off to a bit of a rough start but I could see that there were some really good ideas in the story but was dragged down by exposition and too much dialog. This second issue still has some of those issues but the focus of the story is a little better and a lot less overwhelming than the first issue. While there are still some rough edges to the characters they at least feel better this issue and feel a little more like the original animated series. Ramping up the action really did help the story move along and gave them something to do instead of standing around and talking like the first issue. There are still some changes to the characters that are both good and not so good. I like that Shaggy and Scooby have a little more backbone and not just fraidy cats all of the time. Fred is a little too wussy and that is getting old quickly. Velma seems to be the closest and not changed and I'm not sure of Daphne is a mix of maybe too much bad ass but not sure yet. Porter is really saving the book now because the art on this book is simply gorgeous and really driving the flow of the book. In fact I will say that he is really giving the story a boost and holding the book together at this point.
Is this book worth your time and money? I still wish that the book was a little more humorous. There are times where it gets close and the Velma Jinkies is one example. I do think that the book still has potential and while there are some of the changes that bother me a bit but it Giffen and DeMatteis can get the story moving along a bit better than there might be something here. It's still rough around the edges but I hope that it can come together in the next few issues.
Han Solo #1
Marvel Comics Writer Marjorie Liu, Artist Mark Brooks, Colorist Sonia Oback, Letterer Joe Caramagna
Some of the new Star Wars books have been both very good and middling I have to say that the Han Solo is off to a pretty decent start. The first issue script by Liu is a solid start to the series and she does a great job of capturing the essence and spirit of the character. The key to a book that is based on another medium is that it needs to feel like the actor from the film and in this case Liu does capture the Harrison Form spirit of Han Solo that we all know so well. I also liked the idea that he is not perfect and even questions himself after the events of Star Wars. As with the other new Star Wars books really use the original trilogies continuity but injects some new ideas into these "side stories". Brooks does a really great job of capturing the likeness of the actors in the book that is no easy feat but also gives the art the freedom to breath and not be totally beholden to it.
Is this book worth your time and money? Liu and Brooks give this book a good start with a solid story and really nice artwork. While this is not the most mind-blowing story it does a good job of capturing the feel of the original trilogy and the subtle of the characters. In the end its a fun little book.
Tales From the Darkside #1
IDW  Script Joe Hill, Adaptation Michael Benedetto, Artist Gabriel Rodriguez, Colorist Ryan Hill, Letterer Robbie Robbins
This comic series adapts the scripts that Hill wrote for the aborted reboot of the series for the CW network and now his script are being turned into a four issue mini series. The original series developed by George Romero and was an anthology in the vein of The Twilight Zone and so that gives you an idea of the type of stories that this series will be. The story by Benedetto based on the script by Hill is a pretty basic and established story trope of the character of Ziggy who makes a bad judgment call and then has to pay for his mistake. While the structure of the story is pretty basic I will give them that they infuse the story with some very good emotions and characterization that make the simple story work quite well here. While I wasn't surprised by anything here, I will say that they did a good job of simply telling the story well and that is why it works. What really makes the book shine though is Rodriguez's beautiful artwork that really delivers the emotional impact that the basic story needed to work. Like any good show an actor can make or break a simple story and in this case it's Rodriguez that makes the story deliver a very satisfying read and amazing visuals.
Is this book worth your time and money. This story has been told a million times and what really makes it worth reading was the gorgeous artwork that really delivers the emotional impact that they story needed to work. While the book is not going to knock your socks off or anything it was still worth reading and if the other three issues do the same it's a worthy trip to the darkside.
The Joyners #1
Archaia Writer R.J. Ryan, Artist David Marquez, Colorist Kelly Fitzpatrick, Letterer Jon Adams
One of the reasons that I picked this book up this week was that it was on sale at my local comic shop and the art deco inspired artwork was very visually appealing to me. I will have to say while the book didn't blow me away it did have a certain charm about it and there were some really interesting concepts brought up in the story. While Ryan script could have been a little more polished and given a little more information in this first issue, I did find it to be intriguing read. It's the type of story that washes over you and is very subtle. That is where the book can be taken both ways of either being slow and boring or paced and intriguing. I fell into the second category where I think that Ryan script does have a lot of promise but the next issue will be a make or break for the book. Marquez gives the book a great visual punch that really helped move the story along. He really delivers a great visual experience for a more unusual story that is very story driven with a lot of dialog that a lot of artists would struggle with. While there are some rough edges at times overall the artwork shines and gives a great boost to the book.
Is this book worth your time and money? I like what I read here but it's not going to be everyone's taste. If you're looking for an interesting idea that is going to be a slow burn story then you might want to check the book out. There are some interesting ideas here and hopefully Ryan and Marquez can pull it all together.
Spongebob Comics Annual-Size Super-Giant Swimtacular 2016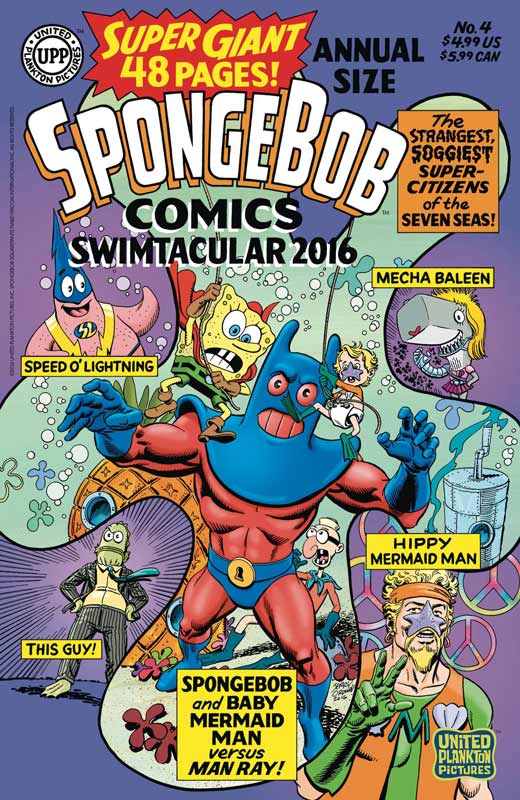 United Plankton Pictures Writers Derek Drymon, Graham Annable, Robert Leighton, & Scott Roberts, Artists Robb Bihun, Gregg Schigiel, Jacob Chabot, Mark Martin, Neal Adams, Scott Roberts, Colorist John Kalisz, Monica Kubina, Hi-Fi, Kathe Keough, Zeea Adams, Scott Roberts, Letterer Rob Leigh
Spongebob is one of the wildest comics being published because it takes a well know media character Spongebob and then lets more indy creators go crazy with the stories and art to make a very enjoyable book each month. Every year they do an annual that gets some really big names and this year they get one of the greats Neal Adams. Yes that Neal Adams doing a Spongebob story sound crazy but that is what makes this book so much fun. There are six stories that are made for an adult readers but works just as well for younger readers. It's a great all ages book that delivers on many levels. Spongebob Babysitter by Drymon and Bihun is a great visual feast and a fun little story of Mermaid Man being turned into a baby and Spongebob has to try to catch him and change him back. A cute story with stunning artwork by Bihun. Krusty Con by Annable and Schigiel is a nice twist on the Comic Con idea and of course Mister Crabs tries to make a buck off of it. They really deliver the geek aspect of the story quite well. New Foul Lineup by Leighton, Chabot and Martin is a throwback to the 1970's fall previews in Marvel and DC Comics showing the new Saturday Morning cartoon line up that really nails the look and feel of that era. This was very nostalgic for me and they simply nail it if your familiar with these ads from that era. The real treat of the book is The Green Harpoon's Challenge by Drymon and Adams that is a take on his Green Lantern & Green Arrow stories from the 1970's that is simply mind-blowing to see Adams draw a cartoon story that is a quite ingenious story that was tailor-made for Adams. The final story Speed O' Lightning by Roberts had me puzzled at first but when you get to the end of the story it all makes sense.
Is this book worth your time and money? I have been a fan of this book from day one and each year with the annuals they really pull out all of the stops to deliver something special. This year getting Neal Adams to do a Spongebob story is simply priceless and worth the $4.99 cover price alone. But each of the stories really deliver the good and Spongebob Babysitter was the big surprise and nearly rivals the Adams story. This book is a sheer delight for an adult reader and is really made for us. While the kids will get the basic story the book is really made for an adult audience in the disguise of a kiddie book. A truly must buy book. HIGHLY RECOMMENDED!