It's no wonder that I never catch up with comic book reviews because there are six new #1 issues that hit the shelves this week. It seems harder to keep up with the amount of book flooding the stands each week. So here we go!
Sensation Comics Feature Wonder Woman #1
DC Comics Writers Gail Simone and Amanda Deibert, Artists Ethan Van Sciver and Cat Staggs, Colorist Brian Miller and John Rauch, Letterer Saida Temofonte
Like the previous Adventures of Superman this is an out of continuity digital first book that is trying to get new readers to Wonder Woman with stand alone stories. The plot from DC is, Diana Prince: Amazon warrior, ambassador to Man's world, or champion of women in need? All of the above! This digital-first anthology series will bring some of the comics' greatest talents to Themyscira, and give them leave to explore Diana, her world – and ours! First up is Gothamazon by Gail Simone and Ethan Van Sciver kick things off when Oracle calls for help after the entire Bat-Family gets sidelined. But when Wonder Woman steps into the breach, Gotham City's criminals get the surprise of their lives! Simone and Sciver get the book off to a nice start with mixing the Batman villains with Wonder Woman and showing how to play and not play by the rules. Simone story is a tight one but having a lot of fun with the mash-up. I like the idea of taking Wonder Women out of her normal surroundings but adding a nice touch of humor to the story. Sciver's art is his usual high standards. He is obviously having a lot of fun drawing all of the Batman villains and Wonder Woman herself.  Next up is Defender of Truth by Amanda Deibert and Cat Staggs take Diana to school, where she meets her biggest fan! This is a story that starts off as typical Wonder Woman action story and then has a nice little twist at the end that it really ends the story on a great note. I don't want to give anything away but it's one of those nice sappy endings that you will either like or not. I fall in the first category.
Is this book worth your time and money? I enjoy these types of books because you can either pick up every issue or pick up individually depending on who is doing a particular issue. The first issue gets off to a solid start and while book like this with short stories are bot hit and miss, the good news is the first issue stories are both hits. While neither story is earth shattering they are both well told stories and great artwork. Wonder Woman is a tougher character to do but hopefully this book will bring her back to new readers. I really enjoyed both stories and am very much looking forward to the next issues. If you are a fan of Wonder Woman and not currently reading the regular series you might want to pick this book up. It's a nice done in one book.
Justice, INC. #1
Dynamite Writer Michael Uslan, Artist Giovanni Timpano, Colorist Marco Lesko, Letterer Simon Bowland
DC a few years back tried to revive some of the pulp characters in a series First Wave but it failed to excite reader (although the book is really good it just didn't sell that well). Now that Dynamite has them they are trying another team up book with these pulp characters. The plot from Dynamite is, An airliner vanishes en route without a trace! It's the crisis that brings together, in a historic team-up for the first time, Street & Smith's super-star trinity: The Shadow! Doc Savage! The Avenger! This historic cross-over is 75 years in the making, JUSTICE, INC. begins here, spawned by a horrific tragedy of death and destruction secretly orchestrated by some of the most powerful and unexpected villains in the history of the pulps! Uslan definitely get the pulp feel for the story but while it's not bad it never quite takes off in this first issue. The issue is a set up type story but it just seems a little off and seems to meander a bit. I am a little unsure of why he chose to do a time travel story and not just set the book on a specific time period. While I am sure that there is a reason for in the overall story it just seemed unnecessary in the first issue. Timpano's artwork is good but there is some very uneven bumps along the way. As with most Dynamite books the art is serviceable but never quite blows your socks off with it either.
Is this book worth your time and money? I was looking forward to this book and ended up being a bit disappointed. While its not a bad book it really falls into the meh category. When you put a book like this out with popular pulp characters you kind of expect more out of it. This book just doesn't live up to that. I will give the book another shot with the second issue but it is really going to have to step up it's game. This one is on a short leash.
Dark Horse Presents Volume 3 #1
Dark Horse Comics Writers Geof Darrow(& Artist)/David Mack(& Artist)/Peter Hogan/Brendan McCarthy (& Artist)/Jimmy Palmiotti & Justin Gray/Damon Gentry(& Letterer), Artist Steve Parkhouse(& Letterer)/Andy Kuhn/Aaron Conley, Colorists Dave Stewart/John Rauch/Joseph Bergin III, Letterer Peter Doherty/Nate Poekos/John J. Hill
In its new smaller incarnation this time Dark Horse Presents is back and much easier on the wallet at $4.99 (compared to the previous $7.99) The plot from Dark Horse is, Geof Darrow and Frank Miller's Big Guy and Rusty the Boy Robot returns in this new volume of the award-winning, long-running anthology powerhouse Dark Horse Presents! Darrow kicks off the new series with a long overdue new Rusty and the Big Guy story that is a nice take of the two stories going on at the same time. Let's be honest you are buying the book for this story alone and Darrow really delivers the goods in both the story and gorgeous artwork. Mack returns to Kabuki that has not been seen in a while. I have never read the book but I did like the story and art. I'm not sure of what the character is about but the story is an interesting one. Peter Hogan and Steve Parkhouse's Resident Alien is an interesting set up story and I am intrigued to see where they are going to take it. It's about an alien trying to blend in but he is being hunted. Brendan McCarthy's Dream Gang is a real trip in more ways than one. While it gets off to a weird start it does leave you wanting to see where he is going to take the story. Jimmy Palmiotti, Justin Gray, and Andy Kuhn's Wrestling with Demons was the real surprise of the issue. It really set up a really great idea of why you should never stop in a strange tourist trap ghost town. Damon Gentry and Aaron Conley's Sabertooth Swordsman is a minimal dialog story of what happens when a herd of bugs takes your pants while you are bathing. It's a really fun gag short story.
Is this book worth your time and money? I have always been a big fan of DHP and anthologies in general. The format allows you to mix known and unknown talent to share the same book. While it can be a little frustrating to only get little chunks of the story at a time, it allows for creators to experiment and think outside the box. While not every story is going to be everyone's cup of tea, I thought that all of the stories in this first issue were all very well done and left me wanting more with the continuing stories. If you are more of a mainstream comic reader then this is not the book for you. If you are looking to expand your horizons and explore new and interesting creative ideas then I can't think of a better place to start. This book is 56 pages of story and art for only $4.99 and in todays comic market that is a bargain. Give the book a try to I think that you will be glad you did. VERY RECOMMENDED!
Little Nemo Returns to Slumberland #1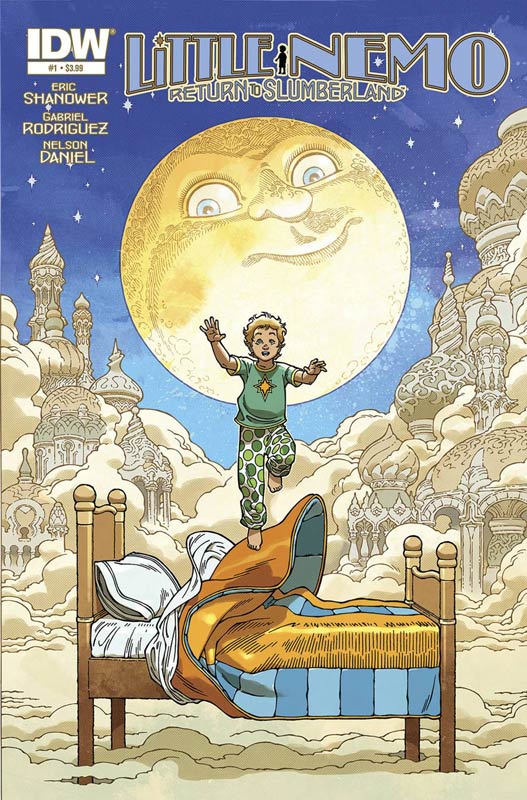 IDW Writer Eric Shanower, Artist Gabriel Rodriguez, Colorist Nelson Daniel, Letterer Robbiw Robbins
Little Nemo in Slumberland by Winsor McCay is seminal work and a must see for any serious comics reader. IDW now is continuing his adventures in this new series. The plot from IDW is, Spinning out of Winsor McKay's brilliant early 20th century strip, Little Nemo in Slumberland sees King Morpheus' daughter, in the Royal Palace of Slumberland, select her next-playmate: Nemo! Only Nemo has no interest in being anyone's playmate, dream or no dream! If you are going to even attempt to do a book like this you really need to bring your biggest guns to the project. Getting writer Eric Shanower is the best writer this book could have ever dreamed to get. Shanower best know for his Marvel adaptations of the OZ books with Scottie Young is hands down the perfect writer to even attempt on doing new Nemo stories. First he really captures the characters but he still make the book his own. The smart thing he is doing is using the basic structure that McCay's Nemo was but giving the story a much more story narrative that is needed for a regular series. Shanower is setting up both his new Nemo and the world that we will be visiting in the series. The story does suffer a tad from a rinse and repeat structure on the surface but he is giving a lot of subtle information on the supporting cast and worlds. Rodriguez art is nothing short of breathtaking. It takes a very brave artist to tackle this book and Rodriguez is able to capture the scope of the book but still capture the emotions of the characters that really make the story work. This is probably one of the best drawn books on the shelves today. I really must point out Daniel's color work on the book. He really makes Rodriguez's artwork that much better because he gives it such a wonderful storybook feel with the color that is just fantastic.
Is this book worth your time and money? This is one of those rare books that dares to try to re-imagine classic work that is so well know but still give it a new spin. This rarely works out but Shanower and Rodriguez have done something truly special here. They capture the feel of the original McCay Nemo and create a wonderful new story for current readers. The good thing is that you do not have to know anything about Nemo before reading this book. They do a great job of introducing new readers to the world of Slumberland. People who are fans of McCay's Nemo are sure to be pleased with the care that has been taken with both the story and art. This is a very special and wonderful book that is a must read. HIGHEST RECOMMENDATION!
The Multiversity #1
DC Comics Writer Grant Morrison, Penciller Ivan Reis, Inker Joe Prado, Colorist Nei Ruffino, Letterer Todd Klein
The long-awaited Grant Morrison epic DC series has finally arrived and is sure to thrill and divide readers. The plot from DC is, Join visionary writer Grant Morrison, today's most talented artists, and a cast of unforgettable characters from 52 alternative Earths of the known DC Multiverse! Prepare to meet the Vampire League of Earth-43, the Justice Riders of Earth-18, Superdemon, Doc Fate, the super-sons of Superman and Batman, the rampaging Retaliators of Earth-8, the Atomic Knights of Justice, Dino-Cop, Sister Miracle, Lady Quark, the legion of Sivanas, the Nazi New Reichsmen of Earth-10 and the latest, greatest Super Hero of Earth-Prime: YOU! Comprising six complete adventures – each set in a different parallel universe – plus a two-part framing story and a comprehensive guidebook to the many worlds of the Multiverse, THE MULTIVERSITY is more than just a multipart comic-book series. It's a cosmos spanning, soul-shaking experience that puts YOU on the frontline in the Battle for All Creation against the demonic destroyers known as the Gentry! If you read Morrison's Seven Soldiers books from a few years back then you know what the format of this story is. For new readers the story will have bookend issues and there will be six series that all tie together the whole story but still be individual. The one thing that will be for sure with this series is how divided Morrison's work can be to comic readers. The thing that Morrison is great at is thinking outside the box with an idea like this. Most big epic events from both Marvel and DC consist of a main book and spin offs in other series to boost sales. The difference here is that the mini series will stand alone and connect the whole story at the same time. I really liked Morrison's take on the multiple earth theory that was pretty much jettisoned with the New 52. But instead of just recreating the universes that were before the New 52 he gives the familiar characters a new spin and they are both similar and different at the same time. Probably the most intriguing idea to the series is that they reader themselves are a part of the story. There is a lot of story and ideas to take in with this first issue but Morrison keeps the idea focused but not quite revealing everything yet. Some people will say that the story lacks focus but it really is asking questions that you are not quite ready for the answers to. Reis and Prado artwork really give a great epic scope to Morrison's vision. They visually do a great job of helping the reader digest all of the ideas that are being presented with the story.
Is this book worth your time and money? The best way to describe this book is as a giant what if story filled with alternate realities of very familiar DC characters. A good example is Captain Carrot. First off I love the fact that Morrison is reviving him in the first place. I am a huge fan of the original Scott Shaw! Roy Thomas series. And while this is not the Captain Carrot that we know and love, it is just a different take on the character but does not degrade the character either in my opinion. It's an alternate theory on the character without making him unrecognizable. Morrison writes way outside the box but that is what I love about his work. Sometimes he will get a bit off track or people are unwilling to see his version of the characters that he is writing. But this series got off to a really great start. It is taking what you know and shaking it up in a whole new way. It will be very interesting how he plays around with the DC Universe and his different takes on what we think we know about the characters. I can't wait to see where is all goes. RECOMMENDED! 
The Fade Out #1
Image Comics Writer Ed Brubaker, Artist & Letterer Sean Phillips, Colorist Elizabeth Breitweiser
Brubaker and Phillips are back with their new series that takes a look at the seedy side of Hollywood in the late 1940's. The plot from Image is, Hollywood – 1948. A noir film stuck in endless reshoots. A writer plagued with nightmares from the war and a dangerous secret. An up-and-coming starlet's suspicious death. And a maniacal Studio Mogul and his Security Chief who will do anything to keep the cameras rolling before the Post-War boom days come crashing down. THE FADE OUT is the most ambitious series yet from the award-winning Noir Masters. Brubaker and Phillips have really hit pay-dirt with this book. Playing in the Noir sandbox of 1940's Hollywood is a perfect setting for this book. On the surface it's a basic murder mystery but in the hands of Brubaker and Phillips is far from standard fare. The characters and the setting are so rich that you really feel the period when you are reading the book. This book is a lot like the film L.A. Confidential with its tone and settings but with the unlimited budget and time that a comic series allows it's going to be a really meaty story. I really like how they had the main character Charlie Parish as an average Joe type that the reader can really relate to. It really opens up the story to let the reader inhabit the story on a much more visceral level than most stories of this type usually are. While it may start as a simple murder mystery we know from past series from Brubaker and Phillips that it will be so much more than that. Phillips artwork is really breathtaking. Brubaker knows what Phillips can do and uses it to the books advantages. He really sets the tone that the story requires and then delivers an experience that few comics are capable of. The other thing that impressed me was the Brubaker explains in the afterwards that thee language and situation are of the time of the book and might be shocking. I would say that's proof that the story is so good that you need to say that.
Is this book worth your time and money. If you are lucky you might still be able to pick up the special magazine size version of the first issue that really adds to the feel of the story. The regular comic size is still a great book. I guess it's more of an old school feeling for me with the magazine size version. This is a book that is not to be missed. Brubaker and Phillips have created a really amazing book that the only complaint that I have is that I have to wait a month to read the next issue. This is one of those books that you really hate buying the individual issues because you want to read the story so bad yet it will be a great read in one sitting when it's collected. I say throw cation to the wind and buy the individual issues. You will not be disappointed! HIGHEST RECOMMENDATION!