A huge week of new books and I will try to fit in as many as I can. Some of the reviews might be on the short side to speed things up.
Axcend #1
Image Comics Writer & Penciller Shane Davis, Inker Michelle Delecki, Colorist Morry Hollowell, Letterer Patrick Brosseau
Shane Davis new creator owned book from Image gets off to a so-so start. The main problem is that the story is one that you have read a million times before and sadly Davis doesn't bring anything new to the concept. The big issue that I had was that Eric the main character didn't really do much of anything so there was not a reason for the reader to care much about him. The concept of melding the video game world with the real world is a story that just has been done too many times. Davis's artwork is quite good and helps the book along and makes it a bit more tolerable with the weak story. Is this book worth your time and money? The book is far to standard and average that it's just not going get anyone excited to go beyond this first issue. While the book is not bad it's not really that good in the end. Davis does nice artwork and probably should stick with that. SKIP IT!
The Adventures of Grumpy Cat (And Pokey!) #1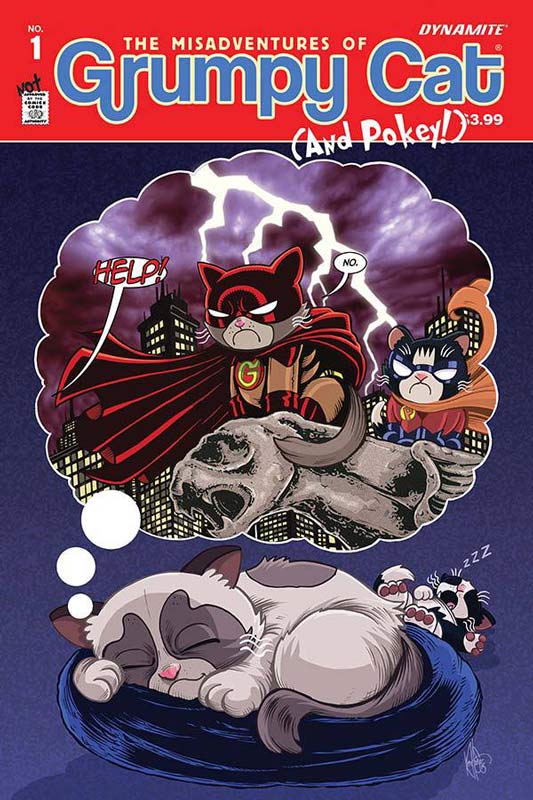 Dynamite Writers Ben McCool/Ben Fisher/Ryan McGraw/Elliott Serrano, Artists Steve Uy/Michelle Nguyen/Ken Haeser, Colorist Mohan, Letterer Bill Tortolini
Well I guess it had to happen sooner or later, the internet meme sensation Grumpy Cat gets her own comic book. And it's surprisingly not bad. The smart thing about the book is that it contains 4 short stories that definitely helps things along. The stories themselves are pretty straight forward gag type stories that are short and sweet. While none of the stories are going to blow you away they are fun little bits that work well. The overall artwork is good and each artist gives a nice visuals to the stories. Is this book worth your time and money? If you are a fan of Grumpy Cat (and who isn't) this comic is quite fun and is a fun all ages comic. Sure it's a gimmick comic but I rather enjoyed it. It's not Shakespeare but it was fun.
Invincible Iron Man #1
Marvel Comics Writer Brian Michael Bendis, Artist David Marquez, Colorist Justin Ponsor, Letterer Clayton Cowles
So this is one of the "new" Marvel reboot titles and if this is an indication of the titles it seems to be the same ideas just being sold as new. While Bendis script is decent it certainly isn't anything new or different. That can be both good or bad depending on your point of view. The first issue is a good starting point for new readers but for long time Iron Man readers will see it as a fresh coat of paint on the same story. I had really hoped for something more exciting and fresh but I guess that I expected too much from Marvel and Bendis. On the artwork side Marquez does a very nice job on the book. He has a nice clean style and handles the subtle dramatic scenes nicely. Is this book worth your time and money? I would certainly not call this book new or different and that is where I scratch my head a bit. While I don't think that Iron Man needs changing but at this point there it's not going to bring in new longtime readers to the book that will stick around for anything exciting. This might be good for the already converted but not anything that is worth continuing to buy. The script is OK with nice artwork but there is nothing that is very compelling about the book. I'll try the next issue to see if it can break away from the averageness of this first issue.
CBLDF Liberty Annual 2015
Image Comics Various Writers/Artists/Colorists/Letterers
The annual all-star lineup of the comic book world get together to help the Comic Book Legal Defense Fund raise both money and awareness about censorship. This years annual is a tour de force of some of the best talent in the industry donating their time to make this an always must have book. I have been a long time supporter of the CBLDF and always look forward to this book. This years talent includes Art Spiegelman, Jeffrey Brown, Bob Fingerman, Eric Powell, Peter Bagge, Evan Dorkin and many more. The thing that I love about this years book is the mixing of Humor and social commentary. This years editor D. Alexander Cox modeled the book after the original run of National Lampoon. There are so many great stories to read and enjoy in this book it's very difficult to pick the high points because they are all so good. I really loved Speiegelman's piece that talks about the First Amendment. Brown's What If story was a real funny take on the concept. Fingerman nearly wins with his very satirical strip that was simply perfect and the alway super funny Dorkin gives us some wonderful comic strips that were a great treat. Is this book worth your time and money. The CBLDF is one of the most important things in the comic book industry and while it's sometimes hard to make a donation to them you can always support them by buying this great book. At 48 pages for $4.99 is a steal for this much talent in one book and the money goes to a good cause. HIGHLY RECOMMENDED!
Dead Vengeance #1
Dark Horse Comics Writer and Penciller Bill Morrison, Inker Keith Champagne, Colorist Carlos Badilla, Letterer Nate Piekos
Morrison is probably best know to comic readers from the Simpsons comics and a fun little book a long time ago Roswell. It's been a while for a book from Morrison and was it worth the wait? Maybe. The story in this first issue is a bit dragged down by exposition and the story ends up being a little too slow-paced from it. I will say that there are some good ideas in the story and I am curious to see what he does in the next issue now that the set up is out-of-the-way. I have been a fan of Morrison's EC style artwork that is alway nice to see outside his Simpsons work. The one thing that Morrison is great at in the story is evoking mood in the visuals and this book looks really great. Is this book worth your time and money? I wish that the story had not been too slow in this first issue. Morrison spends a little too much time on exposition that dampens this first issue. But I do think that there is hope for the book because there is a really good idea here. So if you are a fan of EC type story then you might want to check this book out. It's really going hinge on the second issue for me on this book.
Saints #1
Image Comics Writer Sean Lewis, Artist/Colorist/Letterer Benjamin Mackey
This book was a nice little surprise this week. It's alway a tough call when you do a story loosely based on biblical mythology because you can turn off some readers with the religious overtones. Lewis has wisely used just a small amount in this and it's more of a modern update on the story without the preachiness that could have come with it. I liked the idea of the "heroes" not knowing that they are actual heroes and that they are coming together on a quest. While the concept is not original Lewis infuses some novel ideas to give it a fresh spin. Mackey artwork really impressed me and his slightly cartoony style really gave a great look to the book and really brought the story to life. Is this book worth your time and money? While there is a lot of basic story tropes here I like the direction and tone that Lewis and Mackey gave to the book. They give you enough of the story in the first issue but still keep things under wraps for the future. I enjoyed the book and am looking forward to the next issue. RECOMMENDED!
A Train Called Love #1
Dynamite Writer Garth Ennis, Artist Mark Dos Santos, Colorist Andrew Elder, Letterer Rob Steen
Ennis has a real knack for dark humor and his new book is a lot of fun. Make no mistake that this is a humor book that is a wild ride with just the first issue. While the first issue does jump around a bit in the story department that makes it a little disjointed but not so bad that you can't follow. There is a lot of set up in this first issue story wise that I will be really interested in seeing where Ennis is going to take the series. Dos Santos artwork fits perfectly with the story. It's a nice mix of cartoon and realistic that complements the script very nicely. Is this book worth your time and money? I found this book to be quite enjoyable and very funny. I like the dark humor that Ennis brings to the story and will be interested to see how he ties all of the stories together. Ennis and Dos Santos have created a really fun book that has a lot of promise to it and well worth checking out.
Plutona #2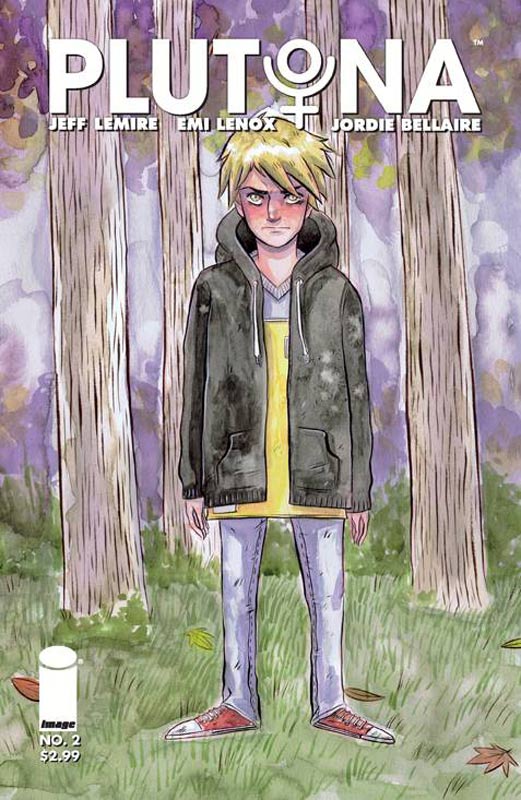 Image Comics Writer Jeff Lemire, Artist Emi Lenox, Colorist Jordie Bellaire, Letterer Steve Wands
I was very impressed with the first issue of this book and can say with this second issue Lemire and Lenox have really created a very special comic. While there is still of tinge of Stand By Me in the story, but Lemire really makes the typical story trope and makes is very much his own. There is such great emotional subtle detail in the story that made this issue such a great read. I like the pacing that he is taking with the story because just like the last issue the book is over way too quick and had me wanting more. The cliffhanger to this issue was not what I expected. Lenox continues to deliver really outstanding artwork that give the book a great emotional core that really delivers the story to a whole new level. Her simple yet detailed style brings the emotions that the story brings and gives it life. Is this book worth your time and money? This book is really knocking my socks off and has become a must read book every month. Lemire and Lenox are crafting a really thrilling book that has twist and turns that keeps the reader guessing where it's going to go. I really love this book. HIGHLY RECOMMENDED!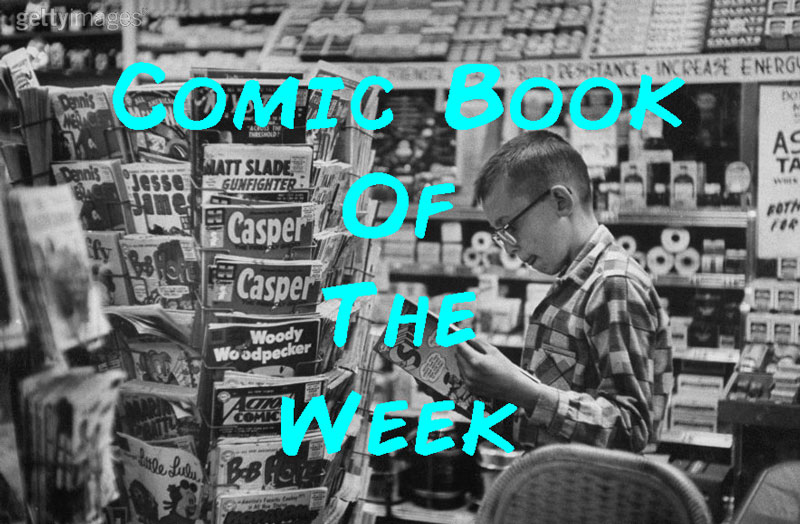 Jughead #1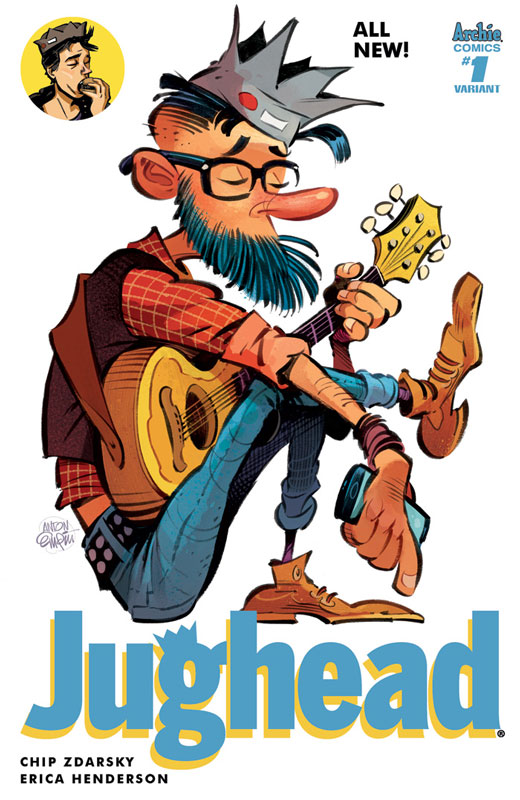 Archie Comics Writer Chip Zdarsky, Artist Erica Henderson, Letterer Jack Morelli
I was a little nervous about this book because of Zdarsky's take on the recent Howard the Duck was a real disaster that I thought the same fate might befall our beloved Jughead. The good news is that not only is Jughead great but I might have enjoyed it a tad more than the great new Archie book by Waid and Staples. The key to the book working is just like the new Archie book Zdarsky doesn't try to reinvent the wheel here. Not only does it feel like Jughead but he has really embellished on the character and given him so much more than just Archie's sidekick. While it's still the same loveable oaf that he always has been Zdaesky has given him so much more depth that is what makes this book work so well. I don't think anyone could have done this book better than Henderson. She has been doing a outstanding job on the Unbeatable Squirrel Girl and bring the same quality to this book and maybe a little better. She really captures the spirit and goofyness of Jughead and the dream sequence Game of Jones has to be one of the funniest Archie stories I have ever seen. She really gave that dream sequence really great visual detail that brought it to life. Is this book worth your time and money? This is one of the best books that I read this week. Archie has really come back to life with this new direction of the Archie universe. They have brought great talent like Zdarsky and Henderson to Jughead and made one of the best books going now. This is the Comic Book of the Week! HIGHEST RECOMMENDATION!
Doctor Strange #1
Marvel Comics Writer Jason Aaron, Penciller & Colorist Chris Bachalo, Inkers Tim Townsend, Ale Vey, & Mark Irwin, Letterer Cory Petit Backup story Artist Kevin Nowlan
Another of the all new Marvel books does fare better than Iron Man did. While Aaron's first issue does have exposition that keeps the story down a bit, it does get off to a good start. Because Doctor Strange is not as well know as most other Marvel characters Aaron wisely gives readers a nice recap of him and his powers that didn't get in the way of the story too much. The script is a set up to the series so not a lot really happens in this first issue. It was a pleasant read but I will give Aaron that he sets up things by the end of the first issue fairly well. The big reason the book works so well is Bachalo's artwork. This is one of the best looking Marvel books in a while. Bachalo's art style really lends itself to the Doctor Strange universe. His layouts are very impressive and bring the other dimensions to life in such a beautiful way that is really making this book work well. As a great added bonus there is a five-page backup story beautify drawn by Kowlan that has been missing in comics for far too long. This little story was really good and hopefully will continue in the issues to come. Is this book worth your time and money? While not a home run, the book gets off to a good start with some interesting ideas with the story. Hopefully Aaron can hit the ground running with the second issue of the book. The reason to buy this book is the fantastic artwork of Bachalo and Nowlan. Worth picking up.
Survivors' Club #1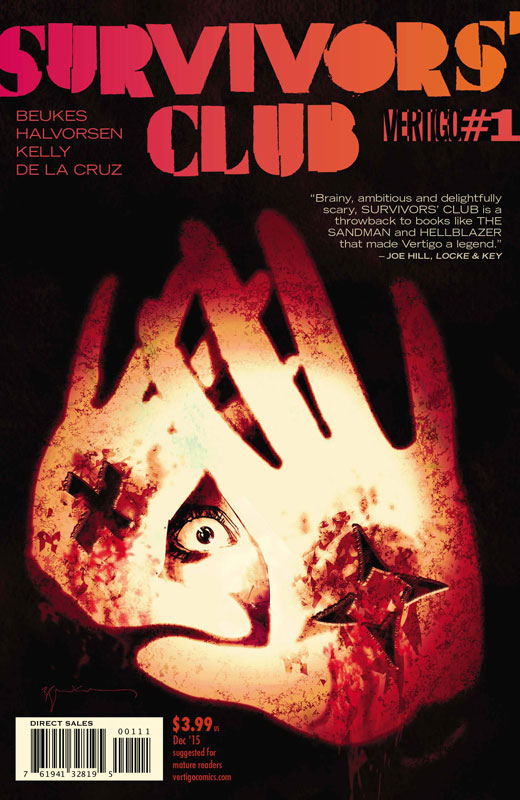 Vertigo Comics Writer Lauren Beukes & Dale Halvorsen, Artist Ryan Kelly, Colorist Eva De La Cruz, Letterer Clem Robbins
One of the first of the new Vertigo book under new senior editor Jamie S. Rich and shows some promise. While the premiss of Survivors' Club is pretty standard Beukes and Halvorsen give the story just enough spin to make it seem different. There is a lot of exposition to get through in this first issue they keep the pace moving forward while still telling the back stories to the cast of characters. There is certainly more questions than answers in the story but I liked the concept of the story even though I was not completely overwhelmed by the first issue. There is going to be a lot riding on the second issue of this book. The art by Kelly is very nice and it may seem that it looks like standard super-hero fair visually he definitely delivers the horror visuals very well. He does a nice job of capturing the creepiness of the script when needed. Is this book worth your time and money? While the book maybe didn't get off to the strongest start there are a lot of elements that will bring me back for the second issue. There are some good ideas here and with the strong artwork by Kelly this book could turn into a winner. Worth checking out.
Paper Girls #1
Image Comics Writer Brian K. Vaughan, Artist Cliff Chiang, Colorist Matt Wilson, Letterer Jared Fletcher
Lately Vaughan is on a real role now with Saga, We Stand On Guard and now Paper Girls. He continues to write some of the best comics now and Paper Girls is another winner. What I love about this book and all Vaughan's books is that the story and the characters feel so natural that is one of the things that works very well here. We get to know Erin, Mac, Tiffany and KJ while he is unfolding the story that creates a great bond with the reader so that when all of the strange things start happening we go along for the ride. While the concept of the story is not new Vaughan has a great knack for giving an old story a new spin and he does it here very well. Playing with time shifting can be a really tricky storyline but Vaughan never lets it get out of control or use it for a cheap effect. Vaughan's script is served very well by Chiang artwork that gives a great visual punch to the story. He really gives the book the subtle look that is needed to make the book work. I was very impressed with the style of his artwork and the book looks fantastic. Is this book worth your time and money? This book gets off to a really strong start and I like how Vaughan keeps a lot of things close to the vest and creates a great mystery that I am very excited to see unfold. This was a really good read this week and I can't wait to read the second issue. HIGHLY RECOMMENDED!
Avengers #0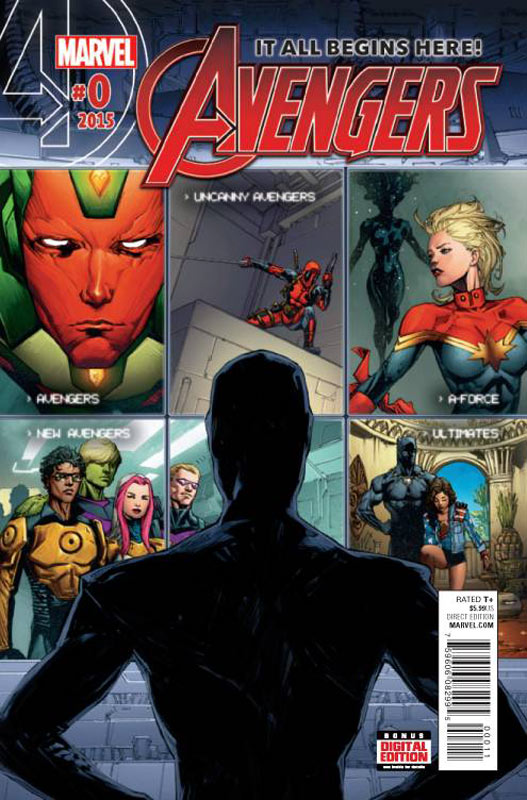 Marvel Comics Writers James Robinson/Mark Waid/Gerry Duggan/Al Ewing/G. Willow Wilson, Artists Leonard Kirk & Paul Neary/Mahmud Asrar/Ryan Stegman/Gerardo Sandoval/Victor Ibanez/Kenneth Rocafort, Colorists Frank Martin/Sonia Oback/Richard Isanove/Dono Snachez Almara/Laura Martin/Dan Brown, Letterers Travis Lanham/Cory Petit/Clayton Cowles/Joe Caramagna/Joe Sabino
I can tell you now that if you are not reading Secret Wars or any of the spin-off titles then your going to be pretty clueless to what is going on in nearly all of the stories. Beyond that problem some of the stories are a mess and incoherent at times. The term train wreck comes to mind and is pretty much a waste of $5.99. None of the stories really go anywhere and at best are side stories that will not lead to any of the ongoing series. At best the only two that were mildly enjoyable were Waid/Asrar Vision and Scarlet Witch and Duggan/Stegman Deadpool and that is not saying much. The other stories were pretty bad with some having the worst dialog that I have read in a while. The art side of things had no real standouts in that department. So please do not waste your hard-earned money on this badly done money grab from Marvel this week. There were so many other comics that are much more deserving of your money and time. AVOID THIS BOOK!