I was planning on getting last weeks new comic book reviews up earlier in the week but got a dreaded cold and that threw a monkey wrench into everything. So I will be covering both this weeks and last weeks comic reviews all in one. Hopefully I can cram them all in before I pass out. Lets get to it shall we.
COMIC BOOK OF THE WEEK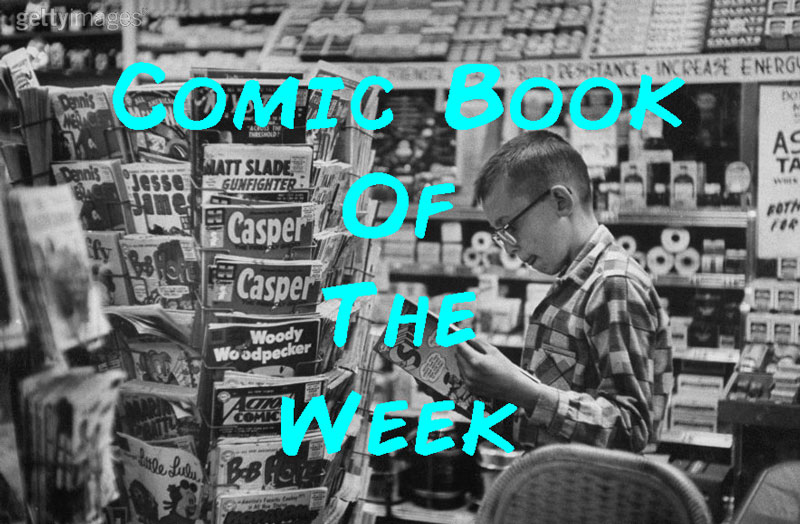 Swamp Thing #1
DC Comics Writer Len Wein, Artist Kelley Jones, Colorist Michelle Madsen, Letterer Rob Leigh
There were just a couple of shinning stars that came out of DC's Convergence mess last year and the absolute best one was Swamp Thing. It was hands down the best and brought back Swamp Thing that had not done well in the later years over at Vertigo. Bringing back Wein was one of the best things that DC could have ever done because who knows the character better than him? If you didn't read the two issue Convergence series your going to be fine reading this new mini series. The first issue does a nice set up job for the story and mixes both the classic Wein Bernie Wrightson mythology and mixes in a bit of the Alan Moore mythology but overall is more in line with the original 1970's series. Wein certainly has fun with this first story that brings the Phantom Stranger and zombies to the party this time. Wein has a great knack for moody horror comics that has been long absent in the regular DC line up and he brings back Swamp Thing with a vengeance. There is no grey area that the script is a real throwback to the original series in both tone and structure and while some of the todays readers might not be used to but as an old school comic book reader this book is a breath of fresh air to a lot of modern comics. Wein does a perfect job of introducing the new cast and setting up the situation that gives the reader a good investment in the plot of the story. A good story is one thing but getting the right artist to make the book work really well is always a challenge. Jones not only makes the book work but takes it to whole other level. I admit that I am a huge fan of his work but this might be some of his finest artwork to date. As with my Convergence review unless Wrightson was doing the book, Jones is the only current artist that is able to bring Swamp Thing to life. He truly infuses the book with the look and tone of the art that makes is a sheer pleasure to read and salivate over the stunning artwork. While I have always felt that Jones work looks better in black and white I applaud Madsen's color work that does a great job of keeping the tone of Jones work but not overpowering it. Few colorist would get this and she really nails it. Is this book worth your time and money? If you're not buying this book then shame on you. I get that people are always complaining that DC never tries new or different stuff and if this mini series doesn't sell well then you have no right to complain anymore. While this is a throwback to the great DC horror comics from the 1970's, its works just as well today as it did back then. Wein and Jones deliver a great book that hits all of the right beats of what a comic should do. If you love Swamp Thing or horror comics then this is perfect for you. If you have never read Swamp Thing this is a great introduction to this fantastic character and gets my HIGHEST RECOMMENDATION!
Mystery Girl #2
Dark Horse Comics Writer Paul Tobin, Artist Alberto J. Alburquerque, Colorist Marissa Louise, Letterer Marshall Dillon
I was pretty impressed with the first issue of this series and I'm glad to say that the second issue does a good job of building on the story in this second issue. Tobin script keeps the mystery of Trine's powers and how she got them still under wraps but he does shed some light on the outside forces that want to use her for their gains. This second issue story does tread a bit but does keep the focus of the story on the right track. I really love Alburquerque's artwork on the series. He really puts a lot of detail into the art. The thing that is very impressive is the emotions that he infuses the characters really makes Tobin's script work really well. Is this book worth your time and money? While the story is still being set up it's going forward at a nice pace and while there is still mystery surrounding Trine I like how the story is unfolding. Tobin and Alburquerque are delivering a nice set up that I hope will start paying off in the next issue. So far so good.
Paper Girls #4
Image Comics Writer Brian K. Vaughan, Artist Cliff Chiang, Colorist Matt Wilson, Letterer Jared K. Fletcher
Vaughan and Chiang's Paper Girls is becoming quite the go to read each month. Vaughan story is unfolding at a very nice pace and is really keeping readers on the edge of their seats. This is a really big story that in a lesser writers hands could be quite the mess but Vaughan is really taking a nice pace with unfolding each issue that gives more clues but opens new questions that pulls together quite nicely. The script is very methodical and the revealing of the time traveling youth vs the old timers is shaping up quite nicely. Chiang's art continues to impress and I really loved the mind meld with Tiffany and how he did the art for the flashbacks. Is this book worth your time and money? Paper Girls is one of those great stories that unfolds at a more delicate pace than most comics and keeps the reader both entertained and wondering what and where the story is going. I've been very impressed with the series so far and this issue keeps me craving more. RECOMMENDED!
Archie #5
Archie Comics Writer Mark Waid, Artist Veronica Fish, Colorist Andre Szymanowicz with Jen Vaughn, Letterer Jack Morelli
This issue Veronica Fish joins Waid on the new journeys of Archie and company and she brings a new fresh art to the party. Waid continues to build on the momentum of the previous issues and yet each issue sort of stands on its own a bit while continuing the story threads. This issue brings Reggie Mantle to the mix and Waid relishes making him quite the jerk and nails his character perfectly. He is also laying the longterm ground work of the tug of war over Archie with Betty and Veronica that has always been a mainstay of the series in the past. Waid brings a timeless charm that really brings the series into the present but never looses sight of what made the Riverdale gang so beloved. He is just telling damn good stories that have been sadly missing from the books for years. Fish is a very welcomed addition to the series after last issues underwhelming fill in by Annie Wu. She brings a great style to the series and gets the visuals back on track. I love her artwork that is simple and yet very detailed at the same time and she has a great knack for facial emotions of the characters that are truly delightful. Is this book worth your time and money? Waid is really delivering some of his best work on this book and is becoming a must read with each new issue. He brought a modern sense to Archie but keeps all of the elements that made it endure for so long. I hope that Fish stays on the book because she is a very welcomed addition with her wonderful artwork. VERY RECOMMENDED!
Four Eyes: Hearts of Fire #1
Image Comics/Man of Action Writer Joe Kelley, Artist and Colorist Max Fiumara, Letterer Thomas Mauer
Joe Kelley has been one of those writers that has done a lot of book but for me nothing that stood out. He is a good go to writer that delivers a decent monthly book. I was hoping that his new mini series Four Eyes would change my mind and sadly it missed the mark for me. The script is not as focused as I would have liked and the main character of Enrico just didn't have enough going for him. Overall the story just didn't really go anywhere. There were some interesting elements that Kelley introduced but nothing of substance to grab onto. The story just plods along and didn't get me very excited to read the second issue. On the plus side the art by Fiumara is really good and made slogging through the story bearable. I was very impressed with the color work of making most of the story black and white while using color to highlight certain elements. Is this book worth your time and money? The book is not terrible but I found the story didn't give me enough to care. There are some good concepts here but without any characters to care about I just found the book pretty boring. SKIP IT!
Rocket Raccoon And Groot #1
Marvel Comics Writer Scottie Young, Artist Filipe Andrade, Colorist Jean-Francois Beaulieu, Letterer Jeff Eckleberry
Another in a long line of post Secret Wars series that didn't need an unnecessary reboot. This is pretty much the nest issue of the previous series that sadly doesn't offer anything new or different. In fact this new "series" gets off to a pretty terrible start that sets up a mystery that I doubt that anyone is going to care about. Young big mistake with the script is that for most of the issue Rocket and Groot are not even in the story and by the time that they show up there is nothing in the story that makes the reader very interested in reading the second issue. Andrade does a nice job on the art but even he can't save this mediocre story with good artwork. Is this book worth your time and money? Sadly this book has become a real mess for both older and newer readers that honestly should not stick around on this book after this mess of a first issue. SKIP IT!
Dead Vengeance #4
Dark Horse Comics Writer Bill Morrison, Penciller Tone Rodriguez, Inker Keith Champagne, Colorist Carlos Badilla, Letterer Nate Piekos
This fun little mini series from Morrison comes to a thrilling conclusion with this issue. Morrison ties up most of the threads with the series but does leave the door open for more adventures in the future. This final issue is quite action packed and he has a lot of fun with John literally falling apart while trying to rescue his daughter. Morrison delivers a fun ending to the series and I enjoyed the action in this issue. At first I was not happy with the ultimate ending of the issue (I will not spoil that here) but upon reflection on it I totally understood why he went with the ending. It was a very Twilight Zone type ending that is supposed to have you a bit pissed off and bewildered. It delivered exactly what he was going for and I applaud him for it. Rodriguez and Champagne really pulled out the stops with the artwork on this issue. From the action to the dramatic elements they have done a wonderful job of bringing the script to life (pun intended) and delivering the visual impact of the story. Is this book worth your time and money? I loved that Morrison brought back a genre of comics that is rarely seen in today's market and I'm glad that Dark Horse stepped up to the plate and published this series. It's rare to find a throwback comic that does a good job of mixing genres and this one really delivered the goods. If you missed the series I recommend that you pick up the trade of the series when it's released.
The Vision #3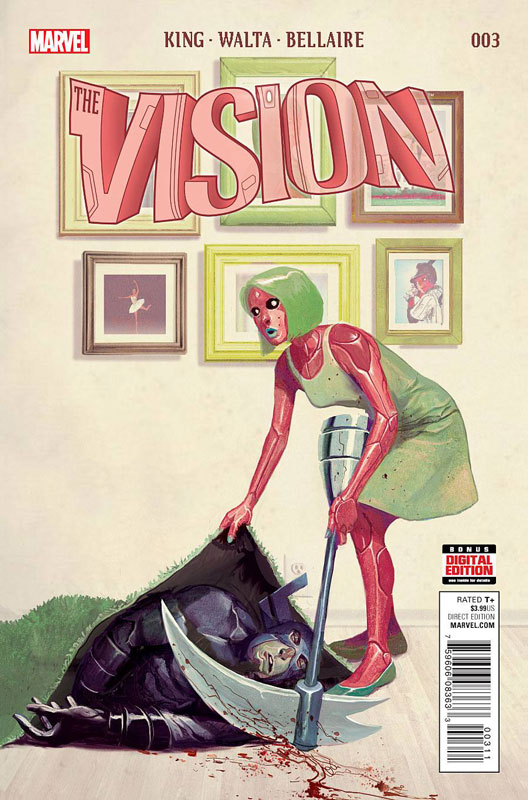 Marvel Comics Writer Tom King, Artist Gabriel Hernandez Walta, Colorist Jordie Bellaire, Letterer Clayton Cowles
I have to admit with most of the reboot all new and all different Marvel books, I would have never suspected that The Vision is one of the best of the bunch. King has crafted a truly unique story from a character that never was an A list character in the Marvel Universe before this series. The thing that I find fascinating with the series is how he is taking a non typical genre in comic, this case classic family comedy/drama and mixed it with superheroes, politics, racism, and human emotions into this sentient robot family story that does not fit into mainstream comics. King juggles so many story elements that could go off the rails at anytime but is able to keep the story flowing very well and very entertaining. I love how he keeps the readers guessing as to what is going to happen next and yet you never feel lost or in the darkness with mystery. He always has you wanting more at the end of each issue. Walta's artwork while a little lean on the backgrounds does a nice job of having the family have emotions while not entirely showing emotions. He handles the very delicate balance of the story quite well. Is this book worth your time and money? Of all of the new Marvel books this one is far above all of the rest. King has really taken this book into a level that is rarely seen at Marvel today. It's a very outside the box superhero comic that is impressive as it is different. VERY RECOMMENDED!
Jughead #3
Archie Comics Writer Chip Zdarsky, Artist & Colorist Erica Henderson, Letterer Jack Morelli
Who knew that Archie's pal Jughead was the smartest and funniest characters in Riverdale. Zdarsky continues to move the story along nicely and having Jughead believing that the new Principal is part of a conspiracy theory is pure genius. The other thing that is impressive with the story is that Jughead knows that he is smart and that everyone underestimates him and uses it to his advantage and they don't even realize it. The Jughead dream sequences are always a pure treat each issue and this one fits perfectly into the main story with him imagining himself as a secret agent is priceless. Henderson's art really fits the stories perfectly and she brings a simple charm with her artwork that make the book a joy to read. She really handles the humor and emotions of the characters perfectly. Is this book worth your time and money? This is a fantastic companion book to the Mark Waid Archie series and is a pure joy to read. Zdarsky and Henderson are perfectly capturing the goody nature of Jughead and making this a must read book each issue. HIGHLY RECOMMENDED!
A-Force #1
Marvel Comics Writer G. Willow Wilson, Artist Jorge Molina, Colorist Laura Martin, Letterer Cory Petit
I didn't like the Battleworld A-Force series and I was hoping that it was because of the whole Secret Wars mess that the book wasn't that good. Sadly that wasn't the case and this new series is a real mess and is quite a shame. I love Wilson's Ms. Marvel book but this is such standard superhero fare at best and this first issue story does very little to compel readers to care about any of the characters or situation. The dialog is pretty amateurish and downright awful at times. The biggest problem is that you feel as if you're in the middle of an already started story that doesn't make a lot of sense or that anything interesting really happens. With all of the hype that came with Marvel promoting this all female superhero group to the outside world, it's books like this that non comic people sample and then don't read any other comics. Molina art is the only good thing about this book. He really does a nice job on the artwork and it's a real shame that his talent is wasted on this mediocre story. Is this book worth your time and money? Nope and here is the reason why. First, we know that Wilson is a better writer than this because of her work on Ms. Marvel. Second this should have been a chance for Marvel to really do something different but instead it's a tired and overused concept that is neither new or good. This is not going to impress anyone. SKIP IT!
Black Magick #3
Image Comics Writer Greg Rucka, Artist Nicola Scott, Color Assists Chiara Arena, Letterer Jodi Wynne
One of the things that I like about Black Magick is the slow burn approach that Rucka is taking with the story. What makes is so interesting is that he has set up the characters to be interesting so that the reader has a reason to care about the mystery that is unfolding. He does a nice balance of crime drama and fantasy elements that blend together in a way that seems effortless. Rucka is one of the few writers that writes both female and male characters and understands how to handle them without making them story tropes or victims that happens way to often in comics. Ro is a strong female character that never feels two-dimensional. This issue starts to uncover some of the mystery but keeps the pace of the story going nicely. Scott's art continues to impress with her near photo real artwork that captures the subtle dramatic elements of the script perfectly. Her attention to detail is very impressive and this is a great looking book. Is this book worth your time and money? If you are looking for a well written and well drawn comic with a great female lead then you're in luck because Rucka and Scott are crafting a very special and impressive comic that is well worth picking up. RECOMMENDED!
Batman Europa #3
DC Comics Writers Matteo Casali and Brian Azzarello, Layouts Giuseppe Camuncoli, Artist Diego Latorre, Letterer Pat Brosseau
Sadly the third issue of Batman Europa stumbles out of the gate and peddles water quite badly. While the story in the first two issues were quite fun, Casali and Azzarello script really doesn't go anywhere to new in this issue and for the most part is pretty stagnate. It didn't seem to really add anything to the overall story and seem to be a lot of stuff from the previous issue. With the hugely long delay in this book one wonders if this is part of the problem with the book. Latorre's artwork is nice with the painted art that is at least giving the book a strong look compared to most regular Batman books and make for a visually striking series. Is this book worth your time and money? This issue was very disappointing and while overall it might work in the end, it really didn't add much from the second issues story. Hopefully the final issue will pull the story together but it's really going to have pull the book back from the brink after this issue that skates on very thin ice indeed.