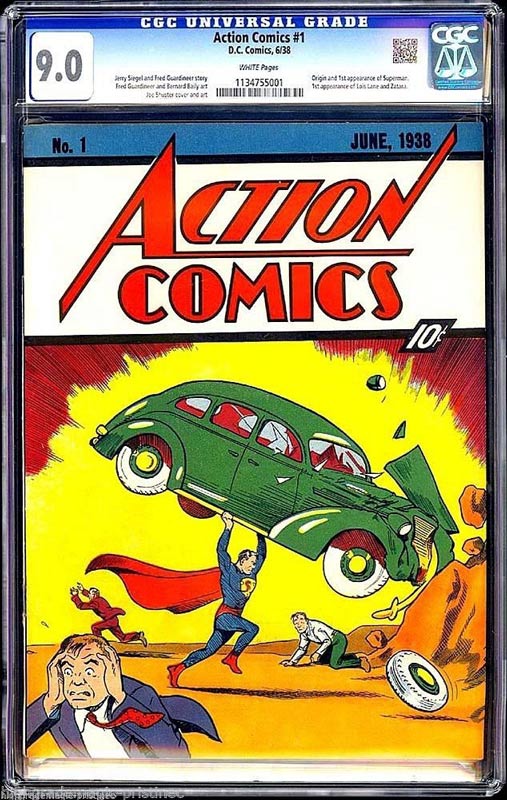 A nearly perfect copy of the most highly sought after holy grail of comics has sold for $3,207,852.00 in the most watched auction in comics history. Rare golden and silver age comics have been setting record prices recently and there seems to be no end in sight. This copy of Action Comics #1 with the first appearance of Superman is considered to be the best condition of the comic currently known. The previous amount paid for a copy of Action Comics #1 was in 2011 for the "Nicholas Cage" copy that was also graded at 9.0  and sold for $2.16 million dollars. This copy was considered better because of the condition of the interior pages that were graded as white nearly perfect condition. Most comics from pre 1945 are had to come by for two main reasons,
1) because of WWII a lot of comics were destroyed for use the war effort so most of them were recycled.
2) Paper quality back then was poor quality and the lignin in the paper. When in contact with the elements it degrades the paper and turns it yellow.
Combine these two issues with kids reading the comics over and over bending the pages, tearing them, getting them wet, etc very few of them survived over the years. The best current guess is that there are about 50 to 100 copies of Action Comics #1 of the aproximitly 200,000 copies that were printed back in 1938.
The really fascinating part of this story is how the copy was found by Joe Mannarino. He tells the story about how he came to find the most valuable comic known:
I began collecting in the sixties and began earnestly collecting more valuable items in the 70's as I was exposed to them through fanzines, price guides, conventions and other collectors. As my income increased, I began to have the means to pursue them.
Usually, I had to find out where something was and make a concerted effort through cash or trade to add it to my collection. As is often the case in life, things do not work out in the order you plan them. While I do not recall the exact date it was during the late seventies that I received a call from a person that I believe had seen a wanted-to-buy ad. I regret not pinning them down but in those days we ran ads in penny savers, local papers and even on local media outlets as well as putting out as much word of mouth as possible. The caller stated that they had a small collection of old comics that had belonged to their father. One of the books was Action 1. After asking them the standard questions in regards to size and glossy cover and armed with the information about the makeup of the other books that had never been reprinted, I decided to take the leap of faith and fly down to West Virginia where the books were located. I should also state that the owners had a full knowledge of the value of comic books because they were looking for thousands of dollars. I now believe what had prompted their call may have been the announcement or rumor of a Superman movie in 1976 or 1977.
I rented a car and drove seemingly straight up to a small town at the top of what was probably the Blue Ridge Mountain range. After the normal amenities, I was shown a hope chest, which is a cedar lined chest that normally sits at the foot of a bed and contains linens and such. When I had the opportunity to see the books, I was surprised that there were so few, only about thirty-five and that they were very eclectic. A Planet 2, Action 2, Disney's, Fox books, Dells, Westerns, War, no real rhyme or reason. The books were not in plastic bags just stacked but sure enough, there was the Action 1.
I was immediately struck by how flat the book was. It seemed smaller that any golden age book I had seen from that period. I thought that it was perhaps a modern reprint that I was unfamiliar with as compared to the Famous First Editions or the 1976 non-glossy reprint. I opened the book to count the pages and was immediately struck by how white the pages were. As I probed a bit more, I learned that the book had been in the same chest for as long as anyone in the family could remember and that it had belonged to their father who had since passed. I compared it in size to the other books and everything checked. Just a remarkably conserved book.
After some painful negotiation I agreed to pay their price and left with the books.
The other great thing that Joe did was contact the Christopher & Dana Reeve Foundation to donate 1% of the sale price to charity. For me this says a lot about Joe and while some people might say that it's for publicity then they are just being negative. The auction got its fair share of publicity and he didn't have to donate a penny to anyone.
There is no denying that rare gold and silver age comic books in very good conditions are a good investment because of their limited numbers and the scarcity of good condition. The only thing that I can see as a downside to all of this is that everyone who has some old comic books will think that they are automatically worth a small fortune are in for bad news. The one thing that people have to understand is that there are some major factors that come into play. Condition, age, rarity, and it has to be a sought after title. There have been literally millions of comics published over the years but only a very small portion are worth real money. Take for example The Walking Dead #1 from Image Comics. It had a print run of 7,266 and while prices for the first printing of the first issue keeps going up the most a copy has sold for is $10,000. The difference is that of the 7,266 print run it's a safe bet that 70% to 80% of those are in good condition and that will ultimately keep the value from going to high. The reason for the current demand for the book is the television show. In 5 to 10 years after the television show is over will the demand for the book still be that high? The key to any comic books value is supply and demand. Higher demand with limited supply will drive prices higher. Low demand or large supply will make the comic worthless. Most comics published from 1980 and up are rarely worth a lot. There are exceptions but the vast majority are pretty worthless. Most of the books are worth real money are pre 1965 and are popular characters like Spider-Man, Thor, Fantastic Four, Batman, Wonder Woman and of course Superman.
Here is the link to eBay auction
In the end everything is only worth what somebody will pay you for it. What may be worthless to you may be priceless to someone else and vice versa. As far as comics are concerned they should be bought to read first and foremost. If they become worth something then great.