We are playing a little catch up here after last weeks whirlwind San Diego Comic Con exhaustion. There are many stories and photos from the show that I will try to get up very soon. The old 9 to 5 job has been super busy so its been a real challenge. So here is this weeks reviews with a few from last week. I will try to get some more recent comic book reviews up soon too. So let's get to it!
Your Pal Archie #1
Archie Comics Writer and Inker Ty Templeton, Penciller Dan Parent, Colorist Andre Szymanowicz, Letterer Jack Morelli
Your Pal Archie is a nice all ages companion book the reimagined regular Archie comic that is done in the more classic style but has a similar updated tone to the Waid counterpart. Templeton does a great job of telling a simple yet very well thought out story here. Sure the book is not edgy but he really nails the humor of the characters and keeps the book quite humorous that gives it a charming quality that makes it work so well. Was also works well for the book is that there are two short stories instead of one longer one that will be a benefit to younger readers and I felt that it helped keep the focus of the story on point. For more seasoned readers this is a pretty light book compared to the regular series but that's what I found worked in the books favor. The first story is self-contained with the second story continues into the next issue that is a good way to get readers to come back for more. Templeton was a perfect choice for the book with both his writing and his lovely inks over Parent's pencils pulls the whole book together very nicely. Parent choice as artist on the book was a no brainer. He nails the classic Archie style that everyone loves but does give the cast some minor updates but doesn't try an reinvent the wheel here.
Is this book worth your time and money? If you're looking for fun classic Archie then you have come to the right place. This is a great all ages Archie book that will please both new and old fans. Smartly updated to current times but at the same time it's timeless. Templeton and Parent are the perfect match here and is a fun little book that will charm you.
Doom Patrol #7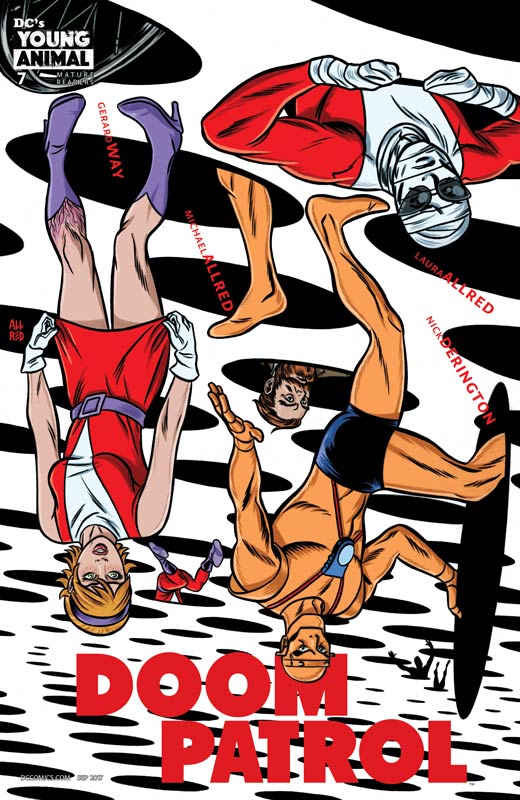 DC's Young Animal Writer Gerard Way, Artist Michael Allred, Colorist Laura Allred, Letterer Todd Klein
This stand alone story is a nice break for the book after the first story arc. While it's not the most new reader friendly, it can be a good way to see what Way is doing with the book. I found the story to be a lot of fun because it had many nods and winks to the original Doom Patrol comic from the 1960's. I'm liking Way's run so far but it's still a little early to see where its going to lan. He needs to get out of the Grant Morrison's shadow that I think is keeping him from finding his voice on the book. It obvious that he was very influenced by his run on the title from the 1990's and this issue is a great step in the right direction. This story has a lot of quirky humor that gives it a great boost and that is why he has Allred on the art duties this issue. Allred's pop art style is a natural fit to this story. He captures the essence of the original series and yet puts his stamp on the current team quite nicely. He is a perfect fit for this book and if Derington needs another issue break Allred is the one to get back on this book.
Is this book worth your time and money? I do like this book but it does fall a little short of loving it. I will give Way that this issue does a good job on giving the book his voice but he is not quite there yet and hopefully with the next story arc he will be able to find it. This story along with Allred gorgeous artwork makes this issue a solid win for the book. If you're looking for something fun and wild then this book is for you. If you haven't read this incarnation of Doom Patrol then this is a pretty good starting point.
Teenage Mutant Ninja Turtles/Usagi Yojimbo One-Shot
IDW/Dark Horse Comics Writer/Artist/Letterer Stan Sakai, Colorist Tom Luth
With all of the crossovers of late there have been very few that have elevated to a must buy but leave it to Sakai for the win. He has been writing and drawing Usagi Yojimbo for more years than I can remember and who doesn't love the TMNT? He crafts the perfectly story here for both old and new fans and captures them all perfectly. What I have always loved about his writing is that he gets straight to the point and never drags out the exposition. In this story he hits the ground running and dispenses with any origin elements because he sets that story up so that you know who everyone is and doesn't drag the story down with unnecessary story. He also keeps it simple and keeps things moving along nicely. What makes the story so fun is that he blends the two worlds together that has a very natural feel and that makes is such a great read. As always Sakai's artwork is a joy yo behold. While on the surface it may see too cartoony but the level of detail and emotions that he puts into every panel is amazing and make sure you take the time to study how he crafts the art so well.
Is this book worth your time and money? While the story is not super deep and nor should it be but what makes it work so well is that its simply a solid and entertaining read with wonderful artwork. Sakai always delivers a solid comic and this is another perfect one. VERY RECOMMEND!
Crosswind #2
Image Comics Writer Gail Simone, Artist Cat Staggs, Letterer Simon Bowland
I wasn't overwhelmed with the first issue of Crosswind but thought there were some good ideas and was willing to give the book another chance. I have to say that the second issue hit the ground running and the book has hit a very nice groove. While the concept is not super original Simone has given the basic story some really great twist and turns that you don't expect to see and that is really keeping readers on their toes. She also doesn't pull any punches either that is giving the book a strong footing and allowing the characters to really breath and take chances with the story. Staggs continues to deliver some of her best work on the book. There are many times in the story where her art is carrying the story without dialog and its a true testament to her talent when you see that. I also love the details that she puts into the characters facial expressions that conveys so much subtle elements of Simone's script.
Is this book worth your time and money? Simone and Stagg are a great combination here and the book hits a great stride with this issue. While the Freaky Friday plot is basic, Simone's writing is taking it to a whole other level that is working very well here. Stagg's artwork captures what the script asks for and then more. Solid story with fantastic artwork make this a comic that is not to be missed. RECOMMENDED!
Wonder Woman #27
DC Comics Writer Shea Fontana, Artist Mira Andolfo, Colorist Romulo Fajardo Jr., Letterer Saida Temofonte
Well this post Rucka story has been a real disappointment from the high bar set and simply has failed to deliver. The problem with Fontana's script is that it's too basic and bland and doesn't really bring much new to the table. The story treads water as your reading it and I found it to be quite boring. There was nothing that you couldn't see coming in the story and I'm surprised the DC went with this direction with the book. Andolfo's artwork is pretty basic here and while it's certainly not bad by any means it did the job with the script and that is about it. There are some nice moments here and there but with the lackluster script there is little that she can do here. With Wonder Woman awareness at an all time hight with the movie, I had really wished that Fontana had stepped up to the plate to at least make the story better than average read. The book is not bad but really disappointing.
Is this book worth your time and money? This story has been a real disappointment and honestly not up to the current standers of Wonder Woman. While the story is OK at best at this point in the game post Rucka that is simply not good enough. This book deserves better. SKIP IT!
Shirtless Bear Fighter #2
Image Comics Writers Jody Leheup and Sebastian Girner, Artist Nil Vendrell, Colorist Mike Spicer, Letterer David Lanphear
This book continues to not only baffle but impresses me at the same time. Honesty the concept of the book is pretty stupid but that is why it works so well. Leheup and Girner throw around clichés in the script that but then twist them around to make it all work somehow. The humor is what is making this book so much fun. I love that they are using basic superhero tropes and throw them into the mix with the book. Simply put I can't really explain why I like this book and why it works so well, but it really does for some strange reason. Each page make the story more outrageous and entertaining at the same time. Vendrell is able to capture all of the wild elements of the story and brings them perfectly to life. He can capture the cartoony and the dramatic elements with ease and really makes this book work so well.
Is this book worth your time and money? This is stupidly outrageous but a real blast to read. I have to give Leheup and Girner for being able to keep this one trick pony going along nicely. This second issue adds some nice story elements to the mix and keeps the momentum of the book on solid footing. I'm really digging this book and it's tons of fun.
Moonstruck #1
Image Comics Writer Grace Ellis, Artist Shae Beagle, Guest Artist Kate Leth, Letterer Clayton Cowles
There have been recent attempts to capture the success and charm of Lumberjanes and has met with mixed results. Moonstruck does quite well on its first outing. Ellis delivers a solid first script that does a nice job of introducing the cast and the world without getting too bogged down with the exposition. One of the things I liked about the story was the way that she slowly unfolded the fantasy elements of the story and that really helped make it so much more believable. While you can get away with a lot with fantasy elements in your story Ellis keeps the story grounded with the characters and that makes a huge difference with the book working so well. Beagle really makes this book shine with her artwork that is a storybook/animation style that blends the real world elements and the fantasy elements perfectly and gives the book a great visual charm. This book has all of the right things falling into place with a great balance of all ages, strong female characters and great story and artwork.
Is this book worth your time and money? What I love about this book is that it hits the sweet spot and has a bit of something for everyone. It's hard to create a comic that is an all ages book that can deliver on both levels but Ellis and Beagle have delivered a charming and original story here and set things up very nicely in this first issue that gives you a lot of great reasons to come back for more. HIGHLY RECOMMEND!
Batman '66 Meets The Legion of Superheroes #1
DC Comics Writers Lee Allred & Michael Allred, Artist Michael Allred, Colorist Laura Allred, Letterer Wes Abbott
Team Allred strikes again with the love letter to both Batman '66 and The Legion of Superheroes. There are so many fun and nostalgic elements crammed into this story that it's bursting with fun, heart and charm. Lee and Michal script is very impressive confiding all of the elements that they have to juggle in the story and yet they keep the story moving along briskly that is surprising and impressive. The story is like every candy equivalent of the everlasting gobstopper because there are so many great things in the story it will make your head spin but in a good way. It also captures what you love about the Batman television series and the comics world of the 1960's and blends them together perfectly. It's also captures that elusive nostalgia element that comics rarely do anymore. This is a book that is a real pager turner because you cant wait to see where it all ends up. Michael's artwork is some of his best here. There is so much that he packs into every panel that demands that you slowly devour every little detail that is there. Laura a great 1960's color scheme that fits the period so well. Few colorist today understand how to not let the color overwhelm the line art but work with it to make it fit seamlessly with it and Laura is simply one of the best in the business and makes this book pop!
Is this book worth your time and money? Batman '66 team up comics have been a little mixed lately but this is the real cream of the crop. There is so much packed into these 20 pages than in most four issue mini series. The Allred's have really outdone themselves with this one and it's going to be hard to top. This book is the most fun comic that you will almost ever read and doesn't get much better than this. HIGEST RECOMMENDATION!