Quite a few new series hit the shelves this week including even more new DC Rebirth titles. We also have a few returning books that hit the review stack this week so let's get going, shall we.
Cyborg #1
DC Comics Writer John Semper Jr., Penciller Paul Pelletier, Inker Tony Kordos & Scott Hanna, Colorist Guy Major, Letterer Rob Leigh
I was not overwhelmed with the Cyborg #0 issue last month so I was hesitant to pick up this real first issue. While it was an improvement over the prequel issue, it still ended up being just OK. Semper has the same problem that plagued the #0 issue with the fact that the story is pretty much exposition and yet nothing really happens and little character development ends up happening. To add to the problem is that the story structure is pretty basic and bland that ends up being an underwhelming read. On the plus side as with the zero issue Pelletier's artwork is the real bright spot of the book. He does bring a nice visual style to the book and considering that most of the first issue is littered with dialog he at least tries to make that visually interesting as best he can.
Is this book worth your time and money? While I like Cyborg as a character I just don't see him working in a regular series. There are some characters that just simply can't support a regular ongoing series and if this first issue is any indication then Cyborg is just that. For regular and new readers there is just not enough here to get excited about. A bland and by the numbers story doesn't help the book at all and Pelletier's artwork can only do so much at that point. SKIP IT!
Raven #1
DC Comics Writer Marv Wolfman, Artist Alisson Borges, Colorist Blond, Letterer A Larger World
The second New Teen Titan to get their own book this week is Raven and suffers the nearly same sad fate as Cyborg. While this book is only six issues and gets off to a marginally better start it has a lot of the same problems that Cyborg suffers from. While it's very nice to see Wolfman back writing one of the characters that him and George Perez created for the New Teen Titans back in the 1980's, she has drastically changed from that period that might not please older readers. While the changes are not the biggest problem here. Unfortunately Wolfman's story is simply not very engaging here and that is a shame because he really gives Raven a lot of great emotional moments and does some nice dialog in the book. The bigger problem is that the overall story is not very fresh and is pretty basic. Borges artwork has some really bad problems. There are many times where the characters facial are very off model and simply downright ugly at times. It's a real shame because she does some nice artwork in the book but when you really notice how bad some of the art looks at times is far too distracting and really takes you out of the story.
Is this book worth your time and money? I really wanted to like this book and there are times where it's quite good but overall it really misses the mark and the story is not overall compelling or satisfying.  Add in the very inconsistent artwork and this book just doesn't cut it. SKIP IT!
Trinity #1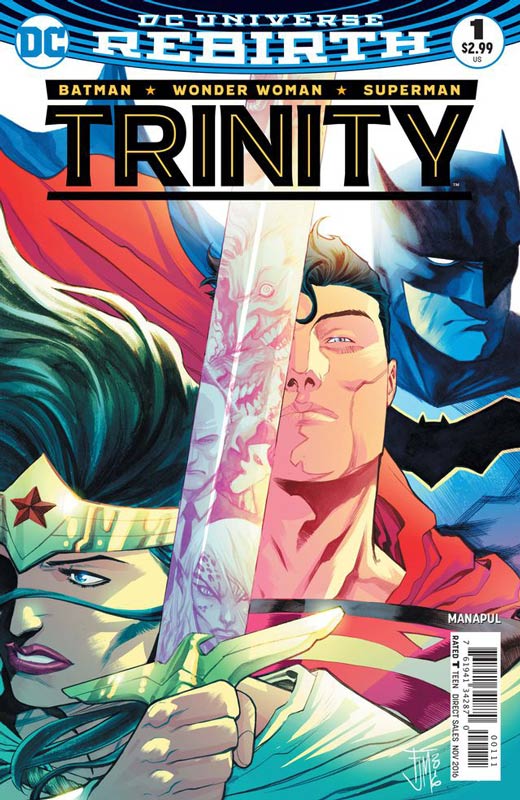 DC Comics Writer and Artist Francis Manapul, Letterer Steve Wands
I have never thought that a regular series with Superman, Batman and Wonder Woman made a lot of sense I have to hand it to Manapul that he gets the book off to a decent start. While this first issue is primarily exposition he comes up with a simple idea to get them all together for dinner that does make a lot of sense. While I'm not sure how many story ideas that you can come up with to have them all hang out together at least this first one works. While I still don't like the whole Superman not being Superman in the current DC Rebirth books at least Manapul addresses it better than the other writers have in the other Superman books. With this first issue there is a bit of a slow burn of the story with not much going on but he does some nice dialog and is a nice character study at least. His artwork is where the book really shines and his use of inventive layouts and wonderful facial expressions really give the book a nice and warm feel that makes the slower story pacing a bit easier to swallow.
Is this book worth your time and money? While this first issue is not going to knock your socks off it is a bit like comfort food. I hope that Manapul gets to a little more meat in the storyline in the next issue and gives the book a solid direction. While not perfect it a good read and with the wonderful artwork is worth checking the book out. It definitely has promise.
Seven To Eternity #1
Image Comics Writer Rick Remender, Artist Jerome Opena, Colorist Matt Hollingsworth, Letterer Rus Wooton
The first issue of this series is a bit on the chaotic side with a lot going on but you are not quite sure of what the point to all of it is. Remender is for me a writer that is has a lot of good ideas his execution is sometimes sketchy. It's alway a challenge to start a series off in the middle of an ongoing story idea and the writer needs to make sure that the reader doesn't feel too lost in it all. Remender throws a lot at you with the story but a lot it never really seems to stick and the main character Adam is not very compelling at least in this first issue. I will give Remender that there are some very interesting ideas that he throws out in the story that will garner a second issue to see where he is going to take the story. The biggest win for the book is the gorgeous artwork of Opena that is not only striking but has a very nice amount of detail and tone that really gives the book a nice boost. He really helps the reader with the weak story structure and helps put it back on track a number of times.
Is this book worth your time and money? The problem that I had with the book is that there is both too much going on and not much going on at the same time. Remender script stumbles out of the gate on this first issue but there are some interesting ideas and the beautiful artwork of Opena will get me to give the book a second issue for sure. A bit middling but not a total loss either.
Britannia #1
Valiant Entertainment Writer Peter Milligan, Artist Juan Jose Ryp, Colorist Jordie Bellaire, Letterer Dave Sharpe
Britannia is a book that has a lot of story packed into a first issue. There is a lot of story going on here and Milligan mixes history with fiction that makes for an interesting but slightly unsatisfying read in this first issue. There are a lot of story elements that I liked in this first issue but it was also a bit of a slog while your reading the book. It was like a marathon to see if you could last with all of the dense story and dialog that Milligan throws at you. There were many time where I was not sure where he was going with the story but I will give him that there are some interesting ideas that he throws into the mix with the story. Ryp's artwork is very impressive and is one of the best looking books to come out of  Valiant. His line work is superb and the amount of detail is quite impressive. He really helped flesh out Milligan's story and moved it along nicely.
Is this book worth your time and money? Milligan really sets up a very epic story and while the first issue has a bit of structure problems there are some good ideas here. Overall I'm not sure how I feel about the book. There are both good and bad points to it but I have to give credit to Rup's lush artwork that made it nearly worthwhile. Not sure if I would make a second trip back but the artwork might help me come back for a second try.
Black Hammer #3
Dark Horse Comics Writer Jeff Lemire, Artist Dean Ormston, Colorist Dave Stewart, Letterer Todd Klein
This book is not only the best of the bunch this week but is really working its way to the top of the must read list very quickly. Lemire has really struck gold with this story. I love how he not only keeps the story moving forward each issue but continues to infuse the back stories of the characters at the same time. Very few writer can pull this off but Lemire does it with such ease that it make for a very enjoyable and satisfying read each issue. There are so many layers that he delivers in the story that really keeps the readers on their toes and adds such great twist and turns to the story that not only delivers but leaves you wanting more. What really brings this book together is Ormston's artwork that give the book a perfect visual tone that not only complements the Lemire's script but brings it to life that delivers a truly great comic book experience.
Is this book worth your time and money? So many comic books try to be epic and most fail because they simply try to hard. What makes Black Hammer work so well is that both Lemire and Ormston deliver a truly effortlessly story that never over does it or forces things. It an epic story that really draws you in and makes you feel the story. It also leaves you feeling like you got more than most books give you a sense of wonder and awe that many try but few deliver. This book truly delivers. HIGHLY RECOMMENDED!