Were back on schedule here at Pop Culture Maven until San Diego Comic Con comes and throws a monkey wrench into the schedule. Lets get to the reviews.
Broken World #2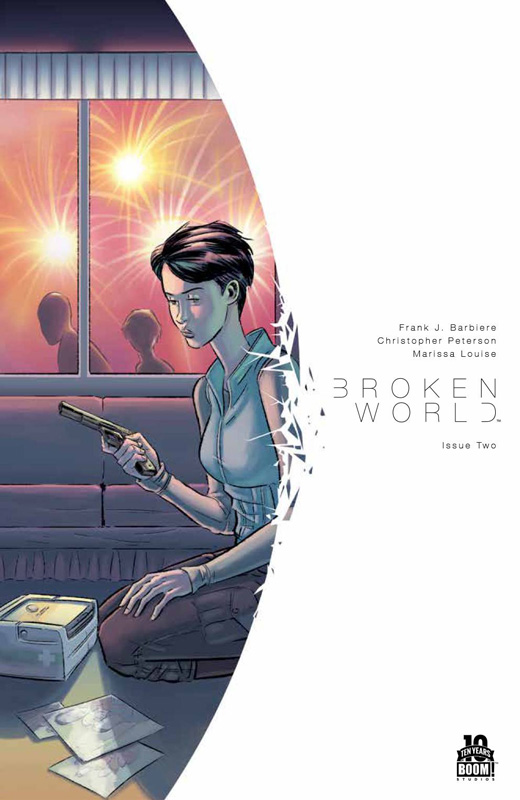 Boom! Studios Writer Frank J. Barbiere, Artist Christopher Peterson, Colorist Marissa Louise, Letterer Ed Dukeshire
The first issue of this book got off to an interesting idea and was left with a pretty impressive cliffhanger. The second issue gets right back to the people who are left on earth after the asteroid missed earth. Barbiere second issue while good does tread a little water compared to the first issue that was very good. The story seemed a bit padded and while there are still some good ideas the book did lose a bit of steam with this second issue. The artwork by Peterson is decent and does the job but never really quite leaps off the page. Not bad but just gets the job done.
Is this book worth your time and money? The first issue was really good but the second issue did not capture the excitement of the first issue. The next issue is going to be a make or break it for this book. Barbiere really needs to step it up in the next issue for me to continue the book.
Groot#2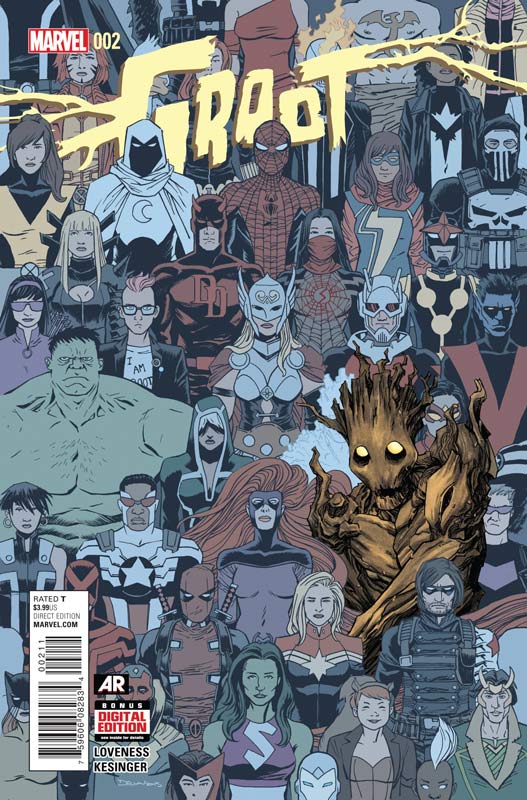 Marvel Comics Writer Jeff Loveness, Artist and Colorist Brian Kesinger, Letterer Jeff Eckleberry
With the first issue was a real blast and a very nice companion book to the Rocket Raccoon book. The first act of the story had me a little worried because it just seemed to retread the ideas of Groot floating in space looking for Rocket but Loveness brought it back on track with how Groot and Rocket first met each other and lead it into the great ending of the second issue. Loveness brings a nice light tone to the script and keeps the pacing of the story right on track. Kesinger's art is for me the big draw of the book. His natural animated style is so perfect for this book and make reading it such a joy. He does an amazing job of capturing the essence of Groot perfectly.
Is this book worth your time and money? I am really enjoying this book because it's just so much damn fun. Loveness and Kesinger have done a wonderful job of capturing the spirit of what we love about Groot and continue to deliver a wonderful read so far. Hopefully they can keep this book at the high level of quality that makes it work so well. RECOMMENDED!
Bob's Burger #1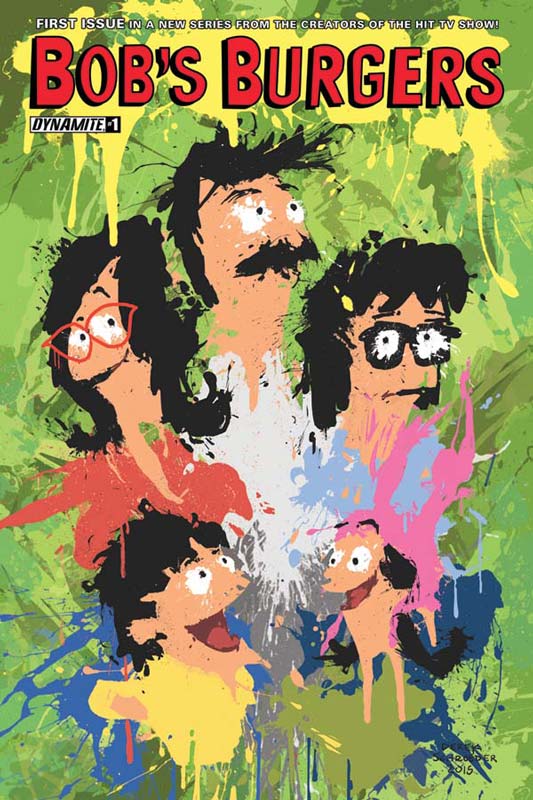 Dynamite Writers Brian Hall/Mike Olsen/Justin Hook/Loren Bouchard, Artists Frank Forte/Hector Reynoso/Anthony Aguinaldo/Ryan Mattos/Derek Schroeder
Now an ongoing series the book continues the format of a short story for each of the kids and while that keeps things fresh each issue I had hoped that they would mix things up for the new series. The book is definitely made for fans of the show and if you have never seen the show your probably going to be lost as to what is going on. This issue stories are pretty solid but I was very impressed with the Gene story that is told in rhymes and the art is done in Little Nemo in slumberland style. Thankfully the other two stories are quite good also. I did like that the artwork was a little more loose and allowed the artist to not have to stick to close to the animated models. I really liked the fact that they are letting the comic have a more varied style and I hope they keep this going forward.
Is this book worth your time and money? As a fan of the show I like the book but I really hope that they don't keep the kid based stories like the mini series did. That format can be hit and miss and I hope that future issues of this new series will have some whole family stories. If you're a fan of the show your going to enjoy this book but if you have never seen the show then you need to watch it then you will want to pick this book up.
Here is a look at the exclusive SDCC cover for issue #1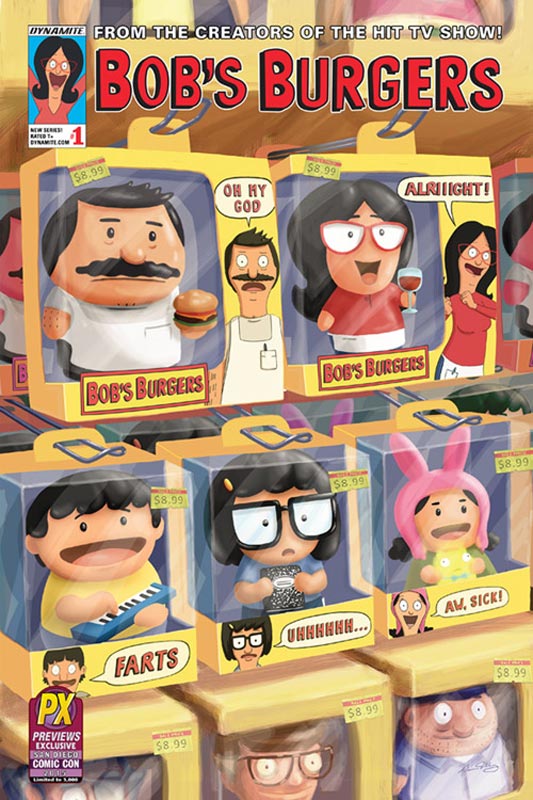 The Omega Men #2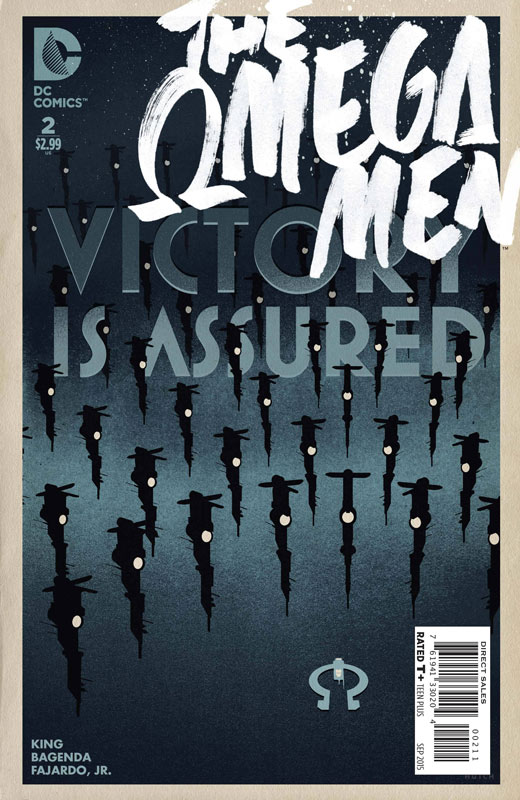 DC Comics Writer Tom King, Artist Barnaby Bagenda, Colorist Romulo Fajardo Jr., Letterer Pat Brosseau
The second issue continues to set up the cast of the Omega Men and we are just starting to see what the reason for breaking out of prison and how Kyle Rayner fits into the group. King is still setting up things in this issue and while the story is moving forward I would have like to found out a bit more than I did with this issue. On the other hand there is a lot of set up and the payoff looks to be quite good once we get there. King does give a lot of time to the overall story and it appears that the book is one that will work better as a whole than as a monthly story wise. Bagenda continues to impress with the artwork and is using the nine panel per page layout but still allowing it to break out of that when needed. He does a great job of capturing the drama of King's script and bringing this book to life with the art.
Is this book worth your time and money? I'm still enjoying this book but the second issue is showing that this is one of those long-term story lines that is going to work better in one reading. King is setting up quite an epic and while there is not a lot on the surface for some, I do like the direction that he is taking the story. He has me for the next few issues to see where the book is going. I like what I have read so far.
Midnighter #2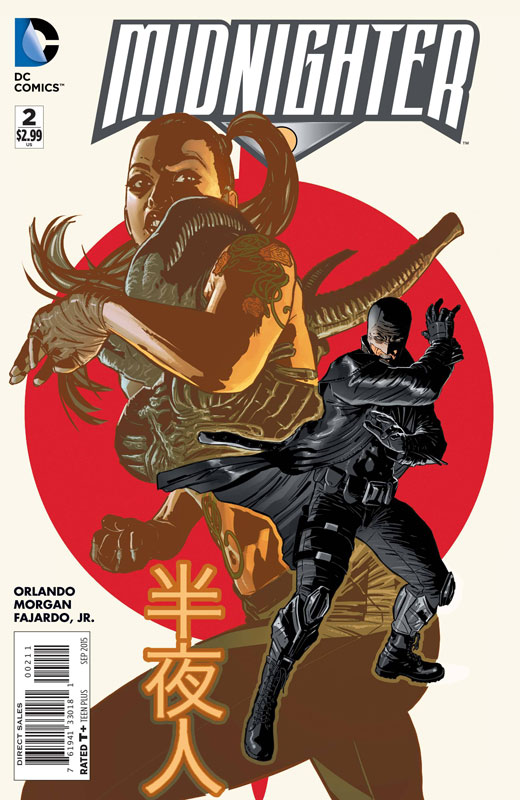 DC Comics Writer Steve Orlando, Artist Alec Morgan, Colorists Romulo Fajardo Jr. and Allen Passalaqua, Letterer Jared K. Fletcher
The first issue of this book really blew out of the gate and it was going to be tough to top it. Thankfully Orlando set things up for the series and while the second issue may not be outside the box like the first issue it's still on a solid track. Orlando does a nice job of balancing the action with the great character development. What is making the book work so well is that he is making Midnighter more than just an action book but giving the book the much-needed human drama that looks to make this book work on a long-term. This second issue was a great continuation of the first issues momentum. I have to give props to Morgan for having to follow-up Aco artwork from the first issue. His artwork is more straight forward he does a nice job with the art. It was a bit surprising to have a fill in artist on just the second issue but Morgan keeps the book looking good.
Is this book worth your time and money? I was very impressed that the first issue of this book was not a fluke. This second issue really show where the book is going with the only a slight hesitation that Orlando doesn't get trapped in the villain of the month scenario. This continues to be one of the books to watch from the new DC relaunch. This is a nice fresh look at the superhero genre. VERY RECOMMENDED!
The Spire #1
Boom! Studios Writer Simon Spurrier, Artist Jeff Stokely, Colorist Andre May, Letterer Steve Wands
This is one of those books that has a lot of promise but gets tripped up by a few things. Spurrier concept for the book is quite good but unfortunately the story stumbles over some big problems. First the story has some focus problems when it jumps around and you're not quite sure what is going on. The main character of Sha is not fleshed out as well a I would have liked but that is not fatal and probably be fixed in the next few issues. The biggest problem is the dialog. The book is way too cluttered with dialog that just drones on and really loses focus of the story. I actually got board while I was reading it. This is where the book really falls apart and it's a shame because there is a lot to like with the concept. Stokely's artwork is quite nice with a very European feel that fits the tone that the story is trying to go for. I have to give it to Stokely that he made the book a lot more enjoyable while I was trudging through the tons of dialog.
Is this book worth your time and money? It's a shame about this book because the ideas that Spurrier presents with the concept is really good but with the way too heavy dialog and the story jumping around and somewhat confusing I can't really recommend the book. It's a shame because I really wanted to like it and the artwork is really good but it just doesn't come together as well as it needed to. SKIP IT.
Airboy #2
Image Comics Writer James Robinson, Artist/Colorist/Letterer Greg Hinkle
One of the wildest books to come along in a long time continues this issue. Now their drug induce hallucination/bizarre reality now include Airboy going around San Francisco with them. While some would see the story as shock value writing and in some ways Robinson is doing just that but, he also is blurring the lines between what is real and what we think is real. The whole thing is kind of What If type story. This book is certainly not going to be everyone's cup of tea but once you get past the shocking value parts, Robinson has crafted a real ingenious story here. Hinkle's art is still amazing and I love how he uses full color for Airboy and his universe. This is a great looking book.
Is this book worth your time and money? I am very impressed with this book and while there are times where Robinson throws in shock value it never seems like a cheap shot. Both the story and artwork are making this a very special book and one that is well worth reading. VERY RECOMMENDED!
Barb Wire #1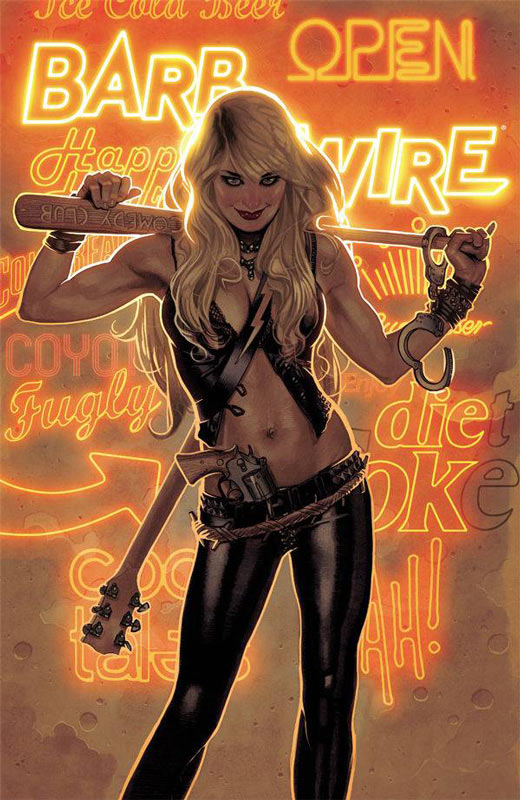 Dark Horse Comics Writer Chris Warner, Penciler Patrick Oliffe, Inker Tom Nguyen, Colorist Gabe Eltaeb, Letterer Michael Hisler
Dark Horse comics is trying to revive their superhero line from the 1990's and as with the first time it's kind of swing and a miss. Warner who created the character does know her quite well and does a very good job of getting new readers up to speed on the character. The only problem is that not a lot really happens in the first issue beyond that. Sure there is a bar fight and general ass kicking by Barb Wire but it never really seems to go much of anywhere. So you are left with neither satisfying new or old readers with this one. Oliffe and Nguyen artwork does make the book a bit better than it is with some really gorgeous artwork that does help the book along but unfortunately they can's save it as much as they try.
Is this book worth your time and money? This is one of those books that falls into the MEH category. It's neither really bad or really good and falls into that very average category. Sadly the book never really takes off and with way too many superhero books on the stands this one is one that you can pass on. SKIP IT. 
Onyx #1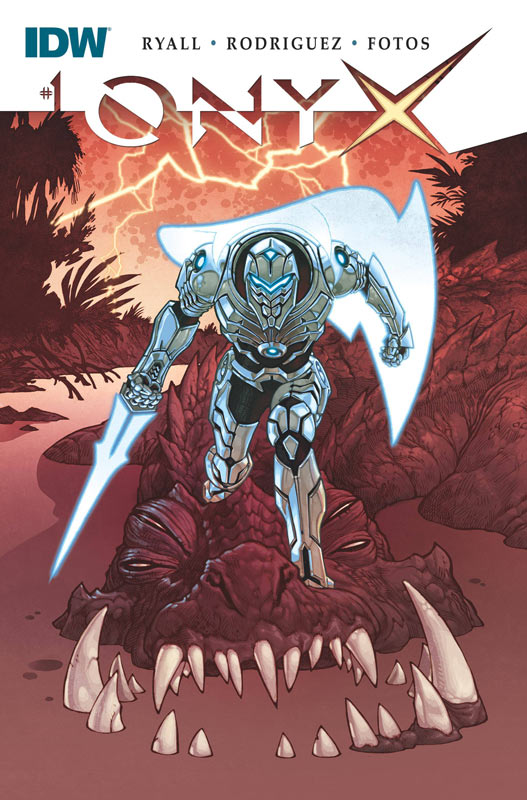 IDW Writer Chris Ryall, Artist Gabriel Rodriguez, Colorist Jay Fotos, Letterer Shawn Lee
Onyx has an interesting premiss but the problem is that the concept has been done before. Ryall script does all of the right things that the story calls for but it didn't bring anything new to the idea. Aliens come to destroy earth, hero from other world that aliens destroy is here to save the earth, government does not trust hero and want heroes technology. If that sounds familiar then you are right. Ryall should have tried to spin the script into a new direction instead he follows the paint by numbers concept and that is where it fails. Rodriguez's artwork is very good and the real bright spot of the book. The artwork is great and he handles both the dramatic and action scenes very well. It's just a shame that his talent is wasted on an average story.
Is this book worth your time and money. I really wanted to like this book unfortunately is a worn out concept that brings nothing original to the idea. Average story with great art will only get you so far and in this case only the first issue is the one that I will buy. SKIP IT.
We Stand On Guard #1
Image Comics Brian K. Vaughan, Artist Steve Skroce, Colorist Matt Hollingsworth, Letterer Fonograkiks
This book really blew me away. Vaughan has crafted a gripping and fresh take on a future dystopian world after the war with the US and Canada. First off a war between Canada and the US brings up a lot of possibilities that do not tread on the familiar tropes that are normally used in this type of story. Vaughan has crafted a very intense first issue with lots of great character set up and does a nice job of catching you off guard for most of the issue. While there are some familiar ideas he does a very nice job of making them feel fresh here. Skroce's art is amazing and the detail that he puts into the art is very impressive. His balance of action and drama are very impressive and really helps drive the book home and makes it work so well.
Is this book worth your time and money? YES! this is one of the best comics this week. Solid and well told story with a great forward momentum for the concept. Brilliant artwork that captures the subtle and the large scope of the story made this a great read. I certainly can not wait for the next issue. HIGHLY RECOMMENDED!
Bizarro #2
DC Comics Writer Heath Corson, Artist Gustavo Duarte (Guest Artists Kelly Jones/Michelle Madsen/Francis Manapul), Colorist Pete Pantazis, Letterer Tom Napolitano
This is one of the top two new books to come out of the DC relaunch (the other being Prez) and Corson and Duarte continue to bring one of the freshest takes on a DC character in recent years. Corson keeps the story light and fun as Jimmy and Bizarro travel cross-country. This issue they stop in Gotham City and Central City along with a quick trip to the LexMart. The thing that I really love about the book is that Corson is keeping the idea simple. Sure the book is goofy and silly but that is why it's so charming. It also is allowing the story to go wherever it needs to. Some might find the book to silly but in a sea of dark and depressing superhero genre that has plagued mainstream comics for too long make this book a well deserved fresh breath of air. Duarte's art is some of the best art to grace a DC book in a while. With a wonderful cartoony style that make this book a visual feast. This is a great looking book that Duarte keep the insanity of it all visually on track.
Is this book worth your time and money? I will agree that this book is not going to be everyone taste but if you are looking for a truly refreshing take on a superhero genre then you must get this book. Some people would find that some of the story feels random and they are right because when you are on a road trip things are VERY random. Corson and Duarte keep you guessing as to what is going to happen next in the book and that is what I am loving about it. HIGHLY RECOMMENDED!
18 Days #1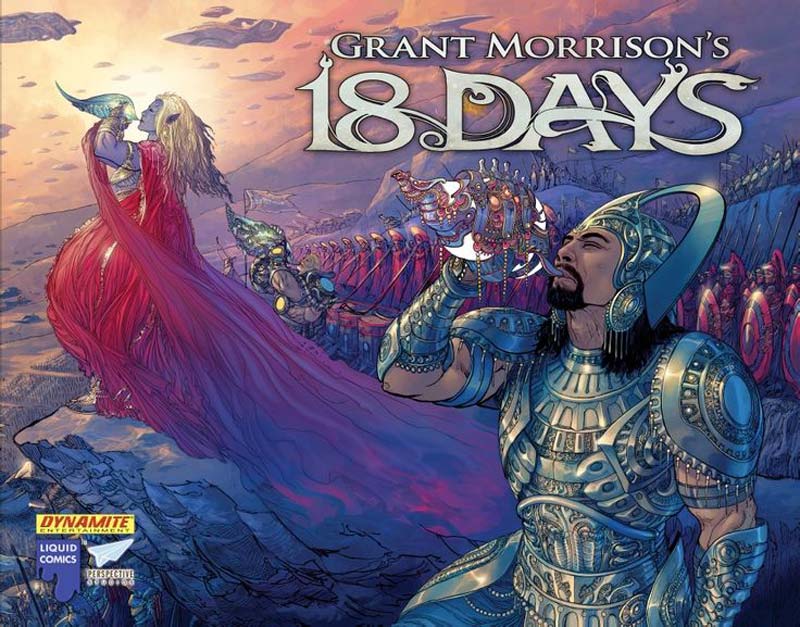 Graphic India Writer Grant Morrison, Artist and Colorist Jeevan J. Kang, Letterer Aditya Bidikar
Morrison give his take on the Indian mythology of Mahabharata and the book gets off to a slow start. Morrison blends the mythology with Lord of the Rings and the story kind of just sits there for this first issue. There is a whole lot of exposition going on here but I never really connected to the story. Morrison tries to cram so much in this first issue that could be part of the problem. It also doesn't help when it feels like nothing is really happening or going forward with the story. This first issue seems more like a prequel than a first issue. Kang does a nice job on the artwork and makes i look like a classic storybook artwork that does fit well into the story. Nice clean line work that helps you try to figure out the story but he can only do so much.
Is this book worth your time and money? I will Graphic India with having the first issue for only $1.00 will get people to buy the book for sure. Having Morrison as a writer is not going to hurt things either. Unfortunately the book gets off to a slow start and that is really going to hinder the book in the long run. Morrison give a pretty straight forward script it's just suffers from too much exposition and never really quite goes anywhere. The story could be really good in the long run but you would be hard pressed to see it in this first issue. For a buck it's worth a throw to give it a shot for yourself. I didn't hate it just very underwhelmed with it.
WIll Eisner's Spirit #1
Dynamite Writer Matt Wagner, Artist Dan Schkade, Colorist Brennan Wagner, Letterer A Larger World Studio
There is a lot of expectation when you dare to do Will Eisner's classic The Spirit. The last outing over at DC had Darwyn Cooke at the helm and he really nailed it. While Dynamite's new series may have not reached those heights it's a respectable start to this new series. Wagner is a perfect choice for writing this book because he understands the pulp nature of the character. He obviously knows the original source material and thankfully he keeps the cast feeling the same. He wisely doesn't try an re-invent the wheel here and for the most part it works rather well. Wagner is very bold in not having the Spirit in the first issue and it does create quite a fascinating story. While the story is not perfect I think that it does show a lot of promise. Wagner is a good writer and while the first issue is not amazing it is a solid start to the book and if he is able to continue to capture Eisner's characters this book could be really good. Schkade's art is good but there are times where there are inconsistencies that are a little distracting. It appears that Wagner is laying the book out for him and while I could be wrong if you look at page 7 it looks much more like Wagner than Schkade's art. I would have love for Wagner to draw the book Schkade is a lot better than most of the artist that do Dynamite books.
Is this book worth your time and money? While it's not as good as the Cooke version from DC it's a good start to the series. The Spirit comes with very high expectation because of Eisner but this incarnation has potential for the book. I was not blown away but did enjoy the first issue and will stick around for the first story arc to see where Wagner is going to take the book. If you are a fan of The Spirit then you should give the book a try.