Why does it always seem that when you have a holiday on a Monday that makes the work week shorter seem so much more busy and you never quite know what day it is. Well new comics still came out on Wednesday but trying to get the reviews up seems harder this week. So lets get cracking.
Green Arrow #1 (Futures End)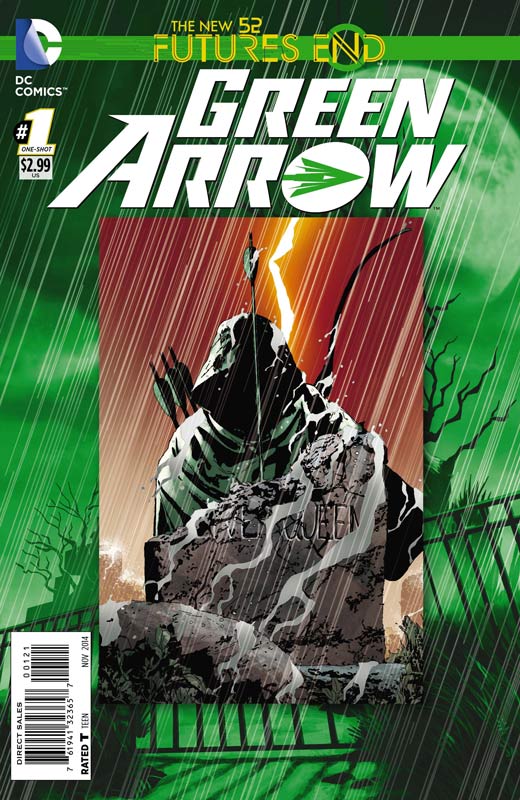 DC Comics Writer Jeff Lemire, Artist Andrea Sorrentino, Colorist Marcelo Maiolo, Letterer Dezi Sienty
DC 3-D cover gimmick is back again this September to get people to buy books that they would not normally buy. The plot from DC is, Green Arrow is dead – and his replacement finally stands revealed! All of the September #1 comics take place 5 years later and heavily tie into the Futures End series. While last years villains month was mostly friendly to new readers this event months books are not. At least in the case of Green Arrow. While the issue is done by the current creative team of Lemire and Sorrentino the problem is that if you have not read the first issue of Futures End then you are going to be totally lost with this story. Not only that but the story is continued in Futures End #21. It's the last issue by Lemire and Sorrentino and for me the whole Futures End tie in really killed it for me. The problem is that having the whole thing tie into an event comic is the problem with both DC and Marvel. The book has been a really good read during the run but the ending just left things up in the air and unfinished.
Is this book worth your time and money? I really wish that the creative team had been given the opportunity to close their run out on its own. While the issue is well written and beautifully drawn, I was left unfulfilled with it in the end. I am sad to say the run went out with a whimper instead of in style. It could have been a lot worse. A marginal recommendation on this one.
Cloaks #1
Boom! Studios Writer Caleb Monroe, Artist Mariano Navarro, Colorist Gabriel Cassata, Letterer Ed Dukeshire
Yet another mini series from Boom who has really been throwing a lot of new book out there lately. The plot from Boom! is, In the Big Apple, a highly skilled street illusionist named Adam blows the minds of crowds with logic defying acts, while surreptitiously using his artistry to steal from corrupt Wall Street investment bankers and redistribute their ill-begotten wealth to those in need. He's a modern-day Robin Hood, but his travails garner the attention of the local authorities. While evading their pursuit, Adam is confronted by three suits and quickly ascertains that freedom has a cost-in order to maintain his liberty, he must join this clandestine Black Ops organization simply known as CLOAKS. While I was not shocked by the ending that you could see a mile away I was rather taken by the book. While the story is the pretty basic Robin Hood myth I did like the use of magic angle to the story. Sharp readers will note the similarities to the recent film Now You See Me but I think the thing that worked well was the main character of Adam. He came off well and was very charming in the story. Monroe story was a little too by the numbers but he was setting up a lot of exposition in this first issue. I do hope that he does a bit more spin with the story in the next three issues. Navarro's art was a real step above the usual Boom! comic artwork. I did like that it had a bit of a cartoony style that I think helped the story along. He did a nice job on the characters facial expressions that was a very important part of the story.
Is this book worth your time and money? I did find the first issue very charming and it did make me look forward to the next issue. Hopefully Monroe and Navarro will pull a nice trick off with the mini series. While the story is very familiar territory I felt that the simple nature of the story did help it along. It didn't try to be bigger than it really was. It was a nice read this week.
The Names #1
Vertigo Comics Writer Peter Milligan, Artist Leandro Fernandez, Colorist Cris Peter, Letterer Carlos M. Mangual
Milligan has written some really good Vertigo Comics in the past (Shade the Changing Man) and I was excited to see what was next and now we have The Names. The plot from Vertigo is, New York City. Forty-year-old Kevin Walker is a successful trader. He's incredibly rich. He has a young, sexy wife and a son he adores. He has everything. Until The mysterious man known as the Surgeon walks into Kevin's office. He takes a seat and tells Kevin to write a suicide note. Trembling but obedient, Kevin does what the Surgeon says. Then, at a word from this well-dressed figure, Kevin jumps out his window and falls fifty stories to his death. THE NAMES is a dark, contemporary thriller set in the world of Big Money: hedge funds, leveraged buyouts, market raids, flash crashes. High-end finance that can ruin entire economies, run by a cabal of the world's richest (and sickest) people. Now, it's up to Katya Walker – the beautiful and deadly wife of the late Kevin – to take on this hidden power structure and find out who killed her husband, and why. No matter what it takes. No matter who she has to kill. It's The Wolf of Wall Street meets Kill Bill. And heaven help the 1%. Milligan show us how a first issue is done here. The story is intriguing and complicated but you never feel lost or rushed. He really sets up the story that is like a good appetizer for a great meal. He really leaves you wanting more after this first issue. There are a lot more questions than answers but the thing that I really liked is the questions that were being asked in the story. Milligan has created a strong female lead in Katya and yet she has a vulnerability at the same time. She has been thrust into a situation that she was not prepared for but steps up to solve the mystery. Fernandez's art is a real find for this book. The subtle detail that he put in the artwork is really amazing. While there were a few times that the backgrounds were a little sparse, that is a minor issue. He does some really nice layouts that really complement the story.
Is this book worth your time and money?  I was very impressed by this first issue and can't wait to see what Milligan and Fernandez have up there collective sleeves for the eight issue mini series. A really strong start to the story that had really great characters and intriguing situations. I think the interesting thing about the story is not the questions that are being asked, it's the way that the questions are presented that drew me into the story. HIGHLY RECOMMENDED!
Rocket Raccoon #3
Marvel Comics Writer and Artist Skottie Young, Colorist Jean-Francois Beaulieu, Letterer Jeff Eckleberry
Young continues the first storyline of this new book. The plot from Marvel is, Everyone's favorite pistol-packin' procyon* finally finds himself face-to-face with the intergalactic imposter. It's macho ado about everything as Macho Gomez guest-stars and the Ex-Terminators are hot on Rocket's tail! Procyon is the scientific term for raccoon, obviously. While I am still enjoying this book this issue was a bit of a middle of the story that did drag just a tad. It was still a fun read but not a lot really happened in this issue. The story had lots of action and lots of Rocket being a smart ass but, it didn't really bring much to the story arc. Young's art again is one of the main reasons to buy this book. Young's cartoony style was born to do this book. It just visually amazing and continues to be one of the best looking monthly books on the shelves.
Is this book worth your time and money? This issue was a bit of a letdown while not a total train wreck it didn't really add a lot to the overall story. It just felt a bit padded. The artwork was up to the usual high standards of Young but I just hope that the story gets back on track in the next issue.
Grendel vs The Shadow #1
Dark Horse Comics/Dynamite Writer and Artist Matt Wagner, Colorist Brennan Wagner, Letterer Michael Heisler
Most of the time company crossover book have a lot of promise but can be really hit or miss. There were only two words that I needed to hear about this book, Matt Wagner. The plot from Dark Horse/Dynamite is, Sparks fly and bullets blaze when the original Grendel, Hunter Rose, is transported to 1930s New York and faces off with the original darknight avenger, the Shadow! Two pulp-noir icons go head to head in this three-issue prestige-format series written and drawn by legendary Grendel creator Matt Wagner. Character crossover books are tricky because sometimes the characters don't mesh well together but in this case Grendel and The Shadow are almost cut from the same cloth. Wagner has crafted a very interesting way to have Grendel and The Shadow meet. Placing the story in the 1930's is great but setting it right after prohibition and mixing in the crime families is a real stroke of genius. The 1930's is where The Shadow works the best and Grendel has the great ability of adapting to almost any period. Both are anti heroes and they both use whatever means is necessary to get the job done. It will be interesting where Wagner take the story and how they will interact together. It's been a really long time that we have been treated to Wagner doing the interior artwork in a book and he still has the skill to pull off this crossover. The art evokes the 1930's with a great visual flair that only Wagner can deliver. I really must point out Brennan Wagner's wonderful color work on the book. The 1930's period can be really tricky to get right with the color mood and he really does a fantastic job on the book.
Is this book worth your time and money? Shut up and take my money! Matt Wagner is back and this book is how a crossover should be done. Mix two characters that blend together because the story works, not because they are just popular. Add Wagner's far to long lost art to the book and you have a really great book. Solid story with great artwork make this the book of the week. And it's a lot of fun too. HIGHEST RECOMMENDATION! 
Scooby-Doo Team-Up #6
DC Comics Writer Sholly Fisch, Artist Dario Brizuela, Colorist Franco Riesco, Letterer Saida Temofonte
DC has really struck gold with this book. This issue teams up the Mystery Gang with the classic Super Friends. The plot from DC is, When the Hall of Justice is haunted, who can the Super Friends call to save the day? Their pals Scooby, Shaggy, Fred, Velma and Daphne, of course! But when the Mystery Machine pulls into town, will the gang be able to help, or will Shaggy's phobias give these ghosts an advantage?! As with the previous issue these are stand alone stories. I have been really impressed with the writing on the book by Fisch. He really gets that both adults and kids are going to be reading this book. Adults who are fans of the classic Saturday Morning show are going to get a kick out of all of the references to the show. The kids are going to have fun seeing the heroes and the Scooby gang in a story together. This issue really has a lot going on and there are a ton of characters in it. Fisch really keep the pace of the story on track with the huge cast but still keeps it fun. Brizuela does a nice job of capturing Scooby-Doo and the gang and all of the Super Friends. He keeps all of the characters on model but still has a lot of fun with the visuals that the story allows. This issue was a nice light read and that is my favorite thing about the book. It just simple fun!
Is this book worth your time and money? This book has really been a lot of fun and I really love the fact that Fisch really knows the background of the characters and the guest stars. He is keeping the book really snappy and really fun to read. The art captures the fun animation style of the shows and keeps the story flowing. This is a must buy issue for fans of both Scooby-Doo and the Super Friends and at $2.99 it's a steal at that price.
Lumberjanes #5
Boom! Box Writers Noelle Stevenson & Grace Ellis, Artist Brooke Allen, Colorist Maarta Laiho, Letterer Aubrey Aiese
One of the best new series of the year continues to impress with each new issue. The plot from Boom! is,Archery is a vital skill for any Lumberjane it teaches balance and precision, which these scouts are definitely going to need with the Bear Woman back! The Lumberjanes are on a chase through the woods and it might be time for some answers…as long as they don't lose anyone on the way. I am continuously amazed how Stevenson and Ellis come up with the craziest ideas for the stories in this book. It really hard to believe that you can have Velociraptor, learning to make friendship bracelets, a bear lady and archery and have it all make sense. While I love all of the wild stuff that goes on every issue I do wish that the mystery of the camp plot were a bit more in the forefront of the story. I would have thought that it would be a bit more prominent by this issue. This is only a minor complaint though. Stevenson and Ellis continue to have single stories in each issue with the mysterious subplot that has been teased each issue. They continue to keep the stories fun and snappy and a real joy to read each month. And Damn-it we had better see the Raccoon Rodeo because it must be seen! Allen artwork really captures the story and adds such a wonderful visuals to the story that bring the great scripts to life. I just love how she can draw how to make friendship bracelets and then go into full Jurassic Park dino attack mode in the same issue.
Is this book worth your time and money? I have been a fan from day one of this book and have loved every issue so far. I can't wait to see where this first story arc is going to end up. But in the end what I love about the book is the sheer fun that I have while reading each issue. Very few books deliver this quality in every issue. This is a rare book that not only is great but starring an all female leads and created by an all female team. This book proves that we need a lot more of both in comics today!