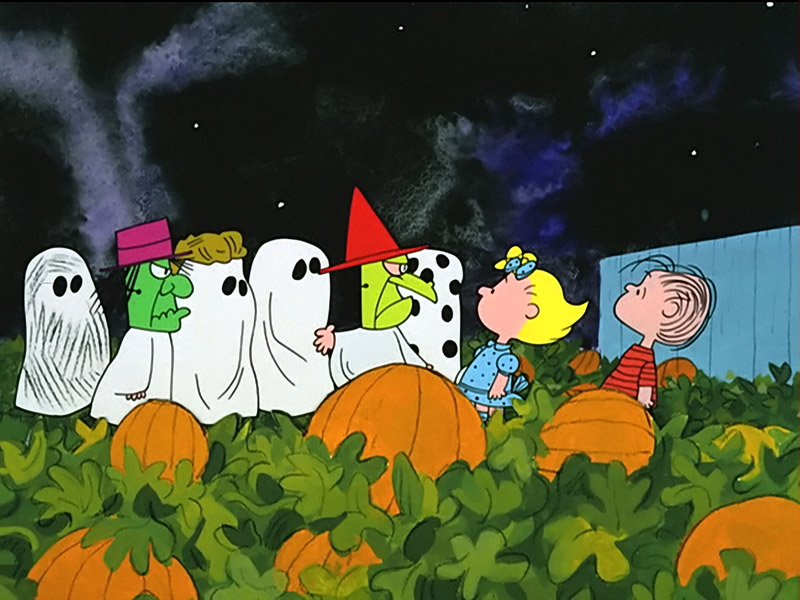 Normally I have new post up on the site on Monday, Wednesday and Friday but with today being Halloween I thought it deserved a special treat. This week new comics had four new books that fit into the ghostly spirit of Halloween so are they treats or are they a rock. Lets find out.
Sandman Overture #1
Vertigo Comics Writer Neil Gaiman, Artist J.H. Willaims, Colorist Dave Stewart, Letterer Todd Klein
One of the best comics ever published in the modern age returns after a 25 year hiatus and like a comfortable coat, putting it back on feels just right all over again. The plot synopsis from Vertigo Comics is, THE SANDMAN: OVERTURE heralds New York Times best-selling writer Neil Gaiman's return to the art form that made him famous, ably abetted by artistic luminary J.H. Williams III (BATWOMAN, PROMETHEA), whose lush, widescreen images provide an epic scope to The Sandman's origin story. From the birth of a galaxy to the moment that Morpheus is captured, THE SANDMAN: OVERTURE will feature cameo appearances by fan-favorite characters such as The Corinthian, Merv Pumpkinhead and, of course, the Dream King's siblings: Death, Desire, Despair, Delirium, Destruction and Destiny."People have often asked me what happened to Morpheus to make it possible for him to be captured in THE SANDMAN #1," Gaiman said. "And now they get to find out. And finding out, they get to learn secrets of the Endless that I've kept to myself for 25 years. Family secrets. And I should warn you: one of the Endless dies on page five."The first issue of this 6-issue, bimonthly miniseries features a stunning double-page interior foldout. For those who have never read the book it might be difficult to understand some of the story points. For those of you who are up to speed then you are in for a great ride. Gaiman has not lost his touch with the book, if anything you can feel that this story has been gestating for quite a while. The only downside that I can think of is that while it was an amazing read it's going to work a whole lot better reading the story as a whole than reading it every other month. WIlliams art is just stunning and per usual Gaiman tailored the story knowing what Williams brings to the table. The only complaint that I have is the ads really break up the story when you are reading the issue. I wish that  Vertigo had done the same thing that they did with the Joe Kubert books and put all of the ads at the end of the book after the story was done.
Is this book worth your time and money? It's Sandman Nuff Said!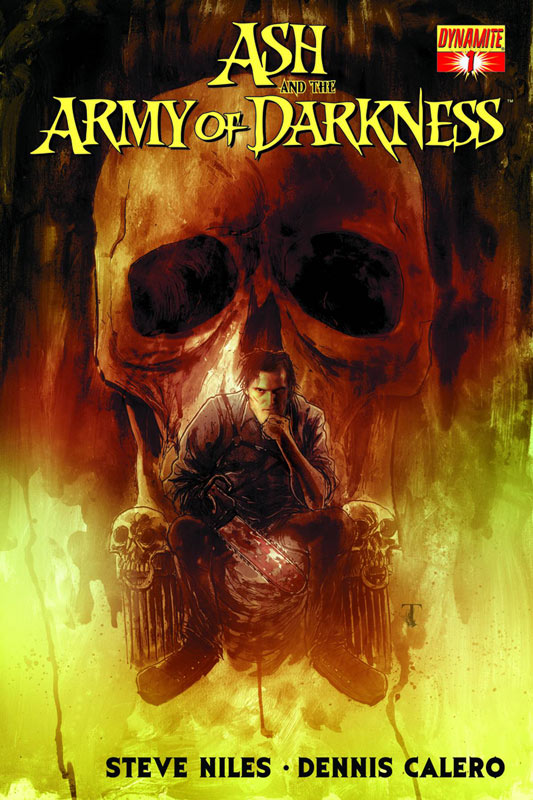 Ash and the Army of Darkness #1
Dynamite Entertainment Writer Steve Niles, Artist Dennis Calero, Letterer Marshall Dillon
Licensed properties from Dynamite tend to fall in one of two categories, either really good or pretty bad. Thankfully this book falls into the latter category of really good. The plot synopsis from Dynamite is, The battle has been fought and won. Ash battled and defeated the Deadite image of himself and saved the world. Now all he wants to do is get home and have a normal life. Too bad he messed up the Book of the Dead incantation. New series. New start. Will Ash ever escape the land of the Deadites? Will he ever find his girl? Will he ever remember the last part of the incantation? Now an army of unbelievable horrors rules the land and only Ash can annoy them. The story starts right at the end of Army of Darkness and the first issue starts off with a really interesting premise to kick off the series. Niles is probably one  of the best writers of horror comics today and he does not disappoint on this book. Pulling off a good adaptation of an existing property is very difficult as past efforts of Army of Darkness have proved because most of them are pretty bad. Niles really nails the tone from the films but puts his own stamp on it. He captures the humor quite well and while this first issue is very much a set up, I felt it gets off on the right path. Usually the art for most Dynamite books are pretty bad but Calero art is quite nice and creates a nice mood that fits the story. His use of color is very nice and adds to the mood of the book.
Is this book worth your time and money? I usually don't care for most licensed books but getting Niles to write the book was a very wise choice. He not only loves horror he knows how to write it very well. He captures the tone of the original films but definitely adds his flavor to the mix as well. I am looking forward to where he is going with this story. If you are a fan of Army of Darkness or Niles then make sure that you pick this one up. It's a keeper to the pull list.
The Raven and the Red Death #1
Dark Horse Comics Writer and Art Richard Corbin, Letterer Nate Piekos
Richard Corbin is a living legend of horror comics and has adapted a number of Edgar Allan Poe's work and just in time for Halloween he brings us not one but two great Poe stories. The synopsis from Dark Horse is, Unwelcome and bloodthirsty guests are on the move in these two terrifying Poe stories presented by Eisner Hall of Fame inductee Richard Corben. Adaptations of "The Raven" and "The Masque of the Red Death" by horror comics legend Richard Corben. WHile these are short story adaptations of Poe's two stories Corbin per usual packs a lot of stories in a small page count. There is not enough words to praise how great Corbin is and the master of storytelling. These adaptations are short, sweet and to the point. His art is just breathtaking from layouts to color it just doesn't get better than this.
Is this book worth your time and money? A book like this is like taking a master class in how great comics are done. Corben writing and art are as razor-sharp today as it has ever been. He is a master storyteller with his words (and Poe's), his artwork, and his amazing use of color. Horror comics rarely get much better than this. A real bargain at $3.99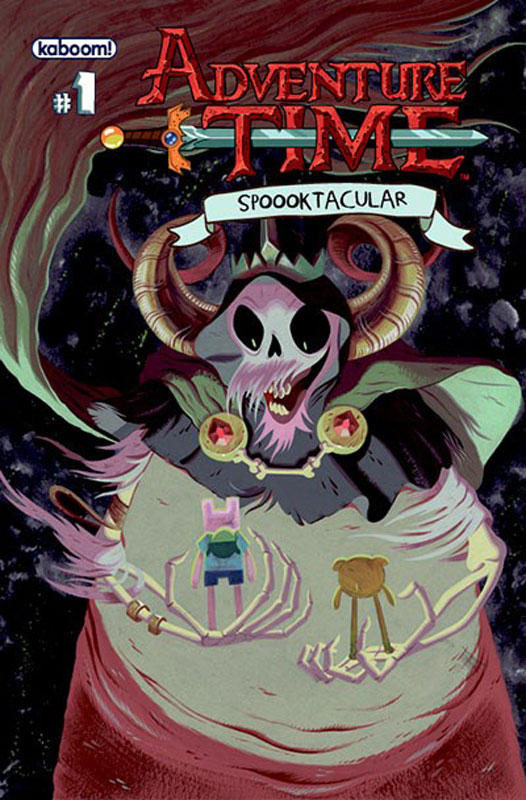 Adventure Time 2013 SPOooKTACULAR #1
kaboom! Writers and Artist: Various
Adventure Time comics have been great for getting more indy creators work out to the masses disguised as a kids book. This special is no exception. The first story is "Costume Party" by Jones Wiedle that has the Ice King bummed by not being invited to Finn and Jake's costume party and decides to crash it. But everybody thinks that it someone else dressed up as him. Next up is "Secret Stache" Written by Bryce Carlson and Illustrated by Frazer Irving that tells the story of Starchy losing his mustache and everyone else in the kingdom has a mustache but him. Writer and Illustrator Jay Hosler's "Halloween Horticulture" has Princess Pumpkin getting FInn and Jake to help her remove the "bad seed" in her head so she won't destroy candy town in a rampage. And finally Writer Kevin Church and Artist Jen Vaughn tell the story of "bad Girl Gone Good" that has Marceline doing good deeds and she starts to go crazy because it's too much for her. Thankfully all four stories are really fun and tell really good all ages scary stories. They are all so good that it's hard to pick one that is best. I might have to go with Halloween Horticulture because the twist of the story is very amusing and the joke that is played on Finn and Jake is quite ingenious. Each of the stories bring a different style to the book that is really fresh. There is also a bonus story from the new Steven Universe comic based on the upcoming Cartoon Network show that was a cute little story but is not a Halloween story. While it's nice I haven't seen the show to say if it feels like the show.
Is the book worth your time and money? The thing I like about the Adventure Time specials like this is telling a good short story is very hard. You only have 5 or 6 pages to get everything in. The creator's has stepped up to the plate and hit home runs with every story. Strong stories and great art make this a winner for all ages. While this book is a short read it really leaves you in a really good mood after reading it. And at the end of the day that is a lot better than most comics being published today. Well worth the $4.99 cover price.
So there you go. Not a rock in you candy sack just all very good treats for your Halloween reading and none of them will rot your teeth or give you a belly ache.