It's been a busy week so sadly I have only read a few of this weeks books so I'm checking out four number 1 issues this week. Hopefully there will be some keepers in the bunch.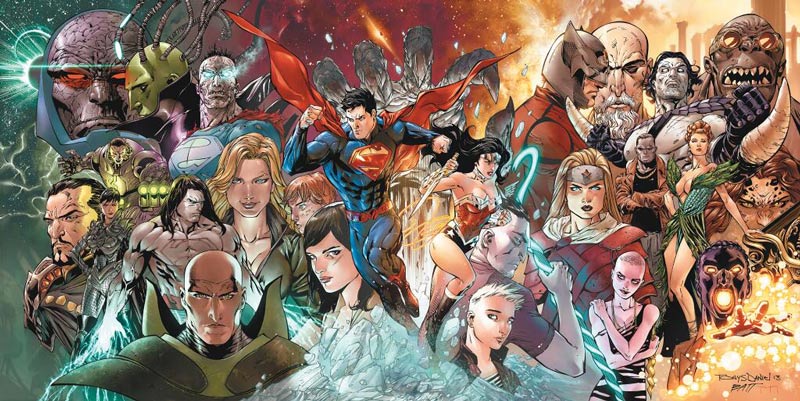 Superman/Wonder Woman #1
DC Comics Writer Charles Soule, Penciler Tony S. Daniel, Inker Batt, Colorist Tomeu Morey, Letterer Carlos M. Mangual
After the disaster in quality of DC Comics Villains Month there is nowhere else to go but up with a new book. DC Comics plot synopsis is, Beginning a bold new series that details the relationship between The Man of Steel and the Warrior Princess as rising star writer Charles Soule is joined by fan favorite artist Tony S. Daniel to tell the tale of a romance that will shake the stars themselves. These two super-beings love each other, but not everyone shares their joy. Some fear it, some test it—and some will try to kill for it. Some say love is a battlefield, but where Superman and Wonder Woman are concerned it spells Doomsday! Soule's story is one of those time shift types. It starts off in the present and bounces back and forth to past events that lead up to the present. The story is pretty standard superhero stuff. The story is very straight forward but never seem to really take off. While not bad by any means there is no surprise that you have read this story before and it's very by the numbers affair. Daniel's art is very nice. There are some times where the backgrounds are slim but overall nice visuals. There is a nice gatefold cover for the first issue.
Is this book worth your time and money? It's a fair read but does not stand out at all. The story is like warmed over leftovers. While it's OK you know that you have read this story a bunch of times before and doesn't bring anything new to the table. I might see where the next few issues go but it better start going somewhere soon. So I'm giving it a short leash for now.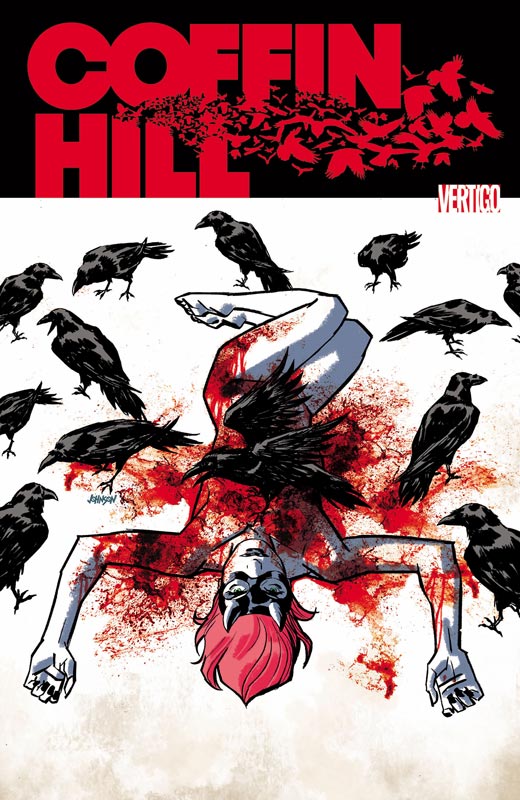 Coffin Hill #1
Vertigo Comics Writer Caitlin Kittredge, Artist Inaki Miranda, Colorist Eva De La Cruz, Letterer Travis Lanham
Vertigo Comics has been trying to re-invent itself lately and they have had some really great new titles like, Trillium, FBP, and The Wake. The newest addition to the line it Coffin Hill. The plot synopsis from Vertigo Comics is, COFFIN HILL stars Eve Coffin, a rebellious, teenage lowlife from a high-society family with a curse that goes back to the Salem Witch trials.Following a night of sex, drugs and witchcraft in the woods, Eve wakes up naked, covered in blood and unable to remember how she got there. One friend is missing, one is in a mental ward—and one knows that Eve is responsible. After a stint as a Boston cop that ends in a bullet wound and unintended celebrity, Eve returns to Coffin Hill, only to discover the darkness that she unleashed ten years ago in the woods was never contained. It continues to seep through the town, cursing the soul of this sleepy Massachusetts hollow, spilling secrets and enacting its revenge. Set against the haunted backdrop of New England, COFFIN HILL explores what people will do for power and retribution. Noted novelist Caitlin Kittredge, author of the Black London series, brings a smart, mesmerizing style to comics. Artist Inaki Miranda (FABLES) brings his dynamic storytelling to COFFIN HILL, following an acclaimed run on FAIREST. I was really taken by Kittredge's story in the first issue. The time shifting is a little confusing at first the pieces of the puzzle start to come together as the story goes along. I really like the mythology that is being set up in the story. There is obviously a lot that is going to happen and Kittredge give just a small taste of it. Miranda's art is really beautiful and really captures the mood of the story. His layouts are really breathtaking and he is not afraid of doing different from the norm and the book really benefits from it. The colors by De La Cruz are really complimentary to Miranda's art and helps capture the mood but never overpowers it.
Is this book worth your time and money? Vertigo has hit another home run with this book. A solid start for a first issue and the ending leaves you craving for more. Along with the stunning art I think that this could be a breakout book for Vertigo and could finally be my new favorite Vertigo book out right now. Very recommended!
Rocket Girl #1
Image Comics Writer Brandon Montclare, Artist Amy Reeder
Rocket Girl started it's life as a Kickstarter project but was scooped up by Image Comics soon after it was funded. The plot synopsis from Image Comics is, A teenage cop from a high-tech future is sent back in time to 1986 New York City.  Dayoung Johansson is investigating the Quintum Mechanics megacorporation for crimes against time.  As she pieces together the clues, she discovers the "future" she calls home – an alternate reality version of 2013 – shouldn't exist at all! Blast off with the new ongoing series by Brandon Montclare (Halloween Eve) and Eisner Award nominee Amy Reeder (Batwoman, Madame Xanadu). I was one of the funders for the Kickstarter campaign and was excited about the book because I'm a huge fan of Reeder's artwork. Montclare's story is a little vague for a first issue. While I understand that you don't want to reveal too much, I did feel a bit lost and not quite sure where it seems to be going. It's not bad but just a little confusing. Reeder's art is the reason to buy this book. She has a great style and the layouts are really good. There were no credits for the coloring and lettering so I assume that she did both for this issue. I really enjoyed the lettering for the book and she was not afraid to have some fun with it too.
Is the book worth your time and money? I'm not sure yet. While I like the concept of the story the first issue left me a bit cold. I liked the ideas and concepts but the script seemed to lack focus. While the art is the main draw it can only go so far because they need to work together. The first story arc is five issue so I think that it's worth investing in at least that. So a bit of a mixed bag but still better than a lot of books out there right now.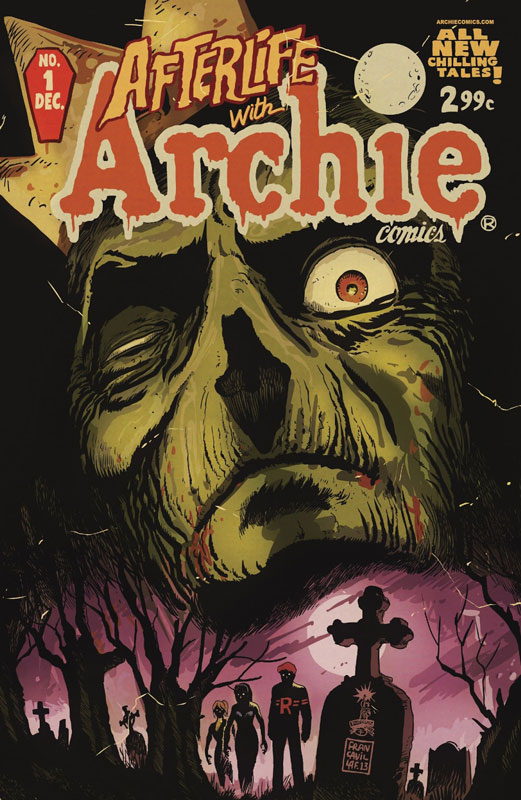 Afterlife With Archie #1
Archie Comics Writer Roberto Aguirre-Sacasa, Artwork Francesco Francavilla, Lettering Jack Morelli
Don't mistake this for a regular Archie book because this one is not for the kiddies for sure. The plot is really simple, what if the zombie apocalypse started in Riverdale? Yep Zombies are hot right now and Archie wanted a piece of that action. The idea came from a variant cover that Francavilla drew for Life with Archie #23. Publisher Jon Goldwater embraced the idea of doing it as a regular book. The key was getting the right creative team for the book and this is where the book shines. Aguirre-Sacasa's story mixes the best of both worlds that makes the story shine. It's not only a good horror story it definitely feels like an Archie story and characters. The thing that I love most about the story is that it feels like an old style horror film. While there is definitely blood it's more about mood and style than to be shocking or a bloodbath. And yet I never felt as if this was not the regular Riverdale gang. While there is innuendo with Betty and Veronica trying to compete for Archie it never crosses that line of bad taste or to adult. The story set up is very solid with lots of nods and winks to classic horror and zombie films. With a comic you not only need a good story but you need an artist to bring that script to life and Francavilla flat-out knocks it out of the park and into another city. He capture both the classic Archie style spirit but the art just oozes with mood that is needed. His coloring work is just fantastic. He knows how to use it to its full advantage and is they way color should be done on a book. Here are two pages from the book to show you how gorgeous the books looks.
Is this book worth your time and money? This is hands down the book of the week and could possibly be one of the best reads of the year. The best thing about it is that they are not trying to reinvent the wheel here. They are just taking two great things Archie and classic horror and simple creating a damn good book. I was really knocked out by this book. The tone is just right. Highest Recommendation!
Here is the Variant cover by Andrew Pepoy