The first of two Long Beach Comic Con's, the Long Beach Comic Expo kicks off the convention season. The expo is becoming more like the regular fall show and less like a more intimate smaller convention that it started out as. While I still love the show(s) and it has a really great Artist Alley the shows are becoming a bit stagnate. I know a lot of vendors that have really struggled with this show and one of the things that can make or break a show is it's relationship with them. Attendance seemed down a bit from last years expo and Sunday was a little slow. It might be better for the expo to go back to a one day show on Saturday and focus on what made it work well in the first place.
While there were a lot of panels during both days a number of them were underwhelmed with attendance. I will give the show points for trying to improve the quality of the panels but only a small handful were true must visit panels. The other problem is that with the show being in the south hall of the convention center the rooms where the panels were located were not easy to get to and not very well marked. One big problem that the show has not fixed is the scheduling of panels. They rarely start on time because they don't let the previous panel know that they are out of time. They have improved the panels over the years but there is still room for improvement. One thing that the show needs is to get more comic publishers to the show. While Skybound and Aspen Comics are always there they need to try and get a major publisher like DC Comics to really bring it up a notch. It was great to see IDW at the show again they didn't have any guest at the booth and had a small selection of products.
There continues to be a lot of pluses to the show. The Cosplay Competition was in a much larger room than the fall show that was way too small. The Columbia Memorial Space Center was back again with displays and activities about the space program. They did have some new guest that have not been at the show before like Don Rosa, Jae Lee, Alan Tudyk, Jeremy Haun, Fabian Nicieza, and James Tynion IV. The best thing about the show is the intimate  nature of the show. It really allows you to spend time talking to the talent instead of being rushed or overwhelmed. There are a lot of great local undiscovered talent that you can find if you take the time to really look through artist alley.
The LA area has really struggled with conventions and while there are a lot of pluses to the Long Beach Comic Expo I think that they need to focus on a bit smaller event for it compared to the fall show. I think that it would make a better one day show and maybe have longer hours and move it back to the front of the convention center. The show does continue to be a solid show but they do need to continue with the forward momentum and work on a few of the issues. Overall I had a good time at the show and while there are things that can always be improved with a show I will give Martha Donato and her team that they have a great staff that do their best to make a show that people not only enjoy but want to come back again. They are constantly trying to improve the show and listen to both the positive and the negative. The show is still in it's infancy and has improved greatly in the short amount of time that they have been doing it.
Below are some of the guest and sights of the show. I have included links to their websites if available so click on their name to see more of their work.
There were some new local talent I discovered at the show, Erika Lipkes had some great mini comics and other unique things. She shared a table with Steve Waldinger who has written George W. Bush: Vampire Hunter.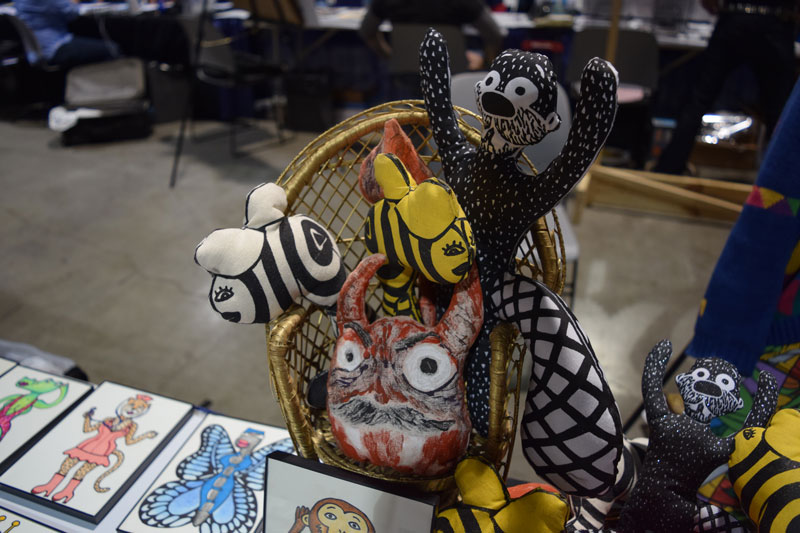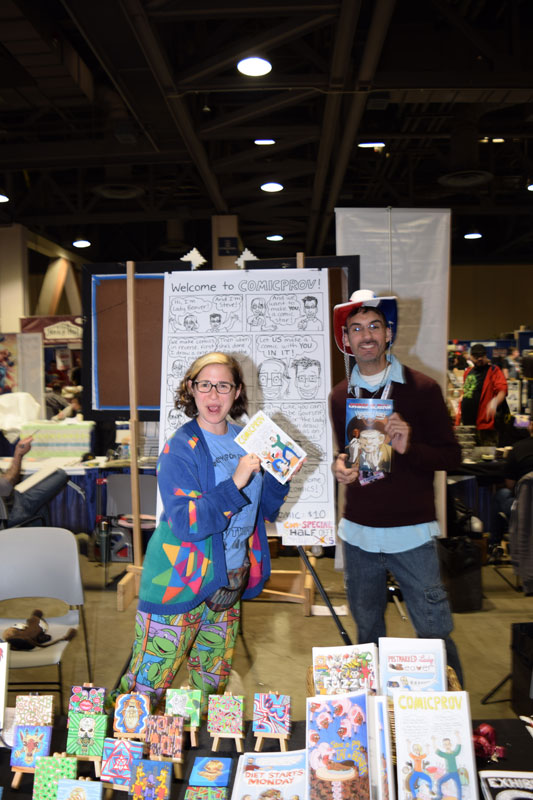 Cat Staggs who recently did some amazing work in DC Comics Wonder Woman '77 comic
Rachel Walker does some really great original art and does her own creations that is pretty rare in the sea of prints and artist doing non original artwork.
Jeff Victor successfully just finish his Kickstarter for his second art book collection. He does these adorable character evolution that are really amazing.
Tony Fleecs who is riding the My Little Pony wave to every little girls delight.
The Hex 11 team (Lisa K. Weber, Kelly Sue Milano & Lynly Forrest) who debut the trade collection of the Dwayne McDuffie nominated series.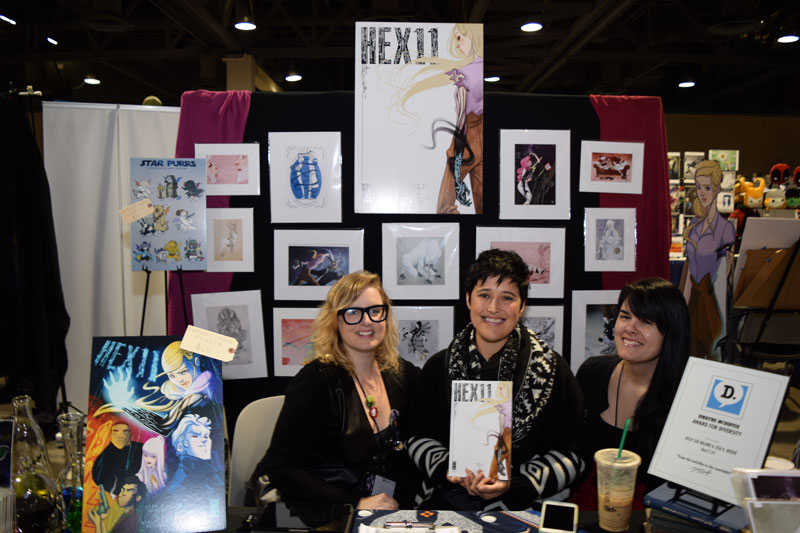 Todd Nauck who recently did the amazing Nighcrawler series is not only super talented but one of the nicest guys that works in comics. It's always a pleasure to visit him.
Alan Tudyk
Chris Claremont
Jimmy Palmiotti and Amanda Conner had a huge line the entire show and for good reason. They are not only the nicest couple in comics but take time to make every person feel special. They seem to be doing a million book right now but Harley Quinn is their current hit series.
Mike Kunkel is the creator of the beloved Herobear and the Kid that is one of the best all ages comics ever created. He always has plenty of Herobears that need to be adopted.
Joshua Hale Fialkov and his lovely wife are not only both great writers but have a ton of great books under their belts. They always are a pleasure to talk to and are guaranteed to have a great conversation.
Dan Parent is the writer and artist extraordinaire of some great Archie comics over the years.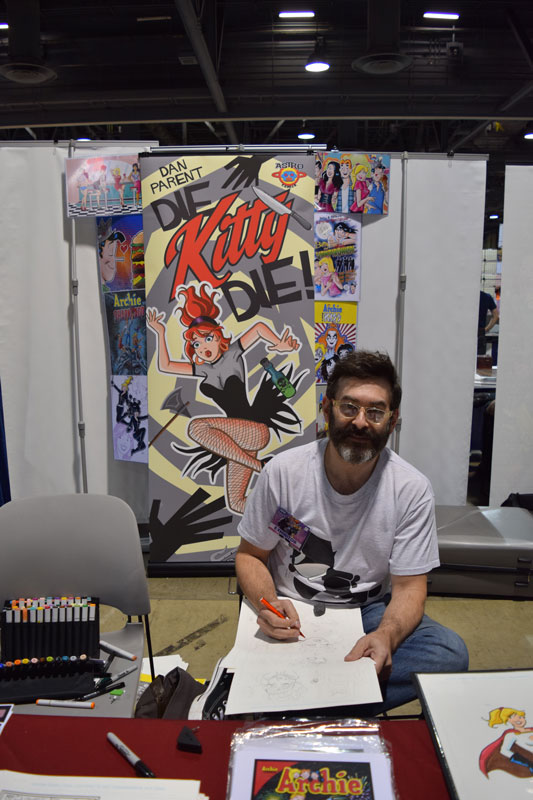 Nicole Goux is a new talent that really caught my eye at the show and I hope to review her anthology soon.
Nathaniel Osollo has created a new and unique comic Shadow People that interacts with you tablet or smart phone to create a whole new experience that really knocked my socks off. I will review that book very soon.
Mike Collins is not only a nice guy but does some amazing artwork and works at Dreamworks on the new Peabody and Sherman show. But the real story is his son Sam (Samster) who does awesome sketches for only $1 and now is the time to get in on the ground floor of this super new talent before he become super famous.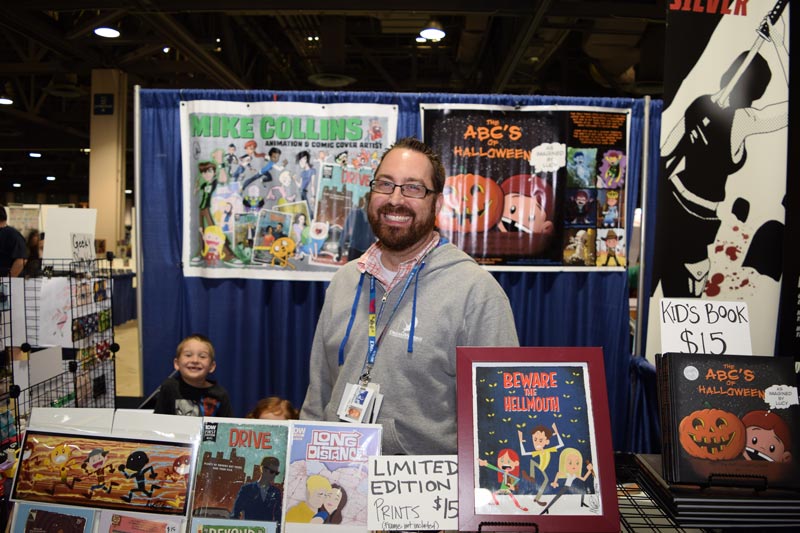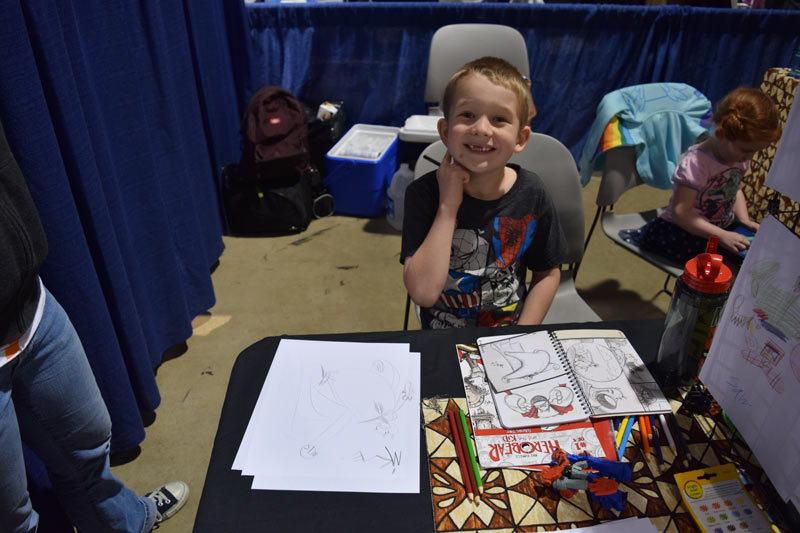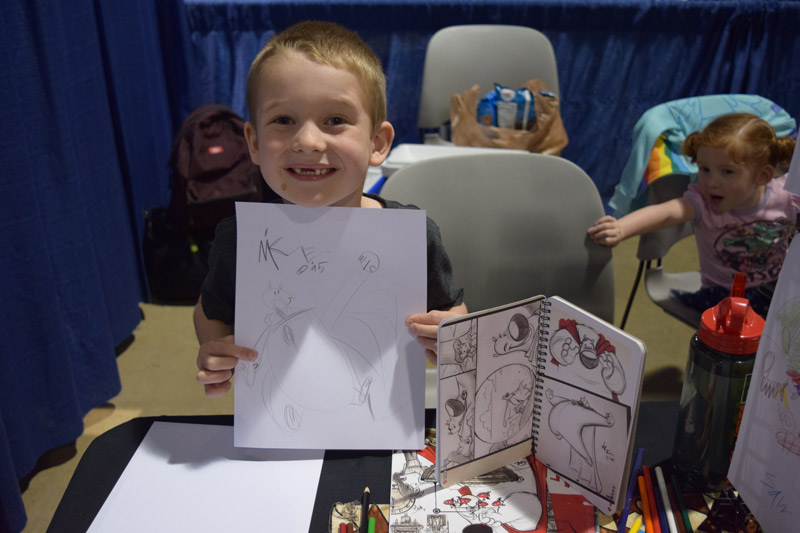 James Tynon IV who is the writer of the very fun Batman VS The Teenage Mutant Ninja Turtles crossover.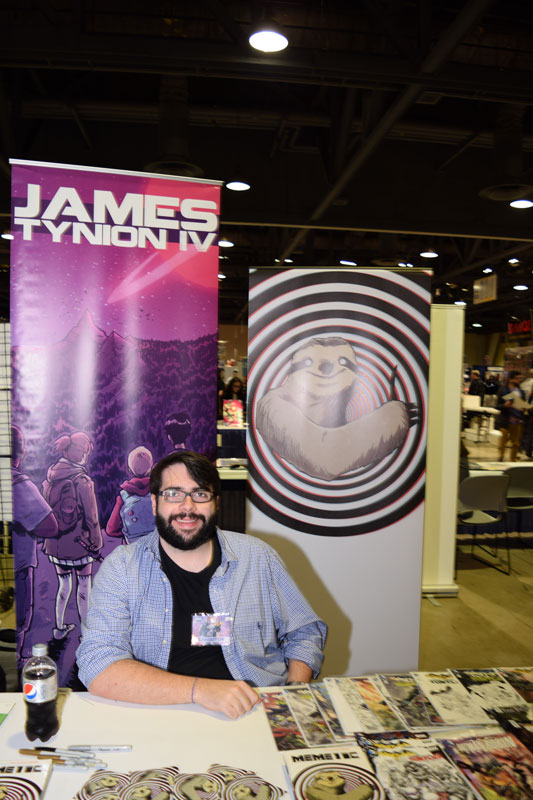 Richard Starkings is not only a letterer extraordinaire but is the creator of one of the longest running books at Image Comics Elephantmen. If your not reading that they make sure that if you make it to one of the shows he is at he has all of the books for a really good deal. He also runs Comicraft that has every imaginable lettering font that you can buy.
Joe Staton is one of the rare talents that has drawn nearly every charter in the DC Universe. He is also the co-creator of E-Man and currently drawing the Dick Tracy strip. A true gentleman and was one of my childhood heroes as an artist.
Aaron Lopresti has his first creator owned book Power Cubed and does an incredible Wonder Woman.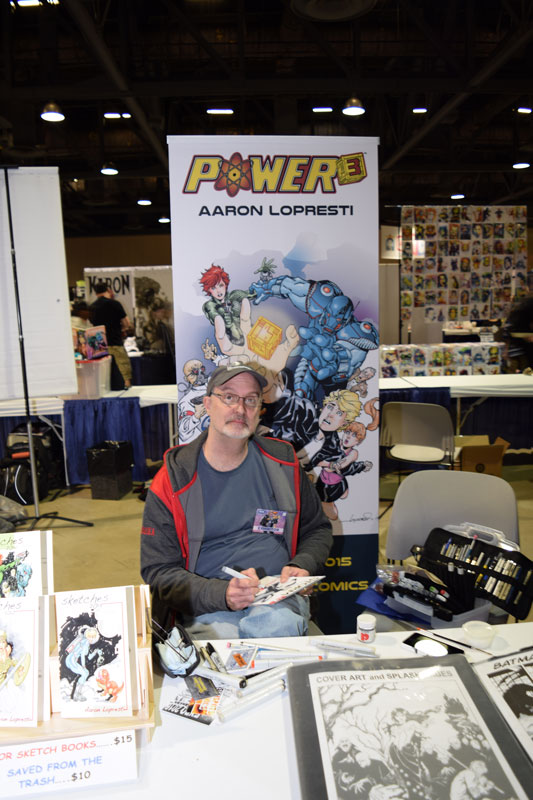 Don Rosa is truly one of those rare talents that does not come along very often. He is the only person besides Carl Barks that can draw Uncle Scrooge and I might even say that he is a living legend. I really screwed up and forgot to take his picture (this is from SDCC 2015) because I was so mezmerised taking to him and he did this amazing Uncle Scrooge sketch in my Life and Times of Scrooge McDuck Artist Edition. He has a seat and you sit down and talk to him while he is drawing and is a wealth of information. He also has amazing prints for sale of rare art that he has done over the years. This was a real highlight of the show for me.
Jeremy Haun is not only currently doing the hit Image comic Beauty but did one of my favorite books from Vertigo last year Wolf Moon that is now in trade paperback. It was a real pleasure to meet him and talk shop with him.
Paul Jenkins is counting his money from the new hit Aftershock series Replica and also wrote one of my favorite series Sidekicks.
Jae Lee was a real pleasure to meet and love his work on the recent Superman American Alien issue #4
Brian Buccellato new Image Comics series Sons of the Devil is a impressive creator series that is a bold and different horror comic unlike anything you have read before.
Ellen Jin captures iconic charaters doing everyday things in life. She also has a new Academy Award Oscar Fashion artwork on Fandango
Kira Kira Doodles has not only adorable artwork but amazing clothing with her designs. Go and check her  store out. Lots of great stuff to buy!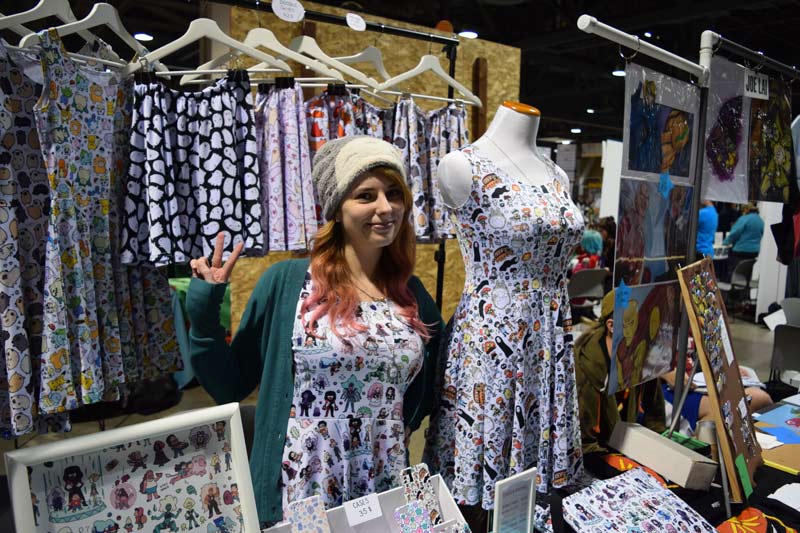 Here are some of the booths at the show.