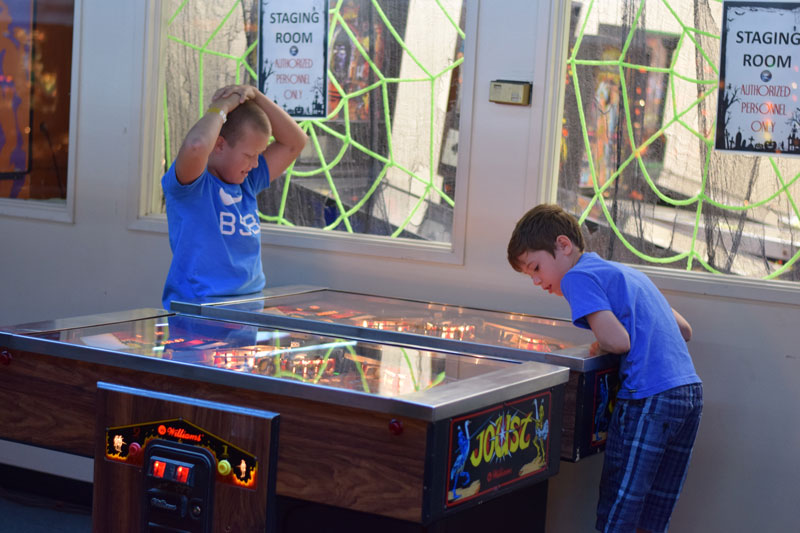 Over the weekend at the Museum of Pinball was the first Pinball Madness event that mixed arcade with Halloween and was a huge success. For the first time I volunteered for the event as a technician so my view of the show was from a different point of view this time. While the vast amount of pinball and video games was bigger this show the Halloween theme added a lot of fun to the event with many people in costumes that were not only fun but some were very impressive.
In the months leading up to the event I along with many other volunteer techs helped get as many games as possible up and running for the show and with a huge team effort the number of games working for the show was at an all time high. While there were some of the pinball machines that had issues during the show the techs did there best to get them back up and running and was able to get a lot of them back from the dead so to speak.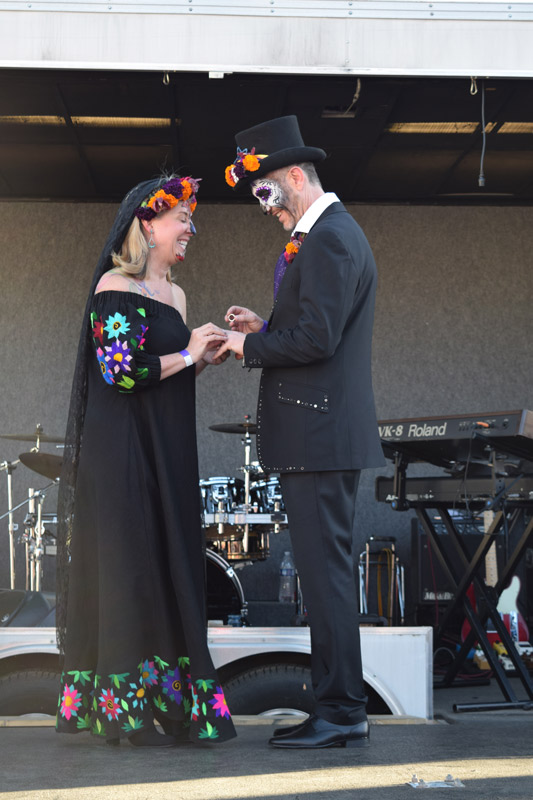 There was also a wedding held at the show on Saturday with a Dia de los Muertos or Day of the Dead theme that was not only well attended a lot of people dressed up and had some very impressive makeup. It was a beautiful ceremony that was short and sweet but very heartwarming. Lots of family and friends were in attendance and the reception was very nice.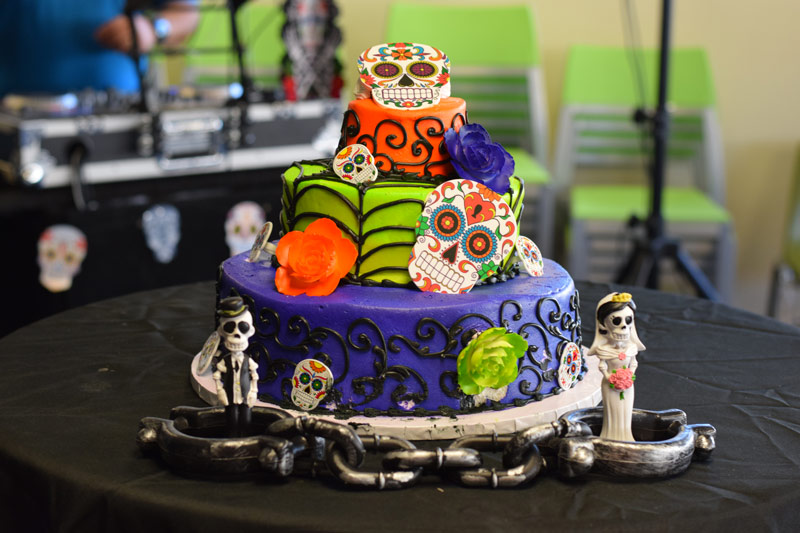 There was also a Haunted Funhouse that was very popular and instead of being super scary it was extremely moody with great atmosphere. It was great for both adults and kids and they made sure that they were not too scary for the younger ones. All of the volunteers in the Funhouse were super impressive and added greatly to the fun of it. There were old carnival rides and wonderful lighting and sounds.
Of course the main event is the over 1,100 pinball and video games that were the main attraction and from my point of view everyone was entertained and had a great time. One of my favorite things about the show is that lots of families came to the show and to see kids experience the world of arcade machines is really special. They really go nuts in the place and are very courteous and I saw none of them hitting the machines. Another great thing that I noticed was there were a lot of female attendees at the show that I really love to see because they love to play the machines as much as the guys. There were a lot of groups of women that was great to see too. Pinball and Video Games are universal and not just a "guy" thing. I would love to see more women come out to volunteer as techs to help learn the trade too.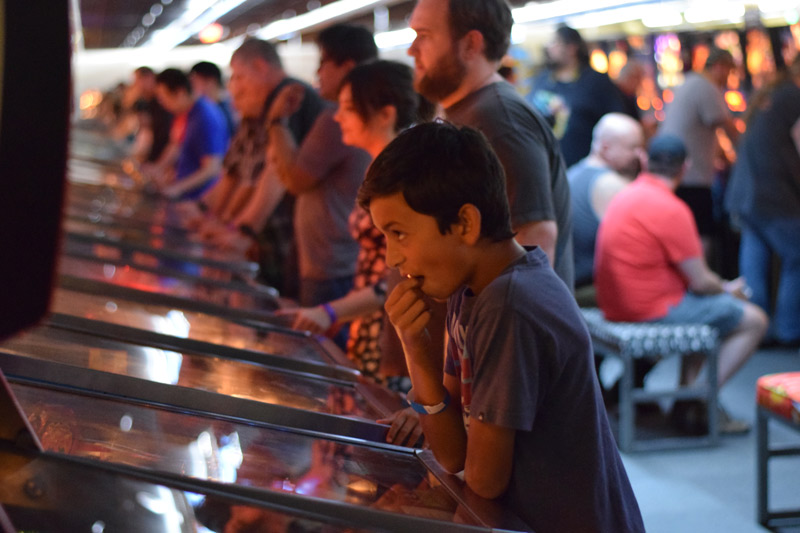 Being a tech volunteer gave me the opportunity to talk to people about the machine and how we maintain them and share our love of these vintage games. There were people who came out from the Los Angeles area along with some from Arizona, Nevada and as far as Texas. While there were a few people who were disappointed that a certain machine was not working you could always find a new one to introduce them to and get them to try a machine that they would have otherwise never played.
The video game side had many new games and was able to get a lot more up and running for the show. The always popular light gun games were always packed but one huge improvement was that a lot of early game you are unable to set them for free play or put credits on them. They added credit buttons to them so that you never had to find someone to let you play. This really helped a lot and I saw a lot of people who really enjoyed playing these truly old school games.
There were a few bumps in the show and most notably the cooling issue in the front of the pinball area really struggled most notably later on Saturday and all day Sunday. One of the reasons is that the more popular pinball machines are in the front so between them giving off a good amount of heat because they are being played constantly and the amount of people who are crowded in the area add up to an uncomfortable condition. Hopefully in the future they might be able to spread out the more popular pinball machines to other areas so that they are not all in one area. There was only one snack bar for the event and it would get pretty busy at times but the staff did a great job of keeping it moving along. It would have been nice to have more selection but it wasn't fatal. The bathrooms still could improve and there were a few times where their was a bit of a wait and that still needs addressed for the larger Arcade Expo shows in the spring.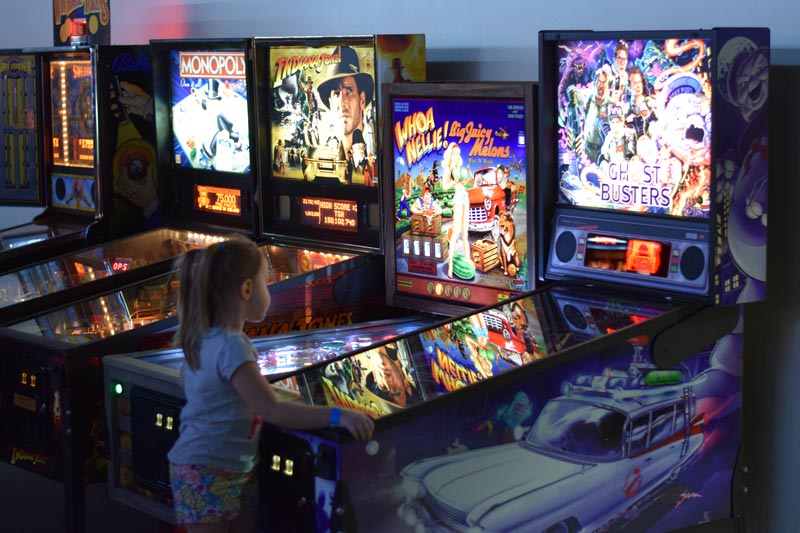 Overall the show was a great success and that has to do with both the staff and the volunteers that help keep things running smoothly. I want to thank Chuck Casey and Tom Young for keeping the Techs volunteers running smoothly, and of course John Weeks the owner of the Museum of Pinball for sharing his passion for pinball and arcade video games with the public to not only entertain but to teach them the history of them too.
Hopefully this will be a yearly event of Halloween and the Museum of Pinball made for a fun-filled weekend for both young and old. If you missed this event, don't worry because Arcade Expo 4.0 will be held March 16-18 2018. Keep checking the website for updates to the event as it gets closer.
Here are a few more photos of the event and there are more photos in the coming days.