I am always on the lookout for arcades. There are so few around now that going to one is like taking a step back in time to when I visited local Los Angeles and Orange County arcades in the 1980's and 1990's before the implosion of the market in the late 1990's and early 2000's. I have done stories on some local places such as Pinball Forever and The Last Arcade On The Planet. I have also covered some other venues such as the Pacific Pinball Museum and the Las Vegas Pinball Museum. There is also a great LA gaming group SC3 that gets together and sometimes has classic arcade games along with classic home video game systems.
Over the Christmas holiday while visiting family in Nevada I was able to stop by a new place Flipperspiel Wunderland (6000 S Eastern Ave. #7A Las Vegas, NV 89119). (Click on the name to go to the website or click on the address to go to the map of the location). A friend of mine had found out about the place and told me what a great arcade it is. I was able to pop in for a visit on the way back to Southern California. They have regular operation hours but they are usually after 8pm because the owner Adam Barajas and the other employees have regular jobs that help them run this truly labor of love. All of the machines are from Barajas personal collection and he decided to share his love of arcades with the general public. When I first got there I looked around and got very excited about the mix of machines that were there. I went up to Adam to get some quarters and he explained that unlike the Las Vegas Pinball Museum all of the machines are set to free play and you are asked to make a donation to help cover the cost of the location, repairs, and getting new machines. He said that you can pay whatever you feel it is worth to you and that you are under no obligation to make a donation. For me making a donation to him was obvious no brainer for me.
The atmosphere is very low-key. It was pretty quiet the night I was there. The place is not super big but the layout of the machines is really well done considering the space restrictions. While I wished that he maybe had a few more video games the selection that he did have were very good. All of the machines were is excellent condition and Adam was a wealth of knowledge and was alway super helpful in answering any questions that I had about any of the machines. I found out that he was also a huge fan of the Vectrex home vector monitor system and that they had 4 units that they sometime have out to play. The facility was super clean both on the floor of all of the rooms and so was the bathroom. This is the kind of place that you really want to support. Not only to help save the lost art of the arcade but it's a great place to hang out and talk to people like Adam and share the things that you love like arcades and video games. So if you are going to be in Las Vegas I highly recommend checking out this great arcade and help support Adam on sharing his great collection with us all. I am hoping to interview Adam soon to get some more insight on what it's like to run an arcade today.
Below are some pictures that I took while I was at Flipperspiel and that it will give you a small taste of this really great arcade that hopefully is able to stick around for a long time to come. I have also provided links to the database listings that can tell you more about the machines.
Atari only released 7 pinball machines during the few years that they produced them. Superman (1979) was there most successful and most produced machine. I had never played Middle Earth and like the usual Atari pins is quite difficult and challenging at the same time. As with almost all Atari pinball machines the artwork on both the back glass and play field are just gorgeous
This is another pinball machine that I had never played. Really neat play and a stunning back glass. The machine did have a little warp in the play field that added a weird but fun element to it. Adam said that he was either going to try to fix it or maybe sell it. I was glad that I at least got to play it.
Sinistar (Williams 1982) Adam had the very rare cockpit version of Sinistar. These versions were had to find when there were first released. It was in really great shape and was a real treat to see one of these bad boys again.
Rescue 911 (Premier/Gottlieb 1994)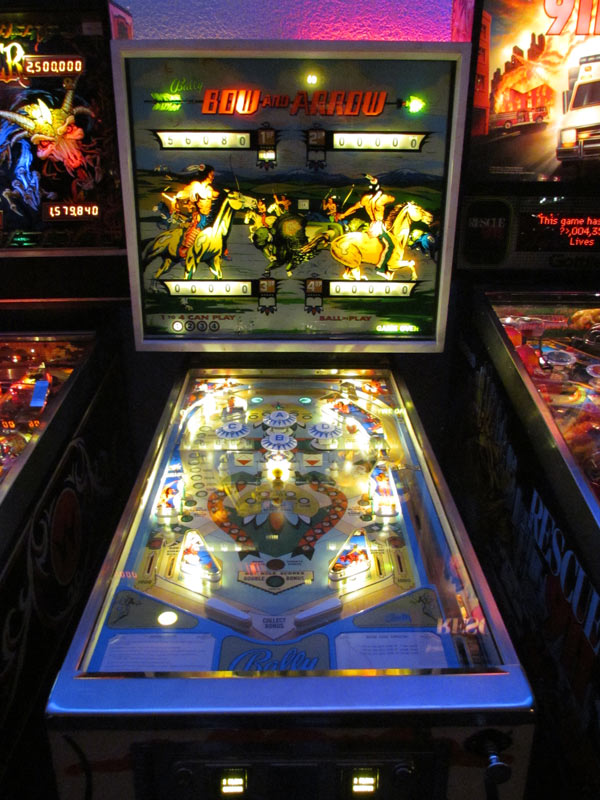 Hot Line (Williams 1966) This was another machine that I had not played before and it is a really great electro mechanical from Williams that had some really great challenge to it.
Black Knight 2000 (Williams 1989)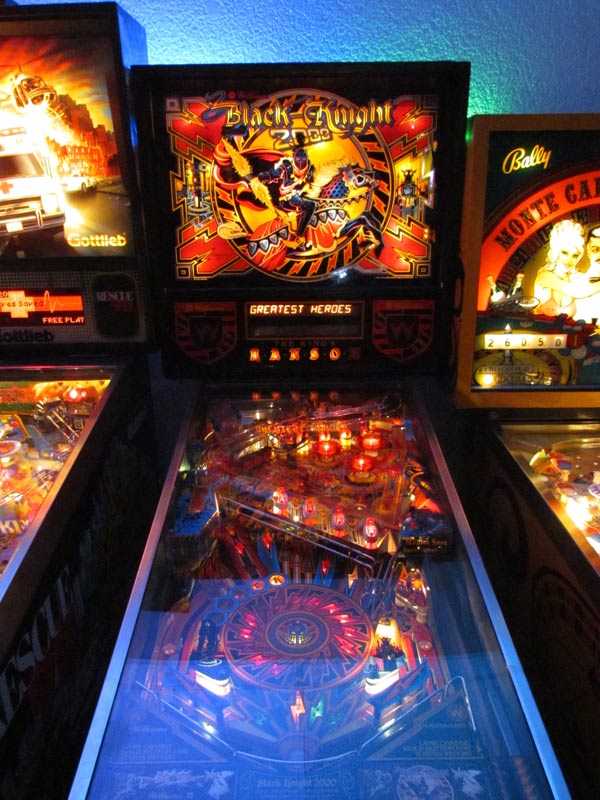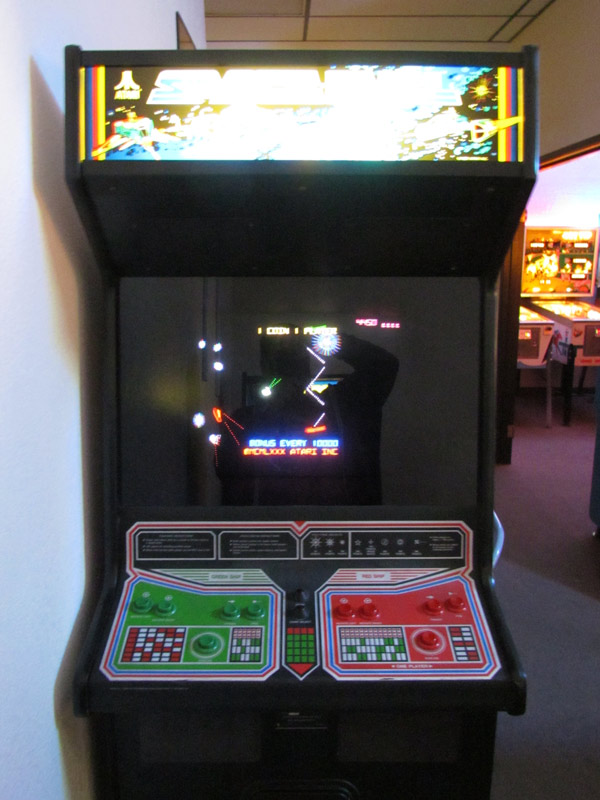 Jr. Pac-Man (Bally/Midway 1983)
Queen of Diamonds (Gottlieb 1959)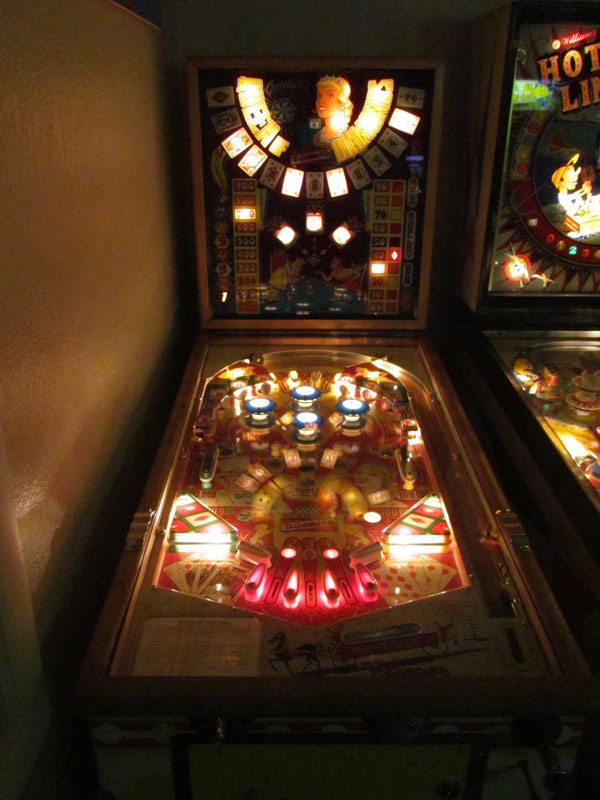 Demolition Man (Williams 1994) For a licensed machine this one is pretty fun.
Solar City (Gottlieb 1977) Fun game but hard to believe that this machine came out the same year as Star Wars yet looks as if it was made in the 1950's.
Terminator 2 Judgement Day (Williams 1991) 
Twister (SEGA 1996) This is a machine that steals parts from both Fireball and Whirlwind. While not a terrible machine it's not very original. The surprise is that it has the Van Halen song from the film that plays in the background. That is very odd because that must have cost a small fortune to licenses.
Donkey Kong (Nintendo 1981) Truly the 800 pound gorilla of the arcade video games (pun intended). This machine was in excellent condition and is still one of the best from the period.
And finally some general shots that show you a bit of the layout of the machines and outside.