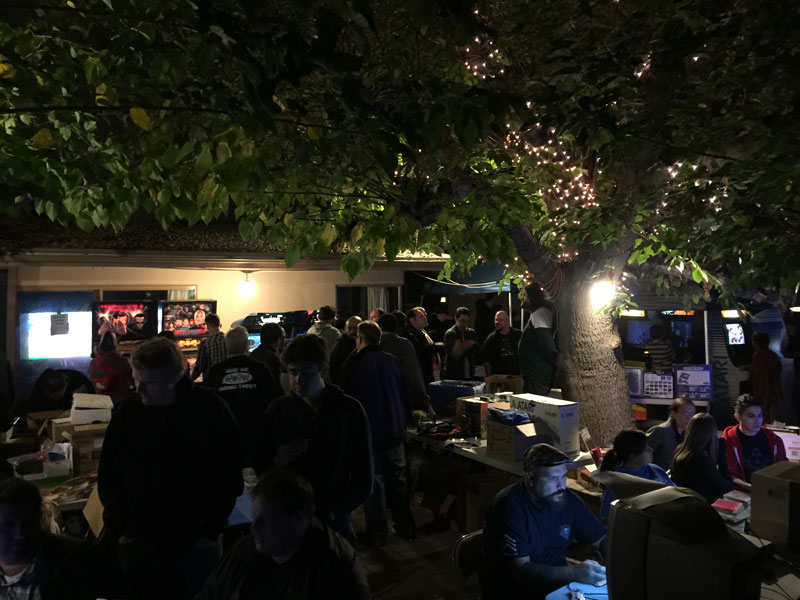 Last week was the fall get together for the SC3 (Southern California Classic Collectors) group that is dedicated to preserving and sharing classic home and arcade games for members to enjoy and play. Once again Steve Hertz shared his home and hospitality to the group for the fall gathering. Steve collects arcade machines and has a very impressive collection. They are in really good condition and he has some really rare machines. The other great thing about the get together is that they set up classic game consoles that cover a wide selection. There are the usual suspects like the N64, Nintendo Gamecube, SEGA Dreamcast, SEGA Genesis, NES and Super NES. But there are a lot of other harder to find consoles like ColecoVision, Magnavox Odyssey with the Voice add-on no less, NEC TuboGrafx, and the Nintendo Virtual Boy that I brought to the party for people to play. It seemed to be quite the hit. I sadly could only find the Mario Tennis game to bring but if you make it to the next show I will bring more games including the super rare Waterworld and Jack Bros.
There are also people who bring games and consoles to sell and trade. This time there was someone selling arcade machine marquees and had a few that were on glass instead of plastic. One of the other fun things that happens is the auction of donated stuff for the raffle. Here is just a few of the prizes that were up for grabs.
It's both fun and nerve-racking to see if you can win something. Mike Kennedy is the host of the raffle and has a really fun time with it. This time Mike brought copies of the new Retro Magazine if you bought at least 10 tickets.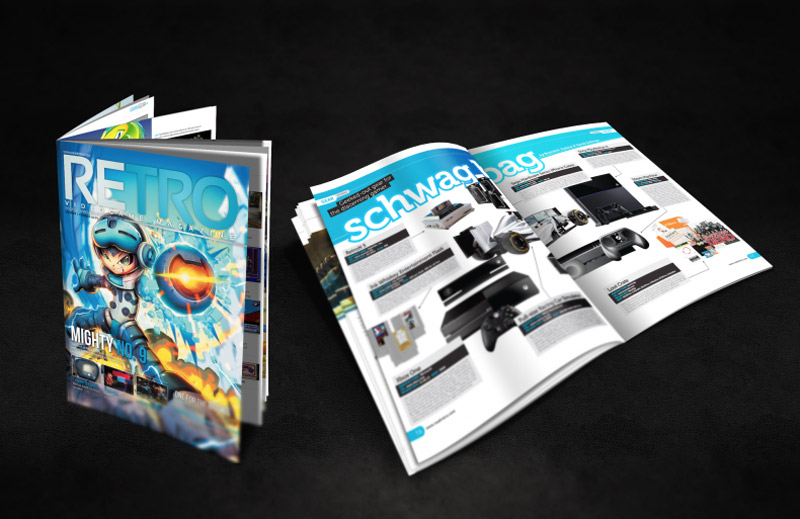 This is a great magazine that covers both new and classic games. There are great articles and stories about classic gaming. This is a must have magazine for anyone who collects classic games.  The good thing is when the prizes whittle down people give their tickets to people who haven't won yet. It's a really great group of people who both put on and come to the events. Here is some of the chaos of the raffle when it hits fever pitch.
The other great thing at Steve's house is that he sets up a projector and runs vintage video game commercials and news stories from the heyday of arcades and home consoles. There is a lot of great history in those old clips. There was pizza and sodas for dinner and so you could enjoy the videos and sit down and grab a bite of food.
One of the really rare treats was Rik Morgan who collects handheld systems from around the world. He has an amazing collection and some super rare import ones. This is a very rare opportunity to play some of these machines and it's great that Rik shares these treasures with the group.
One of the really fun units is Pair Match from Bandai that is probably more well-known because it was used as a prop in Star Trek: The Next Generation. I shot a short video of the machine in standby mode to show it working.
It's always a great time at the SC3 events and make sure that you sign up for the group on their Facebook page so you can come to the next event. Here are some of my pictures from the party so you can see all of the fun that goes on at the parties. You can see that there are some really amazing games that you can play and some really rare consoles and arcade machines. The Virtual On two player sit down was very impressive at the party. This I think is the biggest game that they have ever had at an event.