This Weekend January 15-17 2016 at Arcade Expo in Banning California is going to be the mecca for those who love pinball and arcade video games. With over 850 pinball and video and mechanical arcade machines to play there is more than enough to keep you busy for the three-day event. The facility is five acres and has very easy access off of the 10 freeway and near Morongo Casino and about 22 west of Palm Springs.
For tickets at the regular site click HERE
There is still time to get a deal at Groupon for discount tickets HERE
With so many great machines there seems to never be enough time to play all of the machines that you want. While most people wait to play the newer Stern pinball I find that the classic electro mechanical pinball a nice change of pace to the more modern ones. They are a lot more challenging to play and there is a certain charm that they have while you are playing them.
They have quite a few unusual and rare games at the Expo that if they are working are must play machines on the pinball side there is,
Hercules: Billed as the worlds largest pinball machine this thing uses a pool table cue ball and is super wide cabinet that Atari used two kids in their advertising to show how big it was.
Joust: The only two simultaneous player pinball machine ever produced and is pretty rare game with only 519 ever produced and didn't sell that well makes it pretty hard to find today. It's one of the wilder concepts in pinball.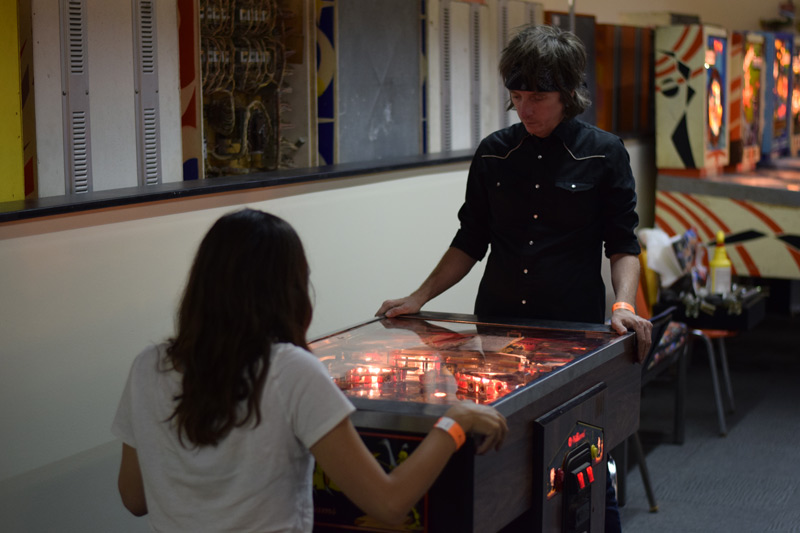 Varkon: Probably one of the rarest machines and the most sought after ones. With only 90 units produced Williams experimental pinball in an arcade cabinet is a very strange beast and used mirrors to reflect the play field onto the screen.
The Six Million Dollar Man: The only six player pinball machine every made and has sadly not been working at the last tow shows. I hope that it has finally been fixed because I really want to play this one.
Playboy: While not a rare machine, it's a highly sought after machine because of the licences but it's a really solid machine. Very fun to play.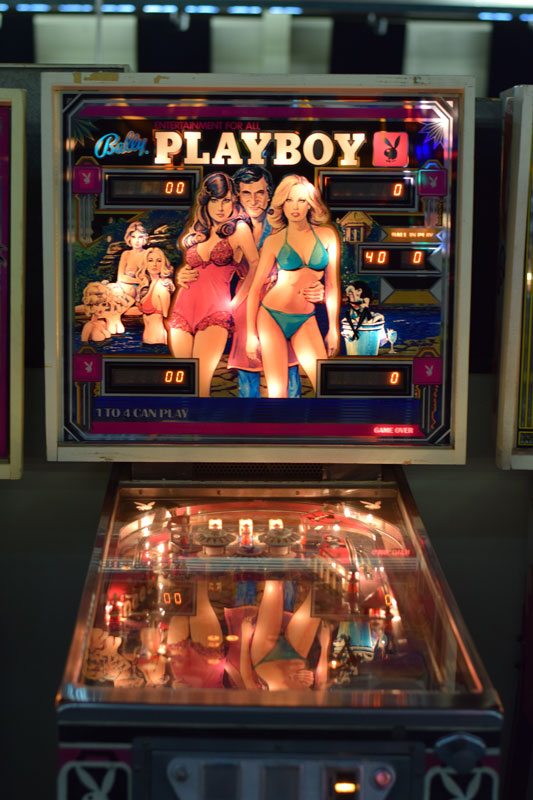 Fire!: Arcade Expo has the Champaign edition of the game and it's one that is a real challenge to play and will really test your skills.
Baby Pac-Man: One of the oddest combinations a pinball/video game hybrid machine that was a huge failure and while there was a good amount of them produced, you rarely see them today. Weird and fun!
Orbitor-1: What the hell was Stern thinking on this one. The ball is controlled by magnets on the play field and the ball flies around and you might hit it a few times. Weird and frustrating but you have to experience this mess of a game once in your life.
Superman: Atari only made seven pinball machines and Superman was the most produced and the most successful one. Released a year after the feature film probably help it do quite well. A very challenging machine that is extremely difficult to spell out Superman with the drop targets but is very satisfying if you can do it.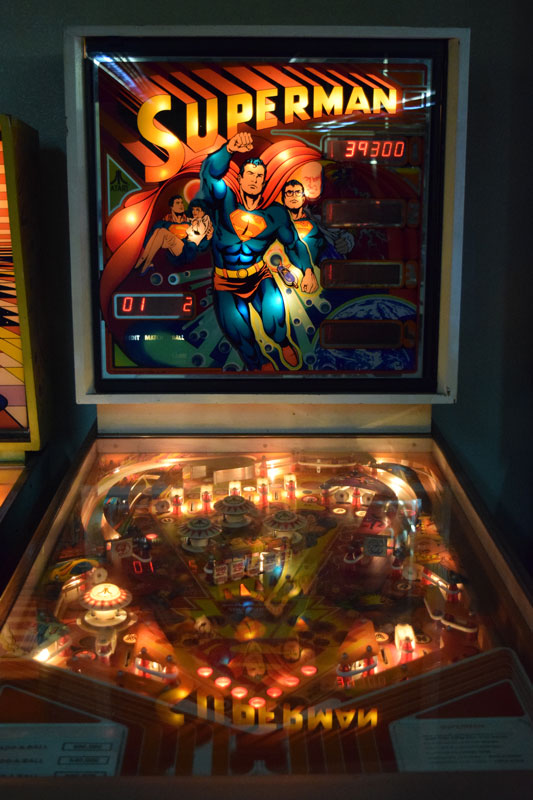 On the video game side these are must play machines,
Bandido: A very early Nintendo game with art by the great Shigeru Miyamoto is quite a challenge but lots of fun.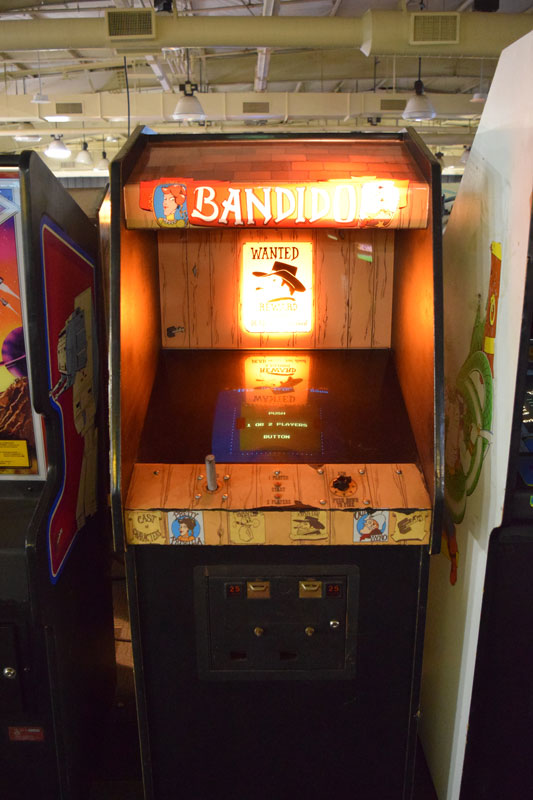 Airball: While not quite a video game it's a game of skill where you have to use air pressure to move a ping-pong ball through goals to get points. I loved/hated this game as a kid and could never remember what the name of the game was. I freaked out when I saw and got to play this one again.
Blue Shark: Not the game that you see in Jaws but a similar idea. a 3-D type background with a mirror reflecting the monitor on the screen gives it an interesting look at the time.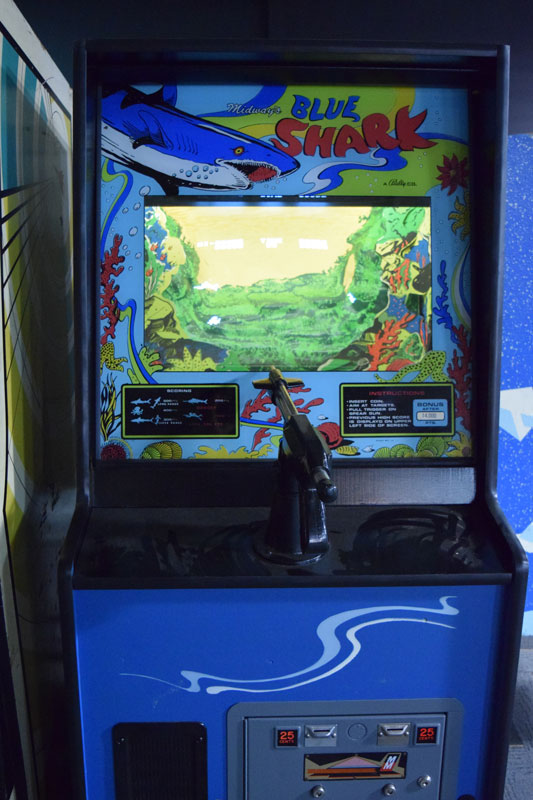 Space Race: Is a two player only game where you have to race your opponent to the top of the screen. It's a great two player game that is quite rare today.
Atari Force: Is the reverse of Missile Command, instead of  defending your bases you're in a spaceship defending yourself from missiles from the planets.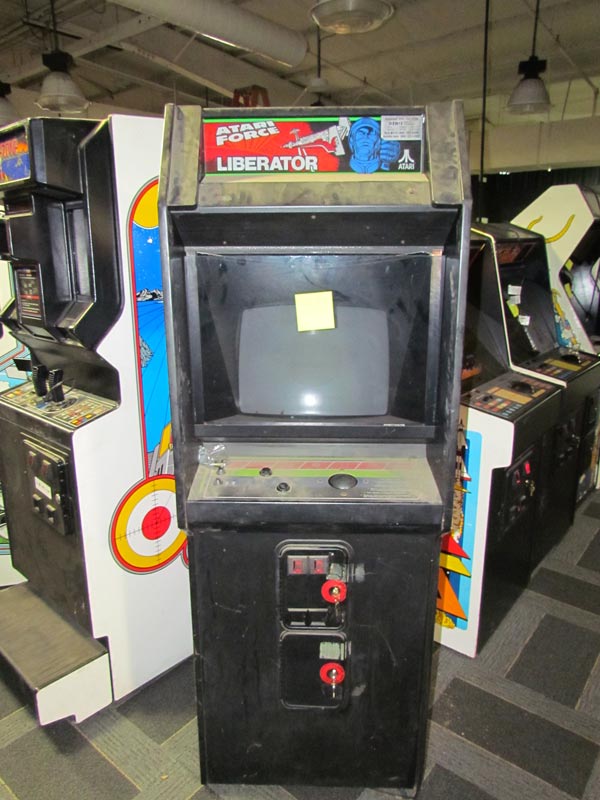 Super Don Quix-Ote: Is the rarest laserdisc game. Made by Universal of Mr. Do! fame was supposed to be the first of many laser based games that could be put in the same cabinet. This is why the cabinet is very plain with peel on and off graphics on the sides.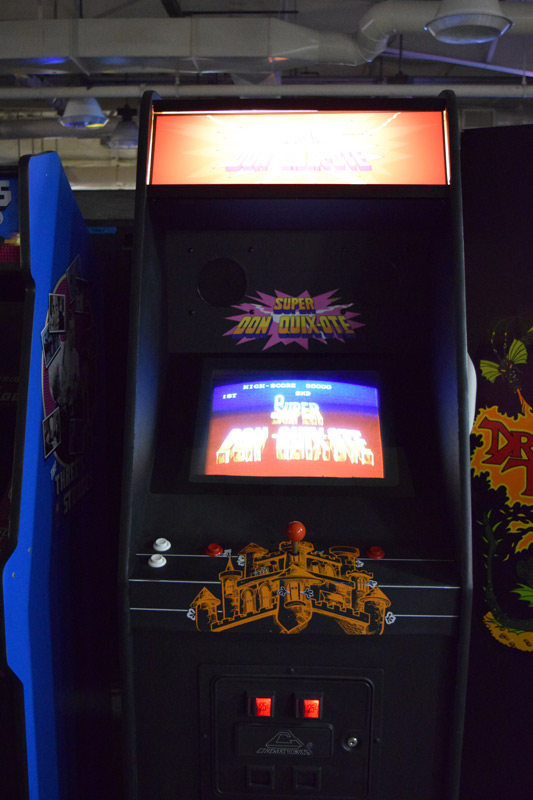 Discs of Tron: The followup to the hugely successful Tron game and the beloved Environmental/Cockpit version. It takes a little while to get used to the controls but when you figure it out its tons of fun.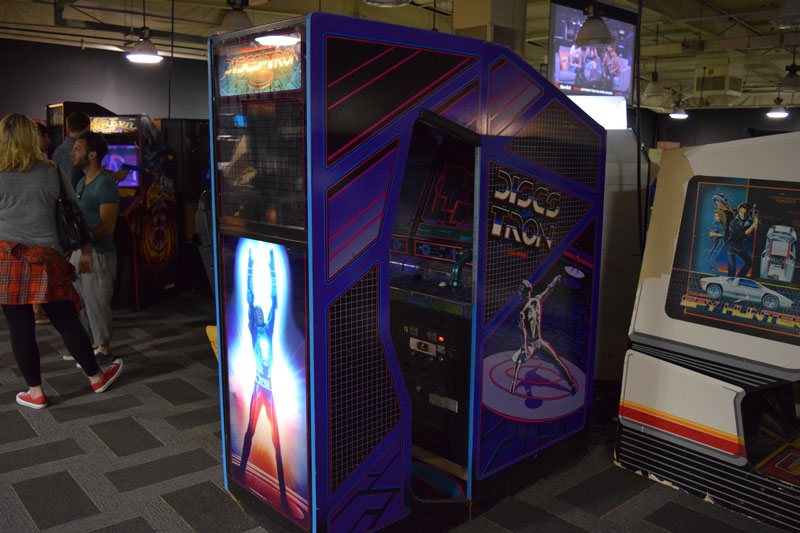 Domino Man: This is a very challenging game where you have to place dominos on the field and avoid moving obstacles and things that will try to knock them over before you finish.
One of the best things about the expo is that it's a great family friendly environment. I love seeing kids play the machines and they really have a great time. Most of the younger generations that have rarely been to a real arcade get a chance to discover what it was like to play like the heyday of the 1980's and 1990's when there were arcades and video games nearly everywhere. There are people who have never played a real pinball before and are only familiar with digital simulations like the Pinball Arcade.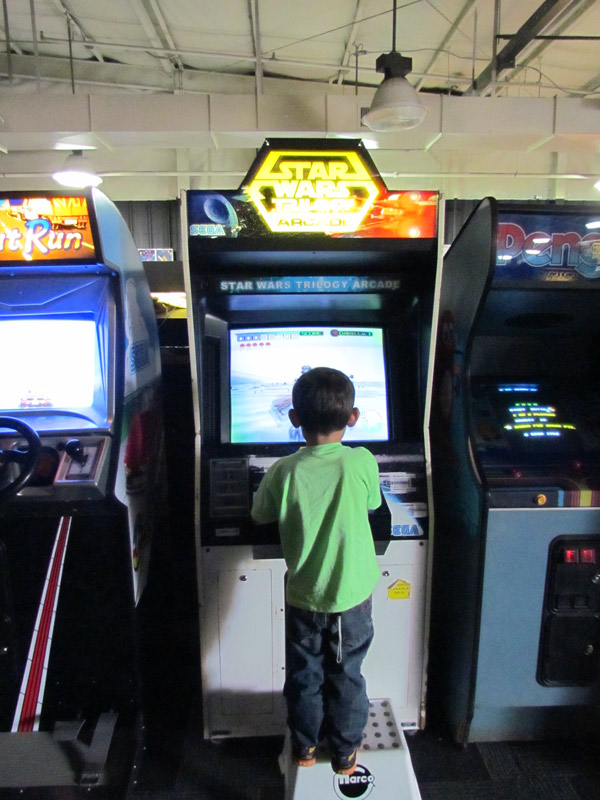 One of my absolute favorite areas is the vintage gun games that are housed in a small room. Not only are these rarely seen but they are in excellent condition.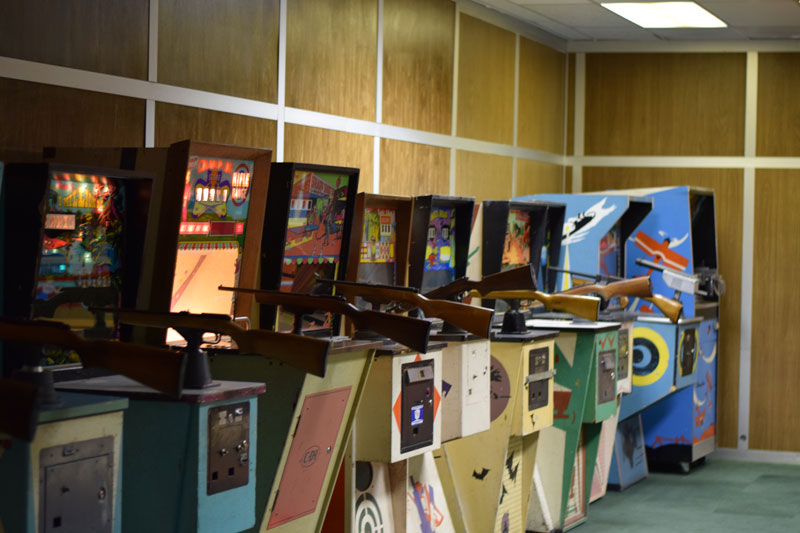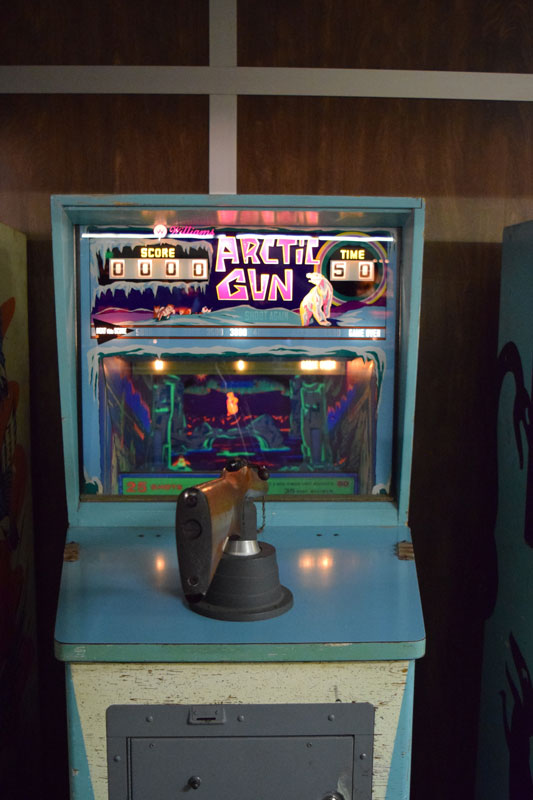 There are some great events at the Expo like the pinball tournament It Never Drains in California that has cash prizes and some of the entry fees are donated to charity. There is also the Kong Off 4.5 DOnkey Kong tournament that will see if any new records can be broken. There is also a Getaway VIP Party at the local Haven restaurant. The original Intellivison team will be at the Expo talking about the history of the classic home system. And there is so much more to do and see at the Expo. Head over to the SCHEDULE PAGE to see all of the current events.
If you get a chance to head out to Arcade Expo this weekend then you are in for a real treat and a really good deal to play that many classic and modern pinball and video games is a rare treat and with nearly the largest amount of machines in the world it's an opportunity to get your game on!