The long-awaited classic animated feature Watership Down finally is getting the treatment that it deserves on Blu-Ray courtesy of the Criterion Collection. Criterion has recently made a deal with Warner Bros. to release titles on Blu-Ray from their vast catalog. I am told that this is the first of many more to come in the future. There was a previous Warner Bros. Blu-Ray release that was a worldwide disc (Region Free and Multi Language Menus) that I worked on at Warner Bros. years ago that was strangely only released in Germany in October of 2010. That release was decent but the new Criterion edition easily trumps that version.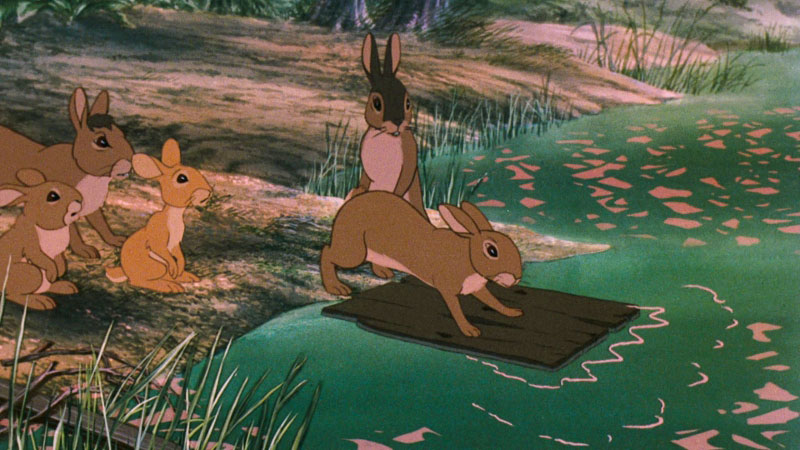 The technical specs for the Blu-Ray are:
Video
Codec: MPEG-4 AVC
Resolution: 1080p
Aspect ratio: 1.85:1
Original aspect ratio: 1.85:1
Audio
English: PCM 2.0
Subtitles
English SDH
Discs
50GB Blu-ray Disc
Single disc (1 BD)
Playback
Region A
Running Time 101 minutes
The plot of the film is, With this passion project, screenwriter-producer-director Martin Rosen brilliantly achieved what had been thought nearly impossible: a faithful big-screen adaptation of Richard Adams's classic British dystopian novel about a community of rabbits under terrible threat from modern forces. With its naturalistic hand-drawn animation, dreamily expressionistic touches, gorgeously bucolic background design, and elegant voice work from such superb English actors as John Hurt, Ralph Richardson, Richard Briers, and Denholm Elliott, Watership Down is an emotionally arresting, dark-toned allegory about freedom amid political turmoil.
The film itself was a groundbreaking animated feature for its time. Released in 1978 animated films were mostly Disney family films and while there were a few "adult" animated films release before Watership Down most notably from Ralph Bakshi but at the time the general public associated animation with Disney. Watership Down broke new ground by telling a very dramatic with animation. I first discovered the film when it was showing on HBO back in the day and fell in love with the film the first time I saw it. Even at a young age I was mesmerized by the story and how dramatic it was. On the surface the film looks cute and fuzzy like a Disney film but with the amazing opening sequence you know right away that this is not one to show the kids. One of the most amazing aspect of the film is how well it deals with social and political issues that is presented in a very simply way but is very complex at the same time. The film never pulls any punches with the harsh realities of the rabbits journey to a new life. There is both good and bad things that happen on their journey that is so relatable to the viewers real life.
Adams thoughts on the film adaptions was "I feel the film was good in its own right, but departed a lot from the original material which I felt was a great shame. I felt critical about the fact that it didn't stick to the story that I'd written." The film does hit the main overall themes of the book but drop nearly all of the side stories from the novel. Leonard Maltin call the film "One of the best non-Disney animated films ever made."
The animation itself is simply breathtaking. This is a film that proves that hand drawn animation has such an organic feel that in this films case adds to the emotional core of the story. You forget that you are watching an animated film and are thoroughly engrossed in the film. The animation is very lush with beautifully done backgrounds and because the story is based on real locations the animators had to match it. It's one thing to have great animation but there are two very important keys that has help this film endure for so long. First it has one of the best voice casts that had John Hurt as Hazel, Richard Briers as Fiver, Simon Cadell as Blackberry, and Michael Graham Cox as Bigwig. Along with Harry Andrews as General Woundwort and Zero Mostel is perfectly cast as the wonderful bird Kehaar, and Lynn Farleigh is Cat. They truly bring the characters to life with wonderful performances that give each character such life and emotional foundations that convey every subtle moment in the film is perfect. Composer Angela Morley score is lush and she really carries a lot of the weight of the film on its shoulders with the music. There are many memorable music cues that are forever remembered for me after all of these years. This is one of those films that has stands the test of time and is great to go back and watch and find small details that you might have missed. While I am a huge Bakshi fan during the 1970's his films were edgy and shocking at the time. Watership Down tells a very dramatic story with animation that give the viewer a way to look a subjects in a whole different light. Rarely has an animated feature captured both real life and mythology and blended them so well together.
Video;
For the first time the film has been transferred in its original aspect ratio of 1.85 theatrical release (IMDB notes that the film was done as a 1:66 but it seems unlikely that it was show theatrically that way because rarely doe theaters project less that 1.85 back when it was released) because Warner Bros almost always crop their 1.85 film to 1.78 with information being lost on the left and right side of the picture. Thankfully Criterion fixes this issue from the previous Warner release. The new transfer is simply the best version I have ever seen of the film. Colors are perfect and capture both the bright and dark scenes very well.
The booklet goes over the new transfer, "This new high-definition digital transfer was created from the 35mm original camera negative at Warner Bros. Motion Picture Imaging in Burbank, California.
This new Criterion release looks probably as good as when the film was released. The picture has not been overly processed with the original grain still present in the picture. You are able to see some of the small source issues such as cel scratches and other original production source but these are very minor. This new Blu-Ray is one of the best looking hand drawn animated features outside Disney's and it surpasses some of their titles. The black levels are solid and the contrast and color are spot on the original theatrical release. Criterion has done an amazing job on this title and make sure that it still very much looks like film and there is no noticeable DVNR, banding or edge enhancement issues.
Audio;
The original Dolby stereo soundtrack was remastered at 24-bit from a 35mm magnetic track. Clicks, thumps, hiss, hum, and crackle were manually removed using Pro Tools HD, AudioCube's integrated workstation, and iZotope RX 4. The disc has uncompressed PCM audio that captures the original soundtrack wonderfully. Dialog is crisp and clear and the enveloping score does a nice job of capturing the soundtrack very nicely. This was a very early Dolby film and while the audio is not going to blow you away it does a perfect job of matching the original mix. It really nice that Criterion was able to use a full uncompressed audio track for the film.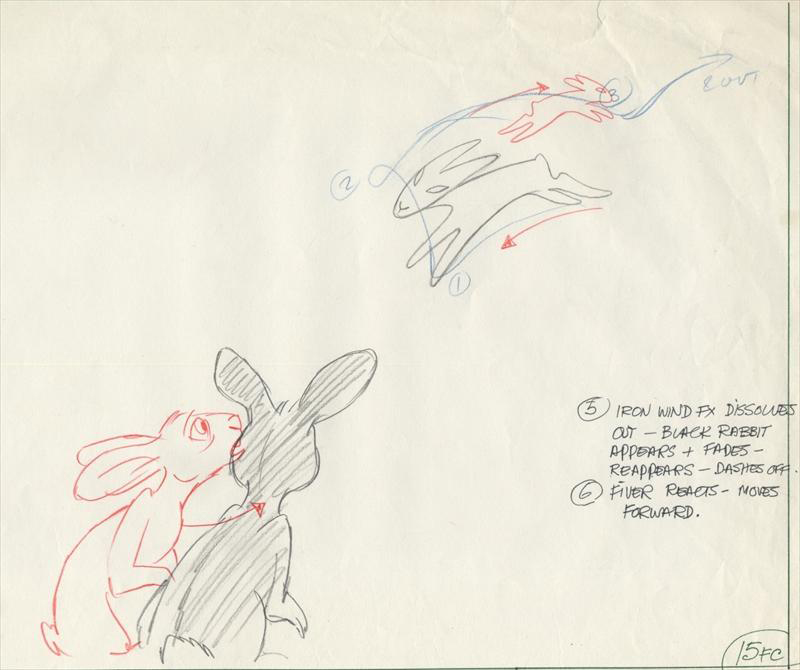 Special Features:
This is where the Criterion release really shines with new special feature and some holdovers from the previous Warner DVD release that were also on the German Blu-Ray disc.
Passion Project: Martin Rosen on Watership Down (16:21 HD)
Conducted by the Criterion Collection in 2014, this interview with Watership Down writer, producer, and director Martin Rosen chronicles the difficult process of bringing Richard Adam's celebrated novel to cinematic life. This is a great interview with Rosen that covers most of the history of the film and how difficult it was to bring the film to the big screen.
A Movie Miracle: Guillermo del Toro On Watership Down (12:23 HD/1080p)
In this 2014 interview, conducted by the Criterion Collection, filmmaker Guillermo del Toro talks about what makes Watership Down a unique work of animation art.
Defining A Style (12:34 HD Up-Converted SD/1080i) 
In this 2005 featurette, many key Watership Down animators and background artist recall their painstaking work on this landmark adaptions.
Storyboards
While viewing Watership Down you can also view on-screen the animation team's storyboards for the film, created under the supervision of senior layout artist Gordon Harrison. The original concept art for the opening sequence is based on designs by Luciana Arrighi.
Theatrical Trailer (3:43 HD/1080p)
There is one feature that was on the Warner DVD release that has not been ported over to this edition. Watership Down: A Conversation With The Filmmakers that interviews Director Martin Rosen and editor Terry Rawlings. Most of this information is covered in the Passion Project material but if you still have the DVD release you should hang on to it to have all of the supplemental material that has been produced for the feature.
Overall the special features on the disc are quite good and give you a look into how the film was made from start to finish. It's nice that Criterion included one of the two features from the previous Warner release but I wish that they had included the conversation with the filmmakers to have everything on the Blu-Ray version. There are two really standout pieces on the disc. First the storyboards from the production are a great look into how an animated feature is made and shows the detail that went into the project. The fascinating thing is that the storyboards are actually a subtitle file and so you can freeze any frame with ease to study the details of them.
The second is the interview with Guillermo del Toro that shares his passion and love of the film. He is really becoming the next generation of filmmakers like Martin Scorsese who share their passion for film and share it with us. I love to hear from talent about films that inspire them and what it means to them.
Final Thoughts;
For me this release is a dream come true. After working on the title years ago at Warner only to find out that it was only released in Germany was really disappointing. But the wait for the Criterion edition is a far superior edition of the film that can nearly called perfect. Perfect picture and sound with some new and old features make this a must have Blu-Ray for any serious animation fan. If you have never seen the film I can't recommend enough that you see the film. The Criterion edition is the closest that modern audience will get to a theatrical viewing at this point.
HIGHEST RECOMMENDATION!
Here are some links to buy the Criterion Watership Down Blu-Ray