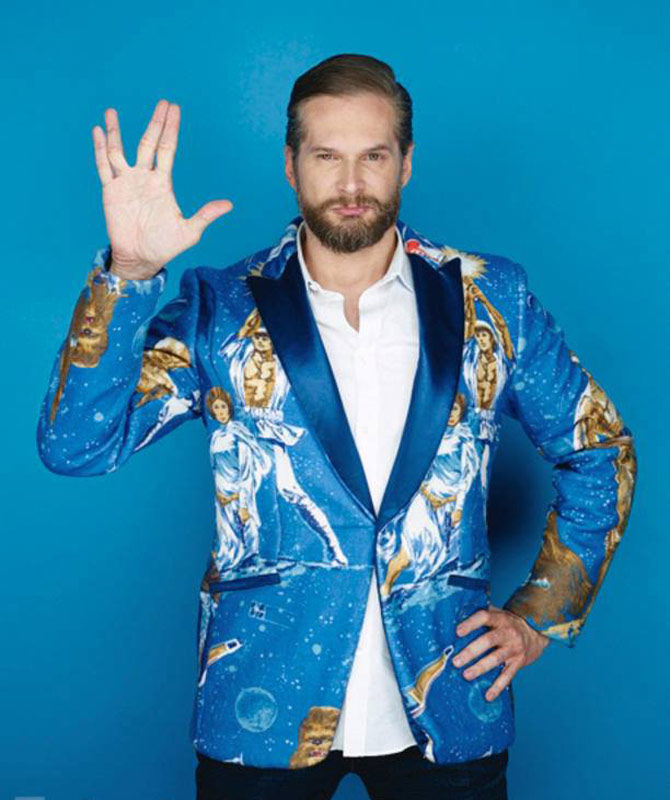 Bryan Fuller has been selected as the showrunner of the new Star Trek television series that CBS is prepping for their digital platform CBS All Access that has a tentative date of 2017. How Fuller is going to fit this into his very busy schedule on top of American Gods for Starz and the Amazing Stories revival for Universal he is going to be very busy. The one thing that makes this announcement so great is that Fuller is the biggest Star Trek fan I know and an all around geek himself.
No stranger to the Star Trek universe having a lucky chance of writing for Deep Space Nine and Voyager At that time, Star Trek had an open script submission policy and Fuller contributed a spec script leading to a pitching for the producers. When he then sold a couple of stories to Deep Space Nine. Fuller was then hired to be a full staff writer for sister Trek series "Voyager" in its fourth season. He worked on Voyager for the remainder of its seven-year run, working his way up to co-producer of the series.
Recently io9 ran the 100 top Star Trek episodes and Fuller landed a total of five in the top 100 they were, Bride of Chaotica! (ST: Voyager #100), The Raven (ST: Voyager #75), Living Witness (ST: Voyager #74), Dark Frontier Part 1 (ST:Voyager #66), Course Oblivion (ST: Voyager #61).
With today's announcement Fuller said in a statement;
My very first experience of Star Trek is my oldest brother turning off all the lights in the house and flying his model of a D7 Class Klingon Battle Cruiser through the darkened halls. Before seeing a frame of the television series, the Star Trek universe lit my imagination on fire. It is without exaggeration a dream come true to be crafting a brand-new iteration of Star Trek with fellow franchise alum Alex Kurtzman and boldly going where no Star Trek series has gone before.
There are some clues to what direction the show might go in because back in 2008 in an interview with IF Magazine he said,
I told my agent and told the people of J.J. Abrams team I want to create another Star Trek series and have an idea that I'm kicking around. I would love to return to the spirit of the old series with the colors and attitude. I loved Voyager and Deep Space Nine, but they seem to have lost the '60's fun and I would love to take it back to its origin.
Also in 2008 he spoke with MTV about ideas that he had for a new show and said,
Trek needs to reinvent itself in order to thrive, saying, "You always have a captain, a doctor, a security officer and you have the same arguments based on those perspectives. It starts to feel too familiar."
In 2013 he spoke with Den of Geeks about who he would like to cast if he were to do a new series and he mentioned Angela Bassett and Rosario Dawson. Fuller name checked both actors in the interview and labeling them as Captain and First Officer, respectively. While this is not a for sure thing it does give you an idea of what direction that he might cast the show. If you look at Hannibal and the strong female characters in the show and he even changed the character of Alan Bloom from the Hannibal novels to Alana Bloom played by Caroline Dhavernas.
One of Fuller best assets is casting both in front and behind the camera. With all of the shows that he has done Dead Like Me, The Amazing Screw-On Head, Heroes (Season 1), Pushing Daisies, Mockingbird Lane, and Hannibal they are not only brilliantly cast there is a lot of great talent that brought those shows to life behind them with great writing staff, directors, set and costume designers, music, editing and every little detail that made them so beloved.
I have been fortunate enough to visit the Pushing Daisies set and Bryan sets an amazing tone on the set when filming. I have never been to a set that was so calm and everyone really wanted to be there. I was a guest but everyone treated me so wonderfully and that is very rare.
This is one of the few time I can remember where a studio has chosen a showrunner that truly loves and respects the material. I know that the show is in VERY GOOD hands with Fuller at the helm and if you weren't excited about the show, you certainly should be now.