Every year we all run around like mad people trying to find the perfect gift for that someone special. If that special someone is a proud geek or nerd then sometimes it's eve harder to find something for them. With these gift giving guides I will break ideas down into categories. I am starting off with art books. There are a lot of great art books out there and it's sometimes hard to figure out what to get. They can also be pretty pricey but I think that I have come up with a list that is varied in both price and genres that the art lover will enjoy. If you click on the title of the book I have included links to online buying options. I will put the publishers link but if they do not directly sell it then I suggest Cheap Graphic Novels for most of the books on the list.
The Art of Bob Peak $79.00 Art Works Books
You may not know the name Bob Peak but once you see his artwork you will for sure know who he is. The synopsis from the publisher is, For the first time, a comprehensive oversize 380 page coffee table book on the Life and Art of Bob Peak. The book includes over 600 images of works spanning a forty-year career with many never before seen illustrations along with his many iconic illustrations for the Movies, Major Periodicals, National Ad Campaigns, Time Magazine Covers, Fashion Advertising, Sports Advertising and more. Bob Peak came on the New York Advertising Art Scene in the early 1950's. He went on to become one of the most prolific illustrators of the 21st century. His artistic vision represented a bridge between the era of Norman Rockwell and Coby Whitmore, with its emphasis on technique, to more direct ways of making pictures, greater use of line, and a more startling, bolder palette. In 1961 he was named "Artist of the Year" by the Artist Guild of New York. In 1977 he was inducted into the prestigious New York Society of Illustrators Hall of Fame. In 1992 after over 100 Movie Campaigns including his iconic images for such films as, My Fair Lady, Camelot, Star Trek, and Apocalypse Now, he was awarded the Lifetime Achievement Award by the Hollywood Reporters for his contribution to the film industry. This is a lavish book with Peak's history of how he got into art and rare photo's of him and his family. The book is separate sections devoted to each part of his career. There is also a number of alternate versions of his work and concept art. There are also many comments on his influence from Drew Stuzan, his son Tom Peak, William Stout, and many others. While most people are familiar with his film work the book shows many other sides to his work. Peak drew some of the most iconic posters of some of my favorite films growing up. The most fascinating thing about the book is the other amazing artwork that he did for advertising, magazine covers and design work. While the book is a little pricey it such a rare opportunity to see a lot of this artwork that having it in one gorgeous book is worth the cover price.
Here are some of the pieces in the book.
Cover Story: The DC Comics Art of Brian Bolland $39.99 DC Comics
DC Comics has done a number of cover art books by varied artist but none are as striking as Brian Bolland. The synopsis from DC Comics is, Artist Brian Bolland, best known for his work as illustrator of the best-selling title BATMAN: THE KILLING JOKE, is the subject of this new hardcover collecting his covers for DC Comics. Featuring highly detailed and meticulous craftsmanship combined with dramatic takes on the world's best-known Super Heroes, Bolland's work has been featured on GREEN LANTERN, BATMAN, WONDER WOMAN, THE FLASH, ZATANNA and the Vertigo series THE INVISIBLES and ANIMAL MAN. This spectacular collection includes rarely seen and never-before-published art, along with commentary from Bolland. Bolland was already established in the UK with his work on Judge Dredd and had a chance meeting with DC artist Joe Stanton at a convention in London and that led to his first DC Comics assignment on the cover of Green Lantern #127 and from there the rest is history. But it was Camelot 3000 that truly established his reputation in the US. He became the cover artist for many book like, Animal Man, Superman, Doom Patrol, Wonder Woman, and The Invisibles among many others. THe great thing about the book is the commentary from Bolland himself. It gives you great insight to how he approaches art and things he liked and things he didn't like. There are many preliminary drawings that give you great insight to how a cover can develop over the course of the job. This book is a must have for any Bolland fan and is real steal for the price.
Here are some of the artwork from the book.
 The Art of Joe Kubert $39.99 Fantagraphic Books
There are few people who have drawn comics over the years that you could call a true legend. Joe Kubert is one of those few. Kubert not only was a great artist, he was a writer and also a mentor. He started the Kubert School that specialized in teaching people the art of drawing comics. But it was his art that captured many generations of comic readers and he continued to deliver stunning artwork until the time he passed away in 2012. The synopsis from Fantagraphic Books is, Joe Kubert is one of the great comic book artists. His career literally traverses the history of comics, beginning in 1938 when he became a professional at age 12, to today as one of the greatest draftsmen working in the field. Kubert is known and respected as much for his sinewy, passionate drawing as he is for his consummate storytelling skills. Over his 70-year career in comics, he has worked as an artist, an editor, a publisher, an entrepreneur, and a cartooning auteur. The Art of Joe Kubert is a deluxe, full-color coffee table book that honors this legendary creator with beautifully reproduced artwork from every phase of his career as well as critical commentary by the book's editor, comics historian and Kubert biographer Bill Schelly. The great thing about this book is that it not only shows the more familiar work like Sgt. Rock, Tarzan and Hawkman. It gives you a glimpse of his early work and how his personal life seeped into his work. Editor Bill Schelly give such great insight to the art and the man. While not entirely a biography or a straight forward art book, it's blends together both so well that you get to know the man behind the art. After you read the book you will understand why he was a master illustrator.
Here are a few of some of the amazing artwork from the book.
Art of the Modern Movie Poster $75.00
For the most part movie poster in the present day are usually terrible. They are all practically a photoshop fiesta that for the most part be done by a kindergarten class. While seeing a movie poster is still thrilling the true art of making movie poster currently are more marketing inspired than being inspired by art. The synopsis from Chronicle Books is, Critically authoritative, visually stunning, and physically massive, Art of the Modern Movie Poster is the first and last word on post-WWII film poster design. Showcasing fascinating examples from 15 nations, this collection of more than 1,500 exemplary designs is a must-have for film buffs, design and poster aficionados alike. The posters are organized by country of origin, offering an intriguing glimpse into each region's unique visual sensibility and sometimes unexpected takes on familiar films. Gathered from the renowned collection of the Posteritati Gallery in New Yorkone of the largest holdings of international film posters in the world this volume is the definitive survey of both film and popular graphic art in the modern era. The way that the book is set up is great. Instead of by year, picture or genre its separated by country.  There are a lot of films that have very different styles depending on the country and audience it's going to. Sometime a foreign poster for an american film can be a lot better, a lot worse, or very strange compared the original release poster. The other thing that I love about the book is how the book really celebrates the art of movie posters and how the art can really evoke emotions. Sometimes the poster is better than the film. A lot of low-budget films would spend lots of money designing a great poster to get people in the door to see a film that wasn't very good. While the $75.00 price tag ma seem high the book comes in at a whopping 516 pages that makes for a lot of posters to be seen. If you are a movie fan and miss the days of poster art then this book is for you.
Here are some of the great posters from the book.
Drew Struzan Oeuvre $49.95 Titan Books
This book was originally put out by Dreamwave Productions in 2004. The company has went out of business but thankfully Titan Books in the UK has brought the book back into print and has updated it to include Struzan's work from the original publication up to his 2010  artwork. If you get ether edition you are in for a treat. When it came to artwork for movie posters in the 1970's through the 1980's there were two names that defined the movies released during that period. The first was Bob Peak and the other was Drew Struzan. The impact that Struzan had on myself and other that grew up in that period are truly immeasurable. The synopsis from Titan Books is This sumptuous hardcover edition, with a forward by George Lucas, features over 250 pieces of artwork, including all of Drew's most iconic movie images, as well as other highlights from his career, including album, book and comic book covers, stamps, trading cards, promotional artwork and very personal original works. The book comes right up to date, including exclusive San Diego Comic-Con poster art produced for the Walking Dead television series (2010) and the Cowboys & Aliens movie (2011), with text by his wife Dylan, providing an intimate look at the man and his legacy. While you look trough the book and seeing the art by itself without the logos and credits, you realize how much of the feeling that you get from the film are captured in the artwork itself. You also see how Struzan is able to capture the actors face that is so life-like yet it's art at the same time. They say that a picture is worth a thousand words and after seeing all of the amazing artwork that Struzan has done of the years will leave you speechless.
Here are a few of the breathtaking artwork from the book.
 Jack Davis Drawing American Pop Culture $49.99 Fantagraphics Books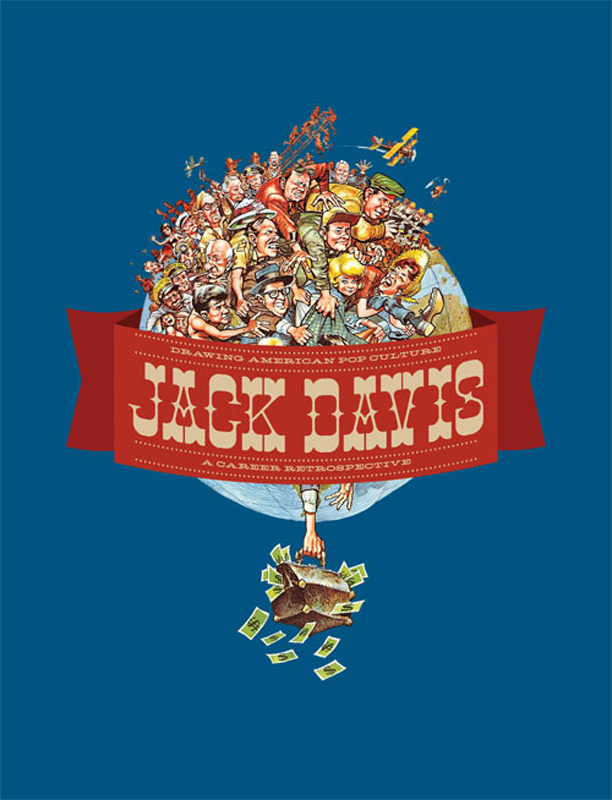 Jack Davis is one of the few artist that you could say has almost drawn everything. The synopsis from Fantagraphics Books is, Jack Davis: Drawing American Pop Culture is a gigantic, unparalleled career-spanning retrospective, between whose hard covers resides the greatest collection — in terms of both quantity and quality — of Jack Davis' work ever assembled! It includes work from every stage of his long and varied career, such as: excerpts of satirical drawings from his college humor 'zine, The Bull Sheet; examples of his comics work from EC, MAD, Humbug, Trump, and obscure work he did for other companies in the 1950s such as Dell; movie posters including It's a Mad, Mad, Mad, Mad World, The Bad News Bears, Woody Allen's Bananas, The Party, and others; LP jacket art for such musicians and bands as Hans Conreid and the Creature Orchestra's Monster Rally, Spike Jones and Ben Cooler; cartoons and illustrations from Playboy, Sports Illustrated, Time, TV Guide, Esquire, and many others; unpublished illustrations and drawings Davis did as self-promotional pieces, proposed comic strips that never sold (such as his Civil War epic "Beaureagard"), finished drawings for unrealized magazine projects — and even illustrations unearthed in the Davis archives that the artist himself can't identify! The thing that is so fascinating when you look at Davis's work is that how versatile of an artist he was. While you could always see the style in his artwork he was able to do many different genres but would always work for what the job required. My only minor complaint with the book is that there is none of his artwork from the Rankin/Bass Mad Monster Party. I'm guessing that there was a legal issue with that material that kept it out of the book due to the release of the book about the movie released by Miser Bros Press. This book is a must for any Jack Davis fan or someone who wants to see the lifetime of work from a master illustrator. In the back of the book is a biography of Davis by Gary Groth and tributes by some of the todays greatest artist that were inspired by his work including Sergio Aragones, Peter Bagge Joe Kubert, and many others. This book is a steal for the price for all of the great artwork and the rare stuff that you have never seen before.
Here is a sample of some of the great art from the book.
Dave Stevens Covers and Stories $49.99
Dave Steven Complete Sketches & Studies $50.00 IDW Publishing
Dave Stevens was one of the greatest comic book artist to grace the pages and left us far too soon. Before he passed away he worked with IDW to preserve the Rocketeer for future generations. IDW has also put together two great hardcover book that collect both his sketch books that he had made for conventions and another book that cover almost all of his not Rocketeer material that he did including covers, stories and never before published artwork. The Synopsis for the Covers & Stories is, Although best known for his work on The Rocketeer, Stevens was also one of the most accomplished and skilled comic book artists in comics. His first professional comic work began with inking Russ Manning's pencils for the Tarzan newspaper comic strip. Stevens later became the first to win Comic-Con International's Russ Manning Most Promising Newcomer Award in 1982. The synopsis for the Complete Sketches and Studies is, Dave Stevens, famed creator of The Rocketeer, was an extraordinary artist. His talents with pencil and brush were legendary and fans anxiously awaited each new—although infrequent—cover or illustration he rendered. To quell his fans thirst for more Stevens art, Dave self-published four limited edition sketchbooks, chock full of beautiful preliminaries, sketches, roughs, and even completely finished pieces. All four sketchbooks are long out of print, and are highly sought-after collectibles, but IDW is now collecting all four, as well as numerous drawings never before seen, in one gorgeous hardcover. Both books show what an amazing talent that Stevens was. The one thing that I can tell you that the books do not is that Stevens was one of the nicest people who you could have ever met. He was a very humble person even after the huge success of the Rocketeer. Both books capture how great of draftsman he was. It was Stevens that introduced a whole new generation to Bettie Page and he also was able to meet her and he helped make sure that she got compensation from the merchandising from her likeness. While Stevens may have not been the most prolific artist he definitely made more quality art than most other artist do in a longer lifetime.
Here are some samples of Stevens artwork from both books.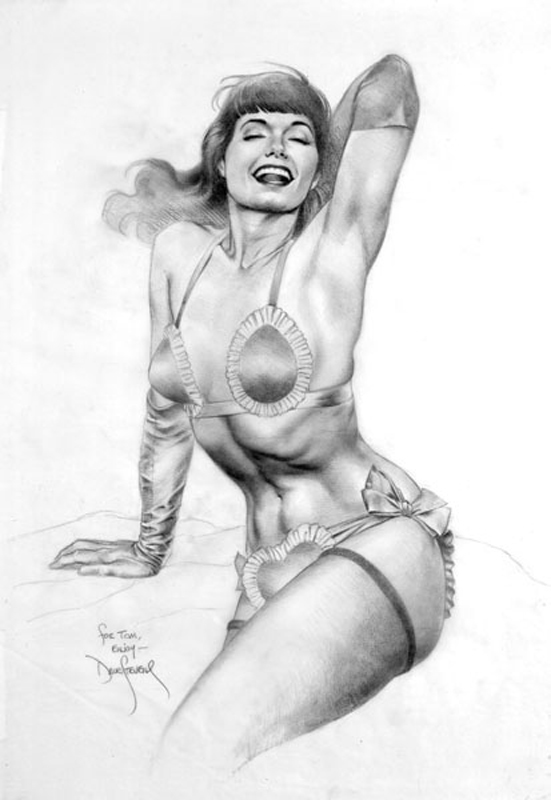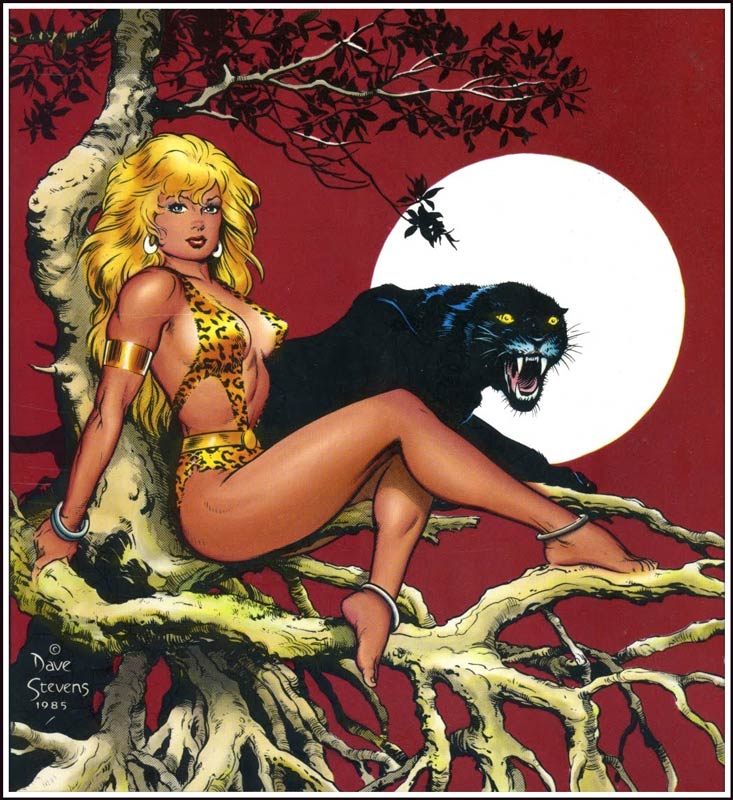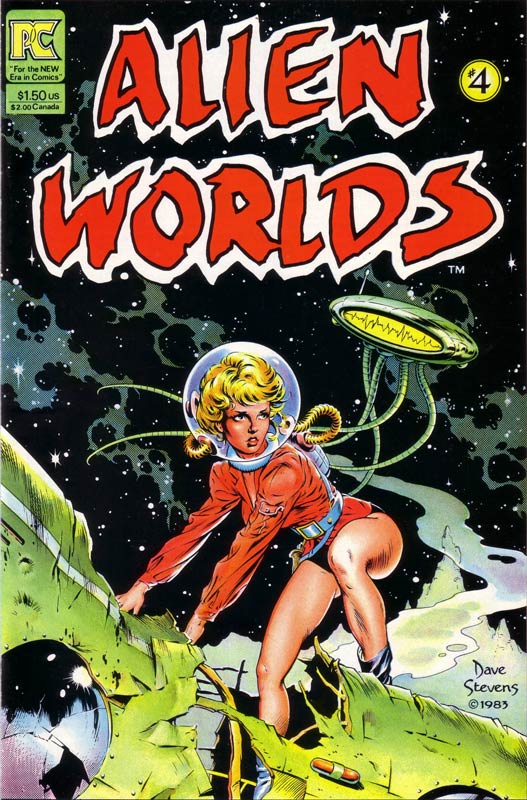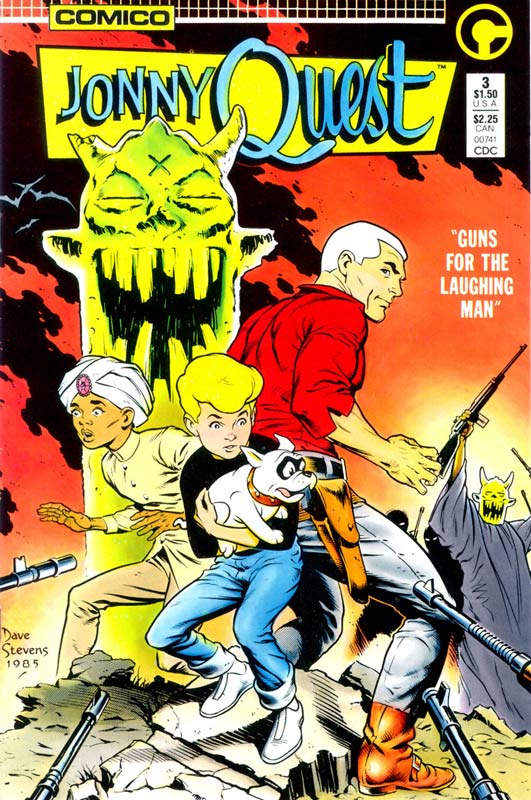 Woodwork $59.99 IDW Publishing 
The book Woodwork is essentially a catalog from the Wally Wood exhibit that took place in De Palma Spain in 2010 the book is in both English and Spanish. The synopsis from IDW is, Wally Wood is one of the most celebrated comic artists of all time. His legendary career runs from the glory days of EC Comics' extraordinary line of science fiction titles to the brilliantly subversive Mad Comics (and, later, Mad Magazine). He produced extraordinary illustrations for magazines like Galaxy after EC folded, and worked on the some of the most fondly remembered stories published by Marvel Comics in the mid 1960s. He also co-created the Thunder Agents and was a pioneer in self-publishing. This massive tome is the American edition of a museum catalogue that accompanied a gigantic career retrospective on display in De Palma, Spain in 2010, the largest such exhibit ever devoted to this incredible artist.  The book covers Wood's entire career from 1927 to 1981 and  includes art from every period. He created the T.H.U.N.D.E.R. Agents and he also did art for EC Comic with work in Weird Science and Tales From the Crypt. He also did work for both Marvel on Daredevil and DC on All Star Comics where he created the visual Power Girl and the story goes that every month he was going to draw her breast bigger until someone noticed. He also did some work at Mad Magazine where he had a real knack for comedy. In his later career he drew X rated comics. He came from an era of classic draftsmen in comics. The detail and layouts of his artwork would inspire generations to come. This volume is so detailed in both his art and his biography that it will take you a while to get though this wonderful book. Rarely does a book like this comes along very often. It's like a master class in art and you will truly learn from the best with this book.
Here is a small sample of the stunning artwork that is in the book.
 The Art of Bone $39.95 Dark Horse Comics 
In modern comics there are a small handful of books that you could truly call epic. Bone is one of those rare books that does not come along very often. The synopsis from Dark Horse is, Bone is an international publishing sensation with hundreds of thousands of loyal readers and no end in sight to its growing popularity. Now, for the first time anywhere, see the homemade comics, sketches, and grand plans that set this masterpiece of literary fantasy in motion. From there, take a tour through piles of promotional art, holiday cards, and pivotal storytelling moments from the revolutionary self-publishing years, where Bone went from "the little comic that could" to an industry leader that changed the face of comics. Finally, revel in the wonder of Bone as a complete 1300-page graphic novel, a work for the ages, filled with comedy and tragedy and adventure for generations to come. First if you haven't read Bone then shame on you! It's probably one of the best stories that comics have seen in a long time. If you have read the book then this is a must add to your collection. It's everything that you ever wanted to know about how Smith's Bone story came to be and how his art played such an important part of that story. While on the surface the art may look simple but if you really look closely there is a lot more depth to it than you may have realized. Thankfully Smith has kept all of his notes and artwork from his childhood that became the formation of Bone. This book is a great glimpse into how an epic is created from start to finish. Really wonderful stuff.
Here is some of the artwork from the book.
The Art of Tim Burton $69.99 Steels Publishing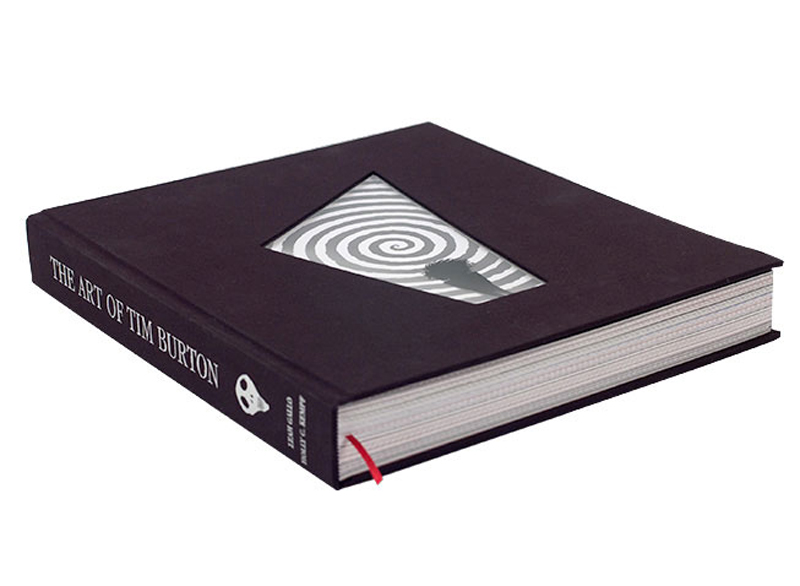 A couple of years ago there was a traveling Tim Burton art exhibit that toured the world. While the exhibit was amazing you were not allowed to take pictures of the art. Luckily almost all of the artwork that was on display is included in this lavish book. The synopsis from Steels Publishing is, The Art of Tim Burton is the definitive compilation of forty years of Tim Burton's artistry, including film concepts and hundreds of illustrations from his personal archives, edited under the creative guidance of Burton himself. This comprehensive 434 page book is grouped into thirteen chapters that examine common themes in Burton's work, from his fascination with clowns to his passion for misunderstood monsters, to his delight in the oddities of people. Many of Burton's friends and collaborators offer their thoughts, insights and anecdotes about Tim Burton's style and artistic approach to life. This is one of those books where you have to like Burton's style and dark side to appreciate it. If you don't like Burton's work this is not the book for you. If you do and were not able to see the exhibit then you are in luck. The book I would say covers about 80% of the exhibit. What the book does not have are pictures of the props and his sculpture artwork. On the other hand there is artwork in the book that was not at the exhibit. So there is a bit of a trade-off. The book was published before the exhibit and is independent of it. Luckily he keep almost all of his artwork from his childhood up to when the book was published. It also includes artwork from the aborted Superman Lives film that he was going to do. It's rare that a film director is also an artist and the book gives a glimpse into how Burton sees the vision that he has in his head when he comes up with concepts. The quality of the book is superb and well worth the $70 cover price.
Here is a taste of the artwork from the book.
IDW Artist Editions Prices vary on each edition $100.00 to $300.00 IDW Publishing 
Here is the where we step up this money on art books. Collecting original comic book artwork is a rich man's game. While an up and coming artist you can some times get an original page of art from maybe $75.00 to 150.00 if you are talking about the big guns of the comic book world you are looking at hundreds if not thousands of dollars for one page of original artwork. Sometimes the artist do not even sell their artwork like in the case of Jeff Smith and Bone all of the artwork was donated to a museum. Of course the older the artwork the harder it is to find and a lot of it is already in private collections. Scott Dunbier before he worked as an editor for IDW was an original art dealer. So he has many contacts throughout the years. The first ever Artist Edition was Dave Stevens The Rocketeer and sold out before it was published. There have been over 15 editions publish so far and many more in the pipeline to come. The artwork is scanned at high-resolution in full color to capture every part of the black and white original artwork. This includes glue stains, blue line work, smudges, white out and other imperfection that are present in the original page. These imperfection are corrected in the printing process in the production of the comic book. So even thought the artwork is in black and white you can see any color that was originally there. The books are the size of the original artwork so in the case of the Mad Comics Artist Edition that is one of the largest it measures 15 inches by 22 inches. The range of books have been from EC comics of the 1950's to more current books such as Bone from the 1990's. There are many dream project that Dunbier wants to do and some of them are coming soon such as the Jack Kirby's New Gods Artist Edition and Charles Schulz's Peanuts. He also got to work with the late Joe Kubert before he passed away on the Tarzan and Tor Artist Editions. While the cost of these book are high they are certainly a lot cheaper than buying the original artwork. These are a must have if you are a fan of comic art and a specific artist. It's as close to having the original art without the price tag that goes along with it.
Here are some of the covers to the ones that have been published and some up coming ones.
Well I hope that this will give you some ideas on gifts for giving as present's or getting some of these great books for your own collection. There are many other great art books out there and could only fit so many on this list. hopefully soon I will be reviewing some other great art books that I have come across and will share with you. So be on the lookout for some more gift ideas for that special geek in your life with more great gifts in other categories.