Things are getting a little bit back to normal here at Pop Culture Maven. There are still a few SDCC stories to post over the next few weeks but we can not forget to do new comic book reviews for this week.
SIP KIDS One-Shot
Abstract Studio Story & Art Terry Moore, Colorist Steve Hamaker
It's been a long time for a new Strangers In Paradise story and this is a very different one. The plot from Abstract is, They're back! The Strangers of Paradise gang returns in their first all-new, full-color story since 2007 – as 6 year olds! Francine and Katchoo comb the neighborhood for a missing peanut butter and jelly sandwich, but Darcy bribes Tambi to find it first and every suspect reeks of PB&J. Meanwhile, the mysterious "Kissing Bandit" seems unusually fixated on Francine, and Casey launches an all-out attack on David's "No Girls" treehouse. Fans of Strangers In Paradise will welcome this new story. The question is if you have never read the series is this a book that you can read? Kind of yes and no. The problem for new readers will be that they are unfamiliar with the characters. While the story is self-contained new readers will probably not understand the subtle humor of the characters that readers of the series will immediately get. The story is a nice fun romp that is very much inspired by classic Peanuts. Moore wisely keeps the story simple and lets the cast still be themselves just in smaller versions. The story is very relatable to everyone's childhood in one form or another with both the good and tougher times. Moore's art is a mashup of his usual wonderful art style but with a nice nod to Schulz at the same time. The coloring by Hamaker is very nice and keeps the color palette simple yet very effective for the book. It complements Moore's art very nicely.
Is this book worth your time and money? For longtime readers of SIP this book is a nice love letter to the fans of the book. For new readers it might be wiser to at least pick up the first trade of the original series before you read this story. Overall it's a really fun and sweet story that is very nice to see what it would be like for the SIP cast in their younger lives were. I really enjoyed it.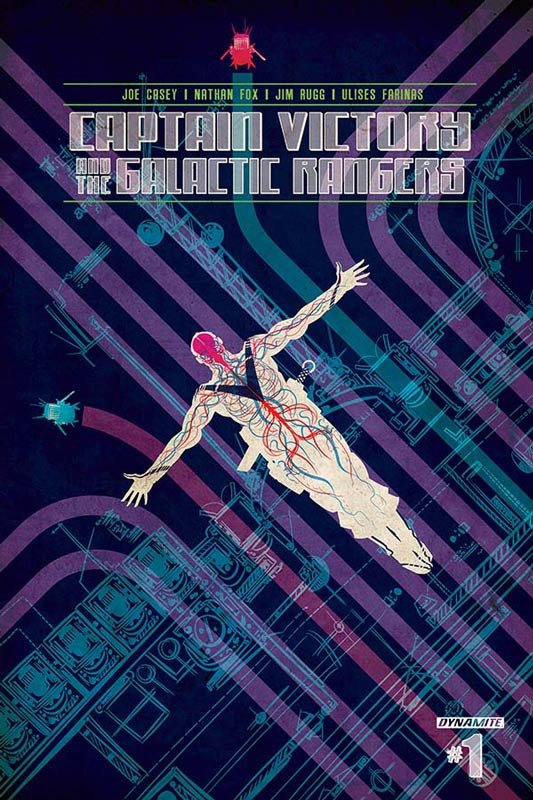 Captain Victory and the Galactic Rangers #1
Dynamite Writer Joe Casey, Artists Nathan Fox, Jim Rugg, Ulises Farinas, Colorist Brad Simpson, Letterer Simon Bowland
I am a huge Jack Kirby fan so when reviving on of his books you really have to hit it out of the park. The plot from Dynamite is, Joe Casey is one of the industry's most popular writers having written for Marvel and DC, from The Uncanny X-Men to Superman, and many more best-selling titles, and most recently created and writes the acclaimed Sex series from Image Comics! Now he is tackling one of Jack Kirby's greatest creations, Captain Victory! And this story will Blow! Your! Mind! Out of the hell of a cosmic firefight, Captain Victory is launched into an epic adventure that spans both space and time! All your favorites are here — as well as all-new enemies to face! Your new favorite cosmic comic book has finally arrived! I have to admit I was a bit befuddled by this first issue of the book. Casey is one of those writers that has written a lot of comics over the years but for me has not left a big impression with a lot of them. The Kirby version of Captain Victory is a pretty straight forward Kirby book of the late 1970's period. It was another take on his New Gods material from DC Comics but with a more science fiction tone. Casey wisely keep elements from the original Kirby run but strikes out on his own story. The problem I had with the story in this first issue was a little disjointed and scattered. There is always a risk in starting the story in the middle instead of at the beginning. While not a disaster I really felt unsatisfied after reading it. The art is done by three artist each doing a period portion of the story. While all of the art is good I felt that the need for different artists for flashbacks were not necessary.
Is this book worth your time and money? I doubt that very few comic readers today have ever read the original Kirby run of the book. So starting off fresh is definitely the way to go with this new series. While I liked ideas in the story I really felt overall that this first issue was a weak start to the series. Casey story should have had a bit more focus to it. While I didn't hate it, I didn't feel a huge need to rush to the next issue. The only thing that I will give it was the last few pages did set up an interesting idea for the next issue. Issue #2 is going to be a make or break for me with this book.
Alex + Ada #8
Image Comics Story Sarah Vaughn & Jonathan Luna, Artist/Colorist/Letterer Jonathan Luna
The returning champ to the reviews continues its amazing run. The plot from Image is, As restrictions tighten on androids, Ada feels unsure about her place in Alex's life and the world. This issue is a real turning point for the book. The relationship of Alex and Ada really comes to a crossroads. They are obviously in love with each other but Alex doesn't want to take advantage of Ada but she wants to explore their relationship further. Vaughn and Luna continue to pace the story exceptionally well. They are telling a really heartfelt story that emotionally hits you every issue. They continue to take the reader on a wonderful journey of love and what a relationship goes through in life. While it may be based in science fiction the real story is the human emotions that the story brings to it. Luna continues to bring a depth to the art that fits the book so wonderfully. Very few artist can convey very subtle facial emotions and Luna continues to capture this so well every single issue.
Is this book worth your time and money? I have for seven issue been recommending this book. Each issue get better and if you are not reading this book by now, I don't know what else to tell you. Simply this is probably the best comic being currently published now. This is what comics can be, great emotional storytelling that touches your heart and captures your imagination. HIGHEST RECOMMENDATION!!!!
Imperial #1
Image Comics Writer Steven T. Seagle, Artist Mark Dos Santos, Colorist Brad Simpson, Letterer Thomas Mauer
This new book from Seagle and Dos Santos gets off to a so-so start. The plot from Image is, Mark is two weeks out from making the biggest decision of his life. But which big decision will it be? Taking the ring of the woman of his dreams and becoming a married man? Or taking the crown of the world's only superhero and becoming the next Imperial? STEVEN T. SEAGLE (THE RED DIARY/ THE RE[A]D DIARY, Genius, it's a bird…) teams with MARK DOS SANTOS for a buddy book with commitment issues. While this first issue was a decent read, I just had this nagging feeling of having read this story many times before. Seagle's story does set up things fairly well but it never really leaps off the page at you. Instead of a buddy cop story it's pretty much a buddy superhero story. Dos Santos art is good and better than the last issue of Red City but it feels kind of average. Maybe because he is working on two book currently that might be the problem. The layout of the story is very nice and does a nice job with the facial expressions.
Is this book worth your time and money? This is one of those books that falls into the average pile. While I will give the first issues cliffhanger is pretty good but, the overall story so far is a lot of been there and done that. Seagle is a really good writer but this book really gets off to a shaky start. The art by Dos Santos is OK but I know he is capable of better. Hopefully the book will take a leap forward in the second issue. Because that is about all it has left after this middling first issue.
Rocket Raccoon #2
Marvel Comics Writer and Artist Skottie Young, Colorist Jean-Francois Beaulieu, Letterer Jeff Eckleberry
If you loved Rocket in the Guardians of the Galaxy movie then you will really love this new book. The plot from Marvel is, he most notorious Raccoon in the galaxy has been arrested and falsely accused of murder! The real killer? An imposter procyon that seems to be one step ahead of Rocket at every turn. Now, it's up to Rocket and a certain someone from Planet X to find the truth! Young continues the truly genius story from the first issue and keeps the fun rolling along. He really captures both the fun and the smart-ass parts that is the current version of the character. The tongue is firmly planted in cheek on this book. Young wisely keep the story on pace but still telling a story that is well worth reading. There is really no better artist for this story than Young. His style fits this book so perfectly that you can't imagine anyone else doing it.
Is this book worth your time and money? This is a super fun book that has a solid story with amazing artwork. It's simply one of the funnest books being published now. Well worth the $3.99 cover price. RECOMMENDED!
Terminal Hero #1
Dynamite Creators Unleashed Writer Peter Milligan, Artist Piotr Kowalski, Colorist Kelly Fitzpatrick, Letterer Simon Bowland
Dynamite's second creator owned book hit the shelves this week. The plot from Dynamite is, With Shade: The Changing Man, X-Statix, Doop and of course Hellblazer under his belt, Peter Milligan is now taking on Terminal Hero! Rory Fletcher is a good man. The problem is, he's dying of an inoperable brain tumor. And then his best friend introduces him to the mysterious Treatment Q. This strange and forbidden therapy might just save Rory's life. But its nightmarish side effects could make him question just how good he really is, and just how much he really does want to live. I don't know that I would call Fletcher a hero in the first issue after some of the events that take place but Milligan gets the book off to a very interesting start. Milligan brings his darker side to this story but it also is a tale of gaining powers of a god and what you do with them. While there are some things that Fletcher does to people I can't say that a lot of people wouldn't do the same thing. The thing that I liked about the story is that everyone has a light and dark side and that a lot of things in life fall into a very grey area. Milligan is exploring some very primal emotions in this story and is laying some really interesting ground work for the future. Kowalski is better than average for a Dynamite book. He does a nice job on the characters and conveys the emotions that are needed for the story. I really enjoyed the visual look of Fletcher using his powers that he did.
Is this book worth your time and money? I really enjoyed the first issue and Milligan has set up a very interesting idea for the series. The thing that I really liked is the grey area that the story is taking. Thing in life are not always simple or difficult. Thing happen and then we have to deal with them. That is hopefully what the story is going to explore in future issues. RECOMMENDED!
Figment #3
Marvel Comics Writer Jim Zub, Artist Filipe Andrade, Colorist Jean Francois Beaulieu, Letterer Joe Caramagna
One of the more surprising book to come out this year continues to impress. The plot from Marvel is, Our daring duo explores the realms of imagination, finding friends and foes alike. While back on Earth, a clockwork army assembles under the command of the frightening force known only as The Singular! Acclaimed creators Jim Zub (Skullkickers) and Filipe Andrade (CAPTAIN MARVEL) give a Marvel spin to the mind-expanding attraction Journey Into Imagination! I was really caught off guard with this book and have really fallen in love with ir. Zub story is coming along quite nicely. This issue continues to explore the strange world that Mercurial has fallen into and is finally discovering it's secrets. While there are shades of The Wizard of Oz in the story, Zub makes the book stand on its own without feeling too much like it. Zub is wisely using Figment as a sidekick because the story would have probably been a cutesy but average all ages book that rarely turn out this good. The only minor complaint with the story is that the story will read a lot better in one sitting than as a monthly book. In the long run that is a good thing. A well thought out story in a comic should work better as a whole. The art by Andrade bring this wonderful story to life with such beautiful artwork that is really making this book soar far and above the usual licensed comic.
Is this book worth your time and money? Zub and Andrade are continuing to keep this book to a level of quality not found in the typical Disney licensed book. Zub story is very all ages friendly but he never dumb it down that a lot of books fall into the trap of. This is a really solid book that I hope will continue after the first story. I hope that we get to see a lot more Figment in the future after this mini series is done. VERY RECOMMENDED! 
Howtoons [Re]Ignition #1
Image Comics Writer Fred Van Lente, Artist Tom Fowler, Colorist Jordie Bellaire, Letterer Rus Wooton
This is one of the oddest books of the week. The plot from Image is, Tuck and Celine's parents put their family in suspended animation to ride out the ecological apocalypse—but when the kids wake up to find Mom & Dad are gone, they have to make their way across a brave and terrifying new world to find the 'rents…using only their Howtoons projects to survive! I liked the first issue but honestly not sure what audience that it is looking for will find it. While this is firmly an all ages book, it defiantly works on many levels. Van Lente's story is very intriguing and a little dark for an average all ages book. But the timing of the story couldn't be more appropriate. The how to parts of the story while great for younger readers kind of get a bit in the way of the really solid story that the book is telling. That is where I am really torn with the book. I get into the story and then there is another how to make a new project. The problem is that the story is not for the younger crowd and the tween readers I doubt would even bother looking at this book over the usual superhero fare that clogs up the shelves. Flowers art is really good and has a nice cartoony style that fits the story very well and captures the goofiness of the kids and their antics.
Is this book worth your time and money? I really applaud Image for publishing this book but it falls into a real grey area at a local comic shop. All ages book are a tough sell on a good day, but a tween type book is nearly impossible to target at a comic shop. Most older kids are going to want Batman or Spider-Man instead of a book that appears to them as a "kiddie" book. While as an adult I really loved the book, I pretty much skipped over the how to make things part because they are irrelevant to the overall story. So if you are a parent looking for an all ages book you might want to see if your local comic store has this book. For the adults I do recommend the book because of the strong storyline. RECOMMENDED!
Big Trouble in Little China #3
Boom! Studios Story John Carpenter & Eric Powell, Writer Eric Powell, Artist Brian Churilla, Colorist Michael Garland, Letterer Ed Dukeshire
Continuing where the feature film left off. The plot from Boom! is, Charging down the Black Road of Hell in the Pork Chop Express, Egg, Pete and ol' Jack Burton are facing off against the mythical past of China. Demon thugs and the bulbous Seven-Faced Widow may stand in their way, but you know what ol' Jack Burton says at a time like this? 'Have ya paid your dues, Jack?' 'Yessir, the check is in the mail.' Powell continues his spot on interpretation of Jack Burton that continues to feel just like the film that the comic is based on. I like to think of the book as a Saturday morning cartoon version of the story. Powell keeps the story and the humor right on track with this issue. One of my favorite thing that he is doing is telling Burton's past wives stories while still keeping focus on the main story. This is really giving the book real depth and telling the back story that we all have wanted to know for years. I found myself laughing out loud while reading the book and really admiring how well the book has captured the magic that the film had. Churilla's art is perfect for the story and very impressed that he is able to capture the scope that the story has but still keep the goofiness of the whole story at the same time.
Is this book worth your time and money? I am having a blast with this book and if you are a fan of the movie you are going to have fun also. Powell and Carpenter have come up with a really fun and ingenious story that is greatly complemented by Churilla's artwork. Unless a miracle happens and FOX decides to bankroll a sequel to the film, this comic is the continuing story of the Jack Burton universe that will satisfy any fan of the film. RECOMMENDED!