Well we are now at week three of DC comics villains month and because of a very busy schedule at the old 9 to 5 job and family visiting this weekend I'm only going to get a few of the reviews out this week. So let see if any of this weeks books are any good or not.
Arcane #1 (Swamp Thing #23.1)
DC Comics Writer Charles Soule, Artist Jesus Saiz, Colorist Matthew Wilson, Letterer Travis Lanham
The New 52 Swamp Thing has been one of the stronger launch titles compared to most. While lately the book has been decent I don't think it has been as strong as when Scott Snyder was writing it. I will give current writer Soule has been trying to continue where Snyder left off and while the book is getting stronger it's still go a little ways to get to. The plot synopsis from DC is,Behold a being so vile and deadly that even the Parliament of Decay could not control him! Now take a journey to a place beyond hell—the personal prison of Anton Arcane! Plus: the return of The Rot's new avatar, Abigail Arcane! This issue is sort of origin story of Arcane it misses the mark a bit for new readers. While the story is very good  for the regular readers of the book but I did feel that for a person that is picking this up for the first time and doesn't know much about Swamp Thing is going to be pretty lost. If you are willing to give the book a try this is a really good story and very dark and creepy. The art by Saiz is really nice and the mood fits the story well.
Is this book worth your time and money? While it's a very good read if you have been reading the current Swamp Thing. If you have not then while the story is solid you will probably be a bit lost. I will give the book praise because it's a lot better than most of the villains books so far. I have to admit that Soule's run on the book is definitely growing on me (pun intended).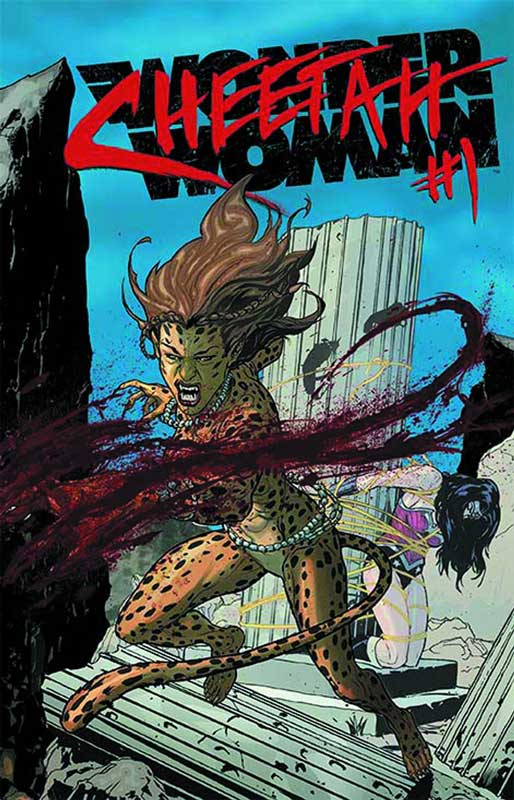 Cheetah #1 (Wonder Woman # 23.1)
DC Comics Writer John Ostrander, Artist Victor Ibanez, Colorist Wil Quintana, Letterer Travis Lanham
It seems as if the old school writers have had better luck at villains month than the new kids are. Ostrander created the last pre New 52 Suicide Squad that was a really solid book back in 1987. So having him write one of those members stories is quite the treat for both old and new readers. The plot by DC is,The Cheetah has clawed her way out of Belle Reve, and is hungry for blood—but before she steps up as one of the Secret Society's most powerful generals, she has a personal score to settle! Learn the truth about the cult of Hippolyta, her vendetta against Wonder Woman, and just how far she'll go to prove that she's the most dangerous predator on Earth! The really nice thing about this story is that it's sort of origin story that tells you enough about Cheetah but just enough to get on with this stand alone story. While not the greatest story ever written, it's really very good and definitely one of the stronger villains months issues. I just love the way that Ostrander cuts to the chase and waste no time on getting the story going and the pacing is really great. Ibanez's art is quite nice and solid. Really good detail and very nice backgrounds.
Is this book worth your time and money? I really enjoyed this story. It's tight and to the point and really brings back great memories of the old Suicide Squad book. It's well worth the $3.99 cover price and maybe DC should give some of their New 52 books to some old school writers like Ostrander. This book is a lot better than most of their current output.
Clayface #1 (Batman: The Dark Knight #23.3)
DC Comics Writer John Layman, Artist Cliff Richards, Colorist Matt Yackey, Letterer Steve Wands
It does seem that some of the second tier villains has faired better in the villains month than others. Clayface is not one of the most well-known Batman villains but with this story be quite surprising. DC plot synopsis is, It's the biggest audition of Clayface's life as he attempts to impress the Secret Society and join their ranks. Desperate to prove himself more than a monster, Clayface sets a scheme into motion that quickly unravels! Will he make his mark—or dig his own grave? Layman really gets a handle on the fact that Clayface tends to do things before he really thinks about the consequences of his actions. The fact that when he does think of a plan it's not very well thought out. Layman tells a fun and tight story for this issue that is a great standalone story for both new and old readers. The only mistake that I can say is that he does not  how Karlo actually became Clayface. It's a very minor compliant in an otherwise very good story. Richards art is really good and he captures the really fluid nature of Clayface.
Is this book worth your time and money? You know I really had a fun time with this book. While the story is simple I found that was it's best asset. There is some god humor and you ultimately kind of feel a little sorry for Clayface at the end. With a good story and good artwork this is worth the $3.99 cover price.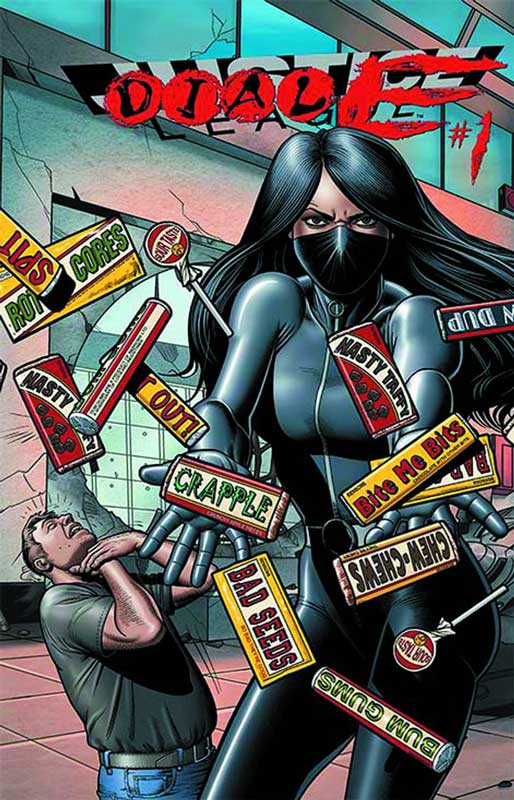 Dial E #1 (Justice League #23.3)
DC Comics Writer China Mieville, Artist Mateus Santolouco, Carla Berrocal, Riccardo Burchielli, Liam Sharp, Jock, Tula Lotay, Marley Zarcone, Brendan McCarthy, Emma Rios, Emi Lenox, Jeff Lemire, Frazier Irving, David Lapham, Carmen Carnero, Sloane Leong, Kelsey Wroten, Michelle Farran, Annie Wu, Zak Smith, Aberto Ponticelli and Dan Green Colorist Eva De La Cruz, Frazer Irving, Anne Wu, Zak Smith Letterer Tayler Esposito
This issue is definitely hands down going to be the strangest of all of any of the other villains books this month. Writen by Mieville and each page drawn by a different artist for each of the 20 pages make this a love it or hate book. DC plot synopsis is, You can't stop dialing! In a special VILLAINS MONTH coda to the fan-favorite DIAL H series, a lost E-dial is discovered by four young criminals on the run in Littleville. But who is chasing them? And will they figure out how to control this nefarious dial before it's too late? Hindsight is twenty-twenty when you're sprinting through dark alleys! This issue features 20 new villains, 20 pages of creative insanity—and 20 top artists, each drawing a page of the action! The best way to describe this book is that it's a loving send off to the recently cancelled Dial H book. It's literally 20 different villains that the kids turn into. While there is not a big story here it's just kind of jam type book. It allows each artist to interpret a very strange villain that Mievelle throws at them. Each artist brings their own style to the party.
Is this book worth your time of money? If you were one of the few readers of Dial H book then you are going to love this "final issue". I would say that for most people they are not going to be able to get into it. While I loved it I think most people are going to really hate this book. This is also by far the best of the 3-D covers. Why two words Brian Bolland, Nuff Said!
Lex Luthor #1 ( Action Comics 23.3)
Written by Charles Soule Pencils Raymond Bermudez Inker Dan Green Colorist Ulises Arreola Letterer Dezi Seinty
Lex Luther is Superman #1 villain and writer points that out in this book. DC plot synopsis is, Evil genius, sadistic businessman, sociopathic inmate—Lex Luthor is all this and more. Now released from prison, there is nothing to stop Luthor from getting his way…not even Superman! Soule really get to the point of Luthor his is evil and he does whatever he need to do to get what he wants. It just show what a brilliant mind that Luther has and how ruthless he is and everyone is disposable This is a really solid book and I loved the fact that Soule didn't pull any punches with it. The art by Bermudez and Green is good nothing flashy but nice.
Is this book worth your time and money. Yes, this is a really solid story and nice art. By far one of strongest of the bunch. While its basic superhero stuff it overall is a really nice read. Well worth the $3.99 price of admission.
Ra's Al Ghul #1 (Batman and Robin #23.3)
DC Comics Writer James Tynion IV, Artist Jeremy Haun, Colorist John Rausch Letterer Travis Lanham
While the origin of Ra's Al Ghul has been interpreted by many writers over the years the basic premise has not changed too much over the story that Dennis O'Neil and Neal Adams wrote when they created him. DC plot synopsis is, The origin of Ra's al Ghul in The New 52! For centuries Ra's has had a plan for this world, and now he is faced with an offer from the Secret Society that could help him achieve what he wants…or undo everything he has worked for. Which path will the Demon's Head choose? Ra's Al Ghul is one of the best Batman villains created and yet this story is kind of boring. While Tynion's "origin" story is serviceable i just really felt that it didn't go anywhere. Sadly this story is not going to entice anyone to really care about him as a villain. The story is very by the numbers and doesn't really show how great of a villain he really is. I will give the art by Haun is nice and clean he really didn't have a lot to work with on this one.
Is this book worth your time and money. Not really. It's so incredibly average that I was really board by the whole thing. Ra's Al Ghul deserves so much better than what is given to us in this book. I would say pass on this one.
Sorry for the lack of all of the villains book reviews this week. Will try to catch up next week.