So long story short this week. I got a nasty eye infection (yuck!) so both reading and writing reviews is a real strain on them so I will try to get to as many as I can before they fall out. So I will try to get the highlights at the very least.
Lumberjanes #4
Boom! Box Writers Noelle Stevenson & Grace Ellis, Artist Brooke Allen, Colorist Maarta Laiho, Letterer Aubrey Aiese
One of my new favorite books of the year really hits its stride with this issue. The plot from Boom! is, After a lot of convincing, the girls are able to agree to get Jen to take them on a hike. Making their way up to the tower and hoping to finally get some answers, they make their way closer only to be stopped by the neighboring boy camp! April, Mal, Molly, Jo, and Ripley have to figure out how to get to the tower, even if they have to use Jen as a distraction to do it. While I have been a big fan of this book the first three issues were stories that pretty much stood alone this issue really seemed to head to the bigger story that has been alluded to in the previous issues. The big story that has been hinted is starting to take shape. Stevenson and Ellis are crafting a nice epic adventure tale and now adding the boys camp and their crazy camp director and the big foot teen gang finally introducing what might be behind the strange goings on around the camps. They continue to keep all of the characters interesting and fleshing them out very well. The story continues to be fresh and snappy with lots of humor and action. Allen does some of her best work on this issue and I have loved the previous issues. She really had a lot to do in this issue and handled it with ease. I was very impressed with the way that she laid out the issue and kept the story flowing exceptionally well. Laiho's coloring added such a wonderful touch that really complemented Allen's artwork.
Is this book worth your time and money? I have been a fan of this book from day one and with this issue solidifies that it maybe one my favorite book being published now. The story is now hitting its stride and along with fantastic artwork this is one of those books that is a great all ages book that I think everyone should be reading now. HIGHLY RECOMMENDED! 
Grayson #1
DC Comics Writer Tim Seeley with plot by Seely & Tom King, Artist Mikel Janin, Colorist Jeromy Cox, Letter Carlos M. Mangual
Bringing back Dick Grayson to the New 52 is a bit anti-climactic. The plot from DC is, Dick Grayson. Former sidekick. Former Super Hero. Former dead man. And now…agent of Spyral?! A thrilling new chapter of Dick Grayson's life begins in this new, ongoing series. It's a super-spy thriller that will shock you and prove one thing: You might think you know Nightwing – but you don't know Dick. So this book takes place after the events in Forever Evil and so for new readers are going to be a bit lost even with the first page that weakly tries to bring you up to speed. This first issue is a set up story and is pretty much a cat and mouse caper that shows what we all know that Dick Grayson can do. Seeley writes a competent story but the real problem is that while it's a light and fun story it didn't really make me jump up and down either. In the end it was an average superhero first issue that didn't really have a hook to keep me coming back for more. On the bright side Janin's artwork is really nice and he does some really nice layouts with the story. He handles both the action and dialog scenes quite well and made the story much more interesting than it was. The book is actually one of the better looking books in the DC roster now. I just wish that the story was on the same level.
Is this book worth your time and money? Neither good or bad this book is just OK. The problem with that is that there are so many comics each month that average isn't going to cut it very long. I might try the second issue to see Janin's wonderful artwork and see if the story seems to take a direction. So if you are a fan of standard superhero fare then give it a spin. If you are looking for something better than average then you should pass this one by.
Usagi Yojimbo Color Special 
Dark Horse Comics Written and Illustrated Stan Sakai, Colorist Tom Luth
Sakai has been doing Usagi Yojimbo for 30 years now and if you have never experienced this wonderful book then you are in luck because this is a great book to start with. The plot from Dark Horse is, The artist of 47 Ronin returns to his signature creation in a new one-shot collecting four Usagi Yojimbo tales in full color, from the pages of Dark Horse Presents and MySpace DHP! In this issue, Usagi encounters ghosts, thugs, pumpkins(?!), and a foreign artist with a price on his head! Collects "Saya," "Buntori," "The Artist," and the much-lauded "Cut the Plum"! Collects stories from Dark Horse Presents #7, #35, and #36, and MySpace Dark Horse Presents #18 and #35! While these short stories may not show the epic scope of what the series is sometimes I do think that it shows off the heart and soul of the book. It's rare in comics today that one creator has worked on his same character for 30 years and still keeps the book as fresh as ever. The thing that I love about when he does short stories is that he is able to show different sides of Usagi that may not fit into a regular storyline. For both old and new readers this book is a real treasure trove of both great story and amazing art.
Is this book worth your time and money? This book is an absolute steal at $3.99. If you had bought the previous issues that are reprinted here then you might want to skip it but going back and re-reading the stories again brings back all the magic as if you are reading them for the first time. If you are a new reader then do yourself a favor, pick this book up and I guarantee that you will fall in love and want to pick up all of the previous collections of this great book. HIGHLY RECOMMENDED!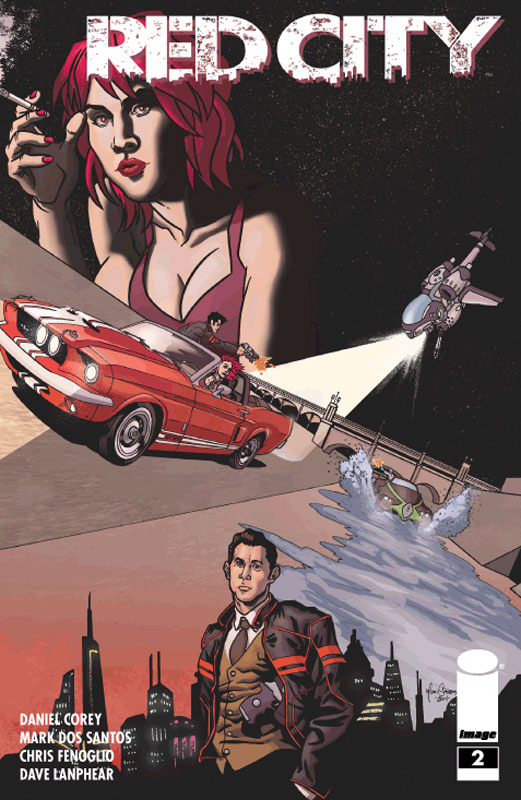 Red City #2
Image Comics Writer Daniel Corey, Artist Mark Dos Santos, Colorist Chris Fenoglio, Letterer Dave Lanphear
While I was not bowled over by the first issue I was willing to give the book a second shot at redemption. The plot from Image is,The case gets complicated, and Cal comes under heavy scrutiny from Red City PD and the Mayor's office. He teams up with Angel, a woman from his past, and the fight spills onto the streets in a high-octane hail of bullets. When writing a good murder mystery story you must have a good story with a point. Unfortunately Corey writing is just not there for it. The story just seems to be treading water and there really isn't much mystery going on in this issue. In fact there is not much of anything in the way of much going on in the issue besides a car chase. The story is just plodding along with a complete lack of direction to it. I have been a fan of Dos Santos artwork but this issue is a huge disappointment. It seems rushed and flat and pretty uninspired. While he didn't have a lot to work with story wise that is not a great excuse.
Is this book worth your time and money? I'm pulling the cord on this book. While it's certainly not the worst book I have read it really is not very good. It feels like a book that would have come out during the black and white boom of the 90's when everyone was putting a comic book together. Mediocre story with very disappointing artwork is the nail in the coffin for this book. Save your money and walk away from this mess.
Sherwood Texas #1
12-Gauge Comics Writer Shane Berryhill, Artist Daniel Hillyard, Colorist Charlie Kirchoff, Letterer Ed Dukeshire
I buy a lot of book and normally I would have passed this book up but my local shop had it for $1.00 so I figured I would read and review it. The plot from 12-Gauge is,Re-imagining the legend of Robin Hood as a modern-day Spaghetti Western, SHERWOOD, TX is set inside the world of biker gangs, drug wars, human trafficking, and revenge. Somebody is a big fan of Sons of Anarchy and decided to mix it with Robin Hood. Well that didn't work out so well. While not a total train wreck of a book, I am glad that I didn't spend more than a buck on the book. This book is like a student film that is somewhat competent but overall mediocre effort. The story never felt like a take on Robin Hood and nothing really happened in the story. Berryhill doesn't give any weight to the characters they are flat and two-dimensional. There isn't any real point to the story and just sits there for the most part. Hillyard's art is pretty amateurish. Most of the characters have the same facial expression throughout the book. The art is flat and the lack of backgrounds does nothing for the mood of the book. While I will give him that the art is at least competent that is about as good at it gets. The cover above is really dreadful and in the final print version is reproduced terribly and you can barely read Texas on the cover. It's pretty embarrassing
Is this book worth your time and money? There are many more enjoyable ways to spend a dollar than this book. Weak story and art it's no wonder that they sold the first issue for a buck. Stores would buy at least a few copies of the book to sell. I would be shocked if anyone dropped a dime for the second issue. Go to the 99¢ only store and buy something more exciting than this book. Buyer Beware!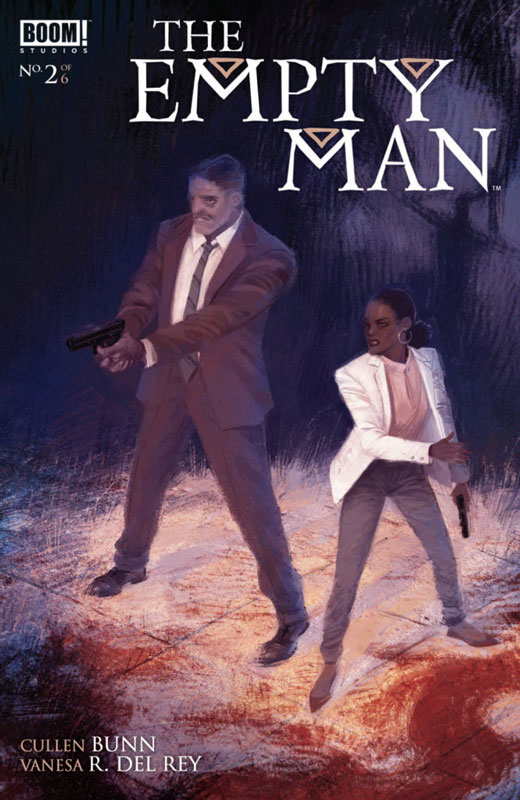 The Empty Man #2
Boom! Studios Writer Cullen Bunn, Artist Vanesa R. Del Rey, Colorist Michael Garland, Letterer Ed Dukeshire
The first issue of this new book got off to a promising start. The plot from Boom! is, Agents Langford and Jensen have uncovered a hidden Witness Cult in the middle of American suburbia they suspect is behind the kidnappings plaguing the country, but will they catch up to Markoff and Patient Zero before the Empty Man virus strikes again? Bunn left the first issue on a great cliffhanger and instead of picking right up with it he does a flashback to stories of the Empty Man attacks. It really catches you off guard a little but was a great way to open the second issue. I liked the fact that the monster attacking them may or may not be what it seems. The question is that is it just a form of the situation. He keeps us guessing on what the mystery is but does keep the story going and revealing just enough to keep you wanting more. I love the way that he is unfolding the story while keeping you just enough off guard to have you wondering what the hell is going on. Del Ray is a great asset to the story. She brings such a gritty visual to the story that keeps it from spiraling out of control. You have to have a strong artist to ground the weird stuff going on in the story and Del Ray does just that. She wisely keeps you close to Lansford and Jensen while the crazy stuff is going on.
Is this book worth your time and money? The second issues does raise more questions than answers, but that is what a good mystery should do. Bunn's story is in it for the long run and there are going to be times where things may catch you off guard but as long as its heading for the story in the long run that will be the key. So far Bunn and Del Ray have crafted a well throughout story that they will hopefully keep on track. This is the type of book that as long as it keeps it's eye on the prize it will be a great read. But it could easily get caught up in itself too. So far so good and I am looking forward to reading the book. RECOMMENDED! 
Well the eyes are done. So sorry because there were a few more books this week that were in the cards but maybe I can squeeze them in next week.