As we get older we have to face the sad fact that people who inspire and entertained us in our youth will no longer be with us. Len Wein is someone who defined my childhood comic book obsessions with not only with his writing but also as an editor. To say that his influence was immeasurable is an understatement. He co-created Swamp Thing, Human Target, Lucius Fox, Wolverine, Storm, Nightcrawler, Colossus, & Thunderbird.
Wein started off as a fan of comics and got his first break in comics after writing for fanzines and along with his friend Marv Wolfman produced a sample superhero comic and presented it to DC Comics. He was given assignments on many DC books but it was his short story Swamp Thing in The House of Secrets No. 92 (July 1971) that was his big break and the story was so well received that DC had him and Bernie Wrightson do a monthly series. Another great run from him at the time was Justice League of America brought back the Seven Soldiers of Victory and the Freedom Fighters.
He went to Marvel Comics in the mid 1970's where he was writing The Incredible Hulk where he co-created Wolverine in issue 182 and a year later brought back the X-Men with co-creator Dave Cockrum.  As we know the book went on to be one of Marvels biggest hits at the time. After a dispute with Marvel Comics he went back to DC to be both a writer and an editor.
While his writing skills are well-known, a lot of people don't realize that he was a great editor too. He edited Camelot 3000, The New Teen Titans, All-Star Squadron, Batman and the Outsiders and of course the most influential comic of the modern age Watchmen. He also scripted the reboot of Wonder Woman with George Perez.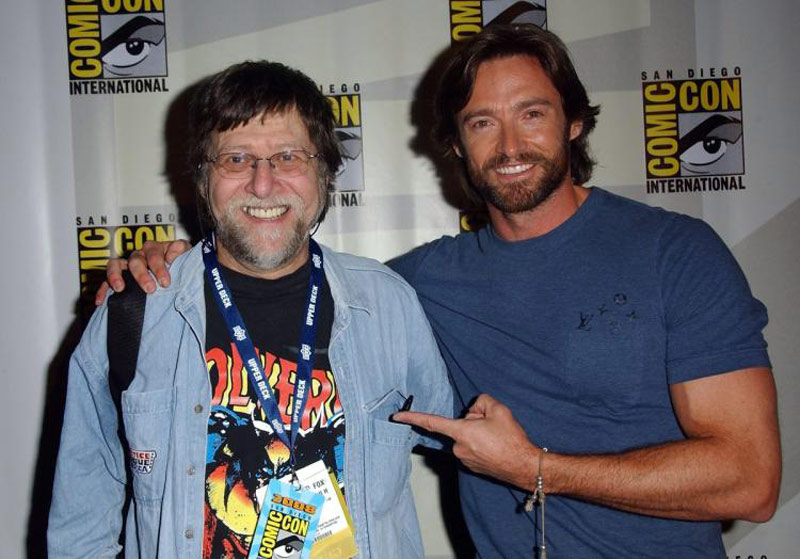 In his later career he was editor-in-chief of Disney Comics and wrote for many animated series such as X-Man, Phantom 2084, and Reboot. His last works showed that he still had great writing skills. In 2015 he adapted a Harlan Ellison treatment for the 1966 Batman television series that was never made and then he literally went back to his roots in 2016 and wrote a new Swamp Thing mini series with artist Kelley Jones that was highly acclaimed and well received.
Sadly he was working on but didn't finish a follow-up Swamp Thing series with Jones again that will probably not be published. Jones on his Facebook posted a page from the book that is a very fitting tribute to him.
Another great read is Mark Evanier who knew him well and wrote some very kind words about him.
While it had been known for some time that he had been very ill recently and when I saw him recently at SDCC I knew that his time was short with us. What makes his passing all that much more difficult was the recent loss of Bernie Wrightson makes the comic book industry a hole that will never be the same because of Len.
I never knew him personally but met him many times over the years at conventions and he was one of the nicest people you could ever meet and his stories were the best. He loved his fans and would always take the time to listen to them and make them feel special. The one thin that you see in photos of him was his wonderful smile. He also had such a great laugh and would always make any panel that he was on special. I know the past few years have been pretty rough for him and while the industry mourns his loss, I know that he is no longer in pain.
The one thing that you can do is to go back and read his work and that is his greatest legacy. He left us with amazing characters and wonderful stories that will entertain and inspire generations to come. So Thank You Len for making my time in this life a better place because you simply entertained us so well.