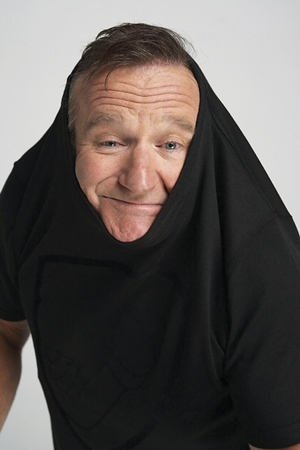 Robin Williams was a truly one of a kind. While he is mostly known as being crazy and never seeming to run out of energy. But the one thing that you hear from people who knew him is what a kind and generous soul that he had. There are so many wonderful moments that he brought us. Both with laughter and tears he was such a versatile actor and while not every film or television show was a hit, he always seemed to give his best. He was also a person who gave back as one of the founders of Comic Relief that raised money to those in need.
We mourn his death because we have memories of when we experienced we had with Williams and the time in our lives that it impacted. It also reminds us of our own mortality. We all have a finite amount of time on this world and when someone like Williams passes it makes us think about what our own impact is. Most of us will not have the same impact that he and others had. The thing that we need to take away from Williams passing is two things.
1) While life is difficult for everyone do not let the demons in our lives win. You can always ask for help. You can always call the National Suicide Prevention Lifeline that is there 24 hours a day 365 days a year. You can call them at 1-800-273-8255
2) Make sure that you tell your friends and family that you love them when ever you can. Also make sure that you give someone a hug if they need it. Sharing a hug with someone is the best thing in life and will heal your soul.
When an artist is gone they leave a really amazing thing for future generations. In Williams case there are many films and concerts that will live on forever. While we are all saddened by his passing it will be his genus that will lift out spirits and make us laugh again and again. New generations will discover as we all have that what made the genie in Aladdin so great was the soul that Williams gave to him through his voice. The list of films and television are too numerous to mention but I am going to talk about the films and television shows that he was in and what they mean to me when I was growing up.
Reality… What a Concept (1979)

While this album came out after Happy Days and Mork and Mindy, I would listen to this album over and over. I was fascinated by that Williams could quickly change things in mid stream. Things would just fly out of him and I would laugh to tears every time. Back in the day this was the only thing that we could listen to over and over. I was in true awe of Williams talent. I played the album so many times that I think I wore the thing out and had to buy another one. This was a real watershed moment in my early years.
Happy Days (1978) & Mork and Mindy (1978) 
I grew up on Happy Days and I understand where the term Jumping the Shark comes from. I was a huge fan of the show In 1978 the show introduced one of the strangest and funniest characters ever to grace the small screen. Mork from Ork was like nothing on the show we had seen before. He was only initially on one episode but proved so popular that they spun the character off into his own show Mork and Mindy that was a huge success and ran for four seasons. In the last season Williams idol Jonathan Winters was on six episodes of the show. The show was a perfect introduction to Williams improve skills and shot his career into a very successful film career.
Popeye (1980)
Robert Altman's adaptation of the famous E.C. Segar comic strip was released to mixed reviews and so-so box office, it is one of those films that people either love or hate. While the film is a bit uneven it seemed as if Williams was born to play Popeye and it's a really amazing performance. If you have never seen the film it's a lot of fun for the whole family.
The World According to Garp (1982) 
One of my favorite of his films showed just how good of an actor that he really was. Not only is the film fantastic but showed that Williams was more than just a comedian. It also showed that he could hold his own against great actors like Glenn Close and John Lithgow. It is a remarkable film with a taste of what a great actor that Williams would become.
Good Morning Vietnam (1987)
Very loosely based on the real life story of Adrian Cronauer. Williams brought humor to was that was just as funny as M*A*S*H had done years earlier. While most people remember the Williams improve moments, it's the more dramatic moments that make the film really work. The very strong supporting cast and expertly directed by Barry Levinson make this a must see again and again.
The Adventures of Baron Munchausen (1988)
It is very well documented of the production problems with this Terry Gilliam film. Sean Connery was to play the King of the Moon but when the production of the film fell off the rails and the elaborate Moon scenes were heavily scaled back he left the production. Williams stepped in to help Gilliam but his agent would not allow the use of his name or likeness in the advertising. So he is credited as Ray D. Tutto. While his part is small he made the moon scenes probably more elaborate by just improving most of the dialog for the scenes. The film itself is a fantastic fantasy that now has become a classic.
Dead Poets Society (1989)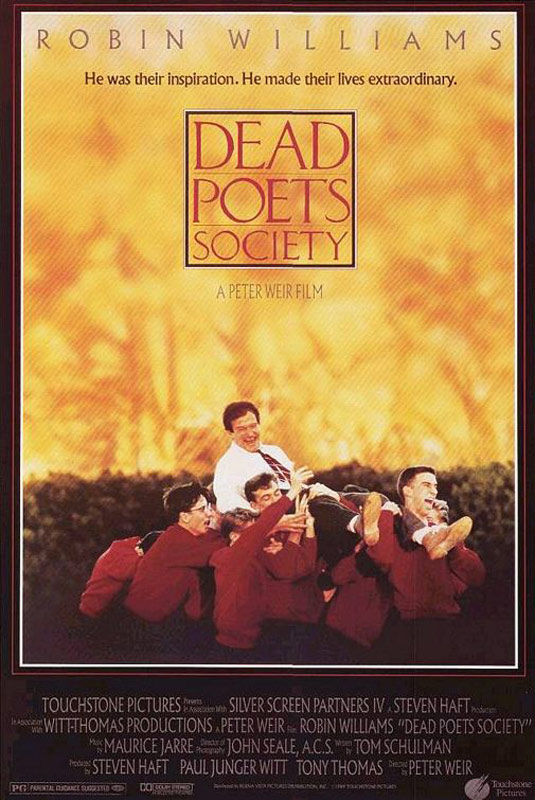 This is probably the first time that I really understood the real talent that Williams possessed. The focus of the story is on the students that he teaches, it his performance that is the glue that holds the film together. We learn that you must make you own way in life and that conformity has its price. There is only one thing to really say about this film and it's "Oh Captain My Captain"
Awakenings (1990)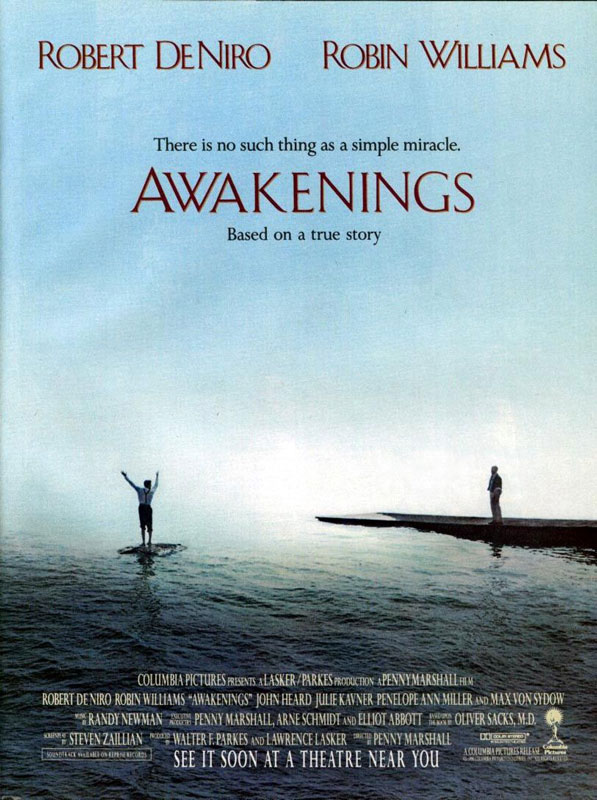 This is one of two films that I really have a difficult time watching. This film based on a true story and is a very emotional experience. The acting by both Williams and Robert De Niro are just exceptional and there is a really good reason that this film was nominated for Best Picture.
The Fisher King (1991)
Williams teamed up with Gilliam on this modern retelling of the Arthurian Legend of the Holy Grail. Williams along with Jeff Bridges make this a really epic film that shows that we need to help one another out in life. Williams really was able to dig deep into this character. It's a real shame that the stunning special edition Criterion laserdisc special features are not available on the current DVD or Blu-Ray. Hopefully Sony will license this title back to them s that they can give the film the proper presentation that it deserves.
Aladdin (1992)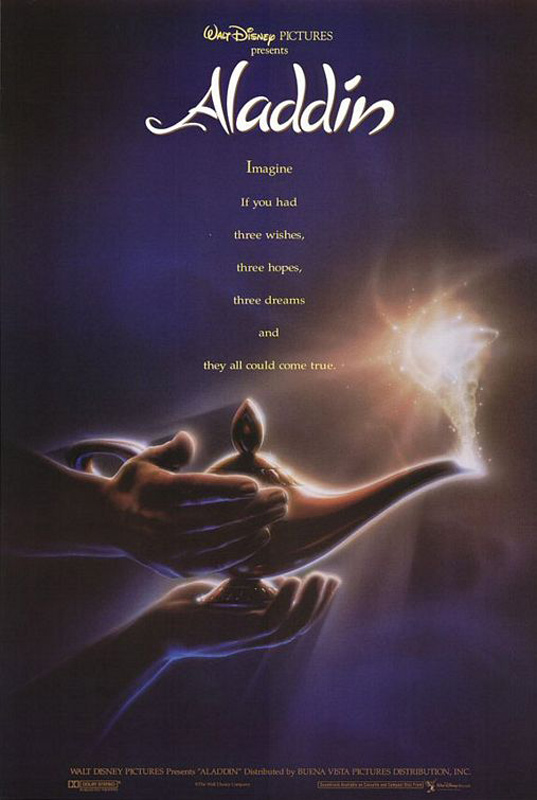 The first time I saw Aladdin there was a line in the film that I alway had said to people "Do you trust me?" a friend of mine turn to me when Aladdin said that and it gave me goosebumps. While it's Williams antics and ad-libbing that make the film so special, it's the heart that Williams infuses into the Genie that in the end is what you remember the most.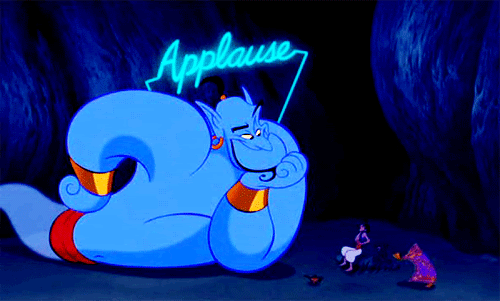 Toys (1992)

Williams teams up with Levinson pet project and while the film is generally not well liked but I have a real fondness for it. For me the cast is what makes the film and Williams really does a nice balancing act with his character. It's a very different film in both tone and story but you might want to check it out. It's nor for everyone but I don't think that it's his worst film.
Good Will Hunting (1987)
The film that finally won him the Oscar that was long overdue. While his is a supporting role in the story it is the most important one in the film. He give a really heartfelt performance along with the entire cast make this a must see film.
What Dreams May Come (1998)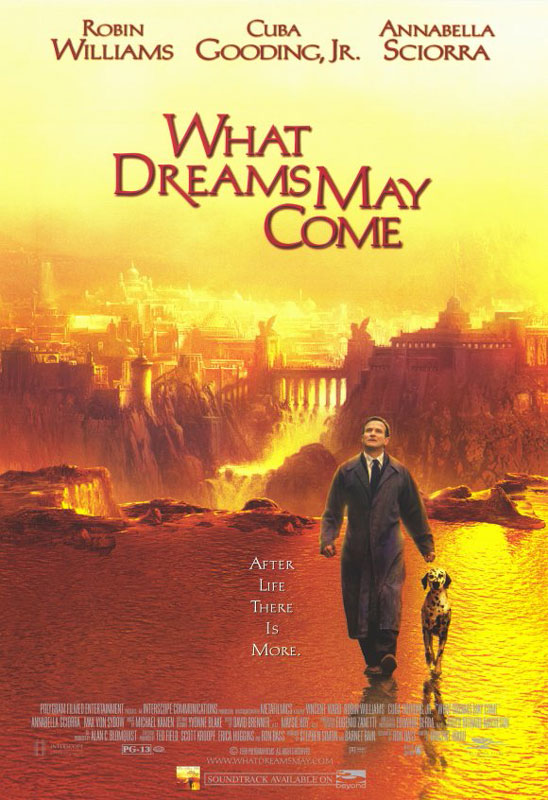 This is the other film that I have a very difficult time watching because it's so emotional. I saw this film when it was released and it is probably the one film that might just be my favorite role he ever did. I am a sobbing mess every time I watch this film. It's about life, death, love, loss and soul mates. It touches your heart and every emotion that you have. I do have a personal story to it also. Back in the Laserdisc days I worked for Image Entertainment and we did all of the Polygram titles and this was one of them. I did the chapter titles for the laserdisc and years later the used the same ones for the DVD and then later for the Blu-Ray. I really poured my heart into them and was really proud of them back then and even more so now.
One Hour Photo & Insomnia (2002)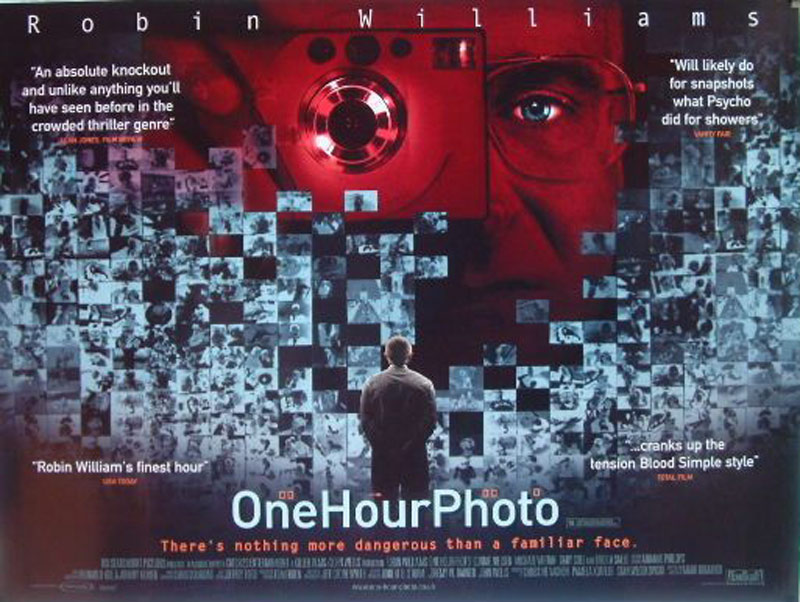 Williams took a dark turn to play villains in these films and he was quite brilliant in both of them. They are not the typical "villain" and he does not overplay them. They are both quite chilling and stunning at the same time and really showed that he could pretty much do most any role.
Happy Feet 1 & 2 (2006/2011)
One word
Ramon.
This clip of Williams on the Tonight Show with Johnny Carson that really shows what he did best, improve on the fly and not leave a dry eye in the house.
They say a picture is worth a thousand words well here are two thousand that still leave me speechless. One is from Aladdin and the other is tribute artwork done by the supervising animator for the Genie Eric Goldberg.