This week I'm going to be mixing up new books from this week and some from over the past few weeks to try and get back on track with the backlog that seems to never end. So lets see how things are looking for new comics hitting the local comic shops lately.
Simpsons Treehouse of Horror #19
Bongo Comics Writers and Artist various
Well it's that time of the year where Bongo Comics releases their annual Treehouse of Horror comic. They always get some of the best writers and artist in the industry to let them loose in the Simpsons universe and do stories in their own style. This year there are three stories that are a real treat. First up Writer Doug Moench and artist Mike Kazaleh bring us Monster Mash-Up that has Homer stopping at a house for free beer and donuts. He soon discovers that every door in the house leads to another horror. And we discover that it's actually a science experiment by Kang and Kodos. Next up writer Ian Boothby and artist Tone Rodriguez tell the story Alienated! where the lunch lady get fired for feeding the kids schools supplies and then a new mysterious lunch lady takes over. The kids soon discover that they are becoming smarter but are becoming more alien like. Will Krusty Burgers save the day? Finally writer Len Wein and artist Dan Brereton bring us Cthulhu? Gesundheit! Bart and Millhouse are thrown in a secret basement library by Principal Skinner and are to organize all of the books. Bart discovers a book of spells that he uses to seek revenge on Skinner. He does not realize the power that he has unleashed on Springfield. The thing that I love about these yearly Treehouse of Horror books is that both story and art are done in non Simpsons style. They are allowed to do their own thing while still feeling like they are still in the same universe as the show. Each of the three stories have their own feel and look and that's what makes the book so fun. I can not praise the art on all three stories enough. They all bring their own style to the stories and that is what make this books such a treat.
Is this book worth your time and money. If you are a fan of the Simpsons but enjoy comics then this is a match made in heaven. You get the feel of the Simpsons but the great art styles of the individual artists. They are all just fun short stories that make great Halloween stories for the whole family to read. Very Recommended.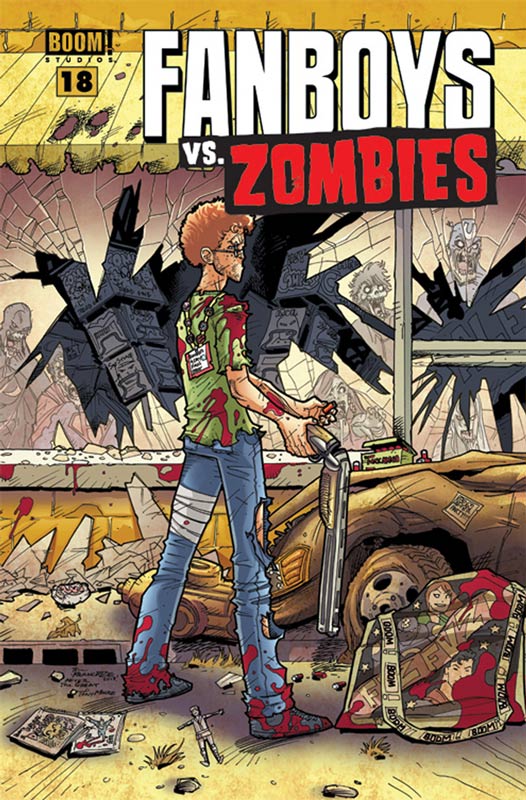 Fanboys Vs. Zombies #18
BOOM! Studios Writer Shane Houghton, Artist Jerry Gaylord, Colorist Andrea Dotta and Mirka Andolfo, Letterer Ed Dukeshire
I have been meaning to review this book for quite a while but it always seems to elude the cut. Not for quality reasons but because there have been ongoing stories it was hard to review those in a single issue. The good news is that issue #18 is a stand alone story that is a good jumping on point to give you an idea of what the book is like. The plot synopsis from BOOM! Studios is, As "4 Stories of the Apocalypse" continues, we head back to Creepy- Con, where the sadistic Gunther hides for his life in an abandoned comic shop. Will Kurt Kiel's SURVIVAL OF THE DAMNED provide the escape Gunther is desperately searching for, or just a temporary respite from the inevitable? The thing that I like about the book is the tongue firmly planted in the cheek tone that writer Shane Houghton brings to the story. You might be familiar with his name from the sorrily missed Reed Gunther book that him and his brother Chris did a little while back. This issue has all sorts of homages to other comics in the story and poles a little fun at them at the same time. The art by Gaylord is really nice and he is able to capture the different art styles needed in the story. While there are way too many Zombie books now the thing that makes this one is the humor. That is a tough nut to crack and can really fall off the rails. Houghton and Gaylord keep the train on the tracks very nicely.
Is this book worth your time and money? While a lot of people are burned out on Zombie comics now, this book is a nice change of pace. Great humor and good art make this a fun read every month. If you are looking for something on the more humorous side then you might want to give this book a try.
Sex Criminals #1 & 2
Image Comics Writer Matt Fraction, Artist Chip Zdarsky
I sat down and read the first issue to review and ended up liking so I read the second issue that came out this week. The plot synopsis from Image Comics for issue #1 is, Suzie's a normal girl with an extraordinary ability: when she has sex, she stops time. One night she meets John…  who has the same gift. And so they do what any other sex-having, time-stopping, couple would do: they rob banks. In the vein of THE 40-YEAR OLD VIRGIN and BRIDESMAIDS, Image Comics invites you to come along with MATT FRACTION (Hawkeye, SATELLITE SAM) and CHIP ZDARSKY  (Prison Funnies, Monster Cops) for the series that puts the "comic" back in "comics" and the "sexy" back in "sex crimes." Issue #2 plot is, So who's the boy with the same sexy-time time-stopping gifts as Suzie? Meet John, who until last night thought he could freeze time with his junk. At long last not alone, what kind of horny hijinks will he and Suzie get up to together? What ANY of us would do if having sex stopped the whole world: We'd do crimes. Initially I was a little thrown off guard with Zdarsky's art because it has a bit of cartoony look to it and was not sure it fit. Well by the end of the first issue I was sold on it. Fraction's writing has for me been up and down, sometimes good and sometimes not so good. But here he seem to have hit the bullseye on this story. The first issue has a lot of exposition to get through but never seems to get to bogged down with the story. The thing I really liked was the point of view that the story was told in. Telling the point of view of discovering sex as a young adult is something that we can all relate to. The thing that is very intriguing is the stopping of time that Suzie and John have and where the story seems to be taking that plot point to.
Is this book worth your time and money. I really am digging this book and tore through the first two issues and can't wait for the next one. There is a lot of awkward humor that we can all relate to. The first two issues are really solid and with both good story and art this could be a new favorite book of mine. Hopefully they are able to keep the momentum going.
Velvet #1
Image Comics Writer Ed Brubaker, Artist Steve Epting, Colorist Elizabeth Breitweiser, Letterer Chris Eliopoulos
Ed Brubaker has been creating some of the best noir comics out there lately and Velvet is another feather in his very large and great cap. The plot synopsis from Image Comics is, ED BRUBAKER and STEVE EPTING redefined Captain America with the "Winter Soldier" saga… and everything they've done so far has been leading to VELVET! When the world's best secret agent is killed, Velvet Templeton, the Personal Assistant to the Director of the Agency, is drawn off her desk and back into the field for the first time in nearly 20 years… and is immediately caught in a web of mystery, murder and high-octane action. Sexy and provocative, with a dark twist on the spy genre, this EXTRA-LENGTH first issue by two of the industry's best-selling creators will knock you out! This is one of those book that is just flat-out fantastic. Brubaker's story just wets your appetite for more in the first issue yet is so dense that you just marvel at it all. Epting art fits the story like a glove. He capture the mood and tone that is just breathtaking to look at. There are very few pulp style books that are done any more in comics that when a book like this comes along you just buy it and savor it. Brubaker and Epiting are at the top of their game on this one and having a female lead of the story is very rare and very welcomed to comics. Also the coloring by Breitweiser and lettering by Eliopoulos add so much to the book that just really add to the flavor and quality of the book. And as an added bonus Jess Nevins is doing backup writing about the history of spy fiction.
Is this book worth your time and money. This by far is one of the most exciting books to hit the stands of late. This is how a great comic is done. If you are a fan of James Bond, Mission Impossible and Man From U.N.C.L.E. then this is the book for you. The very top pick of this week. It's the best $3.50 you will spend and get so much more in return. Highly Recommended!
Samurai Jack #1
IDW Writer Jim Zub, Artist Andy Suriano, Lettering Shawn Lee
Samurai Jack was one of Cartoon Networks most stylized show to ever be aired. DC Comics did some comics with varying degrees of success. IDW now has the book and how is this version? The plot synopsis from IDW is, Cartoon Network's hit animated series is back at IDW! The legendary samurai known only as 'Jack' is stranded in a strange future ruled by the demonic wizard, Aku. His quest to return back to the past has tested him many times, but now the stakes are higher than ever. Can an ancient relic known as the Rope of Eons finally take him home? Writer Jim Zub (Skullkickers, Street Fighter) and artist Andy Suriano (Character Designer on the original Samurai Jack TV series) begin a new era of samurai adventure! I was really looking forward to this book and being a huge fan of the show it was a tall order to see if it could be pulled off. Well thankfully it was even better than I hoped for. Zub has crafted a story that not only works a comic but still retains the feel of the original animated show. It was like visiting an old friend and it just all fell back into place. I have been a huge fan of Suriano's work in animation on the Plastic Man shorts and his Doc Bizarre MD book a few years back. There really could be a better artist suited for this book than Suriano. His layouts on the book are just beautiful and the color work is spot on for the feel of the book. I hope that he is able to stay on the book after the first five issue story arc.
Is this book worth your time and money? If you are a fan of Samurai Jack and who isn't then the good news is that the quality of this book is on the same level as the original animated show. Solid story and fantastic art make this one of the few adaptations that really works. Very Recommended!
Powerpuff Girls #1
IDW Writer and Artist Troy Little, Letterers Neil Uyetake and Troy Little
IDW is really adding great licensed books to there all ages line. Getting charters from Cartoon Network is a real coup for good books. Doing a new Powerpuff Girls book and making as good as the show would be tough. The plot synopsis from IDW is, Citizens of Townsville, fear not! The Powerpuff Girls are back! In this IDW debut issue Blossom, Bubbles and Buttercup are back to take down the meanest of the mean and the ugliest of the ugly! Plus, what fiendish secret is Mojo Jojo hiding? The answer is sure to surprise! I have to admit that Troy Little stepped up to the plate and did not strike out on this book. He captures both the visual style of the series but the tone that made the show such a joy to watch. The first issue gets off to a very good start and I'm excited to see where he is going to take it. His art is spot on to the show and it's style. His color work on the book is really nice and I really enjoyed the subtle color tones he used in some of the backgrounds. It's nice to sit down and read a really fun book for a change. While it's a pretty light book it is still very solid and frankly better than a lot of comics out there right now.
Is this book worth your time and money? If you are a PPG fan and are worried that this is a sub par adaptation of the show then you will be pleased to know that as you read the issue all of the voices will immediately pop into your head. The book gets everything right about the show and it make a great all ages comic that is a really fun read with really good art. I can't wait for more.